Years of preparation helped prevent a fire disaster in Idyllwild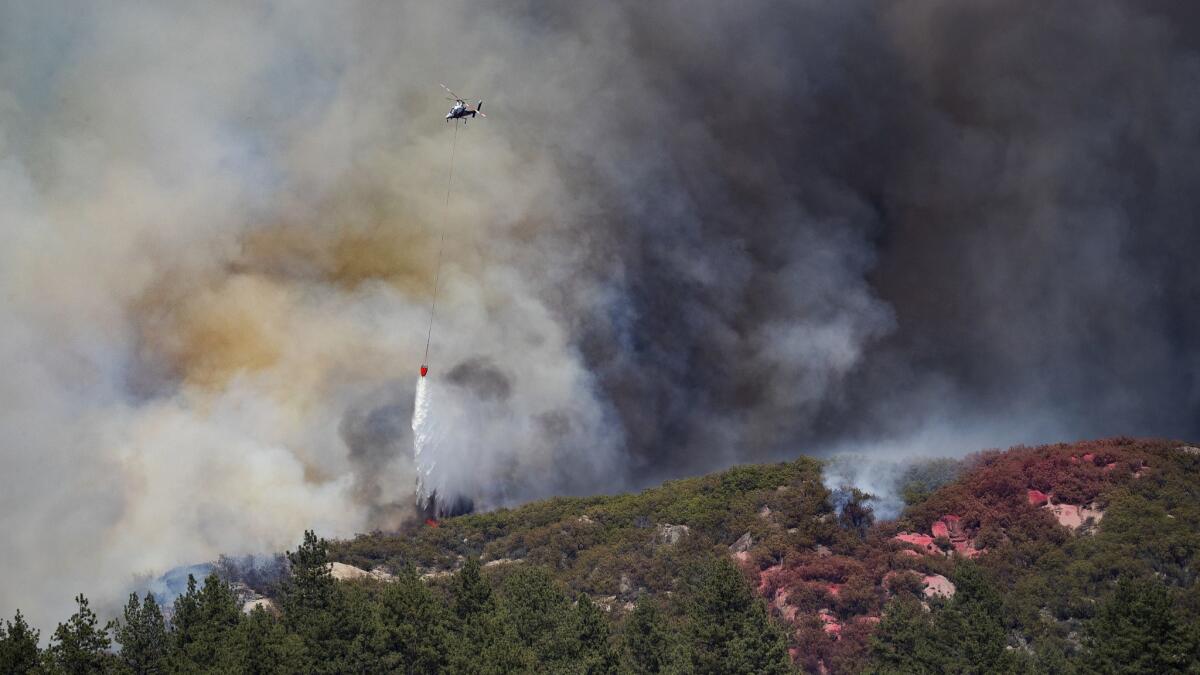 Patrick Reitz can't say his isolated, mile-high community of Idyllwild was fully prepared for the Cranston fire, a blaze authorities say was caused by an arsonist and which continued to burn out of control Friday.
But in a place where fire authorities have been sounding alarms for years about the buildup of tinder-dry trees and brush on all sides, residents had learned that an important part of facing a wildfire is getting ready for it.
"Idyllwild was saved by years of pre-planning," said Reitz, chief of the Idyllwild Fire Protection District. "That includes removal of thousands of dead and dying trees, construction of miles of firebreaks, and evacuation plans" drafted by at least a dozen mountain camps that cater to thousands of young people, town organizations and fire authorities.
"Before we pulled the cord on a formal mandatory evacuation shortly after the Cranston fire began," he said, "most of the youth camp folks were already off the mountain."
Following close behind were an estimated 6,000 residents who found themselves on traffic-choked, two-lane roads that wind down the ragged northern flanks of the San Jacinto Mountains, where suburbia meets the wilderness — a classic Southern California landscape that has long lured people to build homes in forests and brushlands despite the threat of wildfires.
The community's disaster plan was based on a variety of fire scenarios that identified staging areas for firefighters, equipment and safety zones, as well as escape routes for evacuees, officials said.
By Friday morning, the Cranston fire had scorched 11,500 acres, destroyed at least five homes and forced the evacuation of more than 4,000 residences. The fire is only 3% contained.
Brandon N. McGlover, the Temecula man authorities say started the Cranston fire, was charged Friday with starting nine separate fires. All nine were set Wednesday in the Idyllwild, Anza and Sage areas. He faces 15 felony counts: one of aggravated arson, five of arson of an inhabited structure and nine of arson of forest or wildland.
McGlover, 32, pleaded not guilty to all 15 charges and a judge set his bail at $3.5 million, according to the Riverside County district attorney's office. If convicted on all counts, he faces up to life in prison.
By Friday evening, the Cranston fire appeared to be spreading east of Mountain Center and into the San Jacinto Wilderness.
The blaze was expected to keep growing, especially in the wilderness and the Rattlesnake Spring areas, according to Chad Cook, operations section chief with the California Incident Management Team.
"The fire is laying down now," Riverside County Fire Chief Dan Talbot said during a briefing Friday. But "it looked like that yesterday morning too, and then it roared back to life."
Response teams are keeping a close eye on the communities of Apple Canyon and Vista Ranch, which are threatened by the spreading flames. Fire-control efforts have been hampered by the extreme heat and low humidity, as well as resources stretched thin by other fires around the state.
This isn't the first time that Idyllwild — a community known for its schools, and art and music foundations — has been shaken by fire. The first time the town was totally evacuated was in July 1996, when the Bee fire crept up the mountain. Residents returned to their homes on the Fourth of July weekend and held a parade led by local firefighters.
A decade later, the arson-caused Esperanza fire triggered an explosion of heat and flames that killed four local firefighters and critically injured another. Relatives and neighbors in Idyllwild responded to their loss with strong emotions, flags at half-staff and an army of volunteers to help the affected families.
The town was evacuated again in 2013 because of the Mountain fire.
Friday morning, authorities were cautiously optimistic that the Cranston fire "had moved on, away from the community and into sparsely populated areas," Reitz said. "The preparations we did with the U.S. Forest Service, the California Department of Forestry and Fire Protection, Riverside County and others enabled us to get defensive lines in place ahead of this fire."
He worried, however, about the safety of stragglers who defied the evacuation order to leave the tourism-driven community's tightly packed cottages, modest chalets, gift shops, restaurants and watering holes.
"We cut the power in Idyllwild due to the approaching fire," Reitz said. "A few hours later, the main power lines into town were downed by the blaze. So, the whole community is without power, and we're working off generators."
Fire authorities expressed guarded optimism Friday afternoon that the alpine resort had been spared three days after it was forced to evacuate.
RELATED: Everything you need to know about California's catastrophic year of wildfires »
"In the next day or two, we should have full containment of this fire in the community of Idyllwild," said Lee Beyer, a spokesman for the San Bernardino National Forest. "But we still have a ton of work to do before … residents and visitors can return safely."
He added: "Firefighters are doing heavy mop-up operations in hot spots. Power poles and power lines need to be replaced. Highway guardrails are in need of repair."
As he spoke, helicopters and air tankers doused flames on ridgelines a few miles north of Lake Hemet, and about 15 miles south of Idyllwild. Much of the black smoke that had filled the air a day earlier had turned to more benign shades of gray.
"Idyllwild and all its charms will still be there when the evacuation is lifted," he said. "But the views along Highway 74 will be different because a lot of the green is gone."
Sahagun and Newberry reported from Idyllwild, Panzar from Los Angeles. Times staff writers Jaclyn Cosgrove and Joseph Serna and the Associated Press contributed to this report.
louis.sahagun@latimes.com
laura.newberry@latimes.com
javier.panzar@latimes.com
Sign up for Essential California for news, features and recommendations from the L.A. Times and beyond in your inbox six days a week.
You may occasionally receive promotional content from the Los Angeles Times.