Joy Cho creates a shared workspace that is more than just a giant open box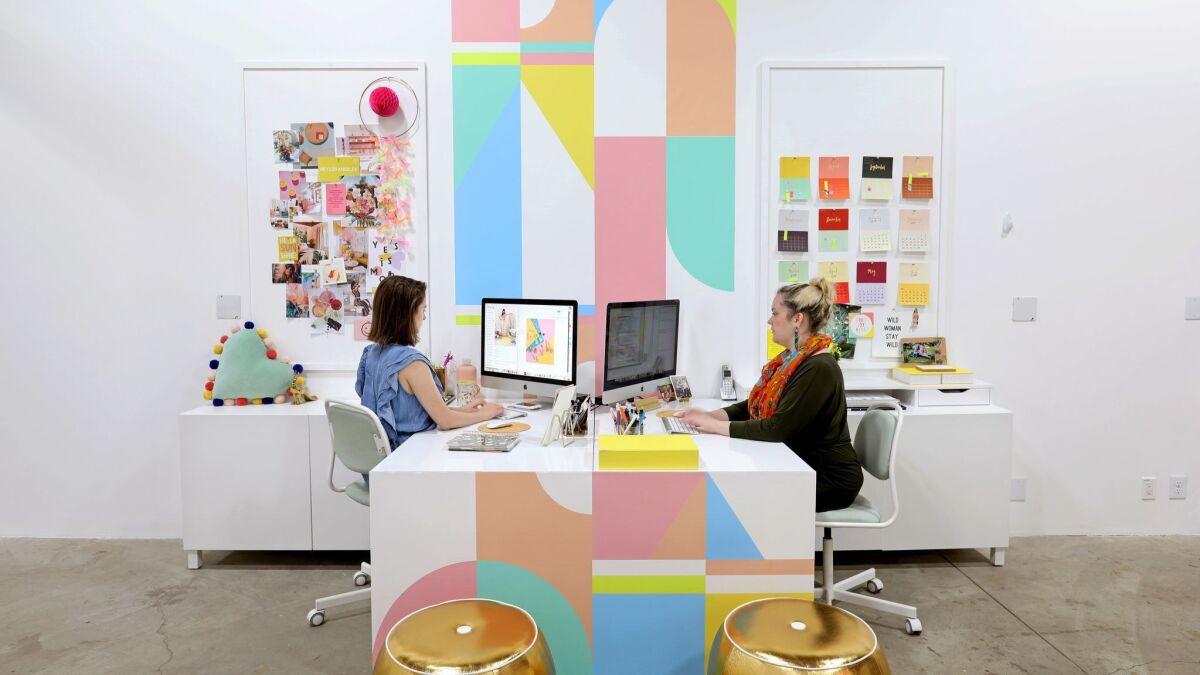 In the collective mindset, the office is a second home.
At the office, colleagues gather to work, talk and collaborate.
Even with the popularity of telecommuting, the office remains a constant.
It just doesn't feature cubicles anymore.
That's because open floorplans — offices with shared desks, work tables and limited doors and private offices — are becoming increasingly popular.
The trend exists despite multiple studies, including a recent Harvard report, that found employees are dissatisfied and less productive with constant face-to-face interaction.
Not designer Joy Cho, who has embraced the much-maligned open office plan at her new Oh Joy! headquarters in Frogtown, a functional but beautiful office composed of shared workspaces and large open areas where her staff of six can work, dine, cook and craft.
"Because so much of the work we do is based on collaboration of creative ideas, an open space works well for us to make it easier to connect and discuss ideas at multiple points daily," Cho says. "What I love about our current open space is that while it is open there are now sections that divide it. That allows for the space to not just be one open box, but an open box that has some clear distinction for what goes where."
Like her whimsical products, spanning washable rugs to Band-Aids, the office has a happy vibe. It is feminine and fun, and it and works, Cho says, because of a consistent structure throughout: glossy white Ikea cabinets as background, soft pastel accents, gold accessories and fun accents. Think glittery swizzle sticks, pink lanterns, gold flecked wallpaper, pastel-colored murals and sky-blue cement tile.
Working alongside her friend, designer Sarah Sherman Samuel, Cho removed walls to create an open floorplan that invites creativity and collaboration. "I wanted my employees to have an inspirational space," Cho says. She describes it as "modern, chic, but timeless." Tour the industrial building and you'll find a dining room, full kitchen, private office for Cho, a craft room, photo studio and an enclosed storage area.
That's not to say the office is completely transparent. "By giving some distinction with partial [yet open] walls, it allows us to have an open creative space that functions well for our needs," Cho says.
Designer Joy Cho's office, designed by Sarah Sherman Samuel, features her kids' artwork, a powder-coated steel Strut desk by Blu Dot, Oh Joy cement tiles and floating Ikea cabinets behind her desk.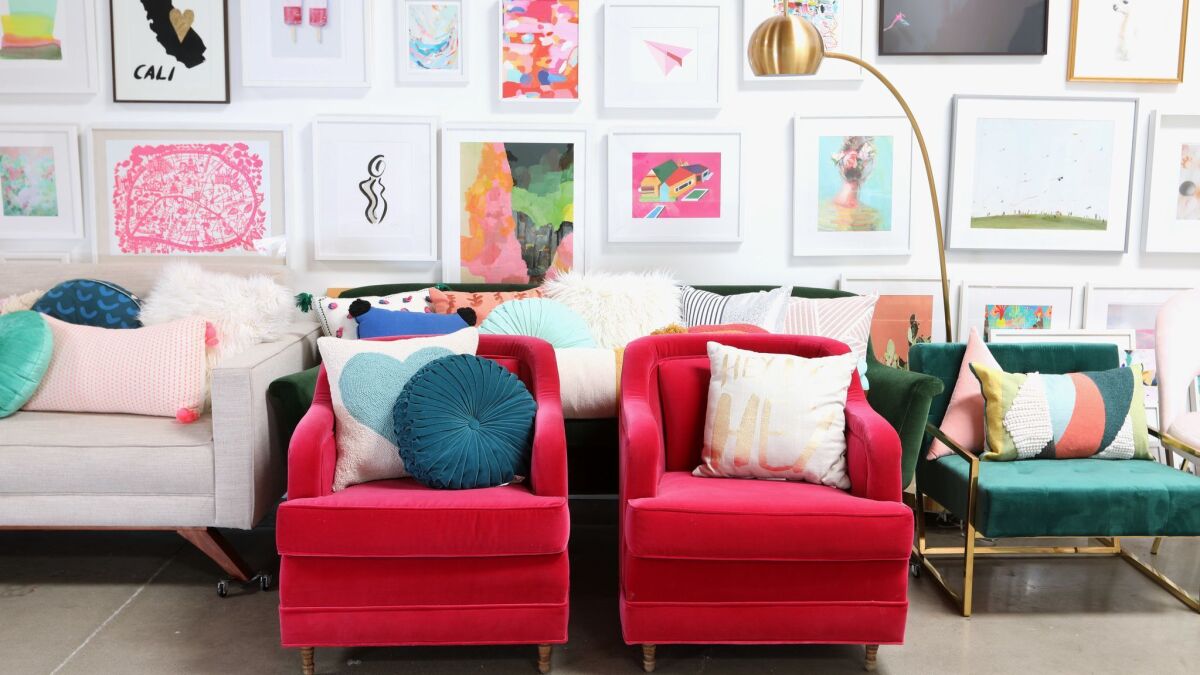 Props, furnishings and artworks represent a recurring theme throughout the office: pink, blue and yellow pastel tones and gold accents against a white backdrop.
The craft room was designed to accommodate several DIY projects at once. Colorful paper honeycomb decorations placed on top of the all-white Ikea cabinets give the room a light-hearted feel.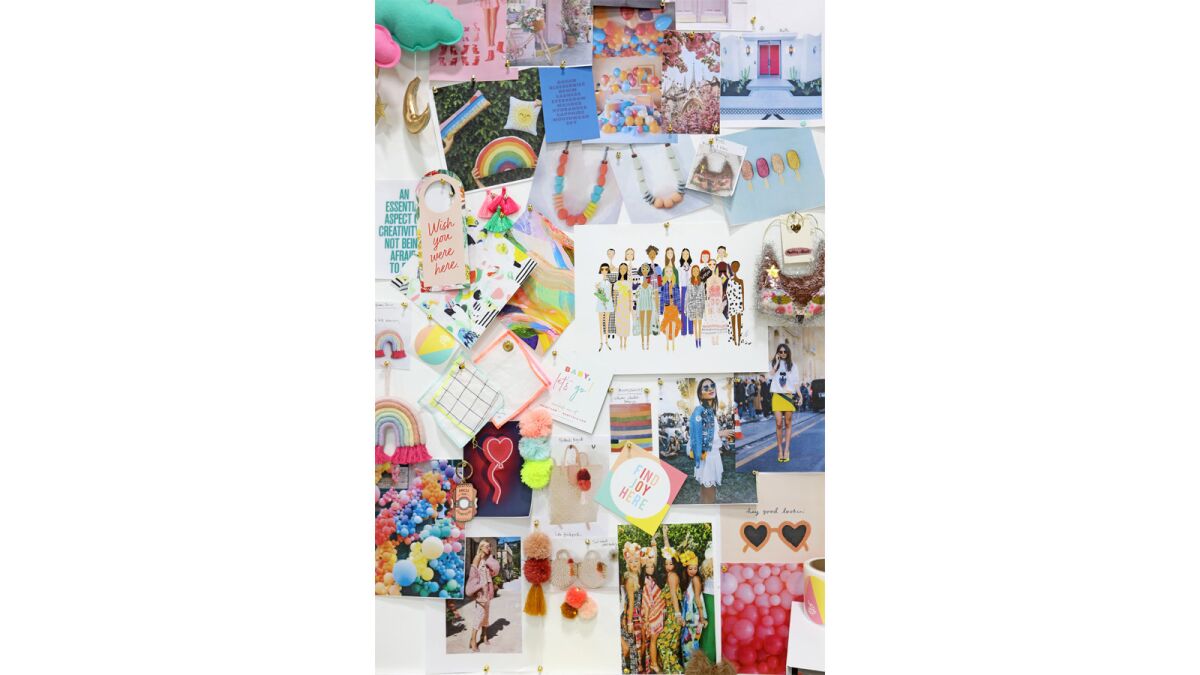 All employees have their own custom pin boards for personal inspiration.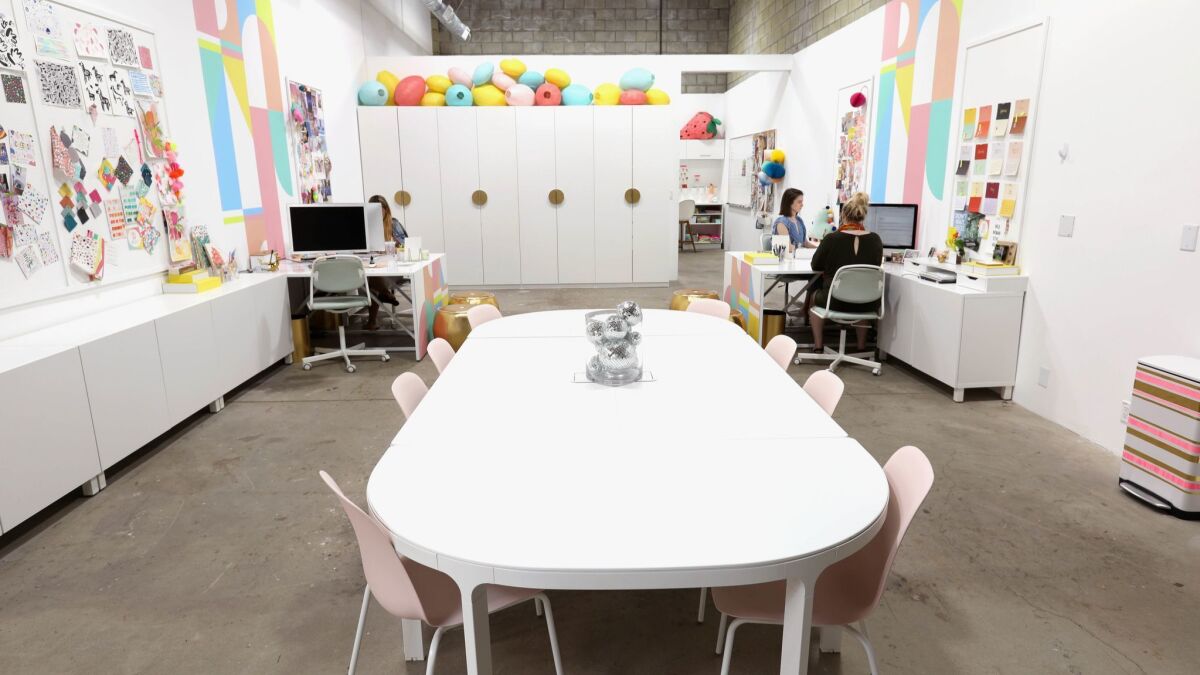 The main work area features four Blu Dot desks, Ikea cabinets and a conference table surrounded by pink chairs. Custom Ikea wardrobes with gold hardware conceal work supplies and help to keep the room clutter-free.
The studio's original kitchen was gutted and replaced with Ikea cabinets, honed marble countertops and Oh Joy for Cle "Petal" cement tiles. Sconces by Cedar & Moss add an elegant touch. All employees are invited to use the kitchen, which is also utilized for photo shoots. A dining room and conference table on either side of the kitchen offer multiple places for employees to congregate.
Not all of the rooms are open. At the back of the office, a storage room houses props, pillows, furnishings and accessories that are used for photo shoots.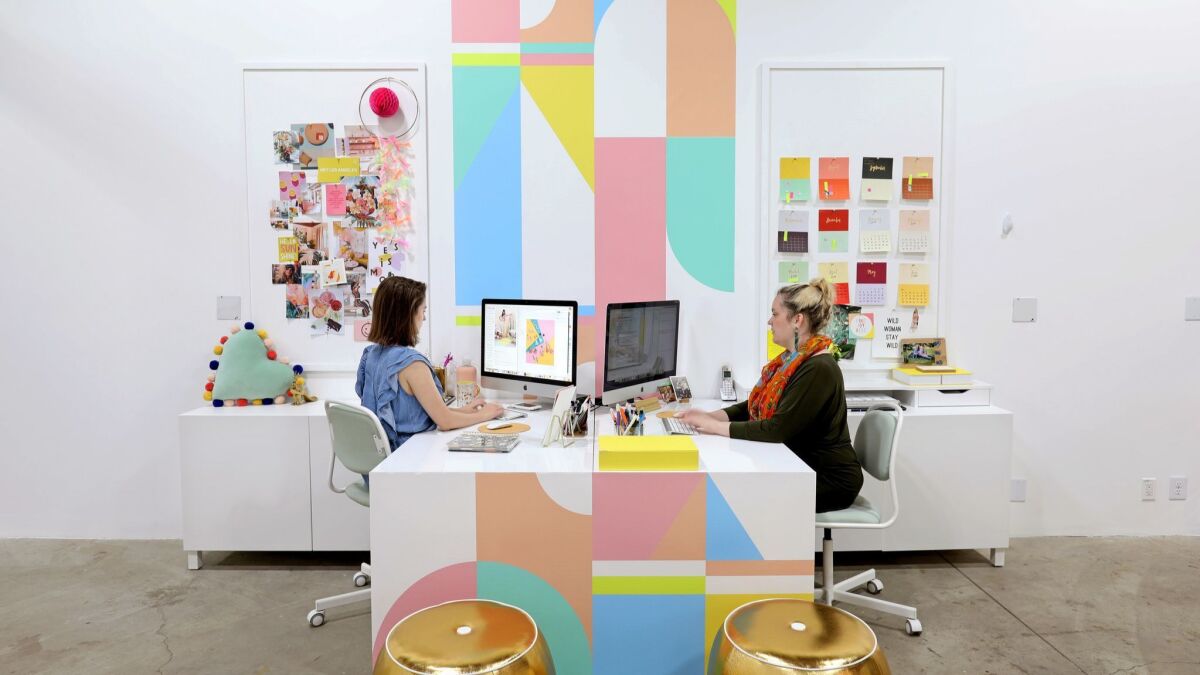 A mural designed by Sarah Sherman Samuel and produced by Limitless Walls extends down the wall to the outside of the desks to give the room a modern look. Each desk has a side cabinet for personal items and a pin board for inspiration. Gold ottomans are among the many gold accents installed throughout the office.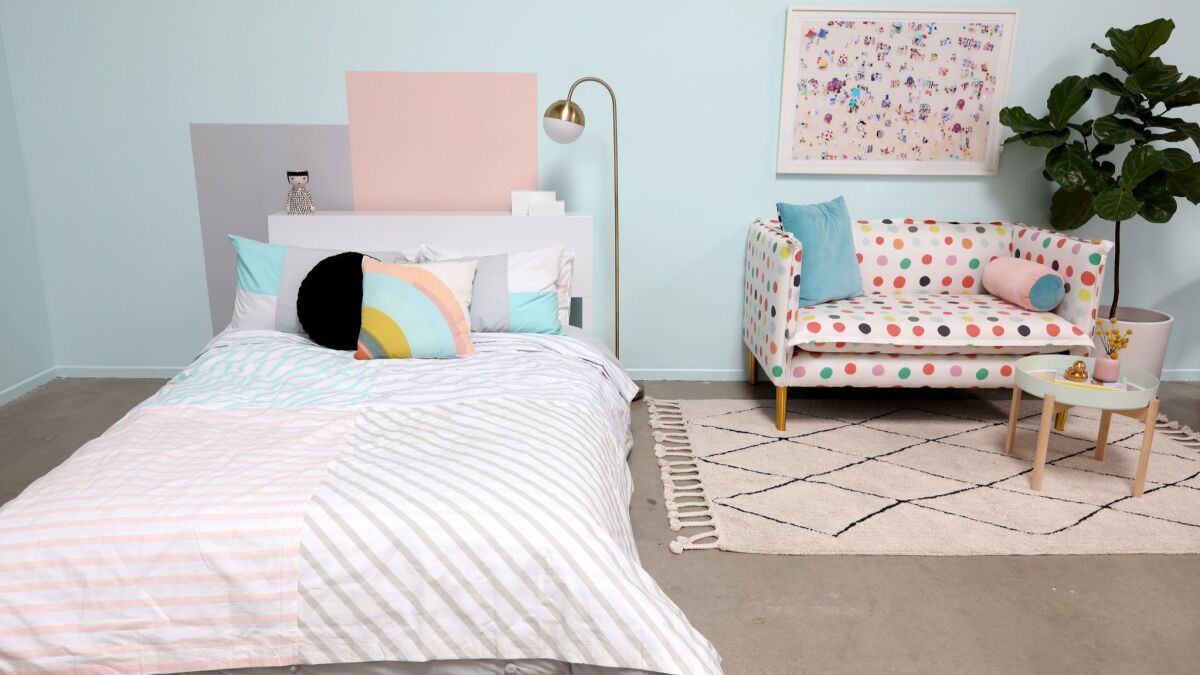 The fluctuating photo studio serves as a venue for product shots and Oh Joy! DIY blog content.
ALSO:
Oh Joy! D.I.Y. blogger Joy Cho shows you how to make mini heart pillows for your Valentine
Explore pop-up galleries, artists' studios and more along the Los Angeles River at the Frogtown Artwalk