L.A. Affairs: That time I ended up dating two best friends — in the same night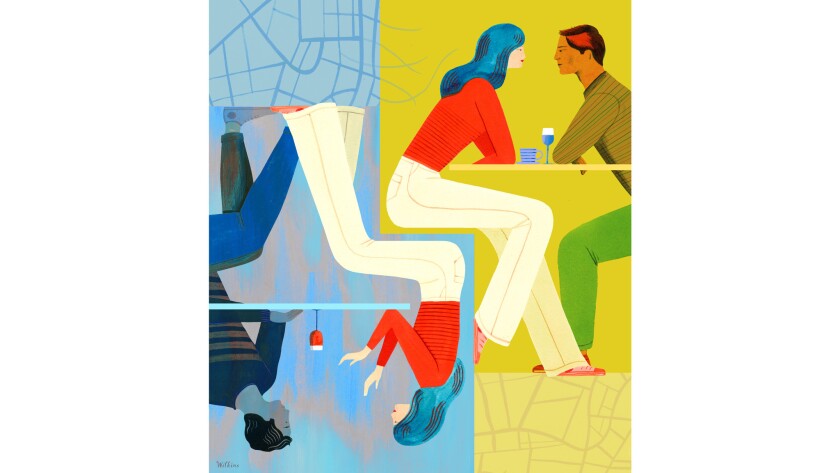 I normally Internet stalk my online dating connections pretty thoroughly. But life had gotten busy, and for a few days I was swiping right on Coffee Meets Bagel without my normal due diligence.
I found myself casually texting with two guys. Both seemed nice, but I was having trouble keeping them straight. Which one mentioned studying film? Who was telling me about his trip to Beijing?
It was finally time to do my homework. I grabbed my laptop and coaxed Google into telling me the life stories of these two guys, let's call them J. and B. I found out that they both went to the same small college in Kentucky. They moved to Los Angeles at the same time. They went to the same film school. They are in each other's Instagrams. They have traveled together. Turns out, these two guys don't just know each other; they've been best friends for over a decade.
If I had done my normal Internet stalking in advance, I would have discovered this. I have a very low tolerance for drama and would have avoided striking up conversations with two best friends.
But now it was too late.
I decided to face the awkwardness head on. I messaged them both and told them that I just realized I was also talking with their friend.
The response? "Haha, no problem! It happens to us all the time." They say that if it comes down to it later, they'll respect my choice about who I want to keep seeing.
Well, I guess that's mature, right?
Are you a veteran of L.A.'s current dating scene? We want to publish your story
I keep texting with both J. and B. I'm finding interesting things in common with B., and I'm looking forward to meeting him and going on a date. But B. isn't making any moves to meet me.
J. asked me to dinner for Thursday the following week. I was torn. J. seems like a nice guy, but I'm more interested in exploring the common ground I've found with B. But B. isn't asking me out, and J. is.
I decide to text B. and ask him on a date. I figure maybe we will go out, but even if not, I can gauge his interest. His return message: "I'm sorry, I'm super busy right now. Can we put a pin in it for a couple weeks?"
Ouch.
I accept J.'s offer.
The morning of the date with J., I get a message from B. His schedule opened up, and he asks to see me. That night. I'm surprised, and figure it's now or never. I have my dinner date planned with J., but I tell B. I could meet him for a late dessert.
But first, I have my date with J.
I wait for him at the restaurant, but we can't seem to find each other. Eventually we realize our mistake. We're both at Porto's Bakery & Cafe, but I'm at the Glendale location. He's at the one in Burbank. He apologizes and says he'll come to where I am. But my late-night date with B. is set to take place just a couple blocks from where J., is in downtown Burbank.
I forcefully insist that J. stay put, and that I'll be there as soon as I can. I hop in the car, but traffic is barely inching along.
When I finally get there, J. is fun and relaxed and makes me feel comfortable. But our date started very late, and I know I won't have much time before my date with B. I briefly excuse myself to the lady's room, and text B. asking if we can push our date back an hour? He graciously accommodates.
J. and I are enjoying dinner, talking about music and movies and siblings and jobs. And then, "Are you still talking to [B.]?"
Again, I decide honesty is the best policy.
"Yeah, actually I am. Is that still OK?"
"Definitely," he said, "He's a really great guy." Then he adds: "Do you think you guys are going to meet up?"
"Um, yeah, I think we probably will."
"Cool! When?"
I glance at my watch, and then back at J. "Well, in about an hour."
J. is an amazingly good sport. Even on his own date, he is the perfect wingman for his friend. Since J. knows the area well, he even gives me tips on parking at the froyo place where I'm meeting B.
We continue to chat on other topics and have a good time. Eventually, I excuse myself.
As I leave, J. tells me to give his greetings to B.
Spoiler alert: B. and I have now been together for over a year. It's been a great year. J. met his now-girlfriend a few weeks after the night of my back-to-back dates. The four of us go out together all the time. We've taken trips together and celebrated holidays together.
But the very first time I introduced myself to my now boyfriend, I said, "Hi, I'm Beth. Nice to meet you. Your friend [J.] says 'Hi.'" He looked confused for just a second, and then he put the pieces together to figure out where I'd just been. He laughed a little awkwardly, but was grateful for the honesty.
Several hours later, B. and I discovered that as we'd laughed and talked, time had passed unnoticed. Later still, it was 2 a.m., and we paused to sit on a park bench just a moment longer, enjoying the stillness and quiet together.
The awkwardness was long forgotten.
L.A. Affairs chronicles the current dating scene in and around Los Angeles. If you have comments, or a true story to tell, email us at LAAffairs@latimes.com.
MORE L.A. LOVE STORIES …
I got caught on AshleyMadison.com
8 lessons I learned about being single in L.A.
I finally asked her: Are we dating, or just hanging out?
---