Saving energy (and money) with pools
Pool season is here, and we've got a peek at some backyard beauties: a Fullerton lap pool that only seems to go on forever, as well as a vintage design in
Baldwin Hills
that brims with 1960s chic. First up, however: pool as backyard sculpture. As writer Emily Young discovered when she visited this Pasadena property,
landscape designer Anthony Exter
drew on his interest in the circular motifs of French painter
Robert Delaunay
. "I laid out the bubbles to look like they're concentrated near the waterfall and then more spread out as if dispersed by a breeze," he says of the light globes. That's owner Jimmy Wilson emerging from the water.
Back to L.A. at Home
(Jay L. Clendenin / Los Angeles Times)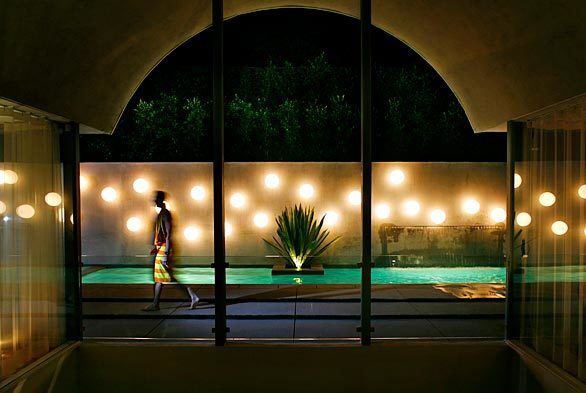 The view from the home's entry hall used to be of the ramshackle sloped garden out back. Exter leveled the yard and erected a long concrete retaining wall to give homeowners Jimmy Wilson and Lou Sawaya the pool, garden and entertaining space they wanted. When visitors enter the home, the pool and the light wall now are the first things they see.
Back to L.A. at Home
(Jay L. Clendenin / Los Angeles Times)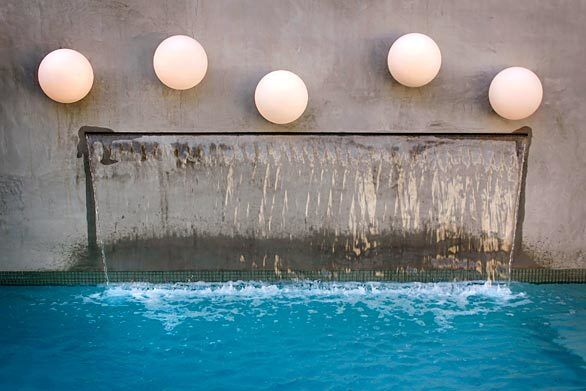 The fountain flows in a solid sheet.
(Jay L. Clendenin / Los Angeles Times)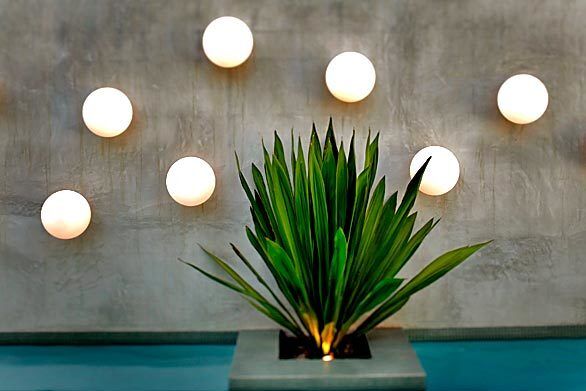 The 25 white lights appear to float like giant bubbles over and past a single majestic spear lily. Each uses an energy-efficient 10-watt bulb on a dimmer. The result is cool and elegant, prompting smiles from visitors.
(Jay L. Clendenin / Los Angeles Times)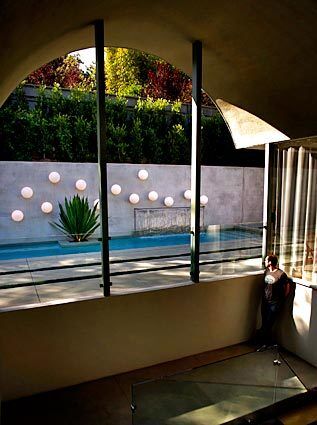 Visible through the glass entry doors and the glass entry hall, the watery centerpiece brings the house to life. Sawaya and Wilson's interiors are like a contemporary art gallery, lined with paintings and limited-edition prints. The pool acts as another part of the collection. "It's a garden, but it's also an art piece," says landscape designer Exter. "It straddles both worlds." Celadon glass tiles echo the color of surrounding greenery.
Back to L.A. at Home
(Jay L. Clendenin / Los Angeles Times)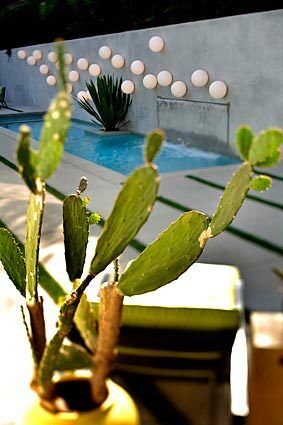 For Wilson, lighting up the bubbles for the first time was a magical experience. "I got butterflies," he says. "It was like the cherry on top of everything else. And it's been like a toy ever since. Every time someone comes over, we make sure it's on."
Back to L.A. at Home
(Jay L. Clendenin / Los Angeles Times)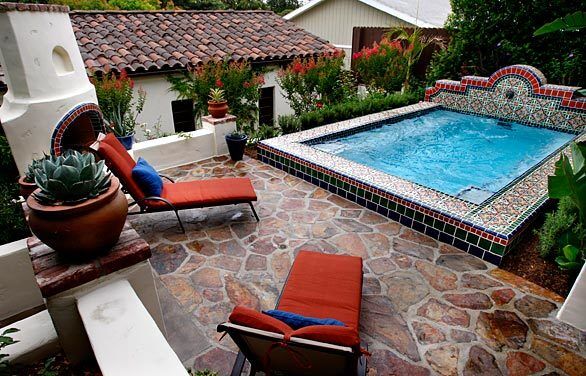 In Fullerton, writer
Debra Prinzing
found another pool that delivers much impact in a compact space. Scott and Serena Lansburg had renovated a 1928 Spanish Colonial Revival home and installed a formal garden when Scott, a lifelong competitive swimmer and water polo player, began to crave an exercise pool, also known as swim spa. He asked Alison Terry of
Terry Design
to squeeze a pool into a little-used, 11-by-18-foot terrace.
Back to L.A. at Home
(Christine Cotter / Los Angeles Times)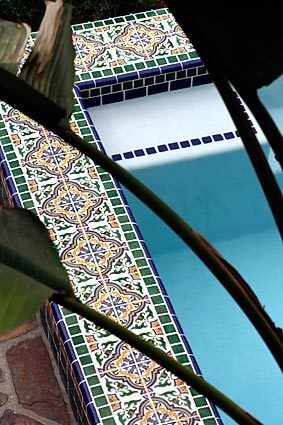 Terry designed an in-ground pool with 14-inch raised coping to create seating around the perimeter. Mexican Talavera tile from
Orange County Tile
echoes the handmade terracotta used elsewhere in the garden and the house.
Back to L.A. at Home
(Christine Cotter / Los Angeles Times)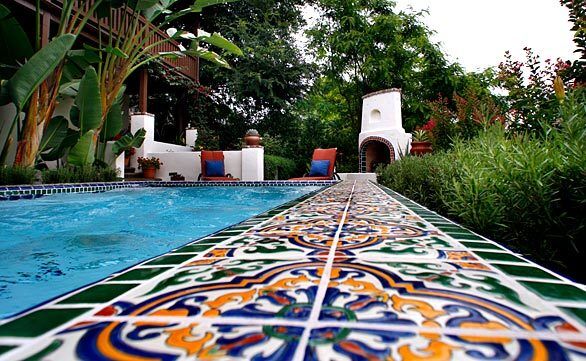 The pool's interior dimensions are just 8 feet by 15 feet, with a depth of 4.5 feet, but that's large enough to accommodate swimming workouts. Fabricated by
Fluid Dynamics Pool and Spa
, a Fullerton contractor, the pool has spa jets as well as a Riverflow System, a continual current that allows Scott to swim in place and Serena, a marathon runner, to jog in place.
"It's like having a treadmill to swim in," he says. "It's more enjoyable than swimming in a lap pool." A tile guideline embedded in the floor of the pool keeps him swimming straight.
Back to L.A. at Home
(Christine Cotter / Los Angeles Times)
Terry, the designer, acknowledges that pools are often blamed for wasting water and energy, but she points out that this design is more efficient because it has a small footprint and satisfies multiple uses: exercise, play and relaxation. "Plus, it looks more like a decorative fountain than a swimming pool, which is nice for viewing from the home's second level," she says.
According to the owners, the small size allows the pool to heat up quickly, which keeps energy costs low. "We're not using a lot of resources because we also have a low-voltage pump," Scott Lansburg says. "I haven't even seen a change in my electric bill."
(Christine Cotter / Los Angeles Times)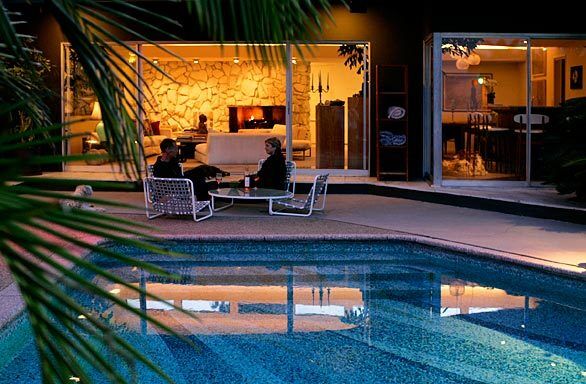 For a glimpse of some timeless beauty, writer
Debra Prinzing
headed for
Baldwin Hills
and the home of
interior designer Lory Johansson
. A 1960 L.A. Times article captured the sparkling drama of the house's pool, and to this day the mosaic surface remains a fine canvas of turquoise, azure and 24-karat-gold glass squares forming wave patterns.
(Gina Ferazzi / Los Angeles Times)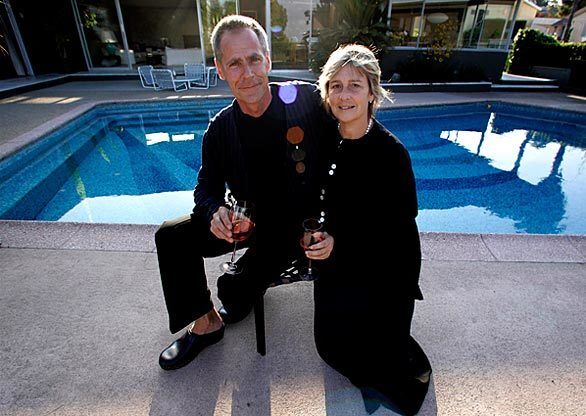 Johansson, right, and husband Mats, an architect.
(Gina Ferazzi / Los Angeles Times)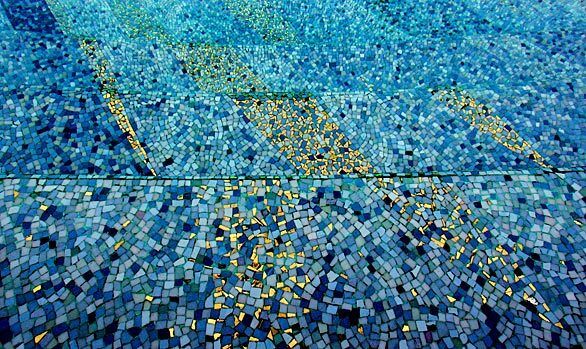 For years Johansson has been adding glass mosaic patterns to her pool designs for big-budget clients, including one in Miami who now has a pool based on a Versace dinner plate. The designer sourced artwork from
Mosaicos Venecianos de Mexico
, a Mexican company known since the 1940s for making intricate, hand-cut glass tile designs based on Northern Italian techniques. "It is by far and away, the most amazing resource," Johansson says.
Serendipitously, Johansson discovered that her pool was one of Mosaicos Venecianos' first residential commissions in
the U.S.
(Gina Ferazzi / Los Angeles Times)
Malena Perdomo, export manager for Mosaicos Venecianos, is the daughter of the man who designed Johannson's pool, Manuel Perdomo, now 80. "I couldn't believe it when Lory told me about her pool," she says, speaking from her studio in Cuernavaca, Mexico. "She sent me the pictures of it and I immediately took them to my father. He said, 'Yes, I remember.' "
Perdomo's design includes a school of red and gold fish swimming along the pool's edge.
Back to L.A. at Home
(Gina Ferazzi / Los Angeles Times)
A bit of classic California.
Designer Johansson can be reached at (213) 924-3071.
Check out the L.A. Home blog.
(Gina Ferazzi / Los Angeles Times)
For Southern Californians trying to save water and reduce their use of energy, a pool may seem like the biggest unnecessary luxury around.
But with about 500,000 pools in Los Angeles, Orange and Ventura counties combined -- the largest concentration of pools in North America, according to research firm Pool List USA -- pool culture is ingrained in the region. One change: Much of the industry, including designers, builders and suppliers, is reinventing itself and moving toward more sustainable ways of building and maintaining these water worlds.
"A typical lawn uses more water than a swimming pool, but in today's market, people are looking for responsible luxury," says Tim Honadel, co-owner of Pools by Ben, a Santa Clarita firm specializing in pool upgrades and energy-efficient systems.
California Energy Commission regulations require equipment to use less energy than in decades past, especially in new pools. And homeowners continue to find ways of enhancing their backyards with new pools or updating old pools with a contemporary look or modern technology.
Here are four steps you can take to improve the energy efficiency of your pool, whether you're building or renovating. 1. Resurface it. Vintage plaster pools degrade over time, requiring patching and other repairs. If clients are giving an old pool a face-lift, Los Angeles interior designer Lory Johansson encourages clients to make more substantial changes so the pool is more sustainable.
By reducing the depth, you can shrink the volume of water required to fill it.
"Those of us who grew up in the Valley are used to 8-foot-deep diving pools, but people don't really use them that way anymore," Johansson says. "The cool thing about making a pool shallower is that you'll use less water, which also means you'll use less energy to heat it."
Johansson also likes black, navy or dark green finishes. "When you make the pool bottom dark, it helps heat the pool faster," she says. "Plus, I think it has a softer look in the landscape."
Some dark pool finishes get a bad rap because they can streak or discolor. Johansson recommends Colorquartz, a 3M product that is added to plaster.
"It has little glass beads, as find as sand," she says. "The average person wouldn't know what it is, but it homogenizes the color of the plaster."
David Penton, owner of Fluid Dynamics Pool and Spa in Fullerton, prefers a product called Pebble Tec for uniform color that won't fade. The finely textured aggregate is applied like standard plaster, then washed to expose the pebble surface.
"It's not perfectly smooth, but there are different gradations," some of which can be sanded to be softer, Penton says.
2. Change the pump.
Due partly to new California energy standards, some of which went into effect in 2006 and others that roll out Jan. 1, the pool industry is moving toward more energy-efficient pumps, motors, heaters and filtration systems. The Assn. of Pool & Spa Professionals' energy-efficiency committee is drafting a national standard to emulate California's new codes, according to committee chairman Steve Barnes, safety and compliance manager for Pentair Water Pool and Spa in Moorpark. Plans also include a pool scoring system modeled after the Energy Star program used with home appliances.
The changes reflect consumer preferences, Barnes says.
"Smart, forward-thinking builders realize that when customers can cut their electricity bill, they'll use the savings to upgrade on pool tile or add a waterfall or fancy decking," he says. "People are taking energy savings and building a nicer pool."
Products that meet the new standards include variable-speed pumps, which have an on-demand feature. Barnes likens the pumps to cars driven at lower speeds, so they get more miles per gallon.
"A variable speed pump has the biggest potential for saving on a typical pool," he says. Homeowners can expect to save 75% on their power bills, he says.
Pentair's IntelliFlo pump begins at $1,400 installed, but the system pays for itself in 12 to 18 months, Barnes says. Pool owners can use the company's online Pool Pump Cost Savings Calculator at www.pentairpool.com to compare their current pump with an energy-efficient one. Southern California Edison's Home Energy Efficiency Rebate Program gives rebates up to $200 to customers who switch to an energy efficient pump. Check www.sce.com (search for "pool pump and motor rebate") for details.
3. Change the lighting.
Another way to shrink your pool's energy usage is to switch to LEDs, Barnes says.
"You can replace a 500-watt underwater pool light with an LED fixture and get the same amount of light with a 60-watt bulb," he says.
Upgrading an existing light requires an investment; LEDs cost $300 to $400 more than a traditional fixture. But if you're building a new pool, it's a good time to specify LEDs. The lamp life on an LED light is as long as 10,000 hours, another reason to make the switch, Barnes says.
4. Cover it.
A pool cover can slow or even stop evaporation, contractor Penton says. Solar blankets are relatively inexpensive ($150 to $200 for a large residential pool). Though they have been around for a long time, many people don't use them because "they are a bit of a hassle," he concedes.
Now, some municipalities are requiring new pools to have a solar blanket, which looks like thick bubble wrap and can be trimmed to fit snugly.
"In Yorba Linda, for example, the city won't sign off on a final inspection unless we have a solar blanket on site," Penton says.
The plastic layer reduces water loss because most evaporation is caused by the wind blowing across the pool's surface. It also helps to retain heat when the pool isn't in use, he says.
"It's an affordable way to capture a bunch of savings," Penton says. "You'll probably increase your water temperature by 4 to 5 degrees in the middle of summer."
---