Crafting Community 2013: Family weekend retreat hits Ace Hotel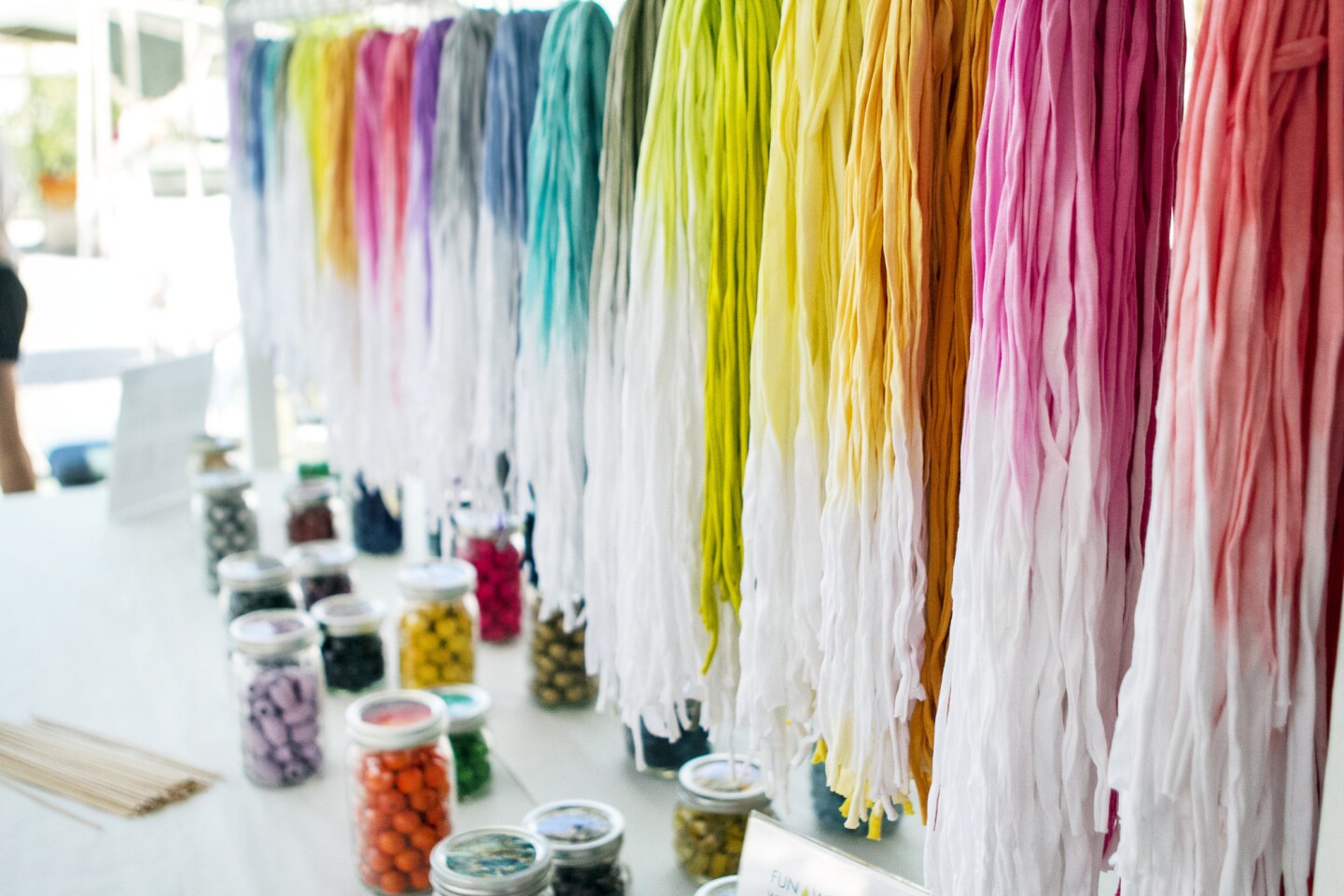 Crafting Community, an annual weekend retreat at the Ace Hotel in Palm Springs, will run Oct. 4 to 6 this year.
(Crafting Community)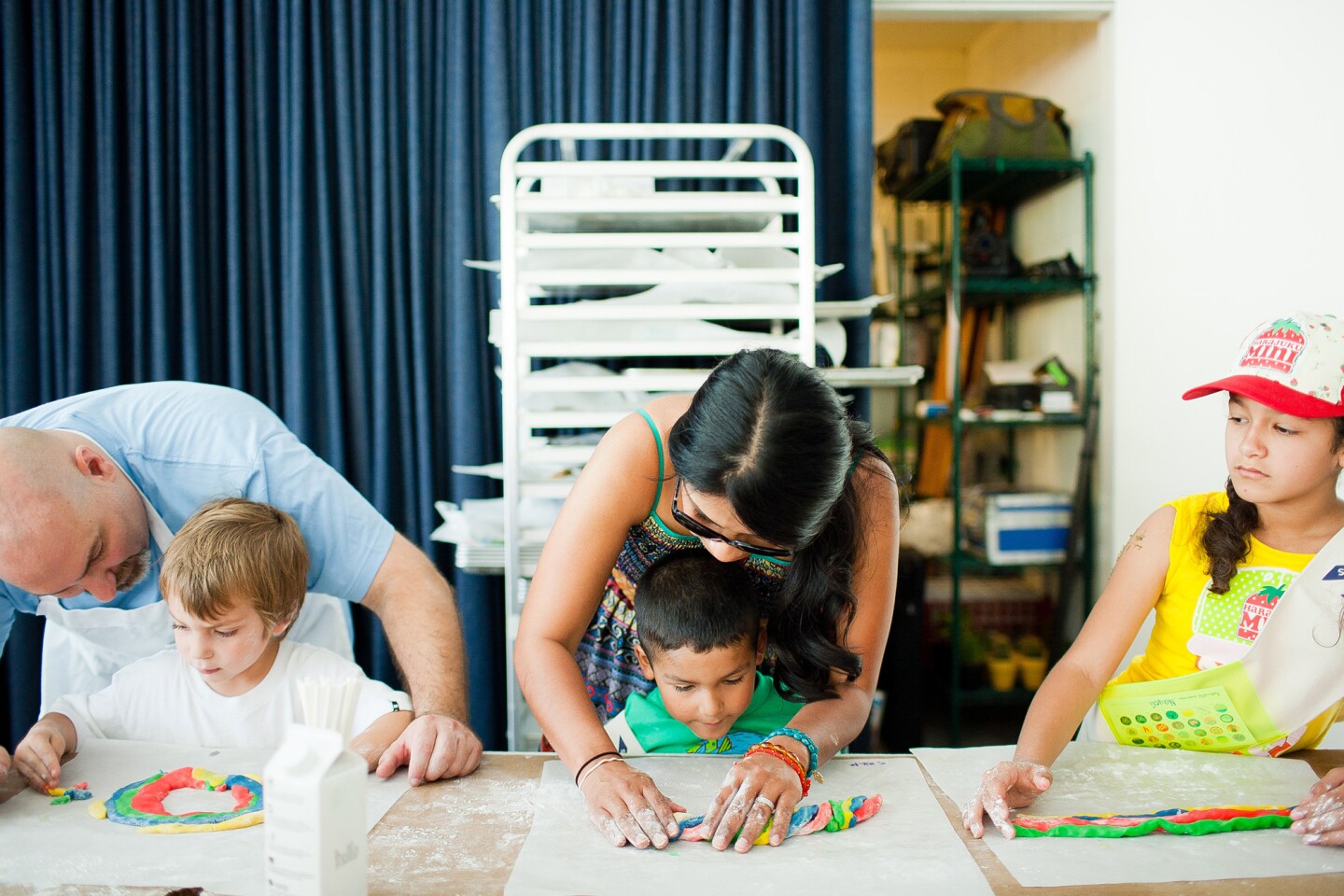 Participants in a previous installment of Crafting Community get colorful with their creativity. This year's event will feature workshops led by the likes of Todd Oldham and Tanya Aguiniga.
(Crafting Community)
What's a craft weekend without a little spin art?
(Crafting Community)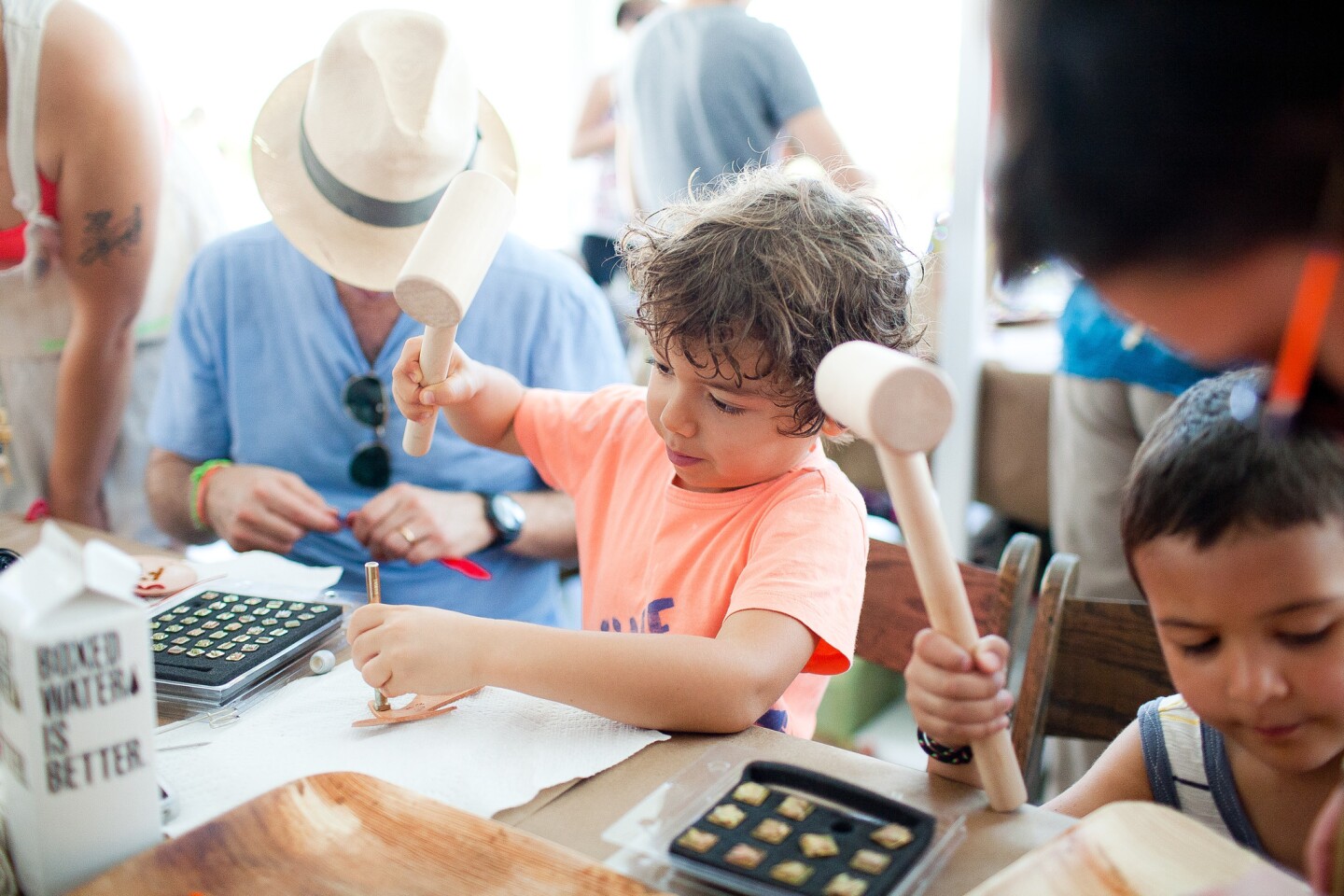 Children work on a leather crafts project. Activities this year will incorporate stenciling, stamping and drawing, organizers said.
(Crafting Community)
Because nothing says "quality time" better than getting temporary tattoos together.
(Crafting Community)
Crafting Community's organizers, from left: Tait Chatmon, Stacy Bernstein and Karen Kimmel.
(Crafting Community)
Recreational activities are programmed into the family retreat.
(Crafting Community)
A peg board spells out the point of the weekend retreat. More information:
Crafting Community
.
(Crafting Community)
Crafting Community, the annual art-themed, family-centric weekend getaway organized by three L.A. mom-entrepreneurs, returns to the Ace Hotel in Palm Springs from Oct. 4 to 6.
Attendance has grown from 20 families in the 2009 launch to an expected 180 families this year, with workshops led by designers such as Tanya Aguiniga, whom L.A. at Home covered last year in conjunction with her JF Chen show, and Rene Holguin, founder of the West Hollywood shop RTH. The weekend is programmed to appeal to adults and children, from sunrise yoga to nighttime desert disco.
This year, Crafting Community is taking over the entire Ace. The organizers -- Karen Kimmel, featured in a 2010 Times home profile and photo gallery, and Stacy Bernstein and Tait Chatmon -- have said the point is to give busy parents more quality time with their kids.
"Everyone's hustling," Kimmel said. "It's hard to feel like you're getting it right as a parent."
Todd Oldham will run a workshop using his Kid Made Modern collection at Target. Confettisystem, a New York studio known for whimsical design work for magazine shoots and museums, will show how to turn simple paper materials into fun, interactive objects. "South Park" animation director and producer Ryan Quincy will run a session centered on comic book drawing. Other workshops taught by Kimmel, Claire Vivier and Yellow Owl Workshop will cover topics such as stenciling, leatherwork and stamp carving.
Crafting Community starts at $1,500, which includes lodging, workshops led by more than 30 artists, recreational activities and meals -- essentially everything but alcoholic beverages, Kimmel said.
JOIN THE CONVERSATION:
@latimeshome | pinterest.com/latimeshome | facebook.com/latimeshome | facebook.com/latimesgarden


---