Seed Furniture: Reeve Schley's new bar carts, dressers, cabinets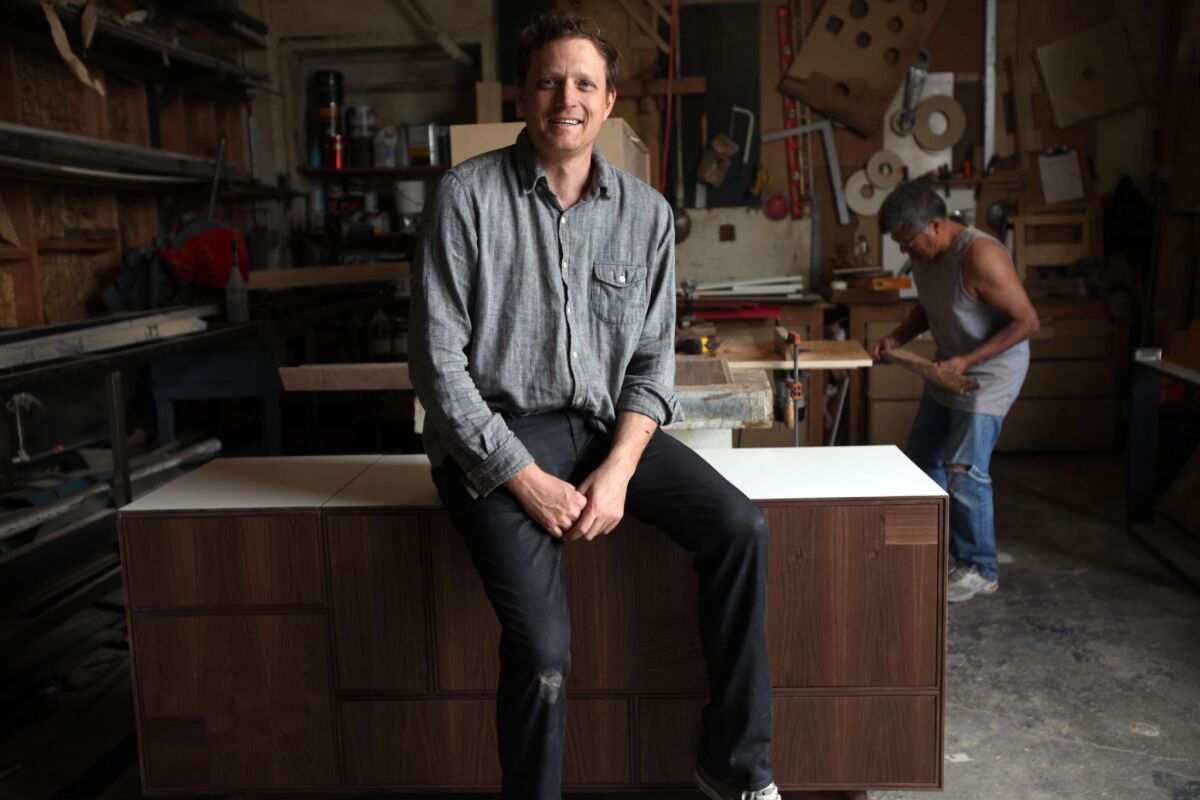 When Reeve Schley launched his online company, Seed Furniture, four months ago he hoped people would go for pieces he calls "modular, customizable and re-purposable." His nursery chest, for instance, has whimsical puzzle-piece-shaped doors that can be switched out for plain symmetrical doors as baby grows.
There is also the Queen Mary bar, whose top, modeled after the captain's bar on the 1936 ocean liner, is fitted with bottle-sized slots to steady your favorite pours. Should one's landlubbing life require it, that top can be removed via a sliding dovetail system and a regular flat top slipped in.
Despite this niftiness, after visiting the Seed Furniture website or Schley's workshop, an unmarked industrial hideaway on Washington Boulevard in the Pico-Union neighborhood of L.A., most shoppers have become enamored of something off the rack. Schley's best seller is the Walnut Loft Dresser, a crisp white bureau with contrasting walnut drawers. The wood is reclaimed from downed trees in Schley's native New Jersey. "It's cheaper than the lumber yard," he says. "The planks are wider and prettier."
Schley, 38, has been making furniture since he was an art student at Hamilton College in New York and also runs a custom cabinet business. His aesthetic is "an eclectic mixture of midcentury, Scandinavian and contemporary," all with the 21st century convenience of cutouts for cord management in Seed Furniture media cabinets.
Prices? The Walnut Loft Dresser is $1,550. Schley's Puzzle bureaus start at $1,200, and the Queen Mary Bar starts at $1,200. A version of the Seed dining table and Boxcar Media Cabinet are sold at the Living Room in Silver Lake.
"I launched the website in February," Schley said, "but to get to that point it's been years of design work."
ALSO:
Land of Nod expands its kid-design stores
Eames chairs released in wood for first time
John Robshaw teams up with Cisco Brothers
For an easy way to follow the L.A. scene, bookmark L.A. at Home and join us on Facebook, Twitter and Pinterest.