At the Calgary Stampede, honky-tonkin' good times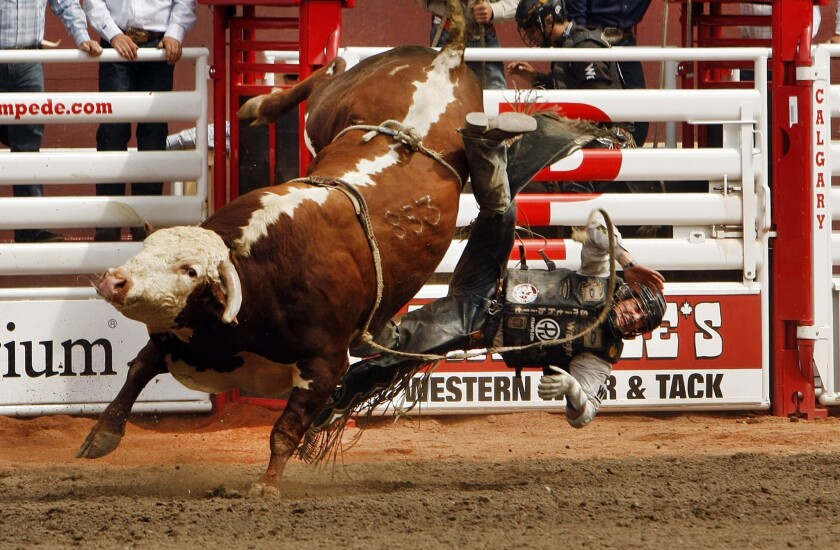 Bull riding at the Calgary Stampede in Canada attracts fans of all ages.
(Al Seib / Los Angeles Times)
Steer wrestling is another popular rodeo event.
(Al Seib / Los Angeles Times)
Four-year-old Ryder Shaw is excited in the arms of his father, Grant Shaw, during last year's Calgary Stampede.
(Al Seib / Los Angeles Times)
With more than an ample supply of food booths, no one goes hungry on the midway.
(Al Seib / Los Angeles Times)
Students show off their fiddling skills in downtown Calgary, Canada, just before the start of last year's Stampede parade.
(Al Seib / Los Angeles Times)
It's hats off to the Calgary Stampede parade through downtown (which is just a 10-minute walk from the rodeo grounds). This year, avid horseman William Shatner will serve as grand marshal.
(Al Seib / Los Angeles Times)
Mounties march along the parade route.
(Al Seib / Los Angeles Times)
The chuckwagon races are among the Stampede's biggest draws. Seen here, a pre-race rainstorm on opening weekend last year made for a particularly muddy contest.
(Al Seib / Los Angeles Times)
Lindsey Rampersad offers a vintage from the local Okanagan region at the Stampede's wine garden.
(Al Seib / Los Angeles Times)
Spiral Spuds on the midway.
(Al Seib / Los Angeles Times)
Spurs forward is considered fine form in the bareback competition. Rodeo events are held on each of the Stampede's 10 days.
(Al Seib / Los Angeles Times)
Last year's sheep-shearing competition drew standing-room-only crowds on opening weekend. The contest features competitors from around the world.
(Al Seib / Los Angeles Times)
Concerts are another big draw. Artists performing this year include Keith Urban, Reba McEntire and Shania Twain.
(Al Seib / Los Angeles Times)
Rain on opening weekend at last year's event created some puddles on the grounds, but failed to stop the event, or the crowds from showing up.
(Al Seib / Los Angeles Times)
Downtown's skyscrapers rise beyond the grounds where the Calvary Stampede is held.
(Al Seib / Los Angeles Times)
Briggs Madsen, 13, wears the belt buckle he won in a rodeo competition.
(Al Seib / Los Angeles Times)
Kristina Callihoo gets close to a horse at last year's Calgary Stampede. The event sometimes seems to feature more horses than humans.
(Al Seib / Los Angeles Times)
A group of cowboys gathers before last year's opening ceremonies.
(Al Seib / Los Angeles Times)
Opening ceremonies last year at "The Greatest Outdoor Show on Earth."
(Al Seib / Los Angeles Times)
CALGARY, Canada —
The Calgary Stampede is, as you might guess, a world-class rodeo and a showcase for western Canada's rustic way of life. What you might not guess is what a brash bash the annual July event is, 10 days of honky-tonkin' good times.
Yuuuuup, the world's most-famous rodeo is far more than just a rodeo. The midway, with games and rides at the center of the festival site, is a blurry neon spectacle, the whole thing scented by smoky thunderheads produced by all the grilled meats (note the crocodile sliders and the pridefully Canadian maple doughnut burger).
The Calgary Stampede, dating to 1912, features bull riding, sheep shearing, big-name concerts and some of the sudsiest dance halls north of Amarillo, Texas. It's that rare destination that is not age-specific — good for kids, hard-partying twentysomethings and even grandfolks (hard-partying or not).
There are cultural displays honoring the Nakoda and Siksika tribes, talent shows, children's fun zones and adult fun zones (the music clubs and a nearby casino). To escape the buzzy state-fair whirliness, visitors can head for the rather swanky wine garden, featuring bold British Columbia reds.
Where to start?
Well, that'd be the two-hour parade on July 4 that opened the 10-day festival, a plus for anyone with a serious interest in horses, which appear to outnumber the parade's human participants. Be on the route at 8:30 for the 9 a.m. parade, and you'll be able to snag a decent vantage point. If all else fails, try the pedestrian overpasses for a top-down view of the parade.
From there, it's a short walk to Stampede Park, where the rest of the spectacle unfolds. There, you can jump on one of the thrill rides, watch live entertainment on the outdoor stages or wander over to the agricultural section, where sheep-shearing and horse shows take place.
Just after 1 p.m. each day, a six-event rodeo takes place in the sweeping grandstand on the eastern side of the grounds. The rodeo attracts the best cowboys in the world for $2 million in prizes. The first eight days of the tournament narrow the field to finalists for the festival's last weekend, this year July 12 and 13, where event winners walk away with $100,000 each.
Bull riding tends to be the most-anticipated event each day, but also worth catching are barrel racing and a wild pony race featuring children ages 8 to 12. Be sure to hang around afterward, as the cowboys mingle with fans seeking photos and autographs.
Not into rodeo? Well, don't miss the chuckwagon races each evening, followed by entertainment and fireworks.
At night, you'll also find concerts, art shows and all sorts of activities, including that wine garden, in the nearby convention center (BMO Centre).
Keith Urban, Reba McEntire and Shania Twain are heading this year's concert lineup. Avid horseman William Shatner is grand marshal of the parade.
As with anything in Canada, part of the appeal is the people themselves, who I find almost alarmingly nice. In the U.S., we usually respond to inquiries with a gruff "huh?" In Canada, they reply, "Pardon me?"
Up here, it's as if small-town charm were a natural resource. To a spectacle rich with folksiness, your hosts add even more.
Twitter: @erskinetimes
---