Al Qaeda Blamed for Hotel Blast in Egypt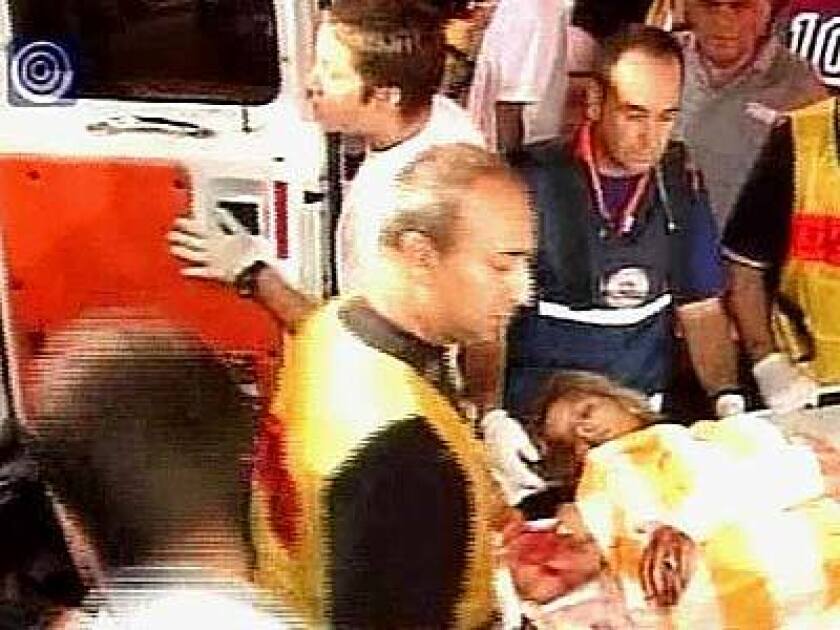 A woman wounded in a blast ripped that through the Hilton hotel in Taba is rushed to a hospital in nearby Eilat.
(AFP / Israeli TV)
An injured child is taken to a hospital following a blast in Taba.
(Jo Kot / AFP)
The Hilton Hotel in the Egyption resort town of Taba before today's blast.
(Salah Ibrahim / EPA)
A pregnant Israeli woman is helped onto a gurney after being caught in the blast.
(Jo Kot / AFP)
An injured Israeli child is lifted into a waiting ambulance.
(Jo Kot / AFP)
Ambulances cross into the Israeli section of the border between Eilat (Israel) and Taba (Egypt) as they rush to help victims of the blast.
(Mori Chen / EPA)
Medics in the Israeli town of Eilat prepare to help bomb victims across the border in Taba, Egypt.
(Yehuda Lahiani / AP)
Times Staff Writer
TABA, Egypt —
Rescuers today poked through the rubble of a resort along the Red Sea in a grim search for survivors after the largest attack against Israelis outside their country in recent years.
Israeli authorities and analysts said the strikes contained the hallmarks of those planted by Al Qaeda — in scale and sophistication — than other Palestinian groups that have used suicide bombings against Israelis.
Authorities today widely expect the toll to climb from the 26 confirmed deaths while sifting through ruins, using specially trained dogs, to find corpses they suspect were buried by the debris. More than three dozen people remain missing, the Israeli military said today.
An enormous explosion ripped through the Taba Hilton on Thursday, peeling away the concrete façade of the five-star hotel complex, pancaking some of its lower floors and setting the main building ablaze. The blast was followed shortly by explosions in two other Egyptian tourist towns on the Red Sea.
Israel is under constant threat from Palestinian militant groups such as Hamas, which operate mainly in Israel and the Palestinian territories. The group has threatened revenge for Israel's assassination of its leaders.
No group known to be responsible for previous attacks has claimed responsibility for the latest violence. Three obscure groups, including one that may have a tie to Al Qaeda, claimed responsibility for the attacks, according to wire reports. Their claims could not be verified.
Taba is only a few yards across the border from Israel. Today, thousands were streaming back to their country mostly on foot, standing in long lines and carrying baggage.
Some took refuge in the southern Israeli city of Eliat, where hotels filled their banquet and meeting rooms with mattresses to accommodate the arrivals.
A young mother, Tovi Avnon, with her sons, 11-year-old Roi and 4-year-old, Ido, said they escaped from the top floor at the Hilton and took shelter in Eliat. "When you've got little children, you're scared, very scared," she said. "This was the only place we could runaway to."
The attack on the fully booked Taba hotel came as Israelis were observing the last in a string of holidays including the harvest festival of Sukkot. At this time of year, Egypt's Sinai Peninsula is a popular Israeli tourist destination, although visits there had fallen off sharply earlier in the 4-year-old current conflict with the Palestinians.
In the blast, a pair of American employees from the U.S. Embassy in Israel staying at the Taba resort with their families reportedly were slightly wounded in the attack. The State Department was still trying to account for other Americans who may have been at the hotel, Richard Boucher, a spokesman for the U.S. State Department, said in Washington today.
"We condemn the attack in the strongest possible terms," Boucher said. "We express our most sincere sympathies to the Egyptians, the Israelis and all the other victims of this vicious attack."
About two hours after the 10 p.m. blast, witnesses reported two explosions in the nearby towns of Ras al Sultan and Nuweiba. Both draw Israeli visitors, though they cater more to campers and backpackers.
After initial delays in being allowed into Egypt, Israeli rescuers rushed the wounded Israelis — who constituted most of the casualties, medical officials at the scene said — by ambulance and helicopter to hospitals in the southern Israeli communities of Beersheba and Eilat.
"The whole front of the hotel has collapsed," guest Yigal Vakni told Israel's army radio. "There are dozens of people on the floor, lots of blood The whole thing is burning and they have nothing to put it out with."
Vakni said most of the guests at the hotel, a lavish beachfront complex with views of the mountains of the Sinai, were Israeli.
He and other witnesses described pandemonium inside the hotel casino when the explosion punched out a wall and the ceiling collapsed. Guests on the upper floors fled by emergency exits, while others, trapped, cried out from the rubble.
"It was as if the gates of hell had opened," an Israeli doctor who was staying at the hotel told Israel's Channel One television.
The rolling echo of the blast reverberated across the desert, shaking resorts as far as a mile away and causing guests to run outside in panic.
Channel Two reported several hours later that Egyptian police had arrested an unspecified number of suspects.
Israeli authorities, speaking on condition of anonymity, said they had no independent confirmation, and said it would not be out of character for Egyptian police in such circumstances to carry out a mass roundup based on scant evidence.
Egypt, which has a tradition of cracking down on home-grown Islamic militant movements, said it was declaring the Sinai Peninsula a closed military zone.
Four weeks ago, in the days leading up to the Jewish new year holiday of Rosh Hashana, Israeli counterterrorism officials urged the country's citizens not to visit the Sinai, saying there were specific and credible signs of a potential attack.
"A concrete possibility has emerged that terrorists will try to attack tourist centers in Egypt, especially in the Sinai," the Foreign Ministry said in an unusually sharply worded travel advisory.
Thousands nonetheless flocked across the border to the Sinai, which Israel captured in the 1967 Middle East War but returned to Egypt after a 1979 peace treaty. Tour operators said the area had been packed with Israelis for three weeks.
An Israeli man identified only as Ilan, who spoke to Israeli radio, described people escaping the burning hotel and running toward the Red Sea beachfront in the darkness.
"There was complete panic, hysteria," he said in a voice ragged with tension. "People are smashing glass panes to get out, barefoot people are walking on broken glass — you could hear people shouting out names, looking for others."
Witnesses said the explosion exposed rooms — some with their furniture intact — for nearly the hotel's entire 10-story height.
In the initial chaos, guests said, Egyptian rescuers were slow to reach the site. "People were calling out for a doctor, but there wasn't one," said Ilan, the radio interviewee.
Israeli Prime Minister Ariel Sharon immediately contacted Egyptian President Hosni Mubarak to appeal for the speedy movement of emergency personnel across the border, and Mubarak quickly stepped in to help, Israeli media reports said.
About 50 Israeli firefighters were sent to help douse the fire, which covered the beachfront with a haze of smoke.
The blasts triggered a high state of alert in Israel. Air force planes were scrambled and soldiers based in the southern part of the country were called back early from holiday leave. An ambulance and rescue service appealed for blood donations.
When Israeli citizens find themselves in danger away from home, the government goes to great lengths to bring them back safely. Between 12,000 and 15,000 Israelis were believed to be vacationing in the Sinai, and the Israeli Foreign Ministry scrambled to assist with a mass exodus from Egypt, sending dozens of buses across the border.
The Taba crossing is Israel's busiest with Egypt. Israelis are allowed to travel to the resort on a limited, easy-to-obtain entry permit that allows access only to the tourist enclave, with its casino and scuba-diving sites.
Once a hamlet with only a nomadic Bedouin population, Taba was developed as a resort while the Sinai was in Israeli hands. It was the last sliver of territory to be returned to Egypt, and that occurred only after international mediation resolved a border dispute.
Israelis with friends and relatives vacationing in the Sinai jammed cellphone networks and flooded hospital hotlines late into the night. They took turns watching TV to look for loved ones in the jumbled video sequences of the wounded being loaded onto stretchers and into ambulances for the short journey into Israel.
The Sinai assault is the most serious apparently targeting Israelis abroad since the November 2002 Mombasa attack, in which three suicide bombers struck a hotel popular with Israelis, killing 13 other people. In an apparently synchronized action, assailants fired missiles at an Israeli charter plane with 271 people aboard as it was taking off from Mombasa, but they missed their target.
Israeli commentators were already comparing the Sinai events to the 1997 massacre of foreign tourists in Luxor, from which Egypt's tourist industry took years to recover.
"If this is indeed terror, it is a grave blow to Egypt — in terms of tourism, its relations with Israel and its own domestic politics," said Oded Granot, the main commentator on security affairs for Channel One.
Times staff writer Laura King reported from Jerusalem and special correspondent Tami Zer from Eilat. Staff writer Sonni Efron in Washington and Daryl Strickland in Los Angeles, along with Times wire services, contributed to this report.
---