Op-Ed: How Joni Mitchell and David Hockney make L.A. a better place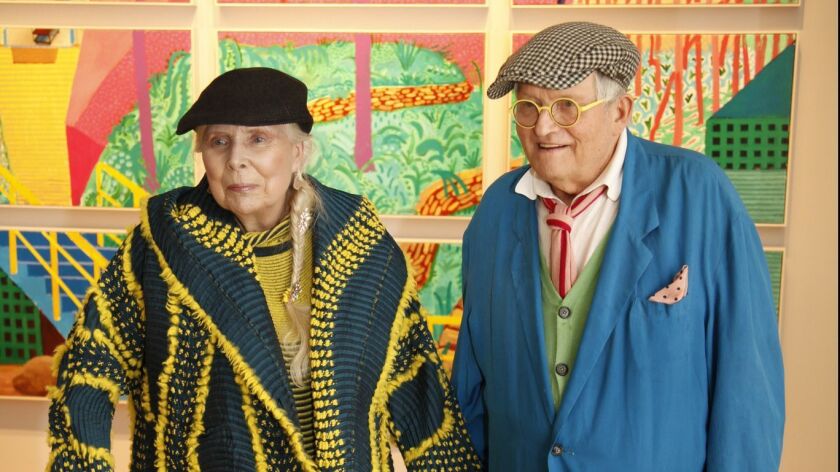 I can't stop thinking about a photograph that has been making the rounds on social media: David Hockney and Joni Mitchell, holding hands earlier this month as they walk through Hockney's new exhibition at L.A. Louver Gallery in Venice. (Just put those names into a search engine and the image will come up.)
There's Hockney — colorful in an unstructured blue jacket, lime green cardigan and pink and red striped tie — looking like a figure from one of his own paintings. Mitchell wears an elaborately knitted sweater and holds a cane. They are instantly recognizable, and yet no longer quite their iconic selves.
One reason the photo has stirred such interest is that its subjects are emblematic Los Angeles celebrities — and celebrity, as all good Angelenos recognize, remains among the city's strongest currencies. But Mitchell and Hockney are now far removed from their luminary younger incarnations, the artists' images we probably think of when we hear their names.
Hockney is 81, and Mitchell is 75. They are legends, yes, but legends who — miraculously, transcendently — look their age.
What happens to an icon when he or she grows old? It's a valid question in a city where age has long been treated as anathema.
Hockney was born in Bradford, England, and fell in love with California watching Laurel and Hardy on the screen. "I knew even as a child," he told the New York Times in 2001, "that it was sunny in Los Angeles because even though Laurel and Hardy wore overcoats, they cast long shadows. There were no long shadows in Bradford. I noticed that."
Mitchell grew up in Saskatchewan, Canada; she contracted polio at the age of 9, and later had a child out of wedlock. "I wouldn't have pursued music but for trouble," she has said. In a very real sense, she came "home" to Los Angeles: "Oh California," she has sung, "I'm your greatest fan."
Each of them landed here during the 1960s and quickly began producing work that defines Southern California — then and now. Think of Hockney's swimming pool paintings, and Mitchell's albums "Ladies of the Canyon" or "The Hissing of Summer Lawns." The confluence of place, time and talent, it seems, enabled them to become what they arrived in Los Angeles hoping to be.
Still, what happens to an icon when he or she grows old?
It's a valid question in a city where age has long been treated as anathema. Just think of all those plastic surgery disasters (or successes), all those mid-life-crisis cars. Think of the way very famous and accomplished people suddenly drop off the radar, as if their shelf life has expired.
In his 1947 essay "Hollywood," Truman Capote offered a trenchant observation of the mid-20th century Los Angeles' discomfort with the subject. "A teacher here," he wrote, "recently gave a vocabulary test in which she asked her students to provide the antonym of 'youth.' Over half the class answered 'death.'"
This is, of course, as big a cliché as the one about strivers like Hockney and Mitchell seeking fame and fortune on the edge of the continent. But that doesn't mean it also isn't true. Clichés aren't necessarily inaccurate; they just don't tell us anything new.
And so it charms us, shocks us even, to see Hockney and Mitchell embrace age. He had a minor stroke in 2012; his hearing has been impaired for more than 40 years. She suffers from Morgellons disease, and in 2015 a brain aneurysm required her to learn to walk again.
Nonetheless, his opening at L.A. Louver was packed to the rafters, while a two-night celebration of her 75th birthday in November at the Dorothy Chandler Pavilion — featuring performances by, among others, James Taylor, Norah Jones, Los Lobos and Chaka Khan — drew sellout crowds.
Enter the Fray: First takes on the news of the minute »
Their staying power derives, at least in part, from their singularity. They were always offbeat idols: too angular, too interesting to be merely stars. Now that they are older, this only feels more heightened and profound. The photograph evokes their eccentricities and their signature style, from Hockey's cap and round glasses to Mitchell's sharp cheekbones and long braid.
The response to their image on social media may be a sign — or so I'd like to imagine — that Los Angeles is becoming more angular and interesting as well. It couldn't happen soon enough. The time is long since past for the city to set aside its obsession with the new and shiny and think beyond the voluptuous lure of the next big thing.
Hockney and Mitchell in 2019 may serve to open up our vision to what is possible, as they have done throughout their creative lives, illustrating the grace with which we might build a continuum between the present and the past. Even a place as relentlessly forward-focused as Los Angeles can't deny the charisma of these artists; it can't restrict its icons to the latest wave.
Youth, in other words, is important, but so is endurance. Mitchell and Hockney endure.
David L. Ulin is a contributing writer to Opinion.
Follow the Opinion section on Twitter @latimesopinion and Facebook.
---
A cure for the common opinion
Get thought-provoking perspectives with our weekly newsletter.
You may occasionally receive promotional content from the Los Angeles Times.