Op-Ed: Union Station is a beloved L.A. landmark, but don't forget its troubled history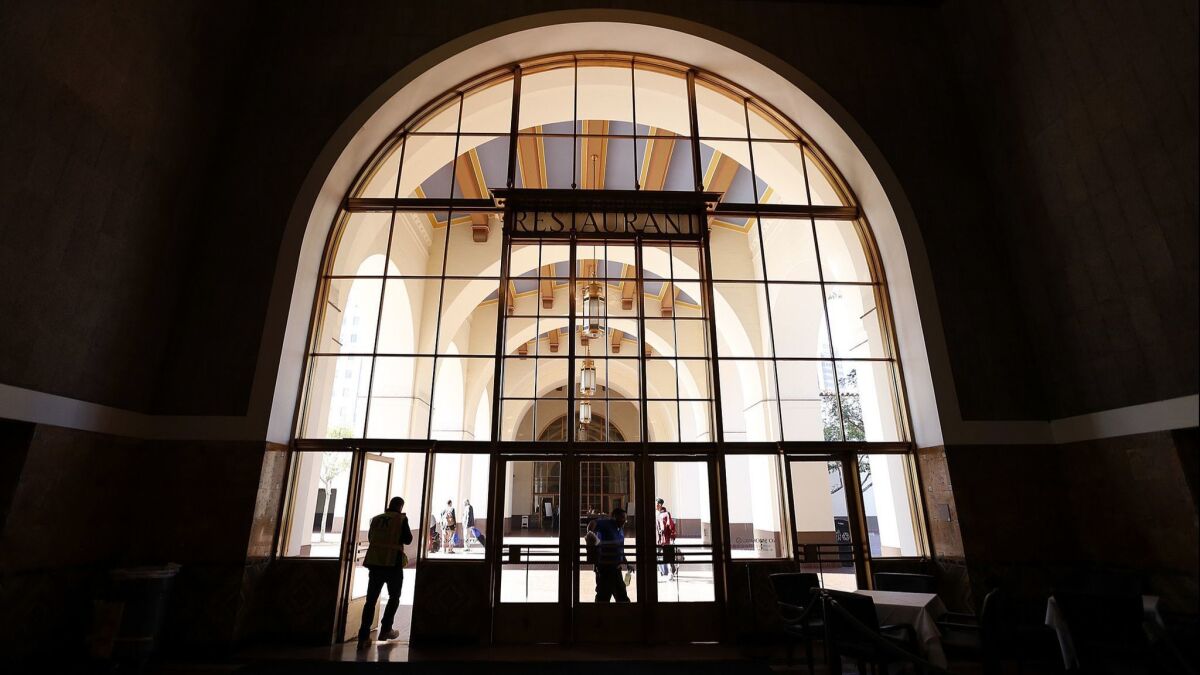 This weekend, Union Station — the last classic rail terminal to be completed in the United States — will mark its 80th birthday with live music, a model train exhibition, food trucks and a crafts fair. I'll be there, both to celebrate a structure that has long been one of my favorites in the city and to consider its complicated relationship to Los Angeles history.
Union Station is an architectural masterpiece, designed by the father-son team Parkinson & Parkinson, the firm responsible for Los Angeles Memorial Coliseum, City Hall, Bullocks Wilshire and the Alexandria Hotel.
The year the station opened, 1939, was a hinge point in Los Angeles history and something of an annus mirabilis for the city. The Arroyo Parkway, the first freeway in Southern California, was under construction; it would open the following year. A trio of novels — Raymond Chandler's "The Big Sleep," John Fante's "Ask the Dust" and Nathanael West's "The Day of the Locust" — collectively articulated a vision of what happens when local boosterism yields to existential desperation, a point-of-view the city still supports.
As beautiful as Union Station is, when voters chose it they cemented many of the city's problems.
This is the moment, in other words, when Los Angeles starts to grow into itself. When past and present come together in a building that exists for us now as a symbol of both pride and disrepute.
The station — with its grand hall, its stucco arches and countless deft and nuanced details — must have seemed like the cherry on top of 1939, a marker for a burgeoning Los Angeles. It combined (unified, get it?) three powerful rail lines and was the largest terminal in the West. Its aesthetics combined futuristic Streamline Moderne style with the city's Mission Revival, or Spanish Colonial Revival, roots.
As early as 1915, Los Angeles had sought to consolidate the rail operations serving Southern California. A decade later, these efforts led to a pair of competing ballot measures: one to build the station, another to create a network of elevated tracks that would link the railroads and their then-separate depots. This latter plan was connected to the Comprehensive Rapid Transit Plan drafted by the Chicago firm of Kelker, De Leuw & Co., which proposed 153 miles of subway, elevated trains and streetcar lines.
To look at the Kelker, De Leuw drawings, with a transit network overlaid across the grid of streets, is to imagine an entirely different Los Angeles, denser and more vertical, not unlike the city we are making now. As beautiful as Union Station is, when voters chose it they cemented many of the city's problems: traffic congestion, competing power centers, an unwillingness to take the long view.
And then there is racism. To clear ground for Union Station, Chinatown was condemned and razed in the early 1930s, after a long period of neglect. As that community sought to reconfigure itself, the city approved the creation of China City, a block-long Chinese village set that borrowed structures from the movie "The Good Earth." (It was destroyed by fire in 1949.)
The displacement of Chinese Americans is hardly atypical in Southern California. Local housing covenants prevented African Americans, Asians, Jews and other ethnic groups from living in many areas of Los Angeles until after World War II. In 1924, when pneumonic plague broke out in a Mexican neighborhood near downtown, "some newspapers referred to the plague as being a Mexican disease," Bill Estrada of El Pueblo de Los Angeles told The Times in 2006. "Poor Mexican immigrants were accused of bringing unsanitary conditions with them."
Enter the Fray: First takes on the news of the minute »
Union Station's opening 80 years ago marked — or seemed to mark — a coming of age for Los Angeles, but it was on the cusp of obsolescence as soon as it opened its doors. The Arroyo Parkway was the region's transportation future, along with air travel. Within a decade, Los Angeles International Airport — originally established as Mines Field in 1930 — would expand into something like its current form, pushing rail travel into the background.
And of course, the station's mission and Spanish colonial elements were nothing if not nostalgic, embodying less a real architectural history than a sentimentalized pseudo-Southern California style popularized by Helen Hunt Jackson's 1884 novel, "Ramona." It doesn't go too far to say that the bell towers, fountains and Moorish tiles — even in the hands of world class architects — represent another cultural erasure, not unlike China City.
We can appreciate Union Station as an enduring landmark — aspirational, beautiful, emblematic — only if we also take into account the way it effaces and prettifies our history, a reflection of the complex and conflicting narratives that define Los Angeles.
David L. Ulin is a contributing writer to Opinion.
Follow the Opinion section on Twitter @latimesopinionand Facebook
Our six-week newsletter will help you make the right decision for you and your property.
You may occasionally receive promotional content from the Los Angeles Times.