Review: Length and verbosity sideline baseball drama 'Benched'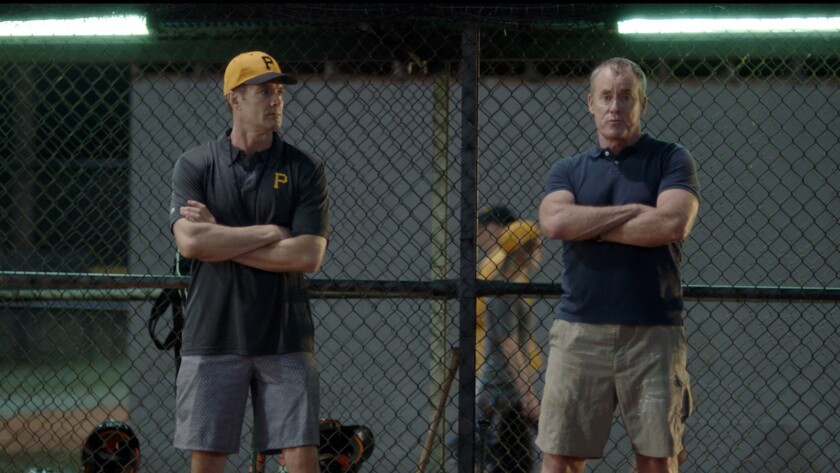 Dramatically speaking, the runners never advance in "Benched," an overlong, talky comedy about two Little League coaches with decidedly different philosophies.
Adapted but insufficiently opened-up from the 2003 Off Broadway play "Rounding Third" by Richard Dresser, the two-hander stars John C. McGinley as Don, a blue collar drill sergeant-type who remains steadfast in his belief that there's no crying in baseball.
Meanwhile, his new assistant coach, Michael (Garret Dillahunt), who, like Don, has a son on the team, takes a kinder, gentler, more supportive approach to the game and its young players, which eventually results in some big league head-butting.
Unfortunately, the process that inevitably leads to Michael calling Don out on his bullying ways proves to be such a painfully prolonged process, tediously drawn out by another one of the latter's puffed-chested pronouncements, that by the time he reaps what he sows, the audience is too tuckered-out to care.
While both actors play their parts convincingly, first-time feature directors Robert Deaton and George Flanigen, better known for their country music videos for Big & Rich, Reba McEntire and others, are less successful at extricating the vehicle from its stage-bound confines despite fleshing out the scenery with an actual baseball field populated by pint-sized characters facing off against an overworked score.
Filmed in Nashville several years ago, it isn't really surprising that this poorly paced production has spent so long on the sidelines.
-------------
'Benched'
Not rated
Running time: 1 hour, 50 minutes
Playing: Laemmle Music Hall, Beverly Hills
---