Readers think Coachella has become less about the music and more about the scene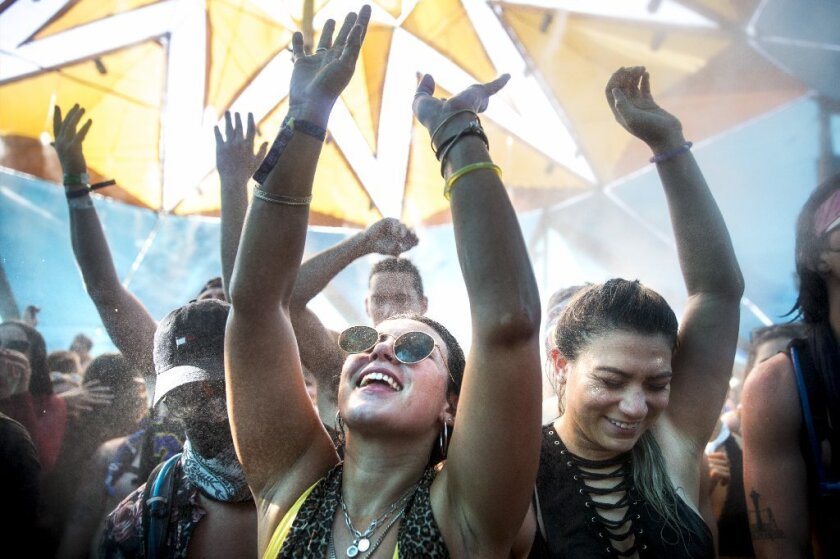 ---
It's gotten much bigger, much more branded, and much more of a scene. I do love how much more organized it is…and the fact that text messages don't take 8 hours to go through anymore.
— Vira (attended Coachella in 2002 and 2010-2018)
---
Experience wise, I cannot say enough good things about how Goldenvoice and AEG have improved the Coachella experience.
In 1999, I remember waiting in a line for two hours to get in because they did not know what they were doing. And this no longer happens. I remember when the only beer you could grab was a Heineken; now they have the Beer Barn. I remember waiting 30 minutes in a line for the bathroom; now you can just walk up to an open stall.
Even at the lower price tiers, the facilities and planning of Coachella have improved from year to year (sometimes even day to day or weekend to weekend).
— Aaron Moreno (attended Coachella 1999-2016)
---
The loss of the option to purchase one-day tickets put it out of reach for those who can't drop $400 + on tickets. The addition of the second weekend and on-site camping [is] still placing it in another price realm for many.
— Bridget Humphreys (attended Coachella 1999-2009)
---
It used to be about reuniting bands that wouldn't otherwise be playing a show anywhere. Bringing back bands or artists out of retirement that you could probably only ever see in your lifetime if you went to Coachella.
I've been going for 10 years, and this year I decided not to because it's so mainstream… which, don't get me wrong, isn't terrible. But what happened to getting that band that hasn't played a show in 10 years and reunited just for Coachella? The yearning for nostalgia is gone.
— Marissa (attended Coachella 2005-2017)
---
In 2003, the festival wasn't very crowded, and it still felt like a cool secret. I was younger, but I think that the lineup still appealed to a broader and more grownup, cool audience.
— Kama Hayes (attended Coachella in 2003 and 2006)
---
[I] went to Coachella in 2006 when Tool headlined. At the time, you could still buy day passes. My friends and I used to talk about the headliners and then decide which day we would go. We went every year until I turned 30.
By 2011, it was a three-day festival and you could buy only the three-day pass. So our group got smaller. Not only because people couldn't afford the passes, but now we had to pay for accommodations for two to three nights.
We would dress casual the first few years, then as the years passed, everyone started to talk about what will we wear as the new age of Facebook and Instagram started.
Every year that passed, the prices for the three-day passes and accommodations skyrocketed… So after a while, I was like, "OK, I've done enough Coachella for my lifetime."
— Mary Escobar (attended Coachella 2006-2013)
---
We now have Beyoncé … a pop star so far from the original roots of the fest that it's never felt more "over" than it has this year (its all pop headliners this year). While still a fantastically well-run and clean festival, it's just lost its edge to the VIP crowd.
— Lucas (attended Coachella 1999-2016)
---
Throwback moment: Daft Punk's 2006 performance
Nobody knew what to expect, when [Daft Punk] came on. It changed the game, since the production and performance was so amazing for dance. It made dance music cool and led to the rise of EDM and million-dollar DJs. After the show, people were speechless. It was a seminal moment for music.
Their staging and set list set the standard for all future and present EDM acts. I remember walking out of the tent (my friend and I were 15 feet from the stage), looking at everyone and realizing everyone had the "what the hell just happened?" expression on their faces.
---