Get to know GoldLink, the rapper who brought Washington's go-go music to Coachella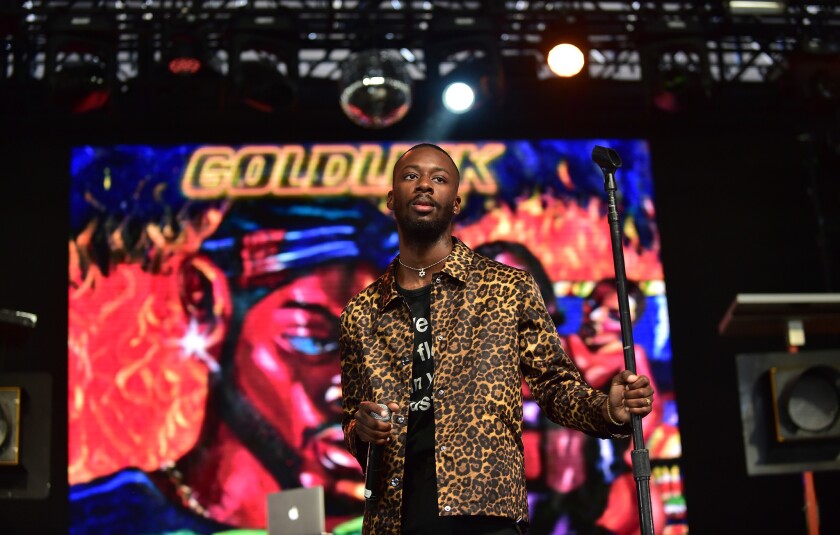 Once referred to as "Chocolate City," Washington is a place steeped in black culture struggling to survive in the midst of rapid gentrification — at least, this is the interpretation captured by District of Columbia rapper D'Anthony Carlos, who goes by the name GoldLink, on his recent album "At What Cost."
The 23-year-old artist and modern interpreter of go-go — a percussive, funk-inspired music and party culture indigenous to the city — just performed at the Coachella Valley Music and Arts Festival and is touring with indie electronic group Little Dragon.
"It's just that nobody's ever told the story about D.C., ever. If they have, they've never told it correctly," GoldLink says by telephone. "Nobody really talks about the natives and what it means to them."
Fusing hip-hop with house, drum and bass and R&B, the rapper garnered attention with his 2014 mixtape "The God Complex." He called this unique sound "future bounce." A year later, he issued "And After That We Didn't Talk." Born in D.C., and raised in Maryland and Virginia, GoldLink focuses on his roots in "At What Cost."
Goldlink re-immersed himself in D.C.'s culture to make the album. In "Have You Seen That Girl?" a lighthearted jam about admiring women around the DMV — a term that refers to D.C., Maryland and Virginia — GoldLink calls out the neighborhoods he roamed growing up, Landover, Fairmont Heights and Clay Terrace.
"You gotta ride the bus, you gotta talk to the people," he says. "You gotta get these stories, gather these experiences, gather your own experiences, dig deep within yourself, go to those places you don't want to go."
For the album, he worked with artists from the area such as R&B staple Mya, and D.C. rappers Wale, Shy Glizzy and Obii Say. Even the album art is from an area native, Darius Moreno. The product is a diverse yet cohesive sound with influences from trap, R&B, house and, at its core, go-go.
Take the back-to-back songs "Hands On Your Knees" and "Meditation." Produced by up-and-comer Kaytranada, both songs are driven by strong percussion.
"Meditation," in particular, features GoldLink's flow bouncing over a dreamy beat, and rich vocals from R&B artist Jazmine Sullivan.
Pioneered in the 1970s by artists such as late Chuck Brown, go-go is rooted in Latin percussion, jazz, funk and African rhythms. At its foundation is a nonstop beat.
"[Go-go] became popular around the early '80s. We started playing in all the clubs in and around D.C.," says Frank Sirius, lead singer for the Chuck Brown Band. "Washington was 90% black at the time. It was an outlet for a lot of young adults around the city."
Musician Donnell Floyd of the band Team Familiar recalls go-go's golden era, when 500 area locals would pack a venue. A musician also acted as a DJ, having conversations and forming a relationship with the crowd. While people danced, the artist would call out birthdays or wedding anniversaries and shout-outs to different neighborhoods.
It was a "real feel-good kinda deal," Floyd says.
"That's our music," Sirius says. "When [GoldLink] says it's an ode to D.C. culture, I understand where he's coming from with that."
Once thriving, go-go's survival is now threatened as venues dwindle and the population of the city changes.
"It was more of a community when I was growing up," GoldLink says. "Now the neighborhoods that used to be scary are going up for a million dollars. It's just different."
Although he's worried about the fast-changing spirit of the city, GoldLink plans to stay. He wants to help save its rhythm.
"If we educate the other side and we keep our essence," GoldLink says, "I think we can really turn our luck around."
Twitter: @makedaeaster
---