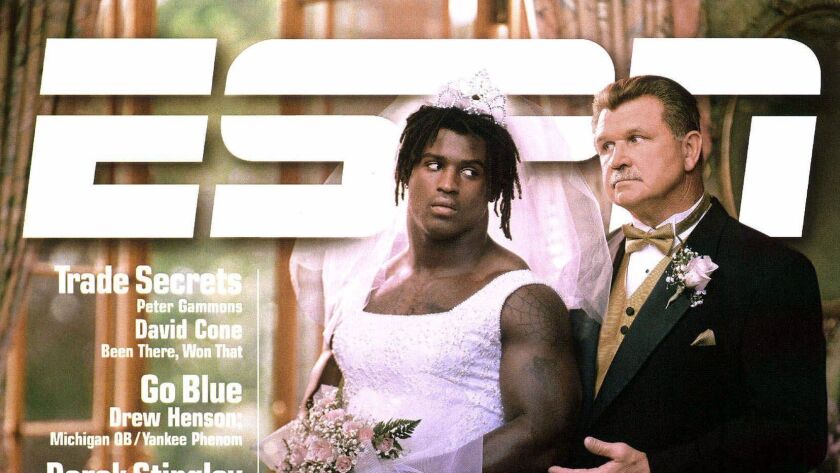 Sports media giant ESPN is ceasing the publication of its 21-year-old print magazine after the September issue.
The Walt Disney Co. unit announced the decision Tuesday. The magazine has been losing money in recent years as readers have moved away from print publications, leading to a decline in circulation and advertising revenue.
An ESPN representative said the staff of the magazine will be fully absorbed into the digital side of the company's editorial operation. Most of the journalists are already producing stories for ESPN's websites.
"Our data shows the vast majority of readers already consume our print journalism on digital platforms, and this approach will maximize our reach and impact," the company said in a statement.
ESPN may do occasional print publications that would continue the magazine's annual franchises such as "The Body Issue," where athletes pose nude or semi-nude.
ESPN the Magazine was launched in 1998 when its namesake cable channel was still growing in popularity. The publication, which operated out of the company's headquarters in Bristol, Conn., had a circulation of more than 2 million copies per issue as recently as 2014. ESPN said the current circulation is 2.1 million.
The publication was also lauded for its journalism and design, earning a National Magazine Award for general excellence in 2003, 2006 and 2017.
While ESPN remains a major profit center for Disney, it has been under pressure to control costs in recent years as declining pay TV subscriptions have cut into its revenue growth.
After peaking at more than 100 million subscribers in 2011, ESPN is now in 86 million homes as more consumers turn to internet streaming for TV programming.
The company, which has more than 3,000 employees worldwide, has undergone several rounds of layoffs in recent years to cut costs.
While the editorial staff from ESPN the Magazine will be maintained, there will be some elimination of positions related to the print production of the publication later this year after the final issue.
---