A private chef for Mr. Mogul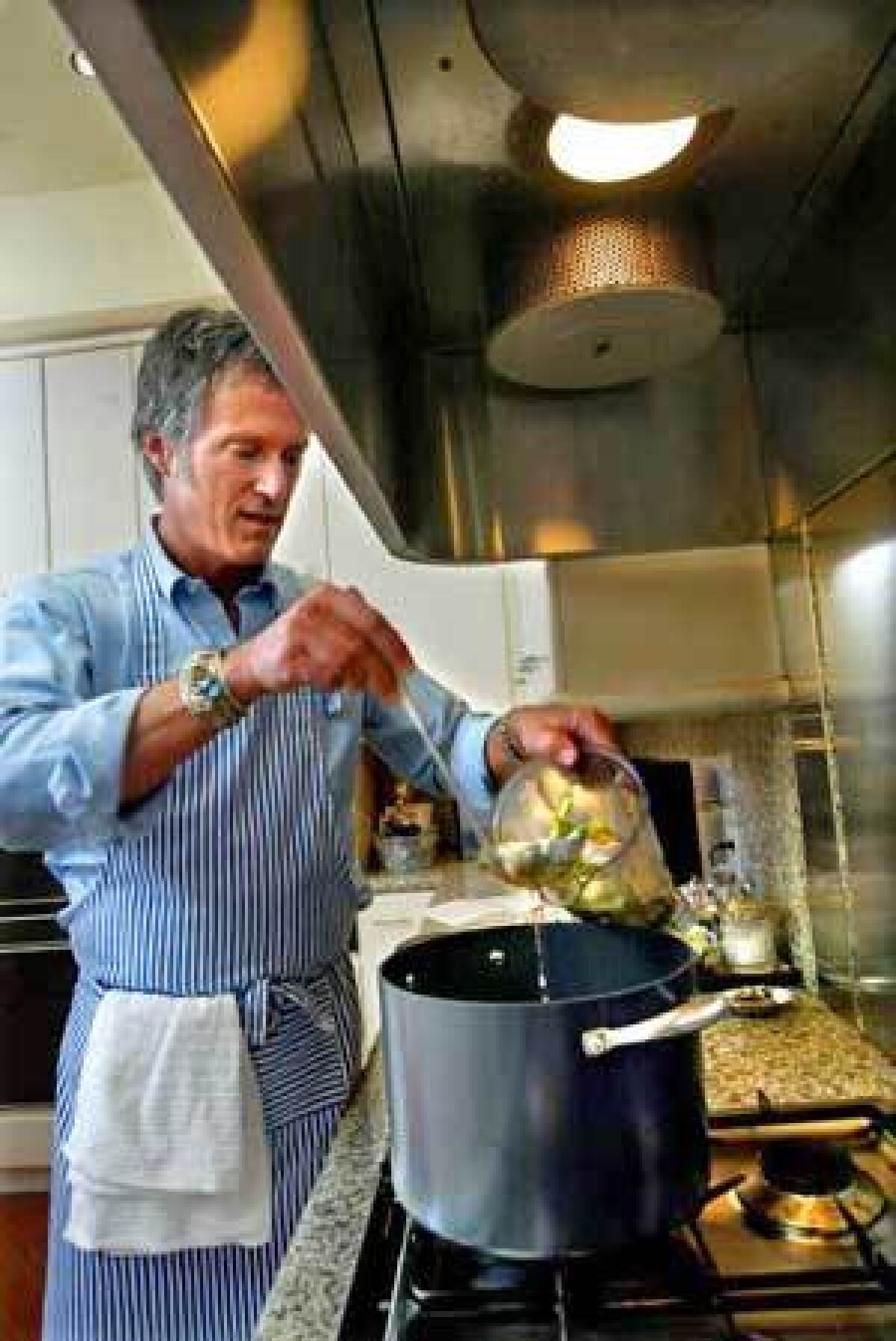 Los Angeles Times Staff Writer
Neil Zevnik has just served Mr. Mogul's dinner party bruschetta made with heirloom tomatoes he grew in his garden. He leans on the sleek, black granite countertop in the kitchen of the Moguls' Beverly Hills home, waiting to be told how a guest wants his lamb chops cooked.
"Dead!" says Beautiful Wife, the hostess, with suppressed amusement. "He says he wants them cooked dead."
"As long as I'm not eating it," he says, cracking a smile. Zevnik is a private chef in the employ of Mr. Mogul (not his real name). Although he signed a confidentiality agreement only once -- when he was hired as Elizabeth Taylor's chef, a position he retained for nearly seven years -- Zevnik knows that in the age of the gotcha expose, discretion is the better part of valor. He's been cooking in Mr. Mogul's two homes (the other is in Malibu) for nine months. Tabloid reporters have staked out his doorstep, looking for the dish on his bosses. Therefore, he will not reveal the Mogul family's name for publication.
Zevnik's mission is to cook for the satisfaction of others -- powerful, wealthy, exacting and famous others. He knows his place.
"You are in someone else's home, and therefore," Zevnik says, "they are the king."
He was hired to manage the food demands of a Hollywood family composed of Mr. Mogul, Beautiful Wife, their teen-age daughter and a shifting roster of friends, servants and guests.
There are rules, implicit and explicit, that come with the job. Always accommodate the family's schedule. No oregano. Atkins for Mr. Mogul, light and fresh for Beautiful Wife, healthy snacks and meals for Lovely Daughter. Zevnik arrives in the early afternoon, making dinner for that night and lunch for the next day.
Actor, caterer, chef
Zevnik has done as much as possible in advance for this dinner party. The day before, he made a key lime pie, chilling it overnight. The lamb chops are in a plastic bag, marinating in blood-orange-infused oil, garlic, ginger, orange zest and cracked pepper. A dozen spanakopita are in the oven. The salad is ready to go, the vinaigrette pre-made, and the spicy baby greens chilling.
As the spanakopita comes out of the oven, he plates them according to the dietary requirements of each guest, and brings them out to the dining room -- serving is part of his job. Water's boiling for the haricots verts, potatoes have been boiled; they wait to be mashed. Earlier in the day, Beautiful Wife had inquired about the caloric content of the mashed potatoes, concerned about her guest. Zevnik assured her he'd use low-fat milk and roasted garlic oil instead of butter. Zevnik transfers the chops to a platter and heads outside to the grill. Lots of sizzle, just enough flame, a quick flip, and they're done. Except for the one to be served "dead" -- though Zevnik placed it on the hottest spot part of the grill, that one needs another minute.
Curiously, Zevnik, 52, never worked on the line in a restaurant kitchen, a job so stressful that many who do it dream of fleeing to what they think will be the ease of a private position. Zevnik's experience was catering and cooking for friends. His "culinary school" consisted of decades spent poring over food magazines and cookbooks.
New York-born Zevnik started out as a character actor, appearing in television shows such as "The Nanny" and "Cheers" and the film "Ishtar." As he waited for his break, he waited tables. Eventually he moved into restaurant management and trained his impulses as an amateur cook and as a (self-professed) control freak on professional kitchens. There he would cook and taste with the chefs.
Fourteen years ago Zevnik filled in for a friend who was a private chef, wowing her boss and the owner of a chef placement agency, who recognized his flair for cooking and organizing. He sent him to Steven Spielberg's house.
He lasted a week.
"It was not, as they say, a good fit," Zevnik recalls. A few interviews later, his life changed when Elizabeth Taylor hired him as her full-time chef. She still calls on him to cook for special occasions. Now Zevnik could make his nearly six-figure salary anywhere he chooses.
"I work only for nice people. I can't take care of you if I don't like and respect you," says Zevnik, who also regularly stocks the refrigerator with comfort food such as eggplant lasagna for Pierce Brosnan and his wife, Keely Shaye Smith, and Walt Disney Co. president Robert Iger and his CNN anchor wife, Willow Bay.
The care Zevnik takes begins at the market. For this particular dinner, he visited his favorite Gelson's butcher to order $120 worth of the best lamb chops, rimmed with enough fat to cause a char-inducing flare-up on the grill. He gets the best service and selection in every department of the Studio City supermarket because after nearly nine years of shopping there, Zevnik has created a tribe of supporters among its employees.
Over the years, he's trained a fleet of baggers on how, exactly, to package his groceries. Cold items go together so he can instantly transfer them from his truck's cooler into their destination refrigerator. Tender produce or fragile cheeses are sacked alone; berries are flat, often on top of egg cartons.
Savvy shopper
If he can't find the organic produce he needs at Gelson's, he'll go to Whole Foods. For Yukon River salmon, he goes to Fish King in Glendale. On Sundays he's among the first to arrive at the Hollywood Farmers Market, where he picks up blue-shelled Araucana chicken eggs. Zevnik is a regular at Surfas, the Culver City restaurant supply house, where he buys most of his spices, oils and vinegars. He spends $500 to $600 a week for Mr. Mogul's groceries.
As it was for Lisa Fisher, the private chef to a screenwriter on "Six Feet Under," boundaries are crossed for Zevnik. The Meyer lemons, blood oranges and herbs he grows in his garden come to his employer's table. All the space in his garage is filled with work-related gear. The 10- and 12-hour days he puts in seven days a week leave little time for a social life. But he thrives, he says, on "taking care of people."
And then there's the issue of fame (and what chef -- or former actor -- doesn't want that?). There's little chance of achieving it for those who leave the public eye of the restaurant world.
Still, says Zevnik, "I get enormous ego-stroking whenever we have dinner guests." The compliments, he says, are often worth trading off the recognition he could earn from acting or running a restaurant, though he does harbor ambitions. "I wouldn't mind becoming more well known with a cookbook or a TV show," he says.
Though other private chefs seek to leave drudgework to the maid, the control freak in Zevnik doesn't mind. And you never know who you'll meet. While he was working at Brosnan's home this month, Barbra Streisand popped in to chat about the season's produce. Better, she commended his cooking.
But it's beyond just cooking. Like a modern day Mary Poppins, Zevnik has taken control of the kitchen at Mr. Mogul's, where he reorganized the pots and pans, purchased a new set of cookware, stocked the freezer with cookie dough and switched all the produce to organic.
And his influence goes beyond the kitchen. He not only has baked cookies for Lovely Daughter's classes at Marlboro School, he's also proofread her English papers (he has a master's degree in Medieval literature and once taught composition). In the time he's been cooking for family members, he's helped them achieve a kind of unity that they hadn't had in years.
"Our eating habits have changed," says Lovely Daughter, who now snacks on perfectly ripe fruit instead of chips. "My dad pretty much is home for dinner. Now there's a reason for everyone to come and eat together."
Get our L.A. Goes Out newsletter, with the week's best events, to help you explore and experience our city.
You may occasionally receive promotional content from the Los Angeles Times.