Recipe: Kabocha squash soup with pomegranate seeds and spicy candied pecans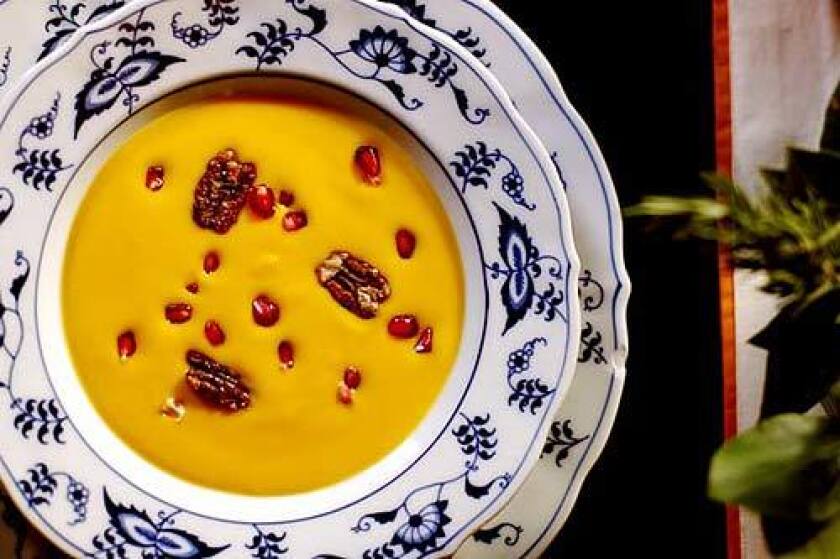 Total time: 40 minutes
Servings: 6 to 8
Note: Adapted from Craig Strong, chef de cuisine, the Langham, Huntington Hotel & Spa. This recipe requires the use of a candy thermometer (or a thermometer reaching 265 degrees).
1 tablespoon butter
1 onion, finely diced
1 (2 1/2 pound) kabocha squash, peeled, cleaned and diced into 3/4 -inch pieces
3 cups chicken broth
2 cups heavy cream
Salt
Pepper
1/2 cup sugar
1/2 cup water
1 cup pecan halves
1/8 teaspoon espelette or cayenne pepper, or to taste
1/2 cup pomegranate seeds
1. Heat a 4-quart sauce pan or small pot over low heat. Add the butter and onions and cook, stirring occasionally, until the onions are translucent, 3 to 5 minutes.
2. Stir in the squash, broth and cream, and season with 1 1/2 teaspoons salt and one-fourth teaspoon pepper. Bring to a boil over high heat, stirring frequently. Reduce the heat to maintain a gentle simmer and cook, loosely covered, until the squash is tender, about 20 minutes.
3. Puree the soup in a blender, or using an immersion blender, and pass through a strainer to remove any remaining solids. You should have about 9 cups soup. Set aside in a warm place until ready to serve.
4. While the soup is cooking, candy the pecans. Place the sugar and water in a small saucepan, stirring to moisten all of the sugar. Bring the mixture to a boil over medium heat and cook, evaporating the water and cooking the sugar, until a thermometer inserted in the liquid reads 265 degrees (hard ball stage for sugar), 10 to 12 minutes. Immediately remove from heat.
5. Add the pecans and pepper powder to the sugar and stir with a wooden spoon until cool. The sugar will crystallize (or seize) as it cools, forming a cloudy hard coating around the nuts; this is fine.
6. When the nuts have cooled, heat a clean, medium pan over moderate heat. Stir in the crystallized nuts and stir with a wooden spoon until the sugar coating on each nut caramelizes. Remove from heat and allow the caramelized nuts to cool on a sheet of parchment paper.
7. Ladle the soup into bowls and serve garnished with a small handful of spiced candied pecans and a sprinkling of pomegranate seeds.
Each of 8 servings: 411 calories; 5 grams protein; 28 grams carbohydrates; 3 grams fiber; 33 grams fat; 16 grams saturated fat; 85 mg. cholesterol; 609 mg. sodium.
---