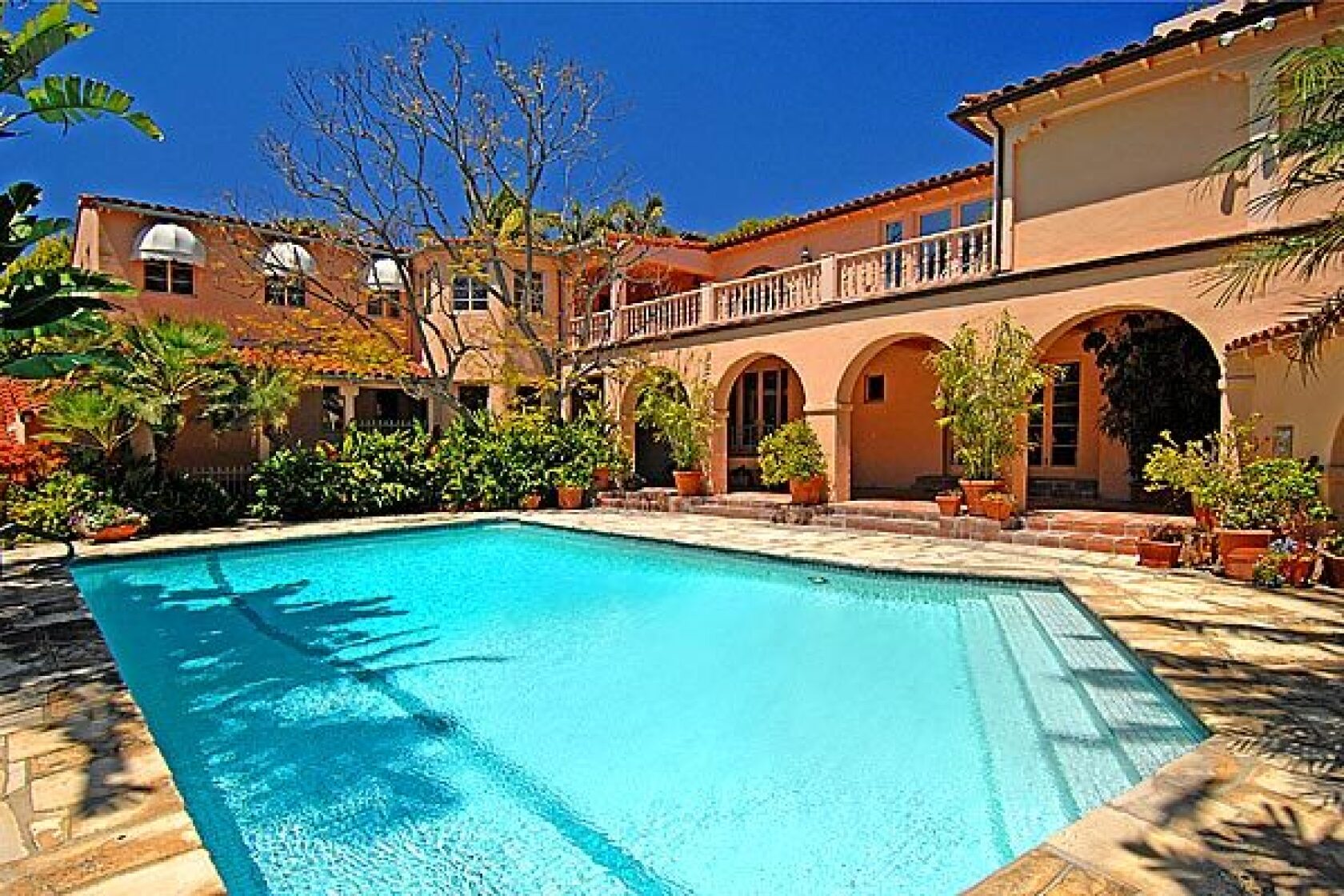 A 13,000-square-foot Spanish-style house, built in 1929, first belonged to actress Colleen Moore. It is listed at $15.95 million.
(Everett Fenton Gidley)
The structure of the entryway, with its arched passages, looks much as it did when the actress moved in.
(Everett Fenton Gidley)
Among the public rooms off the grand two-story entry is this living room with fireplace.
(Everett Fenton Gidley)
Windows and arches add natural light and flow to the interior spaces.
(Everett Fenton Gidley)
A wood-paneled ceiling and wood floors add warmth in the dining room.
(Everett Fenton Gidley)
Three structures make up the compound.
(Everett Fenton Gidley)
A 1929 Spanish-style estate in Bel-Air that traces its Hollywood history back to silent film star Colleen Moore is listed for sale at $15.95 million or for lease at $39,000 a month.
The three-structure, gated compound on less than three-quarters of an acre has seven bedrooms, 12 bathrooms, two guest apartments, a projection room, an art studio and a gym in about 13,000 square feet. A formal two-story entry leads to the public rooms, including a formal dining room, den and media room.
Moore, whose bobbed hairstyle would become a fad, frequently played comic roles on the silver screen. She starred as Annie in "Little Orphant Annie" (1918) while in her teens and gained fame as a young adult for her role as a flapper in "Flaming Youth" (1923).
As sound films caught on, Moore took a break from acting and frequently entertained at her Bel-Air home. A garden tea for educators was among events held on the grounds in 1930, according to Los Angeles Times archives. Another reminder of her time in residence is a 1931 lost-and-found ad giving the home's address and stating: "Dog lost, Great Dane, male, light brown, small scar on forehead."
Moore made the move to talkies and starred opposite Spencer Tracy in "The Power and the Glory" (1933). Her final film was "The Scarlet Letter" (1934). She died in 1988 at age 87.
Sally Forster Jones of Coldwell Banker's Beverly Hills East office and Linda May of Coldwell Banker, Beverly Hills, have the listing.
---