Trump's unproven claims of widespread voter fraud trip up White House Press Secretary Sean Spicer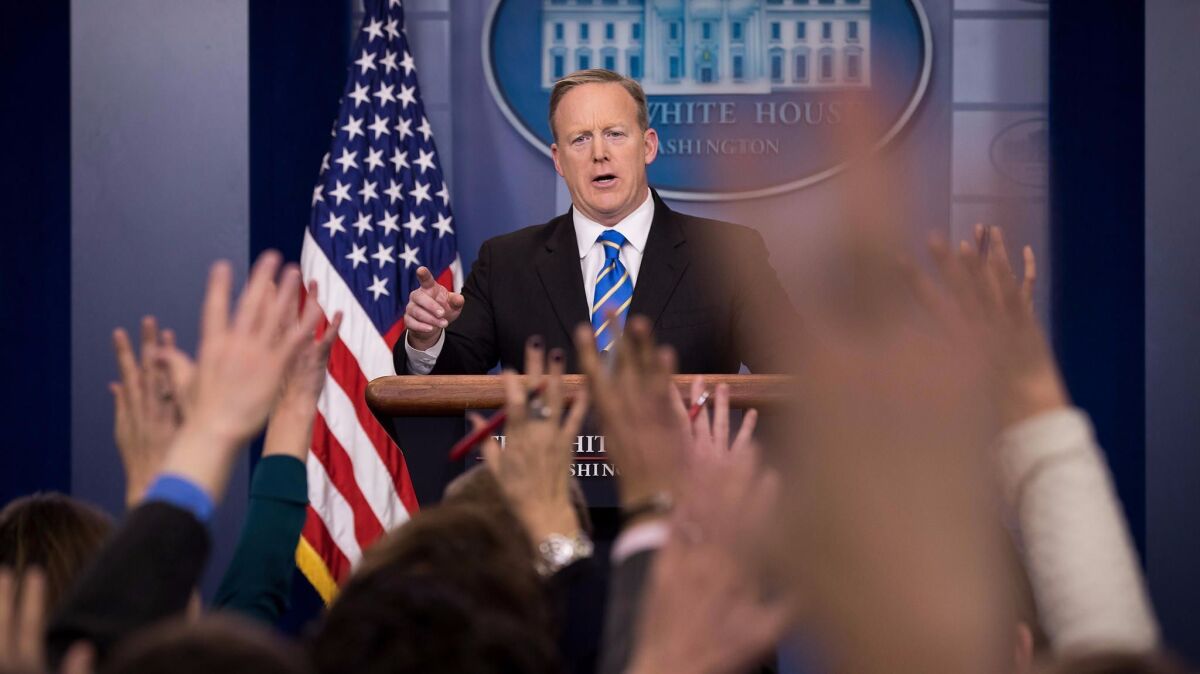 President Trump's continued insistence that as many as 5 million people illegally cast votes in the election induced further heartburn for the nascent administration Tuesday, as his press secretary struggled to explain and defend the unproven claim before ultimately abruptly ending his second televised briefing.
Sean Spicer told reporters that Trump stood by his claim that 3 million to 5 million votes were illegally cast, which was a subject of conversationbetween Trump and congressional leaders during a White House visit the night before.
"He was having a discussion with some folks and mentioned something in passing, which has been a longstanding belief that he's maintained," Spicer said. "This isn't the first time that you've heard this concern of his."
Spicer said the president's assessment was based on "studies" and "evidence that has been presented to him." Pressed for specifics, he cited a Pew study from 2008 that he said found 14% of people who voted were noncitizens. He appeared to be referring to a study by researchers from Old Dominion University whose conclusions have been mostly debunked.
Trump has made the claim before , apparently based off a story on the conspiracy-theory website Infowars.
No evidence exists of widespread voter fraud. Such a collusion would be all but impossible, given the decentralized nature of U.S. elections.
But where Spicer appeared to run into the most trouble was when he was asked whether the president would support an investigation into illegal balloting, if he believes it does exist.
"If 3 [million] to 5 million people voted illegally, that is a scandal of astronomical proportions," one reporter said to Spicer. "Why not investigate?"
"Well, maybe we will," Spicer responded.
Pressed again about a potential investigation, Spicer said none existed.
"There is no investigation," he said. "I said it was possible. Anything is possible. It was a hypothetical question."
Moments later, Spicer ended the briefing abruptly after an aide walked in and placed a note on his lectern.
Senate Minority Leader Charles E. Schumer (D-N.Y.), who was present for Trump's discussion Monday, said Republicans have an obligation to reject Trump's falsehoods.
But Senate Majority Leader Mitch McConnell (R-Ky.) declined to contradict the president. "It does occur," he said of voting fraud. "Most states have done a better job on this front, but the notion that election fraud is a fiction is not true."
California Secretary of State Alex Padilla, a Democrat, accused Trump of "dangerously attacking the legitimacy" of American elections.
"These are not 'alternative facts.' They are corrosive lies without any evidence," he said in a statement, referring to Trump senior advisor Kellyanne Conway's formulation Sunday about the administration's false claims about inaugural attendance.
ALSO
Trump should forget the time-wasting voter fraud claims and focus on keeping — not making — America great
Did Trump read the Pew Center study he says backs his claim of voter fraud?
Here's how voter fraud once tipped an election — and why that doesn't happen very often
President Trump's voter fraud allegation is 'a lie,' says California's top elections officer