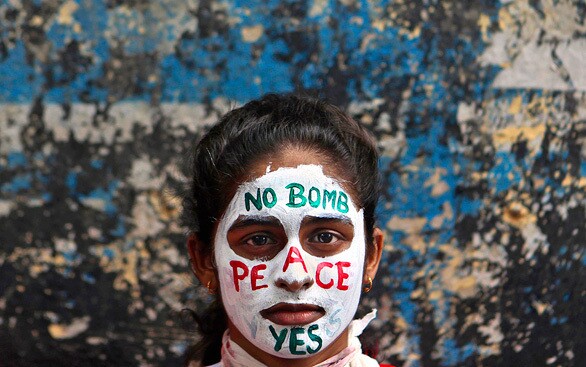 58 Images
Pictures in the News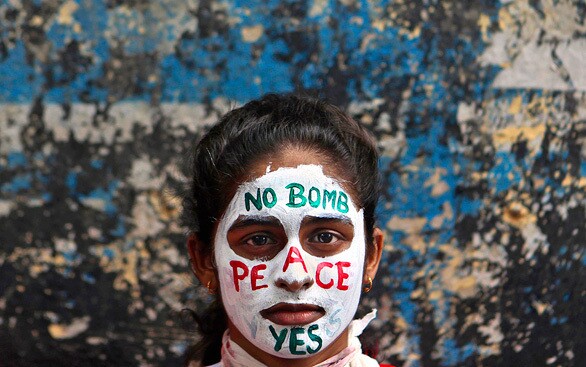 An
Indian
student participates in a Hiroshima Day peace rally. Students and social activists marched for the annual commemoration of the American atomic bombing of Hiroshima, Japan, marking its 65th anniversary.
(Rafiq Maqbool / Associate Press)
A woman floats a paper lantern on the Motoyasu River in Hiroshima to mark the 65th anniversary of the
World War II
atomic bombing of the city. Representatives from more than 70 nations, including for the first time the United States, joined tens of thousands at the emotional event.
(Toru Yamanaka / AFP / Getty Images)
A festival-goer "head-bangs" at the Wacken 2010 Heavy Metal Festival. More than 75,000 people are expected to attend the festival running until Saturday.
(Carsten Rehder / EPA)
Children whose families have declined to be rescued wade in rising flood waters in the village of Panu Akil, near Sukkur,
Pakistan
. Rescue workers and armed forces continued evacuating thousands in Pakistan's heartland province of Sindh. Residents across Sindh and Punjab are expected to be hit hardest Friday night with waters expected to rise more than 2 feet. Deadly flooding across Pakistan has claimed the lives of more than 1,300 people and has forced hundreds of thousands from their homes in what is the country's worst flooding since 1929. Aid organizations estimate that over 3 million people have been affected by flooding.
(Daniel Berehulak / Getty Images)
In this photo released by
China's
Xinhua news agency, twin baby pandas are seen after a panda named Qizhen gave birth to them.
(Zhang Yujun / Xinhua News Agency)
Hip-hop artist Wyclef Jean addresses a crowd of supporters in Port-au-Prince after filing his official paperwork to run for president. He may be found ineligible.
(Liz O. Baylen / Los Angeles Times)
A vendor in Nairobi sells newspapers carrying the headline "Yes it is," referring to voters' approval of a new constitution for the nation.
(Tony Karumba / AFP/Getty Images)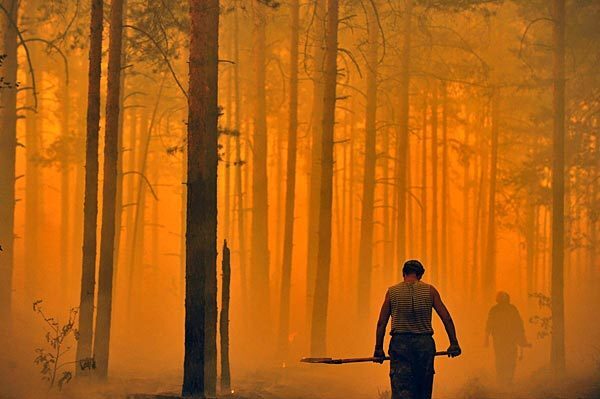 Russians try to stop a fire spreading near the village Golovanovo, in the Ryazan region, as Russia faces the worst wildfires in its modern history.
(Natalia Kolesnikova / AFP/Getty Images)
World Champion Kelly Slater of the U.S. competes beside the pier during the men's heats of the U.S. Open of Surfing at Huntington Beach. The event celebrates its 51st year beside the historic Huntington Pier which, considered the birthplace of California's surfing culture.
(Mark Ralston / AFP/Getty Images)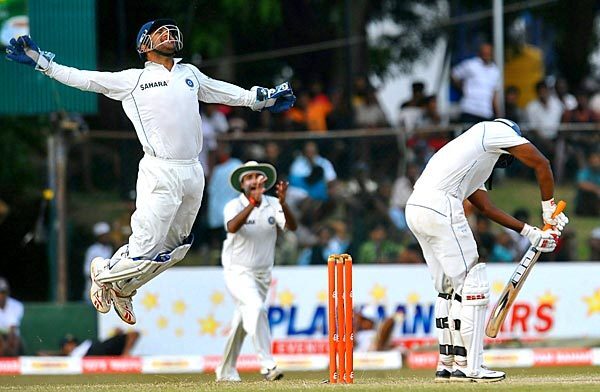 Indian cricket captain and wicketkeeper Mahendra Singh Dhoni leaps into the air as he takes a catch to dismiss Sri Lankan batsman Tharanga Paranawethana, right, during the third day of the third test match between Sri Lanka and India at the P. Sara Oval International Cricket Stadium in Colombo. Sri Lanka are 45 runs for the loss of two wickets in their second innings.
(Lakruwan Wanniarachi / AFP/Getty Images)
A swimmer in a mermaid costume performs at the aquarium at the Chinagmai zoo Chiang Mai province. The aquarium is Southeast Asia's largest living museum with nearly 20,000 examples of marine creatures.
(Pornchai Kittiwongsakul / AFP/Getty Images)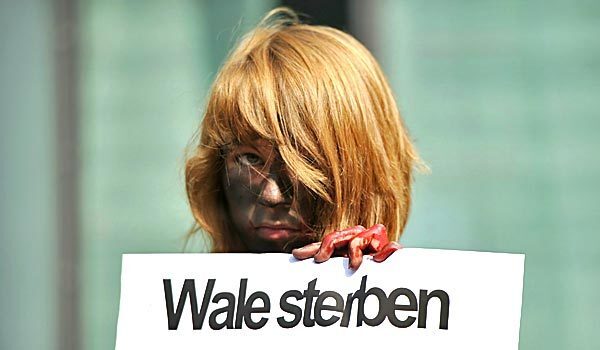 Outside the Danish Embassy in Berlin, an activist of PETA , People for the Ethical Treatment of Animals, stained with fake blood holds a placard that reads "Whales die" during a protest of whaling at the Faroe Islands.
(Johannes Eisele / AFP/Getty Images)
An Israeli visits an exhibition in Tel Aviv displaying a collection of different depictions and interpretations of Israeli Foreign Minister Avigdor Lieberman.
(Yehuda Raizner / AFP/Getty Images)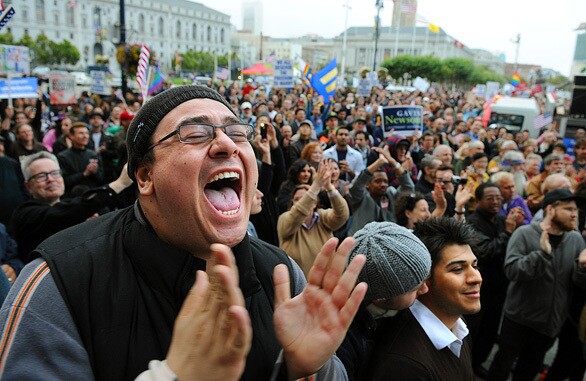 Steve Proo cheers during a rally outside City Hall in
San Francisco
after a judge overturned the same-sex marriage ban.
(Wally Skalij / Los Angeles Times)
Katie Jacobson, 25, kisses her fiancee, Andrea Lambert, 33, at West Hollywood Park during a rally following a judge's overturning of Proposition 8 on Aug. 4, 2010.
(John W. Adkisson / Los Angeles Times)
Young people hold candles in front of the Atomic Bomb Dome on Aug. 5 to commemorate the victims of the nuclear attack on Hiroshima during
World War II
. Aug. 6 marks 65 years since the atomic bombing of the city in 1945.
(Kimimasa Mayama / EPA)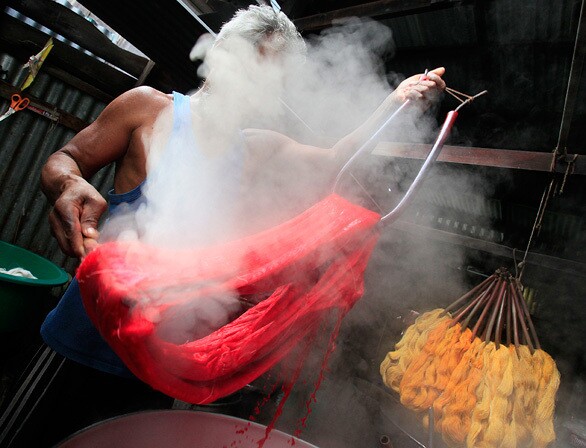 Lek Jaitam dyes batches of silk thread to be used to create hand-woven items, in Bangkok on Aug. 5, 2010.
(Sakchai Lalit / Associated Press)
A couple sits at lunch as Steve Black of Australia dives past their balcony in the Red Bull Cliff Diving World Series in Polignano a Mare,
Italy
on Aug. 5, 2010.
(Dean Treml / AFP/Getty Images)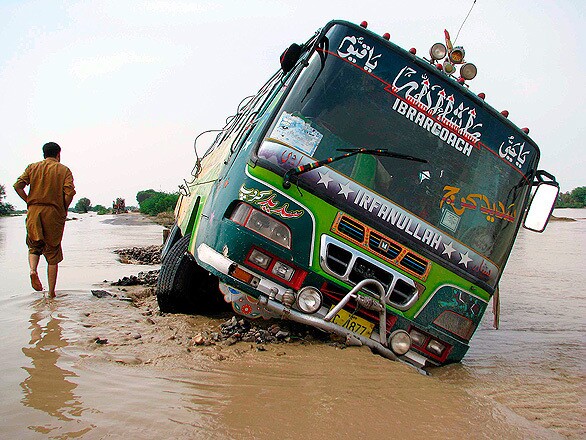 A flood victim passes by a stranded passenger bus as he flees the flood-damaged area of Tank, a town in the Khyber-Pakhtunkhwa province of
Pakistan
, on Aug. 5, 2010. More than 1,500 people across Pakistan have been killed and hundreds of thousands stranded due to flash floods triggered by monsoon rains. The worst floods the country has faced in decades washed away millions of acres of crops, submerged villages and destroyed roads and bridges in Khyber-Pakhtunkhwa, parts of the Pakistan-administered Kashmir region and the eastern province of Punjab.
(Saood Rehman / EPA)
Pope Benedict XVI arrives in his private helicopter at the Vatican for his weekly general audience.
(Andreas Solaro / AFP/Getty Images)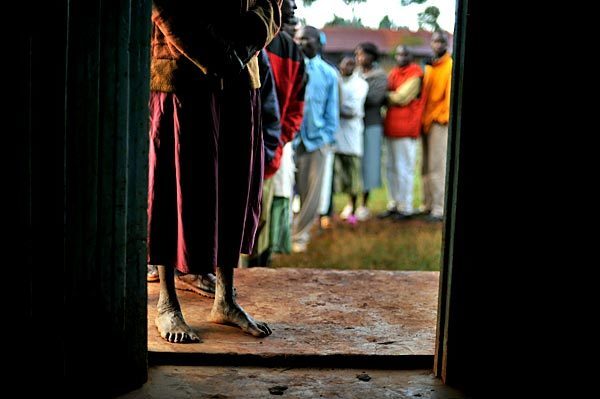 Kenyan villagers wait for their turn to vote in Kosachei, in western Kenya. The voting Wednesday was on a proposed new constitution that many say would make their institutions more democratic.
(Roberto Schmidt / AFP/Getty Images)
Kashmiri youths pound on a government vehicle that had been set on fire during a demonstration to protest the recent deaths in Indian-controlled Kashmir.
(Tauseef Mustafa / AFP/Getty Images)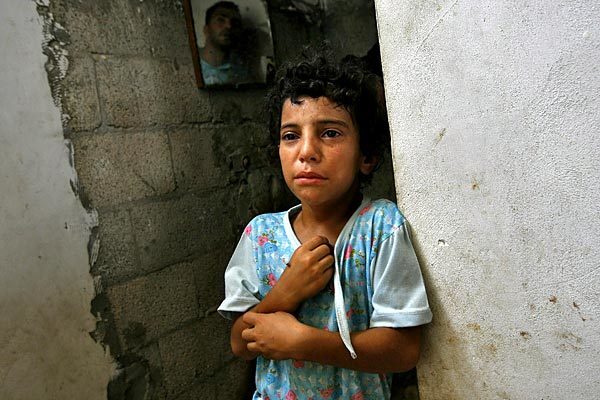 A Palestinian child weeps during the funeral for a 22-year-old man who was killed in an Israeli airstrike in the southern Gaza Strip town of Khan Yunis.
(Said Khatib / AFP/Getty Images)
Five-year-old Findlay Gledhill holds a placard as a group of rangas, a nickname for redheads, calls for stronger policies on greenhouse gas reduction.
(William West / AFP/Getty Images)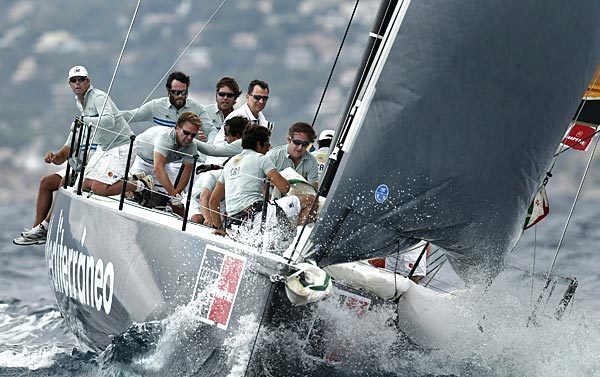 A yacht with Spain's Prince Felipe aboard splashes through the water on the third day of the Copa del Rey regatta.
(Jaime Reina / AFP/Getty Images)
A swimmer jumps into the sea in the Stanley district of Hong Kong.
(Ed Jones / AFP/Getty Images)
A giant panda at the Research and Conservation Center for the Giant Panda in Chengdu, southwest China's Sichuan province.
(AFP/Getty Images)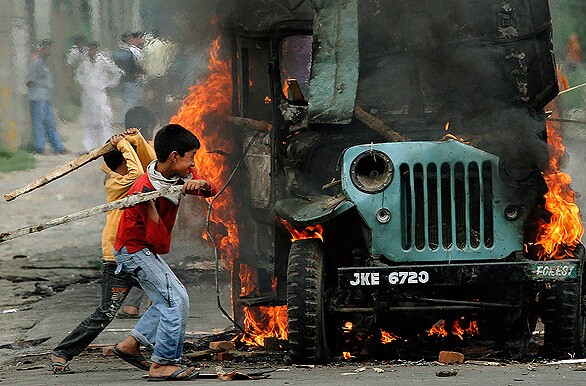 Young Kashmiri boys hit a burning police vehicle after it was set on fire by protesters at Barthana neighborhood. Hundreds of demonstrators chanting anti-India slogans held protest marches in Indian Kashmir on Wednesday, defying a rigid round-the-clock curfew and police orders that they would be shot on sight.
(Dar Yasin / Associated Press)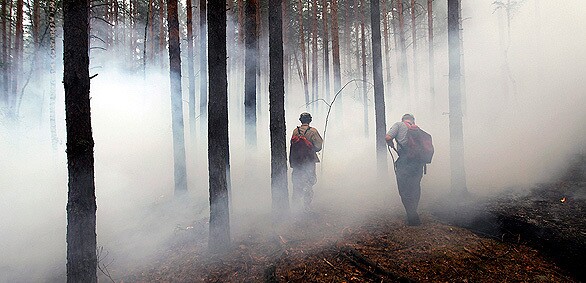 Residents using hand-operated fire extinguishers walk through thick smoke Thursday as they fight a forest fire near Vyksa, about 187 miles from
Moscow
. Another 300 wildfires in the last 24 hours have added to those already raging across a parched Russia, the leader of the national crisis center, Vladimir Stepanov, told the Interfax news agency. The situation in Moscow, home to 10 million people, was also worsening as smoke from peat bog fires continued to cover the city in smog.
(Yuri Kochetkov / EPA)
Actors from the company "Les Crackes" mime a play for prisoners in the courtyard of the jail in Perigueux on Wedneaday as part of the 28th edition of the International Mime Festival of Perigueux (Mimos).
(Jean-Pierre Muller / AFP / Getty Images)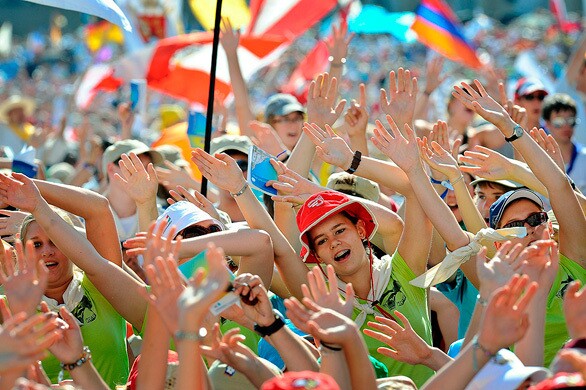 Altar boys wave to
Pope Benedict XVI
as he arrives for his weekly general audience on Thursday.
(Andreas Solaro / AFP / Getty Images)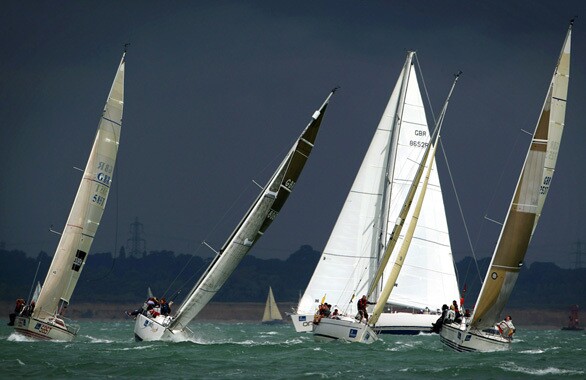 Yachts sail in the Class 5 IRC race at the Cowes Week Regatta on Thursday off the Isle of Wight, England. The annual Cowes Week Regatta has been held in early August every year since 1826, where only seven yachts took part and the winning prize was 100 pounds Sterling. The Cowes Week Regatta 2010 is hosting around 8,500 competitors including Olympic and world-class yachtsmen sailing over 1,000 boats in up to 40 different handicaps over eight days.
(Dan Kitwood / Getty Images)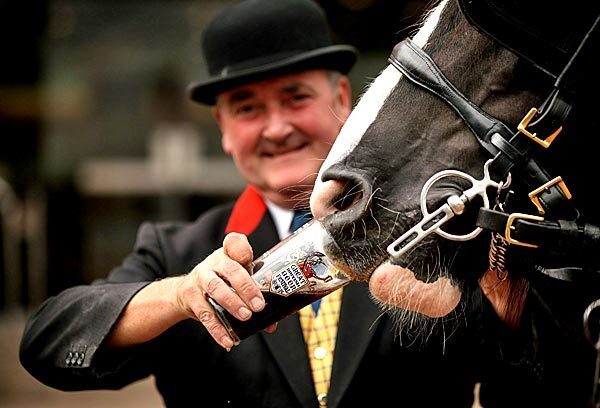 A man gives a pint of beer to a shirehorse pulling a Thwaites Ales cart outside the Earls Court Exhibition Center in London, where the "Great British Beer Festival 2010" is being held. The five-day event is Britain's largest beer festival, with more than 60,000 people expected to attend. The festival features more than 500 British real ales, 100 British ciders and 350 beers from around the world.
(Oli Scarff / Getty Images)
A laborer spreads out shards of recycled plastic to dry beside the river in Dhaka. Bangladesh is one of the world's poorest nations, with 40% of its 144 million people living on less than $1 a day.
(Munir Uz Zaman / AFP/Getty Images)
Milk farmers demonstrate in Change during a farmers protest of milk prices and the policies of the companies they deal with. French farmers have ramped up protests in search of governmental support and interprofessional agreements.
(Damien Meyer / AFP/Getty Images)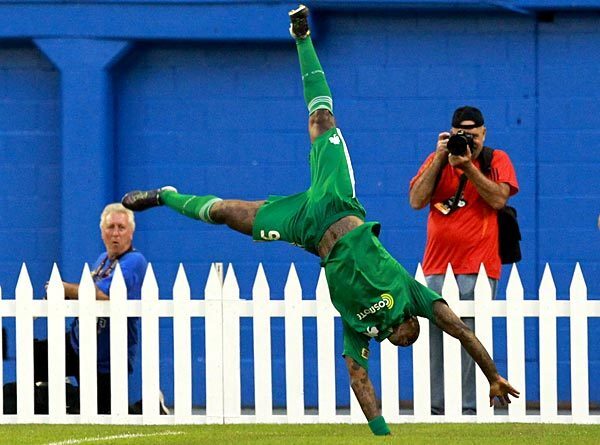 Panathinaikos FC's Djibril Cisse does a cartwheel after scoring his first of two goals during the first half of an international friendly with Inter Milan FC at the Rogers Centre.
(Darren Calabrese / The Canadian Press)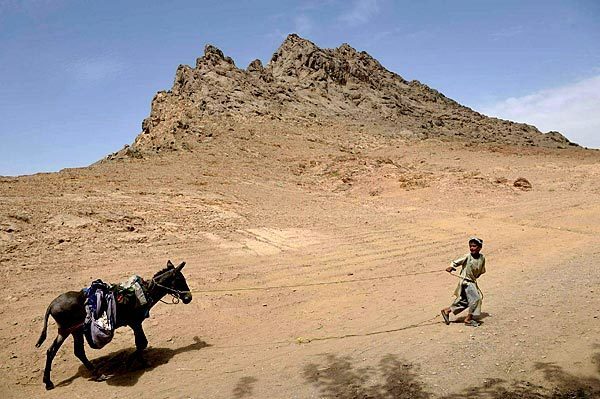 An Afghan boy leads a donkey through the Arghandab Valley of Kandahar province , where U.S. troops have been fighting Taliban insurgents.
(Yuri Cortez / AFP/Getty Images)
Pakistanis gather in Khyber Pakhtunkhwa province to receive food supplies at the UNHCR camp in the Charsadda district. Devastating floods caused by torrential monsoon rains have affected about 3.2 million people in Pakistan, and only a fraction of them are within reach of emergency aid, the U.N. Children's Fund said.
(A Majeed / AFP/Getty Images)
Champ and Rocky, three-day-old mixed beagles, rest at the Almost Home Animal Haven in Southfield, Mich. Police rescued the two newborn puppies, found tied up inside a plastic bag and left outside.
(Patricia Beck / Detroit Free Press)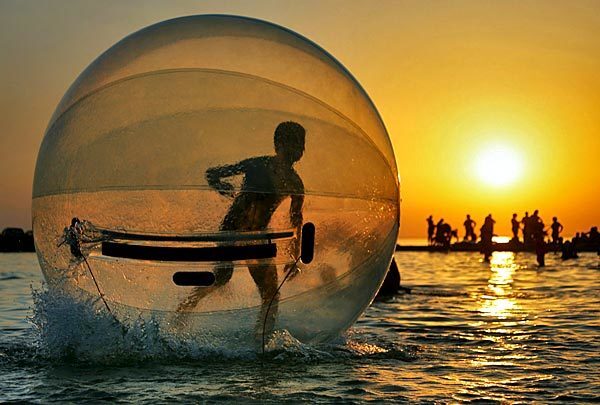 A boy plays inside an inflatable plastic sphere floating on the Sea of Azov in Berdyansk during his summer holiday.
(Peter Kovalev / AFP/Getty Images)
People pray and mourn in front of the wooden cross set outside Poland's presidential palace after the April, 10 2010 Tu-154m plane crash that killed 96 people, including the late Polish President Lech Kaczynski.
The cross will be moved later Tuesday to the nearby Church of St. Anna, a joint decision by President Bronislaw Komorowski and the Warsaw Diocese. The memorial cross has become a divisive issue in Poland and many protesters are blocking authorities from moving the cross.
(Grzegorz Jakubowski / EPA)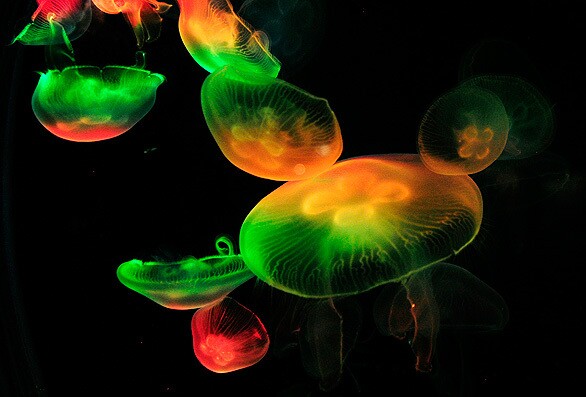 Jellyfish are found in every ocean in the world. Under varied lighting, jellyfish swim in a tank at the Blue Zoo Aquarium in Beijing. After more than a million people visited the year following its grand opening in 1997, the walk-through aquarium remains an ever popular tourist attraction.
(Frederic J. Brown / AFP / Getty Images)
U.S. soldiers of Charlie Company 2-508 PIR Second Platoon, Second BTC, 101st ABN Div. (Air Assault) laugh at the yellow flowers they attached to their helmets during a joint patrol with National Security Forces in the Arghandab Valley of Kandahar province. President Barack Obama on Monday said progress was being made towards important security goals.
(Yuri Cortez / AFP / Getty Images)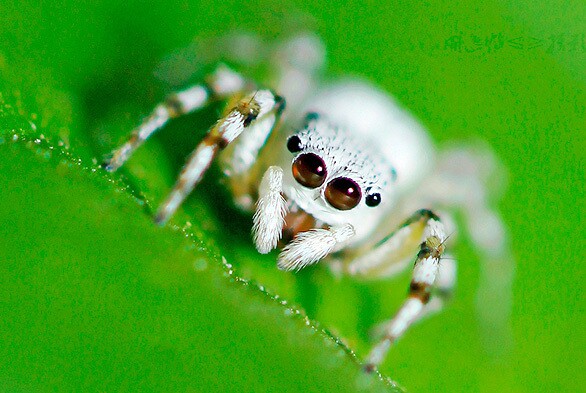 In the country's southwest Chongqing municipality, a spider in the Muzhao mountain.
(AFP / Getty Images)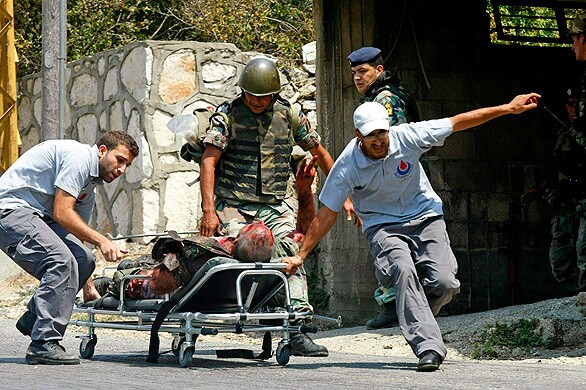 Rescue workers in Adaisseh evacuate a Lebanese soldier wounded in a cross-border clash between Lebanese and Israeli troops. Three Lebanese soldiers and a journalist were reportedly killed in the confrontation. The deaths are the first since the end of the 2006 Lebanon War.
(Mahmoud Zayat / AFP / Getty Images)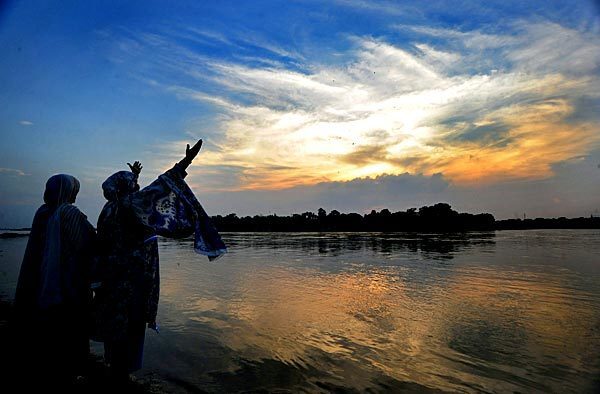 Women pray at sunset by the Ravi River in Lahore, Pakistan. Fears are growing about outbreaks of disease among 2.5 million people affected by
Pakistan's
worst floods in 80 years after monsoon rains killed as many as 1,500 people across the northwest. Story:
Pakistani flood survivors complain about lack of aid
(Arif Ali / AFP/Getty Images)
Production of a new television series called "The Whole Truth" brought film crews and New York City taxi cabs out front of L.A. City Hall on Monday morning. The show premieres in September.
(John W. Adkisson / Los Angeles Times)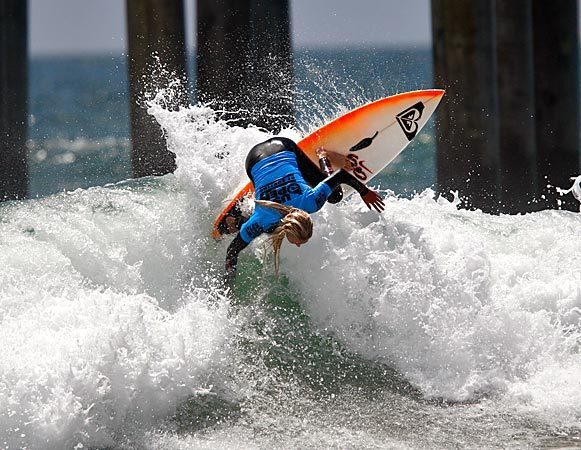 Carissa Moore of Hawaii turns off the top of a wave during the women's third round in the US Open of Surfing in Huntington Beach, California.
(Allen J. Schaben / Los Angeles Times)
Spanish bullfighter Juan Jose Padilla performs at the Monumental bullring. Catalonia's parliament voted last month to ban bullfighting beginning Jan. 1, 2012, becoming the first region in mainland Spain to act against the centuries-old tradition.
(Josep Lago / AFP/Getty Images)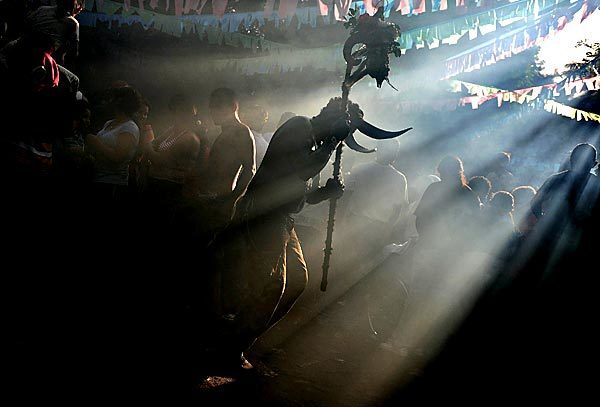 A man dressed as a devil dances during festivities in honor of Managua's patron saint, Santo Domingo de Guzman.
(Elmer Martinez / AFP/Getty Images)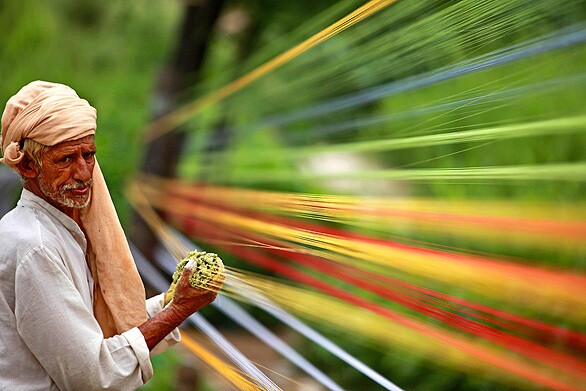 An Indian thread maker prepares colored threads for flying kites in Jammu, India. Demand for these threads increases in August during festivals and kite-flying season -- particularly on Independence Day, Aug. 15.
(Channi Anand / Associated Press)
White House guests are blown by winds generated by the Marine One helicopter as it lifts off with U.S. President Barack Obama. The president is spending Monday in Atlanta, Georgia, where he will address the Disabled American Veterans convention about the wars in Iraq and Afghanistan.
(Chip Somodevilla / Getty Images)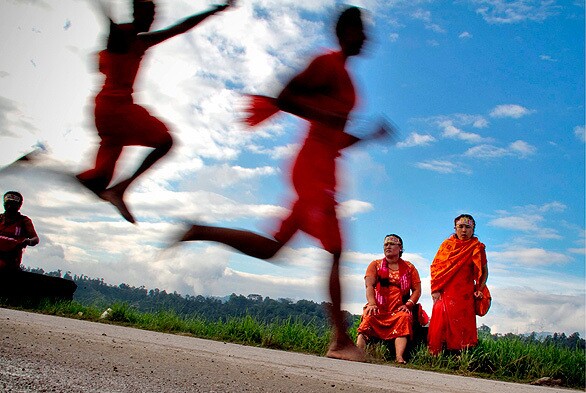 Nepalese Hindu pilgrims, or Bolboms, during the hours-long procession to worship Lord Shiva at Pashupati temple in Kathmandu. The temple is one of the world's largest Hindu temples of Lord Shiva, the god of creation and destruction. More than 50,000 Hindu devotees from Nepal and India gathered in the holy city Sundarijal, north of Kathmandu, where they collect water claimed to be holy.
(Narendra Shrestha / EPA)
Laborers work at an iron and steel plant in Huaibei in eastern Anhui province. Manufacturing in China contracted for the first time in 16 months in July, an independent survey showed Monday, boosting Chinese shares on hopes that policymakers will refrain from any new tightening moves.
(AFP / Getty Images)
Tourists explore a cave near the source of the Buna river in Blagaj, a village close to the southern Bosnian town of Mostar. The source is an underground karst river and one of the largest springs in Europe. The Takija house was made in the 17th century under Ottoman empire influence.
(Hrvoje Polan / AFP / Getty Images)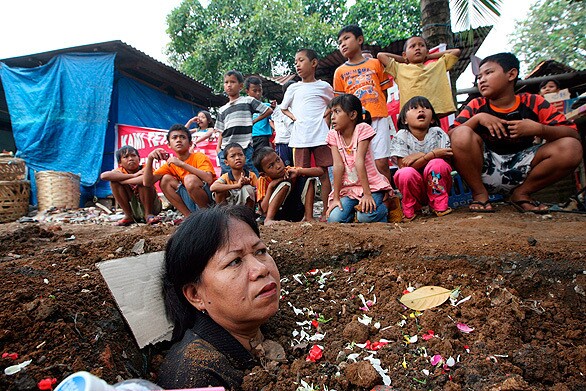 Indonesian children watch Salmah M Saleh, 52, who buried herself in the soil at a slum area in Jakarta, Indonesia. At least five residents of Rawa Kebo in central Jakarta staged this protest against eviction from their homes by government officials.
(Bagus Indahono / EPA)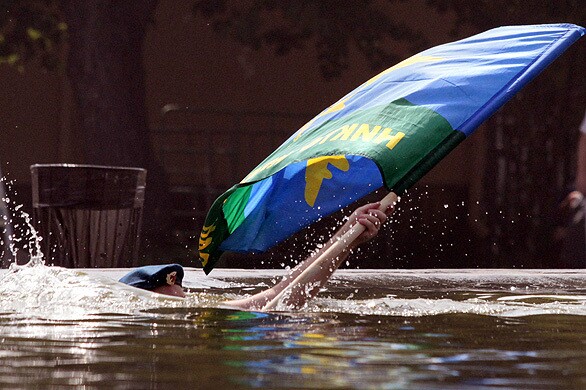 A former Russian paratrooper, holding a flag, swims in a fountain to celebrate Russia's annual Paratroopers' Day in Moscow Gorky Park. The mass festivities mark the 80th anniversary of the establishment of the country's airborne forces.
(Igor Yakunin / Associated Press)