Essential Politics: Any bump for Trump?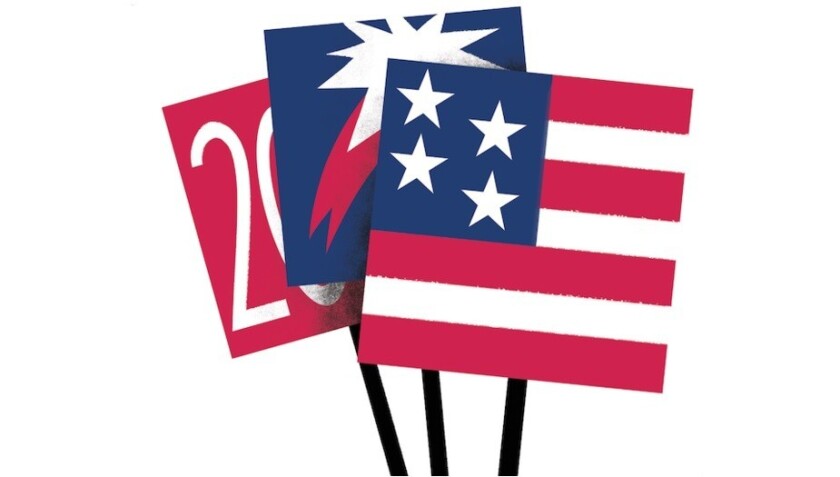 The Republican National Convention is over. Donald Trump has had his say — at record length — and now we get to watch the polls.
Will the convention generate a bump?
Good afternoon, I'm David Lauter, Washington bureau chief. Welcome to the Friday edition of our Essential Politics newsletter, in which we look at the events of the week in the presidential campaign and highlight some particularly insightful stories.
THE CONVENTION BUMP
So far, our USC Dornsife/L.A. Times "Daybreak" tracking poll of the election shows no improvement for Trump from the first couple of days of his convention. Trump had a three-point lead over Democratic rival Hillary Clinton last week. That edge disappeared by the time the convention started, and the two have remained tied in the survey since.
But because the poll is a seven-day rolling average, we shouldn't expect to see anything significant in reaction to Trump's speech until Sunday or Monday. The poll gets updated every day, shortly after midnight Pacific time, so keep checking back.
Why do conventions generate a bump at all?
Through most of a campaign, news coverage of both candidates tends to be roughly even — partisans of each side always think the other is getting more and softer coverage, but repeated studies have shown that's generally not so. As a result, both sides get their messages across to voters. That tends to work against big shifts either way.
But during convention week, the party holding the convention dominates the news. It's the one point in the campaign when a party can reasonably hope to get voters to focus almost solely on its message. That doesn't have much impact on hard-core partisans on either side, but it does sway voters who have only weak — or no— partisan leanings.
Usually, one party gets a bump and, then, when the other party has its week, it gets a bump. When all is over, both sides usually have improved their standing, and the number of undecided voters has gone down.
Sometimes, however, the bumps do not cancel out each other. The most striking example came in 1992, when Bill Clinton received a bump from his convention of as much as 14 points in some surveys. That's by far the record, and it came in unusual circumstances: Ross Perot, the third-party candidate, dropped out of the race just as the Democratic gathering got underway and implied support for Clinton (he later rejoined the race); the convention itself was superbly orchestrated; and Clinton went into the convention week below where he probably should have been given the underlying mood of the country.
The trend since has been for convention bumps to be smaller and smaller, probably because the country has fewer and fewer swing voters who can be influenced.
WRAPPING UP THE CONVENTION
Here are a few highlights of what our Campaign team has produced in the last week:
First, check out David Horsey's wonderful caricatures.
As Cathy Decker wrote, Trump's speech represented a big gamble on his part. His bet is that he doesn't need to reach beyond the arguments — and the voters — that have gotten him this far. The nation's hunger for change will carry him the rest of the way, Trump and his advisers argue.
But many Republicans leaders worry that Trump is headed down a cul-de-sac. For every blue-collar former Democrat that he pulls into the party, they fear, he seems to be driving away an equal number of college-educated voters.
"Are we adding, or just adding and subtracting," asked House Speaker Paul Ryan.
As Michael Finnegan reported ahead of the speech, Trump's "law and order" approach consciously drew heavily on Richard Nixon's campaign from 1968. But the country is very different now, making that approach a risky one. If you want to review the speech, here's an annotated guide.
While the official convention took place, a parallel convention was underway featuring the Republicans who hope to be the nominee in 2020, Lisa Mascaro and Seema Mehta wrote. Among the most prominent was the home-state governor, John Kasich, who, as Noah Bierman described, was everywhere to be seen, except by Trump's side.
Trump's statements about NATO, Russia and Ukraine drew outraged reactions from some U.S. allies and from parts of the GOP foreign policy establishment, Laura King and Tracy Wilkinson reported.
In the midst of the convention, Trump's latest campaign finance disclosure report became public. As Melanie Mason and Mascaro reported, he raised a lot more money in June than he had in May, and now has $20 million in his campaign account. But that's still less than half the cash Clinton has on hand.
Don't miss our team's detailed fact-checks and annotations of Trump's acceptance speech, which you can watch in full here.
And among the most notable stories from Cleveland is what didn't happen: No riots, no serious injuries, not even that many arrests. James Queally and Matt Pearce looked at what went right.
There's more, much more. Check out our Politics page for full coverage of the GOP convention or catch up quick with our convention video in less than four minutes. Join us starting Monday for complete coverage of the Democratic National Convention, including video of key moments, analysis of the major speeches and our assessment of how it's all unfolding.
THE VEEP COMETH
By the time you read this, Clinton may already have announced her running mate. The unveiling is expected either late Friday afternoon or Saturday in Florida.
Clinton's campaign has vetted several candidates, and late in the week, campaign officials were insisting to reporters that at least a few were still in the running. But all signs have been pointing to Sen. Tim Kaine of Virginia as the clear front-runner.
Like many voters, you may not know much about Kaine. Check out this excellent profile by Mike Memoli.
If Kaine is the pick, it would represent the opposite strategy from the one Trump opted for. He picked Gov. Mike Pence of Indiana in part to assuage conservative voters who doubt his commitment to their cause. A Kaine pick would indicate that Clinton and her advisers are less concerned about restiveness on the left, where activists have campaigned for her to choose Sen. Elizabeth Warren of Massachusetts or Labor Secretary Tom Perez.
The Clinton camp thinks restive liberals will come to like Kaine when they learn more about his history — he spent years as a civil rights lawyer fighting housing discrimination, campaigned against the National Rifle Association in Virginia and served as a missionary in Honduras. At the same time, they also believe he could help her appeal to white voters in places like his home state and the Midwest, where he grew up.
Kaine, then the governor of Virginia, was high on then-Sen. Barack Obama's short list eight years ago but lost out to Sen. Joe Biden, whose ideological leanings he closely resembles. Will he make the cut this time? We'll know soon.
DON'T FORGET THE ELECTORAL COLLEGE
The popular vote is all very well — just ask Al Gore — but gaining the presidency requires winning enough states to get 270 electoral votes. How to get there? Play political strategist for yourself, and try out as many scenarios as you like on our electoral map.
QUESTIONS ABOUT TRUMP, CLINTON? WE'VE GOT ANSWERS
Where they stand on issues, what they've done in their lives, their successes, their failures, what their presidencies might look like: We've been writing about Clinton and Trump for years, and we've pulled the best of that content together to make finding what you want to know easier. So check out All Things Trump and All Things Clinton.
LOGISTICS
If you like this newsletter, tell your friends to sign up.
That wraps up this week. My colleague Christina Bellantoni will be back Monday with the weekday edition of Essential Politics. Until then, keep track of all the developments in the 2016 campaign with our Trail Guide, at our Politics page and on Twitter @latimespolitics.
Send your comments, suggestions and news tips to politics@latimes.com.
Miss yesterday's newsletter? Here you go. Did someone forward you this? Sign up here to get Essential Politics in your inbox daily.
---