Midway City: Annexation? No thanks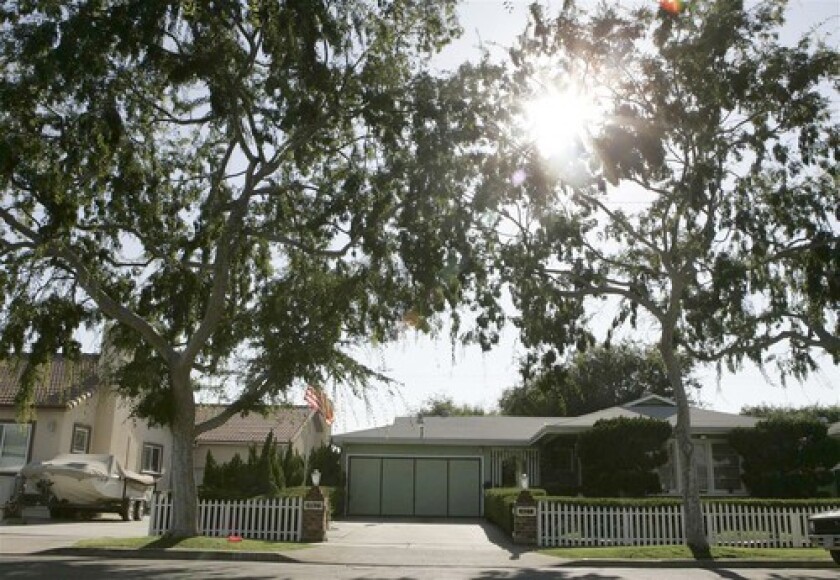 Special to The Times
AS SMALL and vulnerable as they may appear on the map, the three unincorporated sections that make up Midway City represent a 50-year fight to remain independent.
The area, bordered by the cities of Westminster roughly to the east and Huntington Beach to the west, has a Midwestern flavor with wide streets and large lots.
Award-winning actress Michelle Pfeiffer is Midway City's most famous former resident. She grew up on Wilson Street and attended Star View Elementary before graduating in 1976 from nearby Fountain Valley High School.
Midway's largest section stretches from Beach Boulevard on the west, past Newland Street on the east and Hazard Avenue on the north to beyond Bolsa Avenue on the south and includes a smaller portion extending to McFadden Avenue.
The community's resistance to annexation hinges on its water distribution and unincorporated property tax rate. Three Midway City-based companies provide well water at a low monthly rate. If the islands were annexed, residents fear water meters would be installed and the 1% tax rate would adjust to what property owners pay in surrounding cities -- about 1.125%.
Beginnings
Arriving from England in 1881, Clyde Hazard's relatives were the early pioneers, but it was John Harper who brought entrepreneurial vision to the area. Harper purchased 200 acres halfway between Santa Ana and Seal Beach, hence the name Midway.
Realizing the stagecoach needed a watering hole and oilmen needed a place to escape the noise and filth of boomtown Huntington Beach, the enterprising Harper laid out streets, built sidewalks and started selling lots in the early 1920s.
Much of Midway's development revolves around the political clout of a group of women who formed the Ladies Social and Civic Club of Midway City in 1928. Under the leadership of its first president, Mrs. B.L. Kirkham, the group embarked on a plan to build a community clubhouse that would be used by the Chamber of Commerce and other organizations. Harper donated the lot, and the clubhouse opened in 1930.
The proactive women's group also was responsible for establishing in 1935 a branch of the county library and working to keep out roadhouses and dump sites.
Annexation attempts started in the 1950s when there was a movement to form a "Tri-City" out of Midway City, Westminster and Barber City. That failed after Midway balked and Barber City became part of Westminster.
The so-called Westminster sphere of influence (a method to designate future boundaries and service areas of a city or special district) was established by the Orange County Local Agency Formation Commission in December 1973, but it did not include Midway City. After the commission added Midway into Westminster's sphere eight years later -- a move toward annexation -- Midway's Chamber of Commerce protested, and the commission removed Midway from Westminster's sphere. In 1989, Midway City was placed back in Westminster's sphere, which was reaffirmed in July 2007.
Insider's viewpoint
Delbert Catron is a retired Naval officer and former president of Midway City's Chamber of Commerce, and he is still watching out for Midway's interests.
The biggest change he's seen since dropping anchor here more than 50 years ago? "The Vietnamese refugees who arrived after the Vietnam War," Catron said. "They started businesses in the area we know as Little Saigon, but many chose to live in Midway City."
Housing stock
Current listings range in price from $214,000 for a two-bedroom, one-bathroom condominium to $615,000 for a Spanish-styled, single-family home with four bedrooms and two bathrooms on an 8,000-square-foot lot.
"Midway City is desirable because of its large lots -- typically over 8,000 square feet with many larger lots as well," said Tim Castroreale, an agent with First Team Real Estate. "The trend is that buyers are scraping the lots and building big homes or adding large additions onto the original home."
Report card
Midway City pupils may attend Jessie Hayden Elementary School, which scored 821 out of a possible 1,000 on the 2007 Academic Performance Index Base Report; DeMille Elementary School, which scored 748; or Star View Elementary, which scored 855. They may move on to Warner Middle School, which scored 782. Then depending on their addresses, they could attend Westminster High School, which scored 707, or Ocean View High School in Huntington Beach, which scored 712.
Sources: cde.ca.gov, Midway, ocfa.org/_uploads/, ocgov.com, "A Hundred Years of Yesterdays: A Centennial History of the People of Orange County and Their Communities," oclafco.org/index.htm.
---