Mixing it up in the WeHo melting pot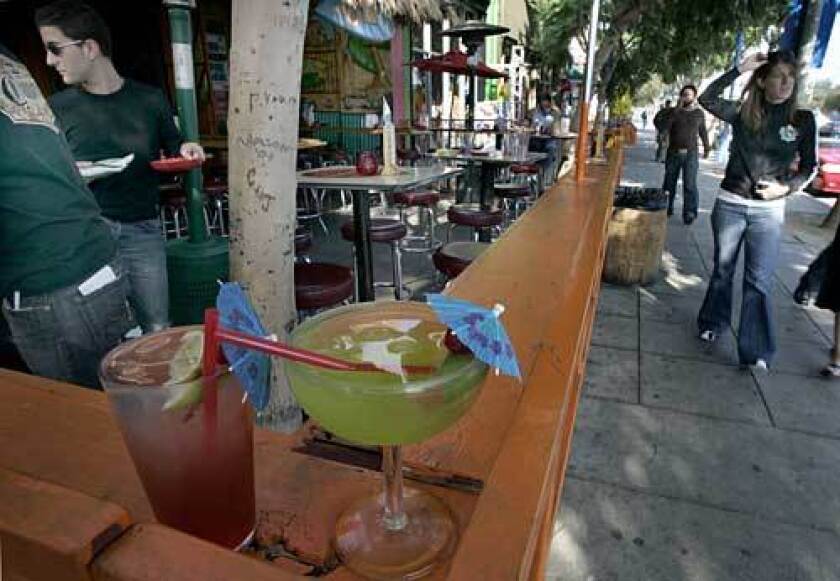 Times Staff Writer
Sunset Strip and Melrose Avenue. Pacific Design Center and Beverly Center. Hot homes and cool clubs. What doesn't West Hollywood have? Attitude, say the residents of the 1.9-square-mile city known for its tolerance of the gay, straight, Russian, Jewish, young, old, hip and square residents who populate it.

Beginnings

Gabrielino Indians hunted and foraged there first. In 1828, the area became part of Rancho La Brea, the Mexico-granted acreage that Henry Hancock eventually bought. In 1898, the town was dubbed Sherman, after Moses H. Sherman, whose local Pacific Railway Co. prompted construction of the area's first homes.

The modern renaissance began at the turn of the 20th century, when movie industry workers fleeing the stuffy, expensive downtown scene for a more suburban lifestyle moved into the area, living in Spanish-style multiunit complexes that still predominate today.

The Sunset Boulevard Strip was born in the 1920s, boasting nightclubs, small movie studios and architecturally significant apartment buildings and hotels, such as Chateau Marmont and the Sunset Tower, the Art Deco landmark that was bought by the St. James Club in 1986 and is now the Argyle Hotel. West Hollywood incorporated and became its own city in 1984.

Drawing card

Nightclubs and restaurants and shopping, oh my. Residents gather at the homey Silver Spoon, a classic diner on Santa Monica Boulevard known for its Formica tables, counter seating, jukebox and celebrity sightings. Deep-pocket diners drop big bucks at the Ivy on Robertson Boulevard, ground zero for the city's glitterati (and omnipresent paparazzi).

Gay residents flock to well-known night spots such as Mickey and Rage's, the Factory, the Abbey Food and Bar, and Mother Lode, said Don Anspauch, a 17-year resident. Upscale shoppers head to Melrose Avenue and the Pacific Design Center for high-end furnishings. Cars are optional in this pedestrian-friendly city.

Insider's view

West Hollywood is known for its large gay and Russian-immigrant populations, but the welcome mat is wide enough to hold everyone who likes living cheek to jowl with an eclectic mix of neighbors in the densely populated area.

Families with children love the libraries and parks that dot the city roughly bounded by Sunset Boulevard to the north, Beverly Boulevard to the south, Doheny Drive to the west and La Brea Avenue to the east.

"My kids see the older Russian Jews who play chess in Plummer Park, and our next-door neighbor was Mr. Leather 2002 and is like an uncle to my kids," said Chris Johnson, who has lived in West Hollywood with his wife, Susan, for 13 years. "We're all intertwined in each other's lives."

"It's a great social, liberal experiment that works," said Re/Max-Sunset Boulevard agent and 30-year resident Richard Harrison.

"There is no more tolerant city," he added.

Historical values

Condo, townhouse and single-family-home resales for ZIP Codes 90069 and 90046:

Year...Median Price

1990...$497,500

1995...$355,000

2000...$585,000

2004...$949,000

2005...$1,129,000*

*Year to date

Housing stock

Multifamily units outnumber single-family residences in West Hollywood. Most popular among renters are the old Spanish-style apartment complexes with courtyards and fountains; many apartment buildings are giving way to condo conversions, Re/Max agent Harrison said. There are 3,043 condos and townhomes and 2,003 single-family units; there are about 14,499 rental units.

Last week, 107 one- and two-bedroom condos and townhouses were listed for sale, from $349,500 to $1,650,000. There were 33 single-family homes listed for sale. Those with fewer than 1,500 square feet were priced from $549,000 to $1,245,000; homes with more than 1,500 square feet were listed at $899,000 to $2,499,000.

Report card

One elementary school feeds into three middle schools and one high school in the West Hollywood area, which is part of the Los Angeles Unified School District. According to the 2004 Academic Performance Index Base Report, West Hollywood Elementary School scored 656 out of a possible 1,000 points; Hubert Howe Bancroft Middle School, 667; John Burroughs Middle School, 745; Ralph Waldo Emerson Middle School, 658; and Fairfax High School, 612.
---
Sources: DataQuick Information Systems; Richard Harrison, agent, Re/Max-Sunset Boulevard; Ray Schuldenfrei, agent, Re/Max-Sunset Boulevard; https://www.weho.org ; https://www.hiwhy.com/education
/los-angeles-unified-2004.html.
---