Flip-flops and co-ops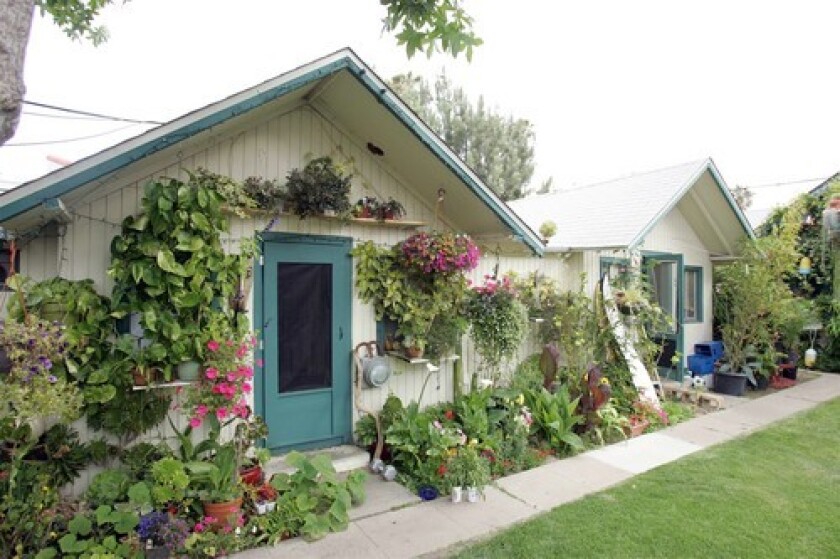 Special to The Times
IF YOU'RE heading for SeaWorld and miss the offramp, there's no need to be bummed out. Just southwest of the attraction is Ocean Beach, with stretches of sand, a retro downtown and a laid-back attitude. This groovy spot, fondly known as the People's Republic of Ocean Beach, retains its '60s vibe and that era's strong emphasis on community.
Beginnings
Shellfish is not your typical real estate sales lure, but it was used in lieu of searchlights in 1887, when Billy Carlson and Frank Higgins tried to sell lots in Ocean Beach. The promos included concerts and mussel roasts, spawning the name "Mussel Beach" -- but lot sales moved at a crustacean's pace.
Years later, Ocean Beach's resort-town potential was realized. Wonderland Amusement Park opened in 1913 with a roller coaster and merry-go-round; it was built on the sand and, much like a sand castle, eventually destroyed by storms and high ocean tides. Activity shifted to Newport Avenue with dance halls and a skating rink. Home construction took off in the 1920s and then slowed during the Depression.
The 1950s population boom brought new housing, but the redevelopment of the Mission Bay area and the construction of the 5 Freeway isolated Ocean Beach. The area became a hippie mecca in the '60s and was considered the Haight-Ashbury of San Diego. The newcomers' lifestyle put them at odds with some old-timers.
The New Age vibes of the 1970s fostered a mellow, more tolerant attitude among residents. The hippies of the '60s became the entrepreneurs of the '70s, bringing food co-ops and homegrown businesses that remain to this day.
What it's about
With its prime location, Ocean Beach could have become an upscale, snooty beach town. The first hint that something else is afoot is at Dog Beach. Here, pooches run free and romp in the ocean. There's even a self-service dog wash to use afterward.
Downtown is adjacent to the beach. The vibe is '60s funk on and around Newport Avenue. There are head shops, surf shops and hippie-style clothing stores, as well as antiques stores, cafes and bars. One revered eatery, Hodad's, is packed with surfboards, memorabilia and, much of the time, people chowing down on its huge burgers.
Ocean Beach has fought hard to retain its bohemian ways. Oceanfront overdevelopment was nipped in the bud by community groups. Most businesses are independently owned. There are few chains; the opening of Starbucks created quite a stir.
Amber Forest McHale works at People's Organic Food Co-op, which started in the 1970s. "We're a central hub for the community, using organic food and environmentally friendly practices. People's embodies the spirit of our town."
Insider's view
"I've lived in O.B. since 1968," McHale said. "A lot has changed since then, but the local flavor, the laid-back attitude remains.
"Mellow is what it's about if you live here. We are at the end of the interstate and bordered on two sides by water. You definitely get an island feeling living here," she said. "Hop on your bike or put on your flip-flops and meet locals at the beach at sunset."
Denny Knox, director of the Ocean Beach Mainstreet Assn., is another longtime resident: "I've lived here since 1966 when I came out to go to college. If I didn't live in O.B., I wouldn't have stayed in San Diego. The rest of San Diego didn't have the same feeling to me. . . . Ocean Beach is a truly special place."
Good news, bad news
Residents enjoy the area's natural beauty. McHale singles out nearby Sunset Cliffs Park as a favorite spot.
"It's peaceful and regenerating to walk here, with its beautiful wind-swept cliffs that look out over miles of the blue Pacific," she said. "You'll see pelicans flying in formation; if the season is right, you might see a gray whale."
On the downside, Knox cites occasional displays of lack of respect for the community: "It's bad when some people heavily litter, do graffiti or damage our downtown."
Housing stock
Ocean Beach has an eclectic mix of single-family residences, beach cottages, duplexes, apartments and condos, said Peter Toner, a real estate agent with Prudential California Realty. Many buyers like that homes are not all the same and that prices vary as much as architectural styles.
Home prices vary widely: On the low end, a 792-square-foot, two-bedroom, one-bathroom bungalow built in 1948 is listed for $460,000. A 2,367-square-foot, five-bedroom, 3 1/2 - bathroom view house with a swimming pool is listed in the $1,895,000-to-$2,250,000 range.
Making the grade
Most students attend Ocean Beach Elementary, which scored 850 out of a possible 1,000 on the 2007 Academic Performance Index Base Report. They may move on to Dana Middle School (795) or Correia Middle School (727), then finish at Point Loma High School (672).
Sources: Ocean Beach Mainstreet Assn.; peter-toner.com; realtor.com; California Department of Education, cde.ca.gov.
---