Rock solid in Malibu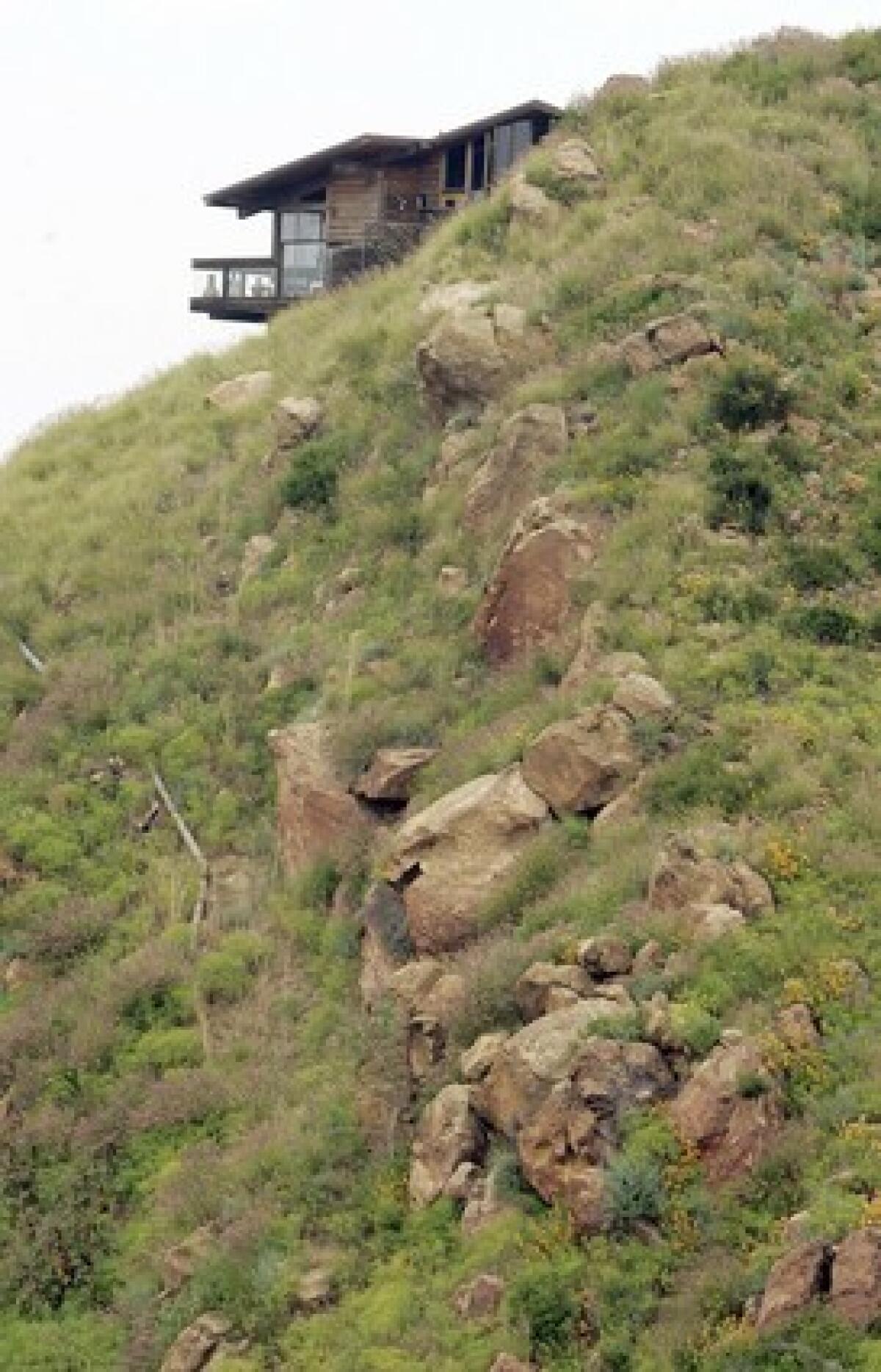 Times Staff Writer
Contrary to public perception at the time, the Big Rock neighborhood of Malibu did not slide into the sea in 1983. In fact, today it is alive and well and — thanks to improved groundwater controls put in place by the county — enjoys a thriving real estate market popular with families.
*
What it's about
The reality is that not everyone who lives in Malibu spends their day sitting at Starbucks working on a screenplay. Many commute to jobs in Santa Monica, Burbank, even downtown Los Angeles. And, as beautiful as coastal sunsets are, not everyone who commutes gets home in time to see them.
Which, in a nutshell, explains Big Rock's appeal. Compared with many parts of Malibu, it's closer to "town," as Malibuites call places that aren't Malibu.
And although it doesn't have the Malibu Colony cachet that attracts paparazzi-drawing celebrities, Olivia Newton-John used to call Big Rock home before selling to actress Sally Field. "Bonanza's" Pernell Roberts has been a decades-long resident. "Star Wars' " Luke Skywalker — Mark Hamill — lives here too, as does Frank Pierson, former president of the Academy of Motion Picture Arts and Sciences.
*
In the beginning
Development in Big Rock canyon began in earnest after World War II. News reports refer to strenuous debate over how many homes the geology could sustain. According to accounts from longtime residents, Los Angeles County at one point approved plans requiring the installation of sewers — a requirement that apparently was later dropped.
So, with septic tanks and seepage pits, the neighborhood was developed. And things were just peachy until 1983, when a slow-moving landslide, greased by rising groundwater, began to tear things up. The symptoms in some homes were barely detectable. In other cases, walls and foundations cracked, doors and windows fell out of alignment, tennis courts and sidewalks buckled. About a dozen families were ordered to abandon their homes, although not all did.
Talk to a Big Rocker today and this is all ancient history. The county now has in place a drainage project with plenty of pumps and pipes. Several independent geological studies have proclaimed the problem fixed, and Big Rock, with its groundwater drainage under control, has become a fine place to put down stakes and septic systems. And although publicity at the time kept property values depressed, they now appreciate on par with other parts of Malibu.
*
Drawing card
In addition to its reasonable proximity to locations that factor into daily life — jobs, grocery stores and schools — this is a real neighborhood.
Although there is no scientific evidence to support the theory, some residents feel there are more kids per square foot here than in any other part of Malibu.
*
Good news, bad news
The good news is that Big Rock has some of the most affordable houses in Malibu. Although they may lack originality and many in the tract section known as the Mesa share an identical footprint, plop your money down and your kids get to go to some of the finest public schools around.
There is lots of carpooling to Little League games and surf camp, and the school bus stops at the bottom of Big Rock on Pacific Coast Highway.
The bad news is that to go anywhere there's just one access road — Pacific Coast Highway. And if it gets jammed up, which it frequently does, you are stuck. Big Rock residents shrug this off as just another good reason not to leave home.
Not to make too much of yesterday's news, but there is one lingering ghost of the slide: a county assessment that pays for the groundwater stability plan. It amounts to about $4,500 a year per home and appears on homeowners' tax bills, which, to put a positive spin on it, makes it a tax deduction. And it expires in 2009.
*
Insider's view
Chris Bohm and his family have lived here for eight years. They are on their second Big Rock home, this one perched on the bluffs overlooking the Pacific at the end of a cul-de-sac.
"We love it," Bohm said. "There are plenty of kids around, so our kids are happy. When the kids get older, maybe we'll consider moving closer to the high school, but for now, we're really happy to be here."
Realtor Susan Cosentino of Pritchett-Rapf Malibu, sings Big Rock's praises when it comes to family life.
"There always seems to be a block party going on," she said. "There is no driving involved for play dates; they can just walk down the street."
*
Housing stock
Houses aren't huge by Malibu standards and many only have a sliver of a view of the ocean, but they remain in demand. There are only a few homes for sale at the moment in Big Rock.
The most inexpensive in the Mesa is on an 11,000-square-foot corner lot with three bedrooms and 2 1/2 bathrooms in 2,612 square feet. The price was just lowered to $1.525 million.
The property, nicely landscaped, is owned by a retired couple who have lived here for more than 25 years, says Coldwell Banker Realtor Bill Rhodes, who has the listing.
Rhodes, who says he has sold more than 150 Big Rock homes, has watched the area evolve. Older residents are leaving, being replaced by families with young children.
The priciest homes are found higher up the canyon. In escrow now is a neat-as-a-pin, straight-out-of-Pottery Barn five-bedroom, 3 1/2 -bathroom home that includes a two-bedroom attached guest apartment. The 3,500-square-foot house on a 35,280-foot lot was listed at $3.575 million.
*
Report card
Through fifth grade, Big Rock children attend Webster Elementary, which scored 901 out of a possible 1,000 on the Academic Performance Index Base Report for 2005. They then attend Malibu High School, which scored 831.
*
---
Sources: Susan Cosentino, Pritchett-Rapf Malibu Colony office; Coldwell Banker agent Bill Rhodes, https://www.billandbill.com ; https://www.cde.ca.gov .
Sign up for Essential California for news, features and recommendations from the L.A. Times and beyond in your inbox six days a week.
You may occasionally receive promotional content from the Los Angeles Times.