Dodgers again flex their muscles against Diamondbacks in 7-0 win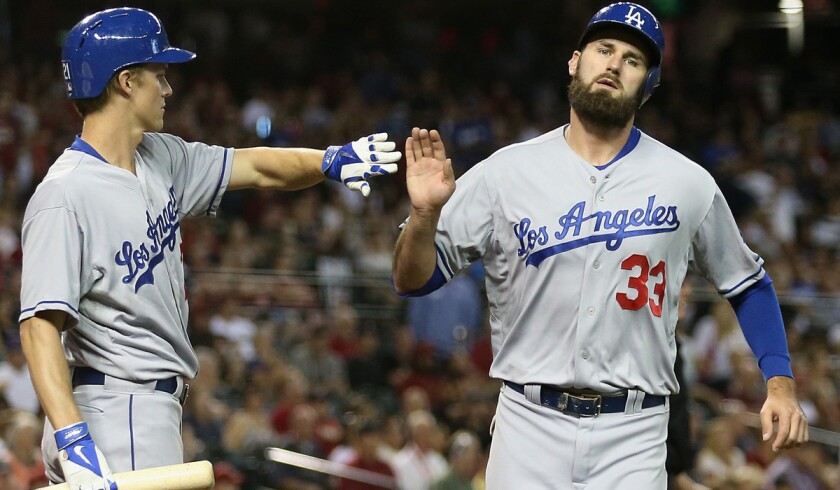 If every team they played were like the Arizona Diamondbacks, the Dodgers would be the '27 Yankees. They'd be less a team than a legend. Forget cable, network television would demand they be on in prime time.
When the Dodgers play the Diamondbacks, they are next to unbeatable. Against the rest of the world, they aren't even a .500 club.
The Dodgers continued their 2014 mastery of the Diamondbacks with a 7-0 victory Friday night at Chase Field that raised their record against Arizona this season to 8-1. Against the rest of baseball, they are 15-19.
Zack Greinke was again masterful on the mound, Yasiel Puig and Scott Van Slyke hit solo home runs and the Dodgers cruised to an easy victory. Which is pretty much the M.O. against the last-place Diamondbacks.
If only …
Puig, who extended his hitting streak to 15 games, opened the scoring with his home run off Wade Miley in the third inning. Puig now has seven consecutive games with an extra-base hit and at least one RBI, tying him with Pedro Guerrero for the Los Angeles Dodgers record. He added a single and an RBI double on finish three for five on the night.
In the fourth inning, Van Slyke doubled and scored on a single by A.J. Ellis, in his second game back after nearly six weeks on the disabled list. Greinke, who won a Silver Slugger award last season, doubled home Ellis. It was Greinke's third double of the season.
In the sixth inning, Van Slyke hit his solo home run an estimated 454 feet. Van Slyke is six for nine against Miley (3-4) with three home runs.
Meanwhile, the Diamondbacks could do nothing with Greinke. The right-hander became the second Dodger to go eight innings this season, holding the Diamondbacks to five hits and two walks. He struck out six.
Greinke raised his record to 7-1 and lowered his earned-run average to 2.03. In the 17 games he has pitched for the Dodgers following a loss the last two seasons, he is 12-1 and the team is 15-2.
Struggling reliever Brian Wilson pitched the ninth, his velocity seemingly back to normal, and completed the shutout with a scoreless, two-strikeout inning.
The Diamondbacks are a stunning 4-18 at home.
---