Three takeaways from the Kings' 2-1 win over the Colorado Avalanche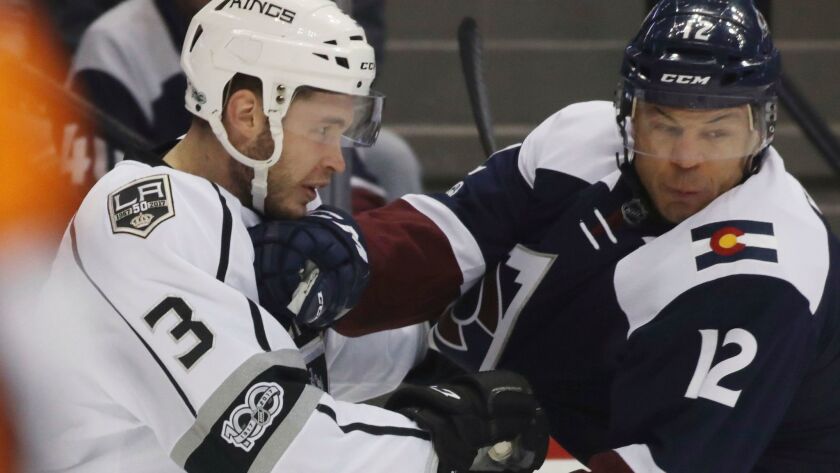 Kings Coach Darryl Sutter said when he was in a scoring slump during his playing career that he would take a pail of pucks onto the ice and slap them into the net, just to remember what that felt like.
"I stood around the net and just flipped pucks," said Sutter, who had five 20-goal seasons in an eight-year career.
Many of the Kings' forwards could probably benefit from a similar drill since the team remains mired in a scoring slump even after Tuesday's win in Colorado. Twenty-nine of the 30 teams in the NHL are averaging better than two goals a game this season, a total the Kings have cracked just twice in their last eight tries.
And it's not just that the Kings aren't scoring as a team, they're not scoring as individuals either. Three players – Jeff Carter, Tanner Pearson and Tyler Toffoli – have accounted for nine of the team's last 14 goals.
Speaking of not scoring, here are three other things that are not what they appear to be.
1. All things being equal, they're not
Both Kings' goals Tuesday came with the teams playing at even strength. That may not sound like a big thing, but it is. The Kings had not scored an even-strength goal in four of their past seven games. And just nine of their goals since Feb. 1 have come with both teams skating five a side.
"Getting two 5-on-5 goals obviously helped," Pearson said. "We haven't had a lot of those in recent games so to get those two goals was big for us."
Speaking of coming up big, with his assist on the game-winning goal in Colorado, Pearson has points in four of the last five games. That's taken some of the offensive pressure off Carter, who has been the team's only real offensive threat for most of season.
2. Not paying the penalty
The Kings killed three penalties Tuesday – including two whistled just 2 minutes, 28 seconds apart in the first period – and have given up just one power-play goal since Jan. 21.
"Our penalty kill was very strong," said goalie Peter Budaj, who stopped 24 shots. "The Avalanche have a very skilled power play and it's always nice and it helps a lot when players block shots in front of you."
The Kings have killed 84.6% of the man-advantage situations they've faced this season, fifth-best in the NHL. And since Jan. 1, only the Ducks have had a better penalty kill.
3. The Kings are not a playoff team – yet
The Kings badly needed a win Tuesday to stop a three-game losing streak and regain some of the confidence they had lost during a nearly three-week period in which they lost five of seven. Escaping with a one-goal comeback win over the worst team in the NHL accomplished that – but it didn't re-establish them as a playoff-caliber team.
The next three weeks could go a long way in determining the Kings' postseason fate, however. Beginning with Thursday's home game with Boston, seven of the next nine games come against teams within a point of a playoff berth. And two of them come against the current conference leaders, Minnesota and Washington. The schedule gets considerably easier after that, so if the Kings can remain within striking distance of a playoff berth – they woke up Wednesday two points out of a wild-card spot – they have a chance.
"We were talking before the game. We need to win some games and kind of get a streak going so we can get in the playoffs here and be comfortable and not be waiting 'til the last game of the season," said Toffoli, who started the Kings' comeback Tuesday with a game-tying second-period goal. "So it was a big game for us. Got to refocus and think about Thursday now."
Twitter: kbaxter11
---