Bruins swamped
Florida's Adrian Moss grabs a rebound from UCLA Bruins Lorenzo Mata.
(Wally Skalij / LAT)
Florida Gator center Joakim Noah celebrates a play in the first half next to teammate Al Horford.
(Andy Lyons / Getty Images)
Luc Richard Mbah a Moute has his shot blocked by Florida Gators' Joakim Noah in the National Championship game.
(Wally Skalij / LAT)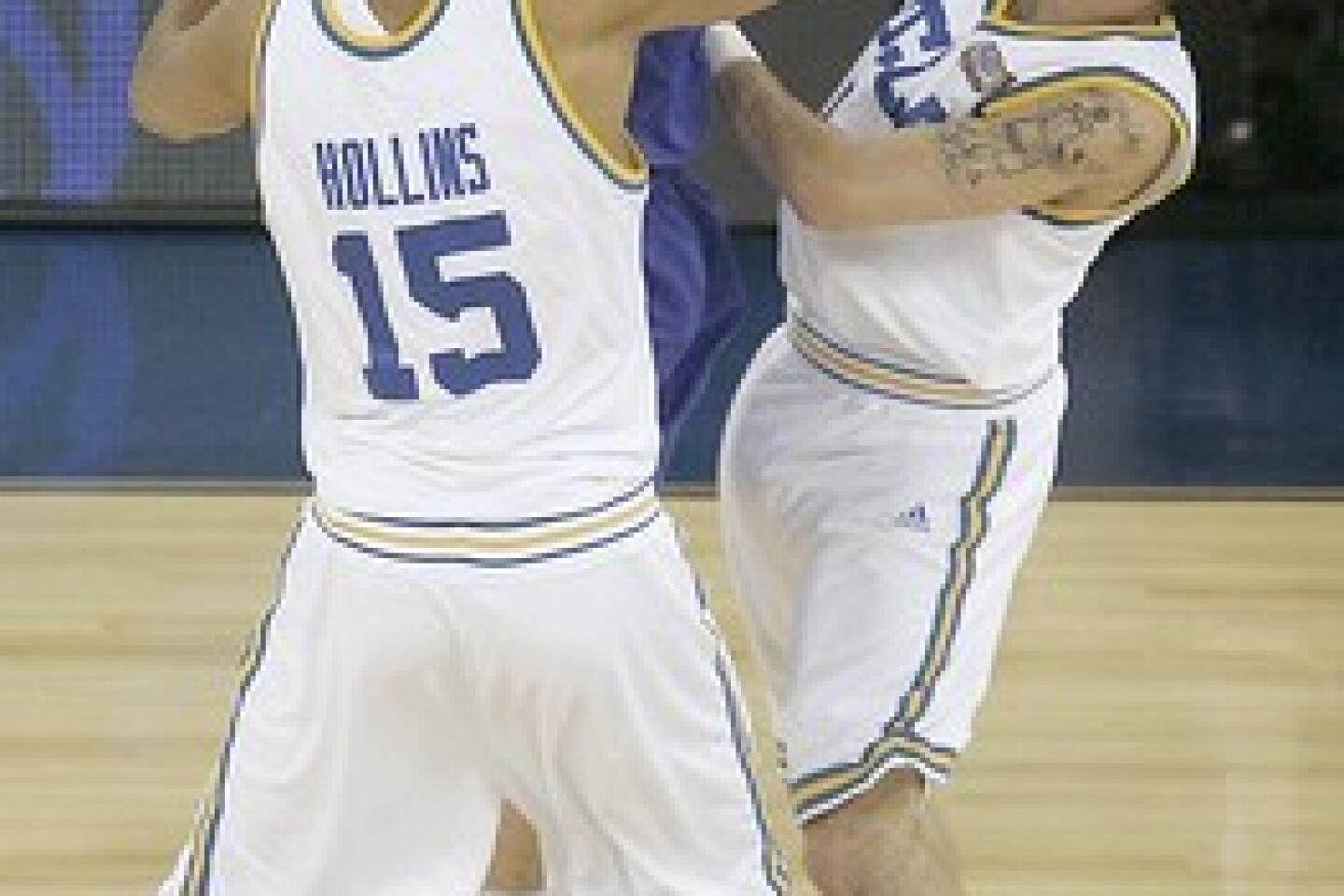 UCLA's Ryan Hollins and Jordan Farmar double team Florida Gators' Lee Humphrey.
(Alexander Gallardo / LAT)
Ryan Hollins of the UCLA Bruins reacts with frustration in the first half.
(Streeter Lecka / Getty Images)
UCLA's Luc Richard Mbah a Moute is about to have his shot blocked by Florida Gators' Joakim Noah.
(Alexander Gallardo/ LAT)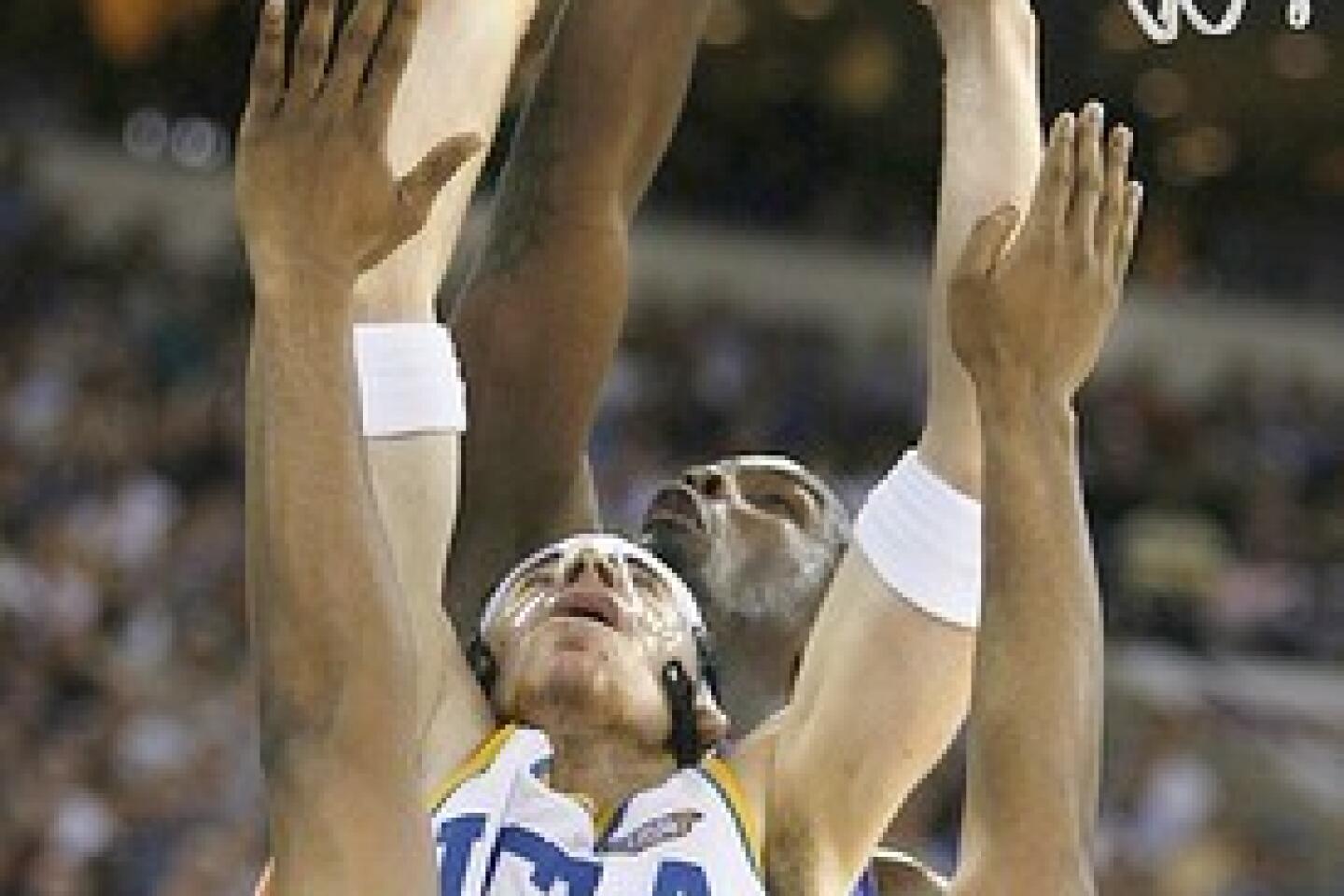 UCLA's Lorenzo Mata has his shot blocked by Florida Gators' Chris Richard from behind.
(Wally Skalij / LAT)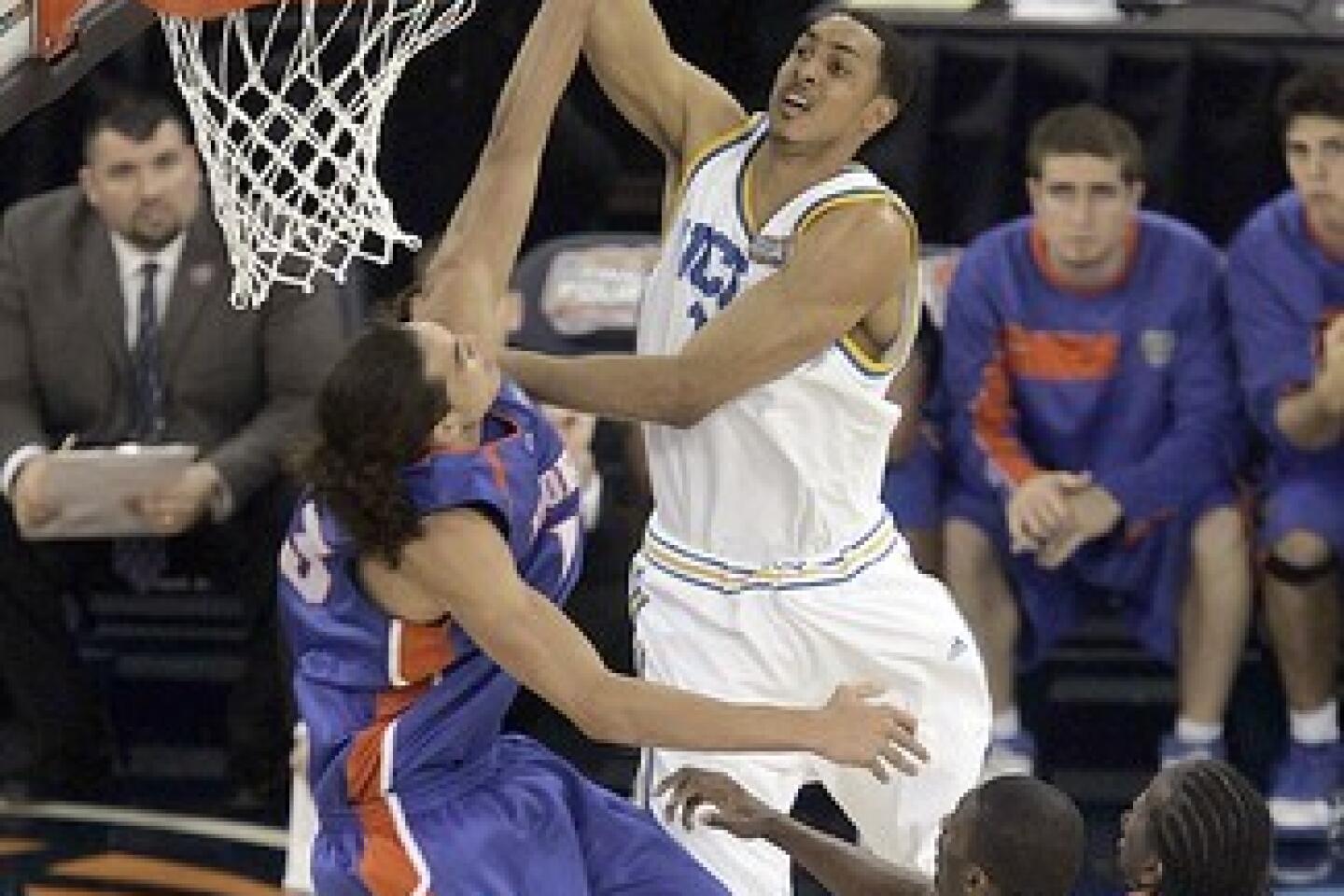 UCLA's Ryan Hollins has his shot blocked by Florida Gators' Joakim Noah in the first half.
(Alexander Gallardo / LAT)
UCLA 's Alfred Aboya battles against the Florida Gators' Adrian Moss for a loose ball.
(Alexander Gallardo / LAT)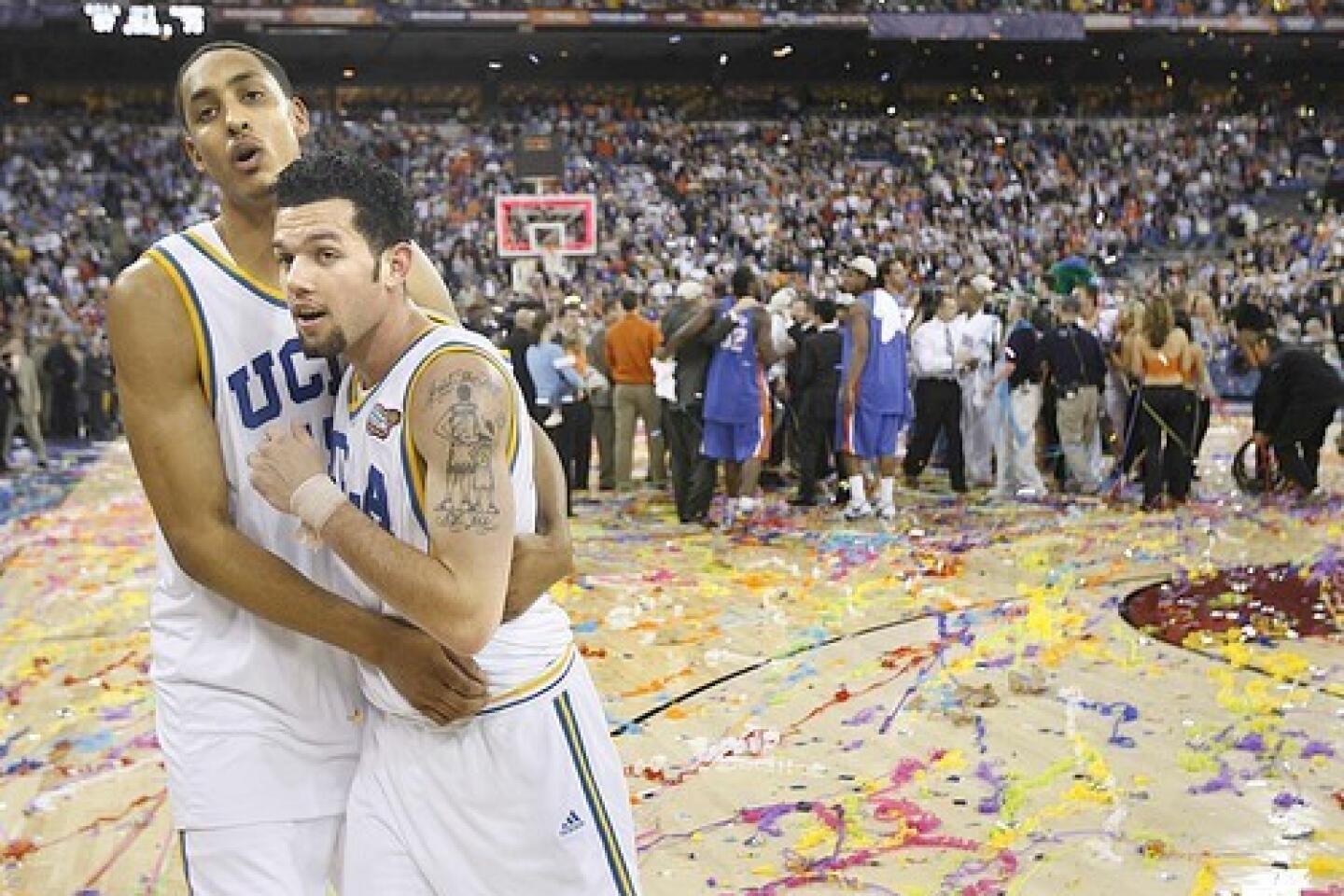 Ryan Hollins and Jordan Farmar embrace as the Bruins leave the floor in a 73-57 loss to Florida as the Gators celebrate at midcourt.
(Wally Skalij / LAT)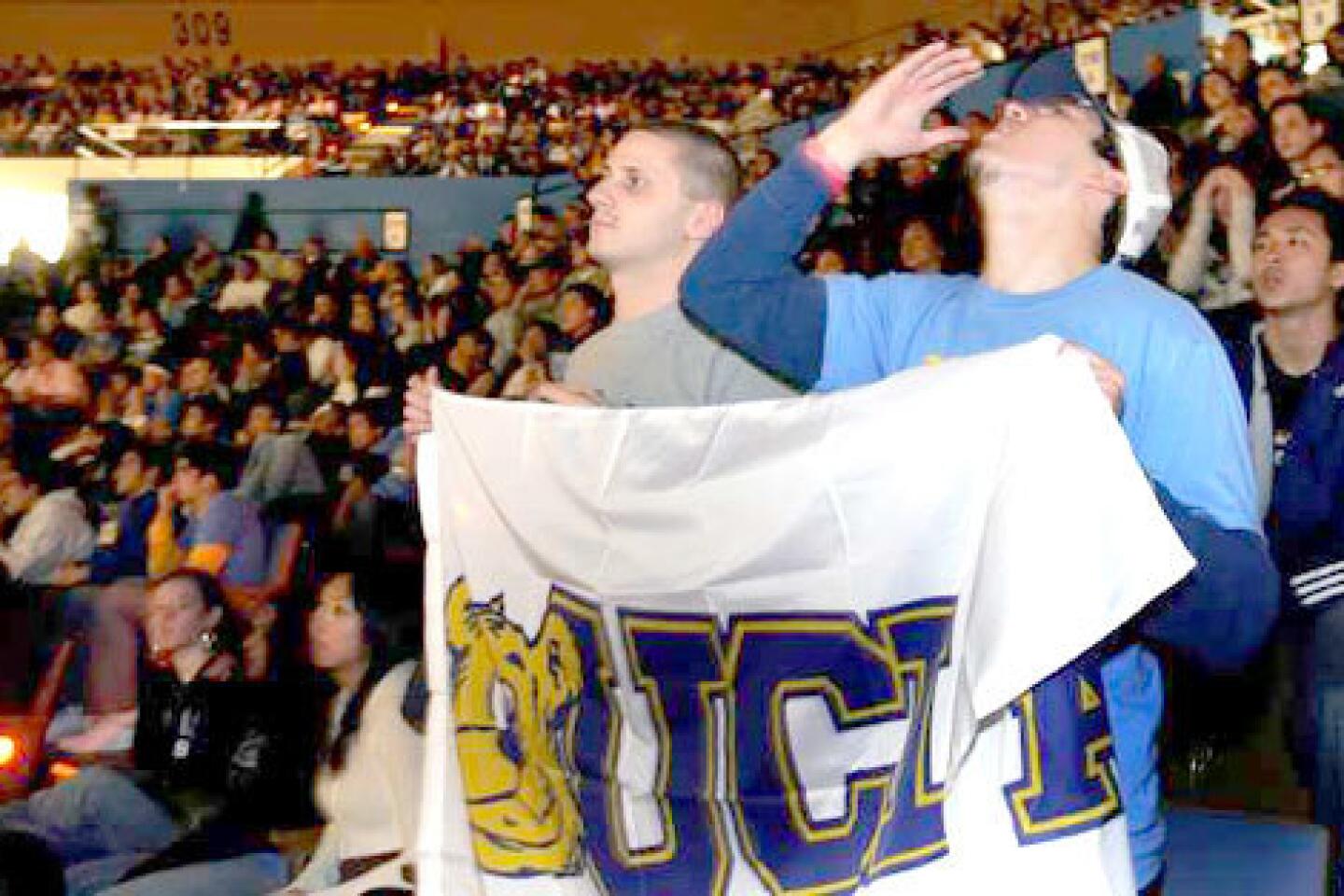 UCLA fans in Pauley Pavilion show disappointment while watching the Bruins play Florida in Indianapolis for the NCAA championship. The Gators won, 73-57.
(Stefano Paltera / For the Times)
Florida center Joakim Noah rips a rebound away from UCLA forward Luc Richard Mbah a Moute in the second half.
(Robert Gauthier / LAT)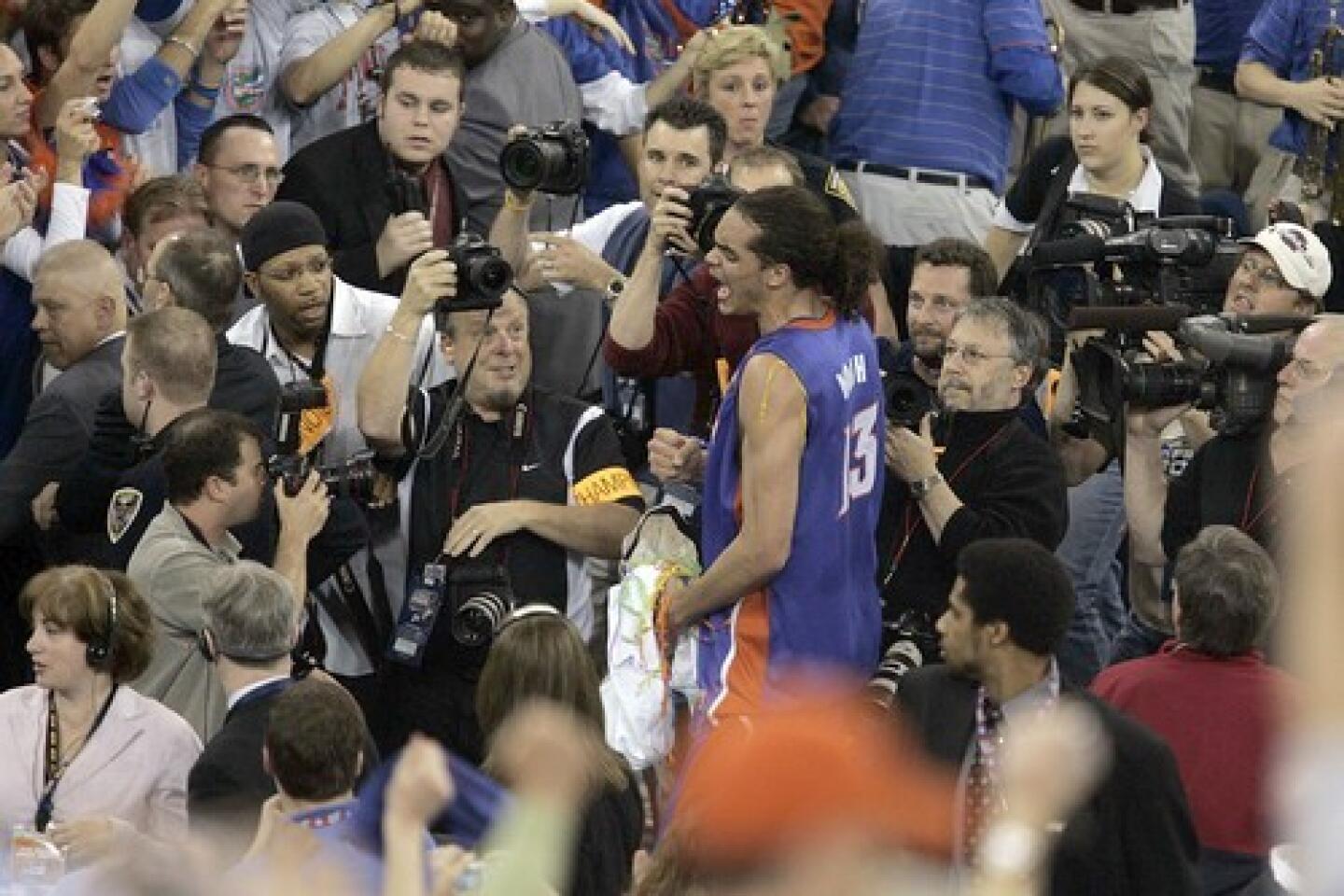 Florida Gators' Joakim Noah exultes in front of photographers and fans after the Gators beat the UCLA Bruins.
(Alexander Gallardo / LAT)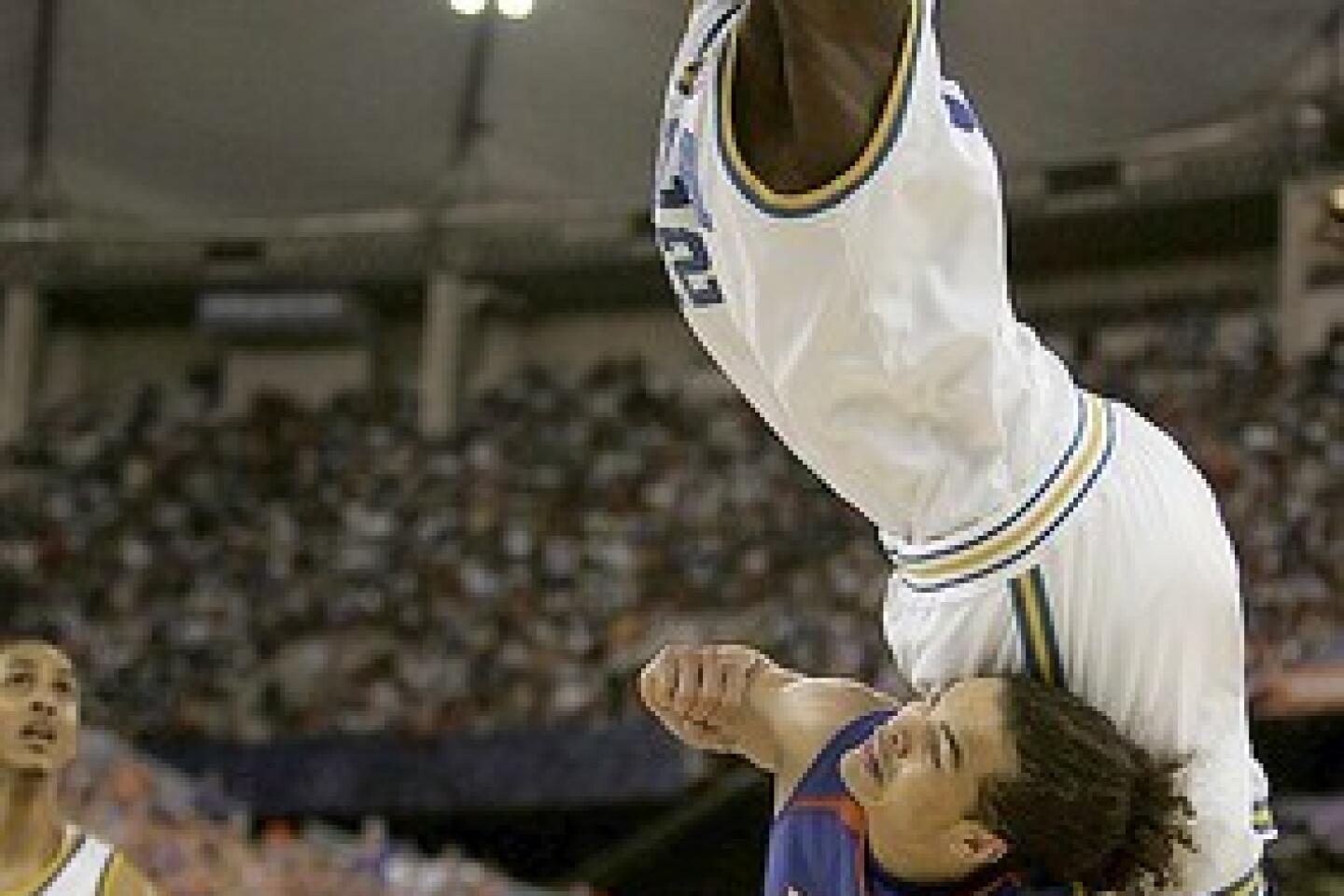 In a rare moment of dominance, UCLA center Alfred Aboya climbs over Florida center Joakim Noah for a slam dunk.
(Robert Gauthier / LAT)
UCLA center Ryan Hollins rips the ball away from Florida guard Corey Brewer in the second half.
(Robert Gauthier / LAT)
Times Staff Writer
INDIANAPOLIS —
It was a UCLA game all right.
Play tenacious defense, control the pace from the outset, hold your opponent to under 60 points.
Didn't Florida play it wonderfully?
Florida won its first national title in basketball Monday night at the RCA Dome, 73-57, in a game UCLA never got to sink its titles into.
It was a jazz ensemble if you think of Florida as controlling the tempo.
Lost in the buildup about UCLA's intimidating defense was the fact that Florida played it too. The Gators allowed six tournament teams 50, 60, 53, 62 58 and 57 points. Florida set school records this season for blocked shots and forced opponents to shoot 40%.
"Our defense is brutal," Florida junior forward Chris Richard said. "That's what we do, that's the way to win."
Florida did to UCLA what UCLA had done unto others.
"They took us out of our game, just like what we did to LSU," UCLA center Ryan Hollins said. "They were unbelievable tonight. They are national champions. They played like it, and they deserved it."
Gator center Joakim Noah's intimidation inside almost turned the Bruins into a cowering inferno.
Florida did a number on UCLA. In fact, several numbers.
"They only had six turnovers," UCLA Coach Ben Howland said. "That's a very, very important statistic."
There were others:
* Noah blocked six shots, five in the first half. Gator center Al Horford blocked two.
"They changed a lot of shots," UCLA guard Jordan Farmar said. "And that's what those two bigs bring to the table."
And those were only the appetizers.
* Florida forced 12 Bruin turnovers and turned the UCLA offense into a panic attack.
* UCLA missed 39 shots against a pressing, athletic Florida defense led by the long arms of Noah, whose 6-foot-11 frame so clogged up the middle it seemed he changed every Bruin shot hoisted.
The Gators' Corey Brewer scored 11 points and on defense held Arron Afflalo, UCLA's leading scorer, without a basket until only nine minutes remained in the game.
"All they were talking about was UCLA's defense," Brewer said. "Look at the stats. We have a better defense. We quieted all their fans. We quieted everybody."
UCLA's mantra in the tournament, and all season really, was controlling tempo. The Bruins forced opponents to play their game, at their chosen speed.
But not Monday.
"I think the pace was a little too fast [for UCLA]," Richard said. "I don't know if they're used to that pace."
Not far from the Indianapolis Motor Speedway, Florida was Monday's pace car.
UCLA seemed a step late to every defensive stop. And when the Bruins didn't get there, Gator junior guard Lee Humphrey made four three-point shots and Brewer made two.
Last week, Memphis made only two of 17 three-point attempts against the Bruins, and those makes came after the game was decided.
In Saturday's national semifinal game, LSU was 0 for 6 from beyond the arc.
The Bruins' problem against Florida was that they had to expend bodies and energy inside against Noah and Horford, who combined for 30 points and 16 rebounds, and that left Humphrey and Brewer more open outside than they should have been.
Turning points?
UCLA was down by only six points midway through the first half when Bruin forward Cedric Bozeman arrived late as Humphrey was letting go a three. Not only did Humphrey make the shot, he got fouled and turned it into a four-point play and a 10-point lead when his foul shot bounced high off the back of the rim and fell through.
Turning point No. 2?
Down by 11 points at the half, UCLA had two possessions to cut the lead to single digits in the opening minute of the second.
The first Bruin miss was an out-of-his-range three-point attempt by Luc Richard Mbah a Moute, the second a forced Farmar scoop shot inside as the shot clock was expiring.
The Bruin offense was inside out.
Then came the celebration starters -- three straight Florida three-pointers.
Humphrey hit the first two to push the lead to 17. After a Hollins dunk, Brewer a minute later hit a three-pointer to extend the lead to 18 with 16:05 left.
UCLA was out of the game, and out of its element.
UCLA held two leads in the game, 2-0 and 4-2, but could find no real way to hang on.
The more the Bruins tried to rally, the more futile it became. They tried to press and Florida broke it for transition dunks. They tried to double-team Horford and that left Noah alone; they double-teamed Noah and that left Horford free.
It was almost like trying to plug a dam leak.
Defense?
Yeah, Florida plays it too.
"It was whoever did it better and tonight was our night," Florida center Horford said.
They say defense wins championships.
Monday, sure as UCLA was standing there, it won one.
Get the latest on L.A.'s teams in the daily Sports Report newsletter.
You may occasionally receive promotional content from the Los Angeles Times.