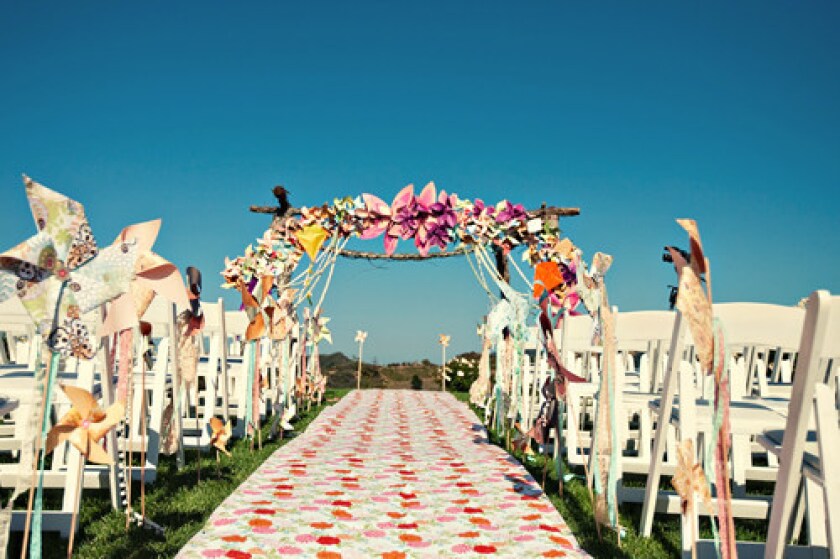 True love can be absolutely delicious — and surprisingly high in calories.
Just ask Tamera Mowry and Adam Housley, who met on a blind date and immediately realized they were both serious foodies.
"I think we gained 15 pounds," said Mowry, star of the Style Network's "Tia & Tamera Take 2."
She and Housley, a Fox News Channel correspondent, took turns cooking for each other after being set up by a professor at Pepperdine. "I used to make my spaghetti for him, and he would just throw anything together and make it delicious," she said.
For the next four years the couple was inseparable, traveling and dining in upscale restaurants. "I knew he was the one on our very first date," Mowry said.
Vacationing in Italy in July 2010, Housley proposed in their Venice hotel room.
It comes as no surprise that food played a starring role at their May 14 nuptials at Vintage Estate in Yountville, where Housley grew up. The Napa-Italian fusion wedding dinner for 300 guests, created by Food Network star Michael Chiarello of Bottega Ristorante, included prosciutto, grilled marinated skirt steak with Zinfandel glaze and seared halibut. The wedding cake was a vanilla buttercream and berry creation from Sweetie Pies in Napa.
"Tamera and Adam managed to pull off the impossible for a large wedding — they brought intimacy and fun to an amazingly lavish affair," said one guest.
— Jennifer Evans Gardner, Custom Publishing Writer
---