Plugged In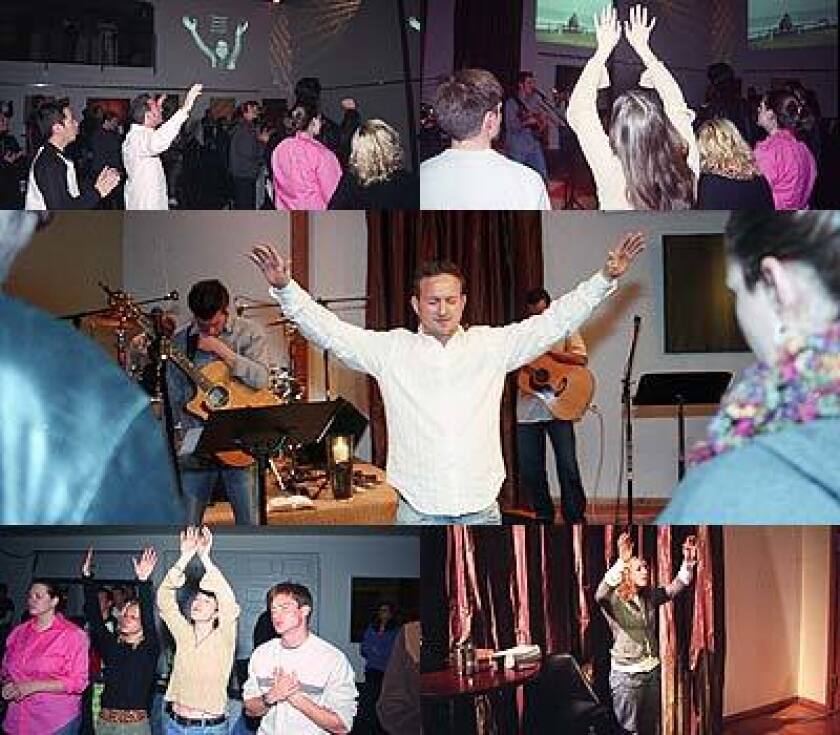 Ava Chin is the editor of "Split: Stories from a Generation Raised on Divorce."
It's an early Sunday evening in Hollywood, and the churches are open. On Fountain Avenue, members of the storefront Iglesia Evangélica Arca de Salvación are cooking pupusas out on the sidewalk. Across Edgemont Street, Pastor Ed stands on the steps of Hope International, where Baptists have been worshipping since 1928, going over the 12 days of Christmas with a member of his congregation, using his tie as visual aid. From an open window next door, at Kairos, the sound of rock music thumps out onto the street.

Inside, about 60 young church members join the band in a gleeful chorus of a Waterdeep song. "A grateful heart I give, a thankful prayer I pray, a wild dance I dance before you," they sing, their hands and voices reaching for the exposed-beam rafters. The lyrics to "I Will Not Forget You" are projected on two video screens, but many sing from memory, their eyes closed.

The evening service at Kairos is a little like a plugged-in, Christian version of MTV's "Unplugged." Instead of pews, the congregants sit on rows of comfy chairs, at candlelit café tables hugging the back walls, or on the floor in the wraparound balcony. Instead of a pulpit, J.R. Woodward preaches from behind a music stand set up on multicolored carpet squares, demarcating the stage area from the rest of the hall—affectionately known by regulars as the Fountain Room. Wearing a button-down shirt, frayed jeans and a microphone headset over his spiky, slightly graying brown hair, the 41-year-old preacher resembles a lost member of Radiohead. And like any rock star, he sometimes gives the impression that he's not altogether there, that behind the hazel eyes he's secretly communicating with God.

The focus tonight is on the Psalmists, and the message is "reality check." More specifically, as Woodward puts it, standing under the stage-like lighting, "a cry for God reality."

"We're going to start with a scene from a film almost all of you are aware of," he says. With a wave of his hand, the lights dim, and Keanu Reeves appears in two video projections. He wavers in making a choice for illusion or reality—the blue pill or the red pill? As the sound of filmic thunder rolls, the candles on the tables in the Fountain Room flicker.

"If you take this first part of the trilogy of 'The Matrix' and think of it in the way of analogy," Woodward says as the lights go up, " . . . [t]his is a bit like the kingdom of God . . . . You see, a huge part of life is about how we see reality, and it ultimately comes down to the question: Whose story are you going to buy into? . . .

"Jesus gave me a choice to take the blue pill and continue in blindness, or to take the red pill and, in the words of Karl Barth, enter into the strange new world of God through the Scriptures." As Woodward continues, the silver thumb ring he wears on his right hand catches the light. "I took the red pill, and since then I have been on a journey . . . . I want what is real, not what is fake. Like the song 'Politik,' by Coldplay."

He reads the lyrics:

Look at earth from outer space

Everyone must find a place

Give me time and give me space

Give me real, don't give me fake.

During the morning service, Woodward sang the chorus. But tonight he intones it into his headset. "Open up your eyes . . . . Open up your eyes . . . . Open up your eyes . . . . "

A young woman wearing a white turtleneck and a gold cross sips from a Starbucks cup and takes notes. A Starbucks barista wearing a silver pendant in the shape of a menorah, a Star of David and a fish leans into his steepled fingers.

Across the room, tabletops are covered with bottled water, flip-top cellphones turned to mute, leather Bibles and tiny, shiny black handbags. On the balcony, where a producer and her boyfriend are lying across the carpet on their elbows, listening, rapt, a large piece of butcher paper is taped to the wall. Someone has written, "I am grateful, for God is . . . " in green bubble letters. Underneath, others have answered in variously colored crayons: "For Giving"; "the lover of my soul"; and "joy" with a circle dotting the "j." Someone has misspelled "awesome," ending the statement with three exuberant exclamation points.

Kairos celebrated its first anniversary in Los Angeles in September. Like many others in the "emerging church" movement, which is rethinking evangelical Christianity for the postmodern era, it has drawn a younger generation looking for services that speak a language they understand. Starting with 35 members, it now counts more than 150. Why do they come here?

"It's got a great vibe," says 26-year-old graphic designer Mike Hardy. "Other churches make you feel like a drone. 'Stand up. Sit down. Sing.' At Kairos I never feel like a puppet. It's not so old school. It's fun. I look forward to coming each week."

"It's a nonconventional church for the unchurched," says 25-year-old Kevin Liu, a law student at UCLA who discovered Kairos through the Internet.

"Kairos is really fresh and new and not restricted by tradition," says Stephen Gordon, a 19-year-old USC freshman with choppy blond hair. "It's been great to meet other people who are also on fire for God."

Like a number of members, 25-year-old USC graduate Rob Schickler grew up in a conservative church with traditional hymnals. "Kairos is completely different. The evening service has a kind of coffee shop, open-mike-night vibe that's great. It's contemporary worship without sacrificing scripture."

Eric Blumber, a 26-year-old singer in the band that performs regularly at the church, lists Smashing Pumpkins, Green Day and worship bands such as Chris Tomlin as influences. "We're bringing people closer to God with music . . . . If people are feeling dead, we want to bring them back to life."

Toward the end of the service, Woodward begins his closing prayer. The lights lower and the musicians start to reassemble.

"Lord," Woodward says, arms raised, as the congregants lower their heads, " . . . you offer each one of us here the red pill, which will allow us to see you and your reality clearer . . . . We take that pill now, because we want to live in your reality."

With "amen" he leaves the stage area and the lights go up again. As the band starts playing, the congregants are suddenly on their feet and singing, even on the balcony. Woodward is in the back, pacing, red in the face, one hand in a pocket of his jeans.

A young woman in a pink parachute skirt and Ugg boots is dancing on the hardwood floors. A Virginia Tech graduate hugs a friend. Woodward stops pacing and starts singing. For a moment, it looks as if he's crying.

When the band begins a U2 song, "40," everyone is dancing, and everyone joins in on the chorus, "I will sing, sing a new song," they sing, as the lyrics shift across the screens.
---