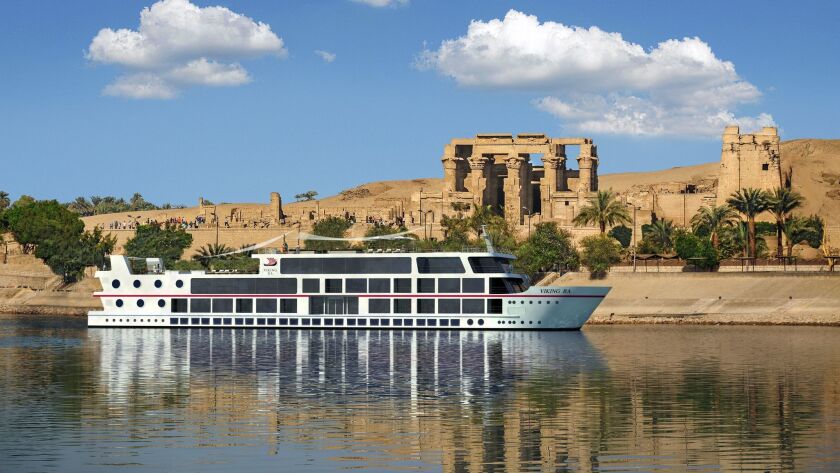 Viking River Cruises on Tuesday revealed the design of a ship that will sail the Nile River on a 12-day cruise-tour of Egypt that will begin next year.
The Viking Ra, named for Norwegian explorer Thor Heyerdahl's primitive boats, will carry 48 guests on the all-suite ship.
Rooms measure almost 300 square feet and include hotel-style beds, sofa, bathroom, air conditioning and flat-screen TVs.
Ship features include a pool and two Jacuzzis, a spa offering massages and other services, and an on-board restaurant that doubles as a lounge for kick-back time or lectures.
Pool and sun deck
The pool and sunning area with 360-degree views will be at the back of the ship. Passengers are shielded from the sun by screens and "sail-shades" that the cruise line says are "inspired by local dhow ships."
Reception
The river cruise ship was completely stripped down and is being renovated to reflect a sleek Scandinavian design. Guests on the Viking Ra will enter the all-suites vessel at this reception area.
The Restaurant
Guests dine at the Restaurant, which has a buffet and full-service meals. During the day, the area doubles as a lounge where guests can enjoy the scenery through floor-to-ceiling glass doors.
The Pharoahs & Pyramids tour begins next March and starts with a three-night stay in Cairo to visit landmarks such as the Great Pyramids of Giza, the new Grand Egyptian Museum and the Mosque of Muhammad Ali.
Passengers then fly to Luxor to visit the Temples of Luxor and Karnak before boarding the ship for an eight-day roundtrip cruise on the Nile.
The Viking Ra will sail to Aswan, with stops at the tomb of Nefertari in the Valley of the Queens and excursions to the Temple of Khnum in Esna and other sites, and a visit to a Nubian village. The trip ends with a flight back to Cairo for a final night in the historic city.
Prices start at $4,499 per person, based on double occupancy. It includes 11 shore excursions, free beer and wine, free Internet and other perks. An expert Egyptologist will lead the excursion tours.
Info: Viking River Cruises, (800) 304-9616, or contact a travel agent
ALSO
In Victoria, Canada, venture among cavorting orcas or dazzling flowers
Asia is the hot cruise ticket these days
Canada is cool, not cold. Its 150th birthday gives you a chance to warm to it as never before
Ottawa, Canada's center of government, is Cool with a capital C
Already a subscriber? Thank you for your support. If you are not, please consider subscribing today. Get full access to our signature journalism for just 99 cents for the first four weeks.
---