Sassy, trashy E! Entertainment aspires to be more classy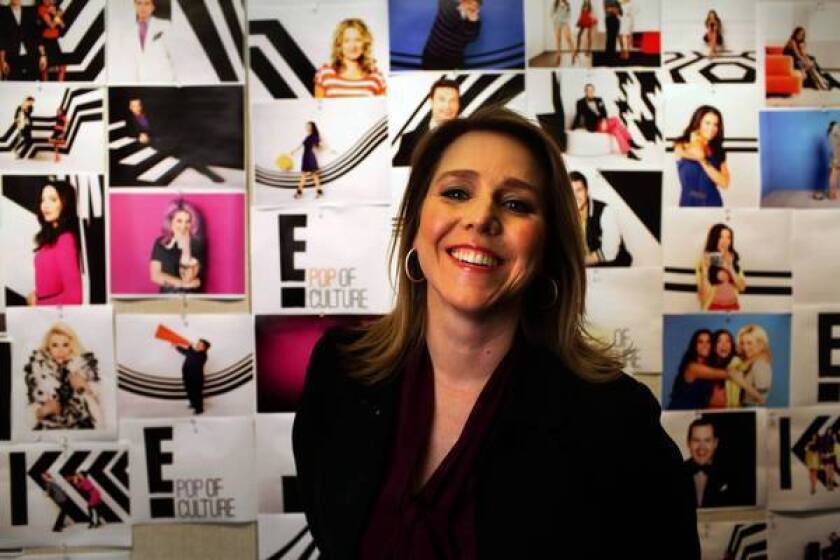 Hey, Kardashians! Make room for the Jonas Brothers and Tim Tebow.E! Entertainment is getting a makeover.
Since it launched more than two decades ago, the sassy, celebrity-obsessed cable channel has basked in the glow of Hollywood glitz. For the last five years it has specialized in the high-profile exploits of Kim, Khloe, Kourtney and their mom, Kris.
Now the channel that once featured a reality show about tabloid train wreck Anna Nicole Smith is widening its lens and trying to leave its trashy elements behind.
E! is bulking up its newscasts and filling its prime-time schedule with sports stars and musicians — even squeaky-clean ones.
Last week the channel celebrated Tim Tebow, the New York Jets' devout Christian quarterback. This week E! launched "Opening Act," an online search for singers to open concerts for Rod Stewart and Brad Paisley. Next month the channel ties the knot with "Married to Jonas," a reality series about Kevin and Danielle Jonas finding their way as a young married couple in suburban New Jersey.
"E! is trying to move a little more upscale," said Ethan Heftman, director of national broadcast for the ad-buying firm Initiative.
The seeds of change were planted last year when E!'s owner Comcast Corp.took control of NBCUniversal, and combined its channels E!, Style and G4 with its new portfolio of lucrative cable networks, including USA Network, Bravo and Syfy.
Steve Burke, a longtime Comcast executive, became chief executive of NBCUniversal. He immediately tapped NBCUniversal's network turnaround specialist, Bonnie Hammer — who had turned NBCUniversal's USA Network into the entertainment company's most profitable asset, throwing off earnings of more than $1 billion annually in recent years — to redesign and elevate E!
The channel was already a cash cow for Comcast, making money from its guilty pleasure programming such as "True Hollywood Story," red carpet interview shows with biting commentary from Joan Rivers, and, of course "Keeping Up With the Kardashians." Profit for E!, which is distributed internationally in 91 territories, has been estimated at more than $300 million last year on revenue that topped $700 million.
But Hollywood, and its web of young socialites and hangers-on, suddenly seemed too small a canvas given Comcast's greater ambitions for E! What's more, the network had increasing numbers of imitators.
"In a lot of ways, their strengths have been overtaken by the competition as Bravo, and other brands also have branched out to do celebrity reality shows," Heftman said.
Also, advertisers avoided shows populated by former Playboy playmates, giving the network an incentive to upgrade its programming. Not only that, some of the network's most successful shows,"E! News,""The Soup" and"Chelsea Lately"are topical and have limited shelf lives.
"From the get-go, it was, 'How do we get E! recognized for the value that it currently has, and then expand the channel's focus beyond Hollywood into New York, Miami, Nashville, London and Paris — covering pop culture trends in music, fashion, politics and sports?'" Hammer said in an interview.
Hammer a year ago named Suzanne Kolb, a veteran television marketing executive, as president of E! (Women fill nearly all of the network's top jobs, a rarity in the industry.) Since Hammer and Kolb took over, they have been on a mission to better understand E!'s identity and audience.
The result: new shows and a new logo.
"We found we needed to give people more of a reason to watch more of E!," Kolb said. "Athletes are as big of celebrities as many A-list movie stars. They are part of the public fascination. If covering celebrities is a key part of what we do, then we have to evolve."
During the most recent television season, E! drew an average of 627,000 viewers in prime time, according to Nielsen, lagging behind competitors Lifetime, TLC and Bravo, which each draw more than 1 million viewers a night.
But the channel is competitive among the coveted demographic of viewers ages 18 to 34. In that category, E! comes in behind Bravo but ahead of Lifetime and TLC. The median age of E!'s audience is 33.
The most popular show on the network is the Kardashian chronicle, which this season has averaged 2.2 million viewers an episode, according to Nielsen. The Kim Kardashian wedding special in October set a network record with an audience topping 10 million. But the marriage lasted just 72 days.
"It was not the greatest period of time for the Kardashians or for E! in terms of negative feedback," Kolb said. But "you cannot be in the reality business and then be upset when reality happens. The core fans have been very loyal."
Kardashian family members have agreed to two more seasons of "Keeping Up" and its spinoffs, "Kourtney & Kim Take New York" and "Khloe & Lamar," featuring Lamar Odom, who last week signed with the Los Angeles Clippers. Former Olympic gold medalist Bruce Jenner (who is married to Kardashian matriarch Kris Jenner) will represent E! at the Summer Olympics.
The Kardashians are "a very loud franchise, and there is a beauty to that," Kolb said. "But the concern is that you don't really know the life span of a show, and you need to make sure you are developing other hits."
This week, E! introduced "Opening Act," from producer Nigel Lythgoe of"American Idol." Its twist on the singing competition comes as producers search the Web for talented amateurs, who don't realize that they are being auditioned.
Next year, in a bid to boost its ad rates, E! plans to roll out original scripted programming — the first time the network has tried that since it abandoned schlocky made-for-TV movies in the mid-1990s.
"They recognize that pop culture now extends well beyond what they used to concentrate on: Hollywood celebrities and fashion," said Sam Armando, director of strategic intelligence at Starcom MediaVest Group Exchange in Chicago. "A shelf full of scripted programming can go a long way."
E! has also unveiled a new look, exchanging its trademark lipstick-red E! logo for subdued black and white.
"To me, black and white screams classy," Hammer said. "It's like a tuxedo, a patent leather stiletto or a well-polished man's shoe."
"E! is 21 years old, and like any 21-year-old, we have to evolve into the adult version of ourselves," Kolb said. "We are little bit more confident, a little more stylish and bold in a good way of knowing who we are and who we want to be."
---