With its majestic views and enchanting beach-town charm, San Clemente is a delightful destination for an afternoon adventure. The hilly terrain of Orange County's southernmost town led visionary Ole Hanson to dream of a Spanish city by the sea: The former Seattle mayor began development in 1925 and, initially, all homes were to be built in the Spanish Colonial style, giving the town the alluring Old World ambience it has today. In 1969, President Richard Nixon was also drawn to the area and the historic La Casa Pacifica, the mansion that he would use as his Western White House during his presidency.
11:22 a.m.
You could drive. But for a true adventure: The southbound Amtrak Pacific Surfliner deposits you daily at 11:22 a.m. at the San Clemente Pier seven days a week. Other southbound stops are at 10:04 a.m. Monday to Friday and 9:48 a.m. Saturday, Sunday and holidays. In the afternoon, the northbound Surfliner boards here at 4:10 p.m. and 5:19 p.m. daily, so make sure you keep track of time if you're planning a round trip.
11:45 a.m.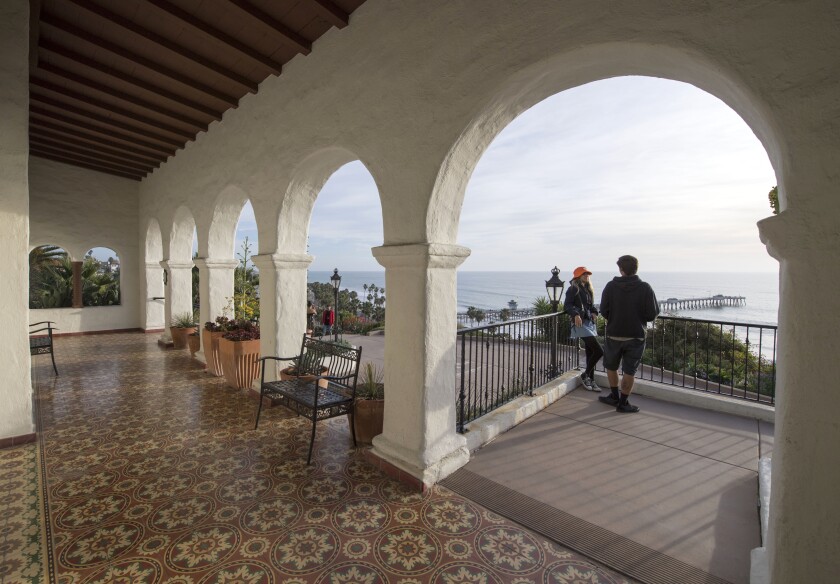 First stop, the Casa Romantica Cultural Center and Gardens at 415 Avenida Granada. The home was built by San Clemente founder Ole Hanson. He chose the magnificent overlook of the California coast to create his historic 1927 Spanish Colonial Revival home, which is now a busy cultural center with gardens and spaces from which to take in the sweeping ocean vistas. At Casa Romantica, activities include arts programs, concerts, family movies, weekly kids story times and the family-friendly D. Yoder Family Sundays from 10 a.m. to 2 p.m. the first Sunday of each month. (Before you go, check out the online calendar of activities at casaromantica.org.) A must: the art gallery, which features a rotation of mostly California artists.
Should you choose to head there on the first Wednesday of the month, $10 will reserve you a 9 a.m. yoga class overlooking the Pacific ocean.
Make time for thrift shopping, grab short rib tacos at Pour Vida Latin Flavor, pick up baked goods and explore the Anaheim Packing House.
12:15 p.m.
An uphill four-block stroll brings you to the heart of the downtown district on Avenida Del Mar: Downtown San Clemente is a true charmer. Avenida Del Mar clings to its retro allure and is still home to several old-school, mom-and-pop shops that more developed SoCal beach towns seem to be losing. (Beginning in May, a trolley will make this trek much easier and will even connect to the Dana Point trolley line.)
12:30 p.m.
Head to Oliver's Olive Oils at 211 Avenida Del Mar, an olive oil and balsamic tasting gallery nestled in the midst of small, unique boutiques (and shoe repair and vacuum repair shops). Owners Bob and Julie Brawner relocated from Laguna Beach for San Clemente's family-centric feel. "What's special is the relationships with local people here," Julie Brawner says. "We see children grow up and pets come and go."
Oliver's artisan selection includes at least 33 kinds of aged balsamic vinegar and 20 olive oils from California and the Mediterranean. How about a chocolate or espresso balsamic, or olive oils infused with jalapeño or Meyer lemon? The bestselling Buscionetta Extra-Virgin Olive Oil is produced in Caltabellotta, Italy, by a local resident who heads to Sicily for the family olive harvest and returns with EVOO.
1 p.m.
Did you work up an appetite? Brussels Bistro at 218 Avenida Del Mar is known for its moules frites — mussels and fries. (The mussels are flown in from Penn Cove, Wash.) We suggest sampling the beer flight — perhaps the Grimbergen Dubbel beer — with mushroom soup served in feather-light puff pastry, or the boeuf bourguignon, slow-cooked for 24 hours. The eatery offers 25 varieties of Belgian beer with the warmth of Belgium's comfort food and conviviality. "It's less fussy than French cuisine," says co-owner Thomas Crijns.
2 p.m.
When you've had your fill, stroll to the Abode at 228 Avenida Del Mar, housed in a residence also built by Ole Hanson in the 1920s in the town's signature Spanish Revival style. Filled with a mix of vintage and new eclectic decor, you may find rare vintage drawer pulls, milk glass dishes and 1930s light fixtures, as well as soft furnishings and vintage clothing. You can pick up some Annie Sloan chalk paint products for that DIY project you've had in mind. Crafting classes and tutorials are available.
2:30 p.m.
Your return walk is a downhill breeze along Avenida Del Mar. Enjoy the pier and the ocean views expanding before you as you connect to the San Clemente Coastal Trail stretching north and south of the pier. Done with your hike a bit early? Stop for a drink at the bar side of Fishermans Restaurant and Bar at the base of the pier, 611 Avenida Victoria. The bar side is seat-yourself, so get ready to stalk a good ocean-view table. Few bars or eateries offer such magnificent coastal sunset views at the edge of the sand. Pair a dry martini with the salty air as you people-watch pier strollers and surfers directly below you.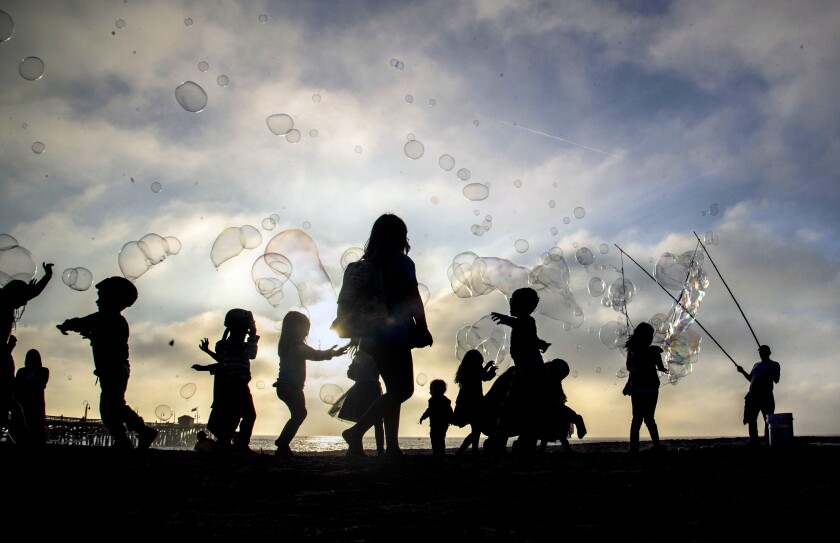 Watch for bubbles, as in a beach bubble fest created by a local who goes by Frenchie. He regularly sets kids in a leaping frenzy with his show of gargantuan bubbles interspersed with flurries of smaller bubbles. Frenchie is undoubtedly San Clemente's most photographed resident.
4:10 p.m.
With great reluctance, it's time to catch the northbound train home. The Amtrak Surfliner makes its daily pier stops at 4:10 p.m. or 5:19 p.m. Take in the sunset through the window as your train follows the winding coast on a stress-free, traffic-free trip back home.
Whether your resolution has you experimenting with veganism, meditating or spending more time in nature — or some impressive combination of the three — the Pacific Palisades provides an ideal place to take a breath and recharge before diving into 2020.
---