Column: In the Trump era, sore losers are becoming the standard, while Bush-style grace is ever more rare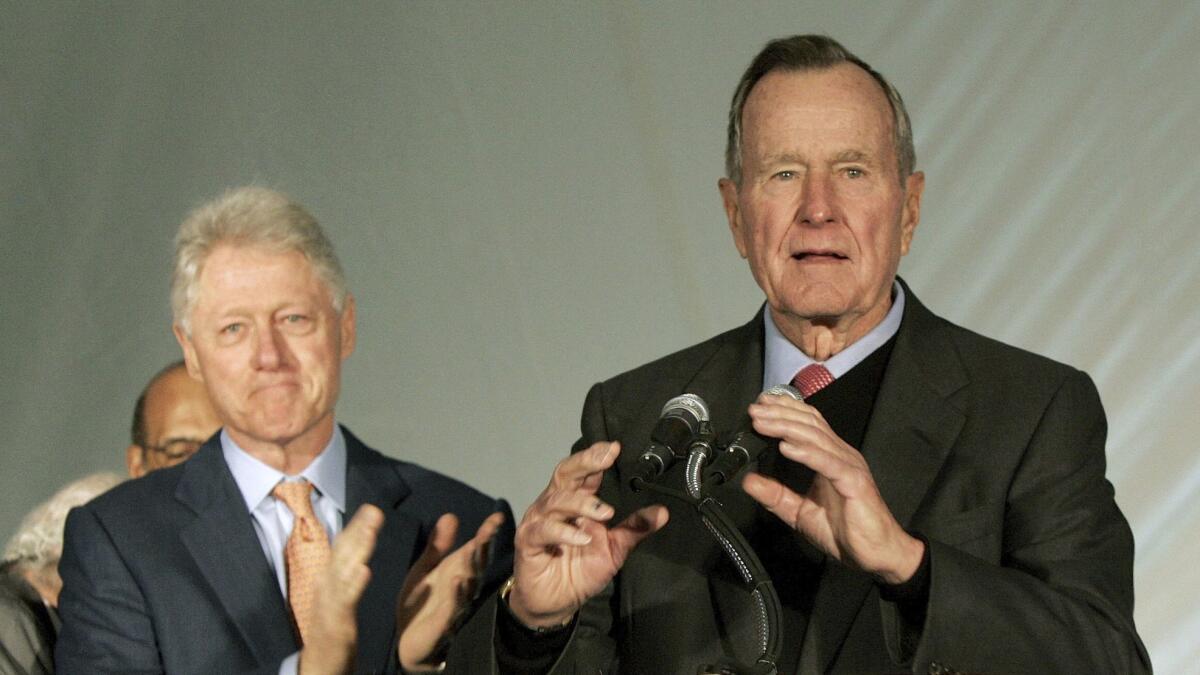 Not every candidate who lost an election last month pitched a hissy fit, screamed fraud or refused to concede.
But enough of them did for us to conclude that President Trump's pettiness and poor sportsmanship has become as much a current-day campaign tactic as a character flaw.
In California, Republicans accused Democrats of stealing seats "after the fact" when thousands of ballots had not even been counted yet.
Or of engaging in "foul play" when their election night margins began to shrink or disappear as thousands of mail-in ballots were counted.
The other day, outgoing Republican House Speaker Paul Ryan, once hailed as an intellectual giant of his party, professed not to understand the most basic kind of arithmetic when he raised questions about California's slow vote counting.
"I think it's just weird," he said, sounding like a teenage airhead. "California — their system is bizarre, I still don't frankly understand it."
Central Valley Rep. Jeff Denham, who lost his race to Democratic challenger Josh Harder, told MSNBC that it was "statistically impossible" that so many California Republicans were leading on election night, but lost after all the ballots were counted. Except that it actually happened, so it's statistically impossible that Denham understands what "statistically impossible" means.
Anyway, as Denham well knows, the reason Democrats pulled ahead in the counting was that mailed-in ballots only have to be postmarked by election day and received by the Friday after the election. Republicans who mail their ballots usually do so early; Democrats tend to vote later, which means the later ballots favor Democrats.
Amid all the sour grapes and pushback, it almost seemed providential timing that former President George H.W. Bush, died Friday at the age of 94. What a contrast his career was to the kind of self-serving defensiveness we see on display these days.
Here was a man who suffered one of the most humiliating defeats in presidential history, losing to Bill Clinton in 1992 after one term. In his concession speech, Bush did not whine about losing, he did not accuse his opponent of bad faith. He said nothing that would undermine the election results in voters' minds.
He congratulated Clinton, and thanked him.
"There is important work to be done, and America must always come first," Bush said. "So we will get behind this new president and wish him well."
And then, he became fast friends with Clinton.
Or take the late Sen. John McCain, whose concession to Barack Obama in 2008 was so lovely it gives me goose bumps to this day.
"A century ago, President Theodore Roosevelt's invitation of Booker T. Washington to visit — to dine at the White House — was taken as an outrage in many quarters," McCain said. "America today is a world away from the cruel and prideful bigotry of that time. There is no better evidence of this than the election of an African American to the presidency of the United States. Let there be no reason now for any American to fail to cherish their citizenship in this, the greatest nation on Earth."
And even after a stinging, unexpected defeat, Hillary Clinton rose to the occasion.
"Donald Trump is going to be our president," she said. "We owe him an open mind and the chance to lead."
::
Though a lot of whining came from Republicans who lost, many conceded graciously.
Some even managed the neat trick of both accusing Democrats of fraud (in fundraising appeals) and congratulating their opponent when the counting was done.
Republican Rep. Steve Knight of Palmdale conceded his loss to Democratic political newcomer Katie Hill without so much as a peep about electoral improprieties. "Our electoral process is integral to our identity as a free and fair society," Knight said, "and the voters have spoken."
In Arizona, Republican U.S. Senate candidate Martha McSally graciously conceded defeat a week after election day to her Democratic rival, Kyrsten Sinema. The loss was intolerable to Trump, who tried to inject a note of discord into the race: "Just out," he tweeted. "In Arizona, SIGNATURES DON'T MATCH. Electoral corruption — Call for a new Election? We must protect our Democracy!"
In Wisconsin, where Republican Gov. Scott Walker lost a bid for reelection to Democratic rival Tony Evers, the Republican-dominated Legislature has done more than just whine about the election outcome.
In a lame-duck session that has been widely criticized by good government watchdogs, Wisconsin legislators have proposed sweeping changes that would reduce the power of both the governor and the attorney general. (Did I mention the incoming attorney general is also a Democrat?)
Among the effects the changes would have: blocking the new governor and attorney general from following through on a campaign promise to withdraw Wisconsin from a multi-state lawsuit that seeks the repeal of the Affordable Care Act.
"I don't think it's outrageous at all," Republican Senate Majority Leader Scott Fitzgerald told the AP. "But listen, I'm concerned. I think that Gov.-elect Evers is going to bring a liberal agenda to Wisconsin."
Which, you know, was probably the reason voters chose a Democrat with a liberal agenda as their new governor.
::
Only one Democrat that I know of has been accused of behaving badly post-election. (Two if you count Texas U.S. Senate candidate Beto O'Rourke, who was knocked for exuberantly dropping the F bomb in his concession speech to Republican Sen. Ted Cruz.)
The conservative Weekly Standard accused Georgia Democrat Stacey Abrams, who would have been America's first African American female governor, of delivering "the most ungracious and self-serving concession speech we can remember."
The speech was unusual, to be sure. But it was rooted in facts, not in sour grapes.
"This is not a speech of concession," Abrams said. I think her word choice was poor, since Abrams acknowledged that her Republican rival, Georgia Secretary of State Brian Kemp, had garnered the most votes, making him the next governor.
But I did not regard what she said next as petty.
The race, she said, had revealed flaws in the state's electoral system — flaws that were created or exploited by Republicans to disadvantage black voters.
"Partisans and hyper-partisans will hear my words as a rejection of the normal order," Abrams said. "I'm supposed to say nice things and accept my fate…. As a leader, I should be stoic in my outrage and silent in my rebuke. But stoicism is a luxury and silence is a weapon for those who would quiet the voices of the people, and I will not concede because the erosion of our democracy is not right."
Unlike the president's phony Voter Fraud Commission, which wasted taxpayer dollars before being disbanded for lack of evidence, Abrams' cause is a just one. Georgia has systematically made it harder for people to vote.
You can be gracious in defeat.
Or you can make up stories about why you lost.
Or you can do what Abrams is doing: Move forward not in anger, but in determination to right the systemic wrongs that have kept you down.
Twitter: @AbcarianLAT
Get our Essential Politics newsletter
The latest news, analysis and insights from our politics team.
You may occasionally receive promotional content from the Los Angeles Times.