Republicans Walters and Kim adopt Trump tactic of charging vote fraud with no evidence of wrongdoing
Two Orange County Republicans facing the prospect of defeat in the Nov. 6 congressional election as final ballots are counted have adopted President Trump's tactic of making baseless allegations of vote fraud.
Neither GOP Rep. Mimi Walters nor Republican candidate Young Kim has produced evidence to back up their charges that Democrats are trying to steal the election. County registrars of voters supervising the ballot counts said they knew of no one doing anything that would compromise the election's integrity.
Both Republicans leveled the accusations after they steadily lost ground in the continuing tabulation of tens of thousands of ballots. Walters finished ahead on election night, but has fallen 3,797 votes behind Democrat Katie Porter. Kim is clinging to a 122-vote lead over Democrat Gil Cisneros.
Walters and Kim have joined a growing number of Republicans in Florida and elsewhere who, like Trump, challenge the legitimacy of vote counts when Democrats gain in late tallies. Nonpartisan election watchdogs are appalled.
"The tone has been set at the top," said Stephen Spaulding, chief of strategy at Common Cause. "I think it's reckless. It is irresponsible."
Scholars who track the rise and fall of democracies around the globe are also alarmed. Public trust in the validity of free elections is a pillar of democracy, they say, and a political party's systematic attacks on that faith can be corrosive.
"People need to learn to lose and accept the results and move on to the next campaign," said Daniel Ziblatt, coauthor of "How Democracies Die." "If people don't believe in the legitimacy of elections and start acting that way, then the whole thing can disintegrate very rapidly."
The Walters and Kim campaigns both declined to comment or provide any evidence to support their allegations.
In California elections, it's a firmly established pattern that the votes counted last almost always favor Democrats. The growing dominance of mail ballots has made it more pronounced. The most reliably Republican voters — a shrinking share of the state's electorate — tend to be older white homeowners who send in their ballots before most other Californians do.
On Sunday, when she was still slightly ahead, Walters told supporters in an email that she needed donations to stop Democrats "from overturning the will of the voters."
"I'm currently up by 1 point, but the Democrats are already preparing for a recount to try and steal this Republican seat after the fact," Walters wrote.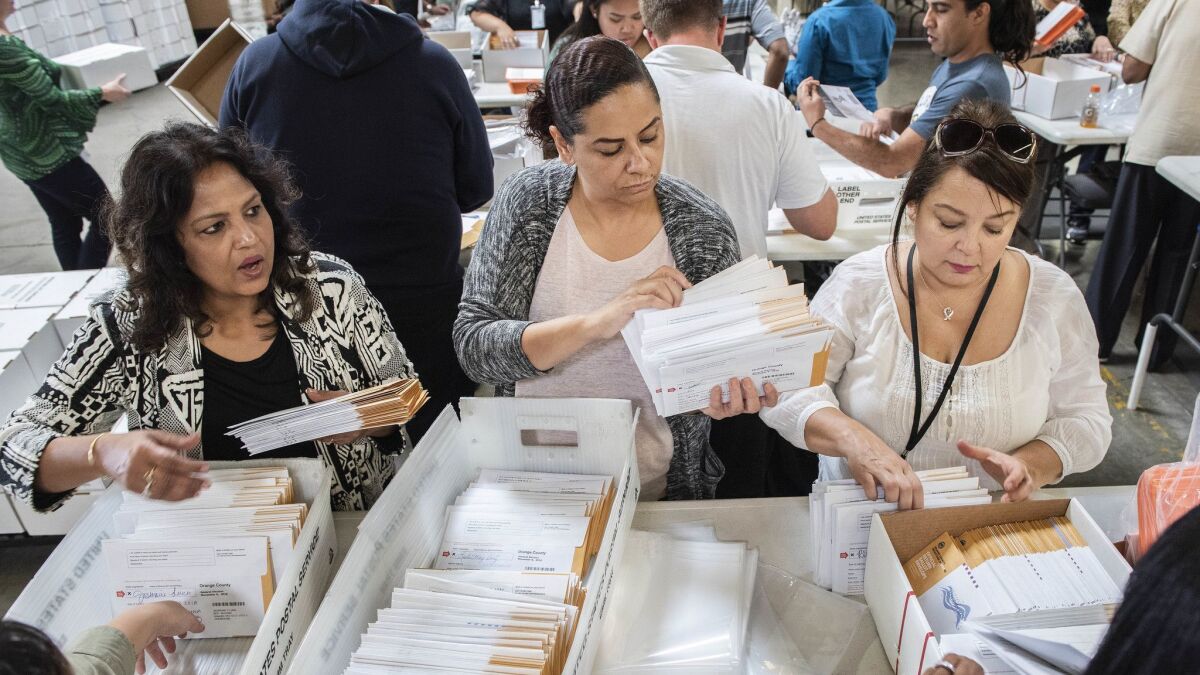 In another fundraising email, Walters said she needed "to make sure vote tallies aren't tampered with."
Neal Kelley, Orange County's registrar of voters, responded "emphatically no" when asked whether anyone had tried to tamper with any of the ballots.
"We take this responsibility very seriously," he said. "I certainly do. I have seen no evidence of it."
California's not goofy, it's really big. That's why counting the vote takes so long »
The 45th Congressional District that Walters represents in the Irvine and Mission Viejo area is entirely within Orange County. She lives outside the district in Laguna Beach.
Kim, running in the neighboring 39th Congressional District, which straddles Orange, San Bernardino and Los Angeles counties, released a statement alleging that the Los Angeles County registrar had rebuked an unnamed Cisneros operative for "physical ballot tampering," which is illegal.
Mike Sanchez, a spokesman for the county registrar, said no one had reported any attempt to alter ballots.
Kim, who lives in Fullerton, also said that all the uncounted ballots must "nearly match" the results of those already tallied even though history suggests they probably won't.
"Anything falling significantly outside of those percentages could reflect foul play and we will continue observing closely to make sure the integrity of this election remains intact," Kim said on Twitter.
As the vote count has unfolded, the Kim and Cisneros campaigns have each accused the other of harassment and other improper conduct by their respective observers of the tallying in county election offices. That type of tit for tat is common in ballot counts in tight contests.
Allegations of full-scale ballot fraud are not. Sean Clegg, a strategist for the Porter campaign, called Walters' allegations dangerous.
"Mimi Walters' attacks on routine and fair vote counting come from a deeply dark, cynical and, yes, fascistic place," he said. "We have to be able to agree in the United States of America that every vote should count, every person matters and the winner should prevail. Lose that agreement, and we lose the nation."
In both the Walters and Kim races, tens of thousands of ballots remain to be counted over the next couple weeks, and the eligibility of many of the voters must still be verified.
Jim Condos, president of the National Assn. of Secretaries of State, said he was disturbed by the rise in unfounded vote fraud allegations.
"Words do matter," said Condos, the Democratic secretary of state in Vermont. "I think it's unconscionable and irresponsible to be making accusations and threats without any evidence behind it."
Twitter: @finneganLAT
Times staff writer Maya Sweedler contributed to this report.
Get our Essential Politics newsletter
The latest news, analysis and insights from our politics team.
You may occasionally receive promotional content from the Los Angeles Times.