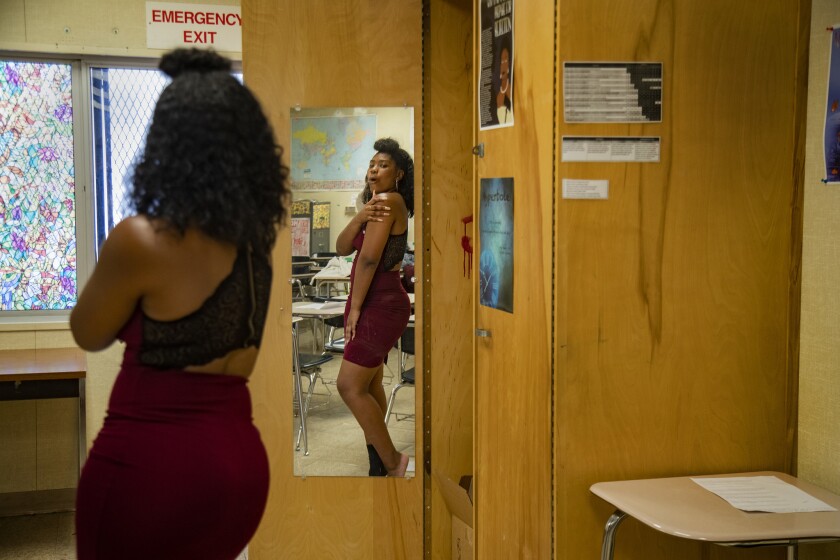 At lunchtime, the seniors — 11 girls — filtered into the classroom at the Humanity and Arts Academy of Los Angeles, an autonomous school on the campus of Narbonne High School in Harbor City. They wore typical high school clothing: sweatshirts and leggings, T-shirts and ripped jeans.
The back of the classroom, in one of those portable buildings that never move, had been turned into a dress store; long gowns and minis hung against the wall. Next to that, a table with shoes and jewelry.
The girls eyed the merchandise, silently making their picks.
Soon, they would disappear into the empty classroom next door, which had been turned into a dressing room, and reappear in astonishingly pretty prom dresses, some even teetering in impossibly high heels.
"I've been waiting for prom since I was 4 years old!" said Nia Burton, who plans to attend Texas Southern University next year.
The dress giveaway was their reward for entering an essay contest organized by 11th-grade English teacher Pattianna Harootian, an intense former competitive boxer, who does not ever seem to stop moving, or talking, or giving directions. ("I am kind of controlling," she told me. "Don't write that down.")
Each of the girls, who had already struggled to come up with $130 for their prom tickets, had produced 500 words on the topic: "How I give back."
"I'm all about teaching my kids to be charitable," Harootian said. Boxing had given her incredible confidence, she said, so after she left the ring, she founded a charity called Knock Outs for Girls. She wanted to teach girls to box, to remind them of their own strength, and to encourage them to empower themselves by doing good things for other people. (She also organizes an annual toy drive for the children at Hillsides, a children's home in Pasadena. One year, she told me, one of the children there asked for a toothbrush.)
She organized her first prom dress giveaway last year. All the items — dresses, shoes and jewelry — were donated by friends and colleagues.
Harootian plucked a maroon halter dress off the rack. "I don't know," she said, frowning. "This one might be too sexy."
Naturally, it was among the first to go.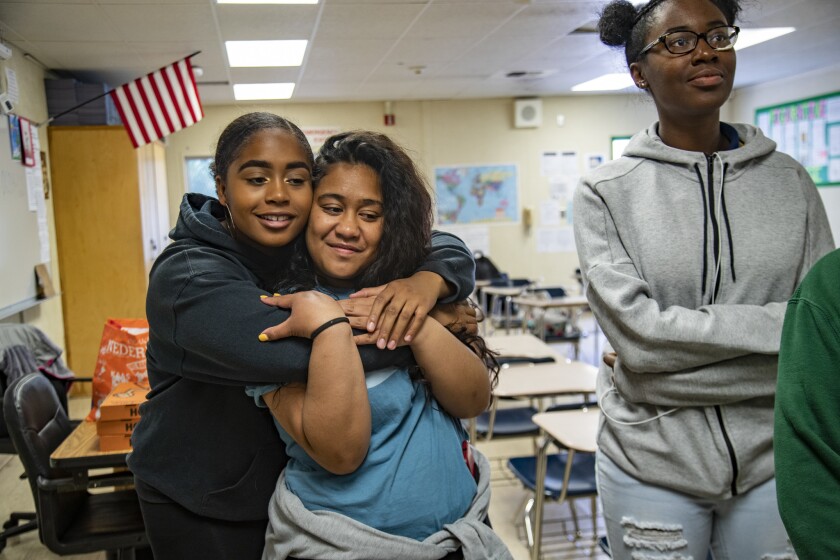 ::
Reading through the girls' essays, I was struck by their kindness, humility and optimism.
Tiffani Cadogan's mother, Theresa, died of breast cancer in 2015. Tiffani took her mother to many of her doctor appointments, and cared for her until the end. "Despite what she went through," Tiffani wrote, "she still managed to help others and I decided to follow in her footsteps."
This summer, Tiffani will volunteer at Children's Hospital. "There are so many who just need support and unconditional love," she wrote. "My ultimate goal in life is to spread love."
Nia Burton wrote that she recently got a job to help her family. "My parents have a lot of bills and senior year is a big extra expense," she wrote. She didn't find a dress she liked, but got a nice pair of hoop earrings, and Harootian is already putting out the word to her friends that she needs a few more dresses.
Ymani Jackson wrote about waking up every morning at 4:30 to get her siblings ready for school: "I have to make sure they have food in their system so they won't be hungry." After school, she coaches girls at the Inglewood Cheer and Dance Palace and takes them to competitions.
Audrey Zavala has been feeding homeless people on skid row since she was little, she wrote. "Doing so made me realize it's important to get out of your comfort zone and help other people as much as possible."
One girl described a bad family situation. Her mother always told her to "be the light in such a dim world." "I know how it feels to lose hope," she wrote. "Girls need to know that they are beautiful and they are worth finding, worth knowing, worth loving. Sometimes you need to forget what you feel and remember what you deserve."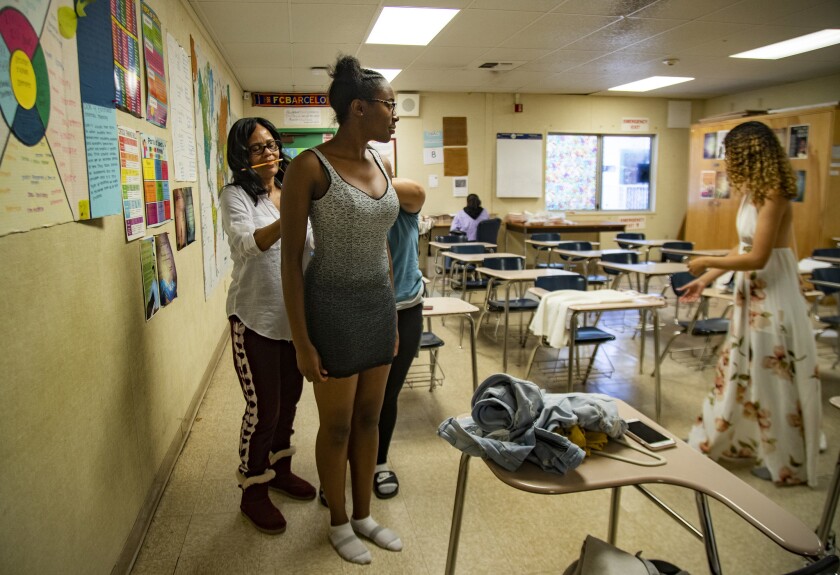 ::
Chioma Nzeogu won the essay contest, which meant she got first pick of the dresses and shoes.
Chioma is 6 feet 1, and plays power forward and center on the Narbonne basketball team. She is hoping to study culinary arts, first at Harbor Community College, then maybe at a four-year college in Oregon.
Lately, she told me, her family has hit a rough patch.
She and her mother lost their Lomita home, and had to move in with her older sister in Buena Park, about 25 miles away from school. Eventually, they were able to move into her grandmother's house in Compton, which is only 12 miles away. The house has three bedrooms, but is cramped.
"There's already a lot of people staying at my granny's," she said. "My uncle and aunties."
She gives back, she wrote, by teaching her nieces and nephews the things she's learned from her basketball coaches, so they can excel at the game as she has. "I also make sure kids know right from wrong, and make them feel as though whatever they do and say is important, because it is."
I asked her about the left lens of her tortoiseshell glasses, which was mended with white tape.
"A couple weeks ago, my teammate was coming in for a layup when she bumped into me," Chioma said. "I fell and my glasses broke."
She can't afford new glasses yet — her mom is unemployed — but burst out laughing when I asked if she planned to wear the broken ones to prom. "No!" she said. "I have contacts, but I don't like them. They make my eyes feel weird."
On May 24, the prom is scheduled to take place at The Reef, a waterfront restaurant in Long Beach about 12 miles southeast of the school campus.
Chioma said she wasn't sure how she would get there, but was thinking she might be able to pool her money with some friends for a limo ride.
It's not clear where they'll get the $500 limo fee, but these young women are not short on hope.
However Chioma gets to the prom, she'll look beautiful in her pick: a short, fitted tank dress, in a blue ombré pattern.
Twitter: @AbcarianLAT
---