Column: Sleepy little El Segundo is suddenly on the radar and fighting to keep its small-town identity
Julie Stolnack, a fourth-generation El Segundan, took me cruising around town Sunday in her burnt orange Ford Think.
The Think is a very tiny car, doorless like a golf cart. Every time we made a U-turn, I had the sensation I was about to fall out, which made me feel like a joyriding teenager.
Stolnack, 53, knows everyone.
She loves that El Segundo is a kind of seaside secret. It is nearly invisible to the hordes of people who drive through it on Sepulveda Boulevard to get to and from Los Angeles International Airport or those who whiz past it on the coast route, unaware of the residential neighborhoods on the other side of the red-and-white striped towers of the Scattergood Generating Station or the low tanks of the Hyperion Water Reclamation Plant.
"No one knows we're here," Stolnack said.
Oh, but they do. El Segundo, which is overwhelmingly white and more politically conservative than many Los Angeles County cities, has not been immune to the kinds of development pressures that have affected Los Angeles. Stolnack has fought proposals to allow residential development east of Sepulveda Boulevard, a traditionally commercial part of the city that is home to aerospace, tech and manufacturing companies like Mattel.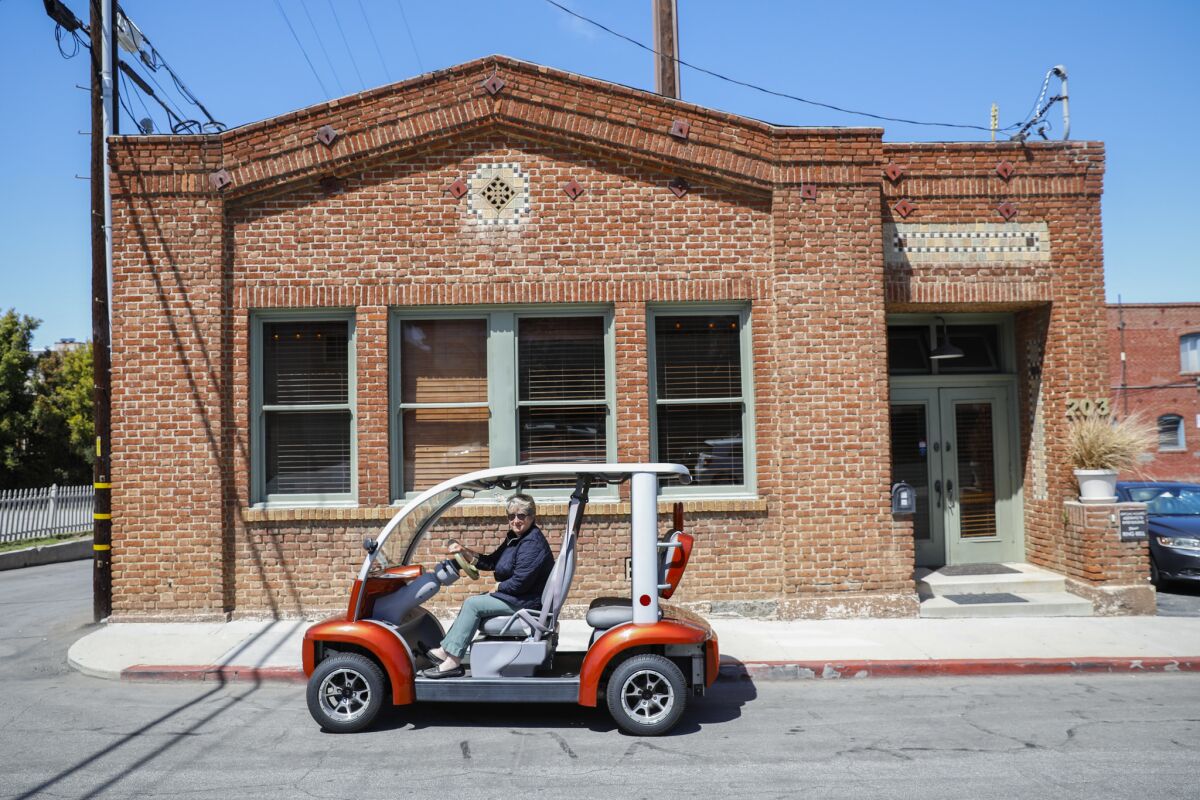 She's worried that creating homes on the other side of the great divide that is Sepulveda Boulevard would have the effect of fracturing the town.
"The community would become divided," she said. "People east of Sepulveda might not be interested in our Easter egg hunt or our Halloween frolic because they'll have their own recreation on their side. Once we open that up, it's no longer the little small-town Mayberry kind of thing."
I told her I thought that was probably a losing battle, given the pressure that the state has been putting on cities to come up with housing solutions.
"My sense of civic obligation is to keep this community what I have always known," Stolnack said. "Maybe in the next 20 years, there will be housing east of Sepulveda. I really hope not."
Not all change is unwelcome, of course.
Stolnack's ranch-style house, untouched since it was built in 1962, was recently appraised at $1.2 million.
Because of improved technology, the brown-tinged "poop bubbles" that baseball players used to dodge on the old Little League field east of the Hyperion plant are a thing of the past. So, for the most part, are the awful chemical and waste smells that used to float over El Segundo.
As for the airport noise that plagues the town, longtime residents say they have learned to tune out the roar of jets taking off from LAX. In fact, when the city forced Stolnack to hire a sound engineer to consult on the home remodel she's about to start, she bridled.
"I don't want soundproof windows," she said. "I don't even like the quiet."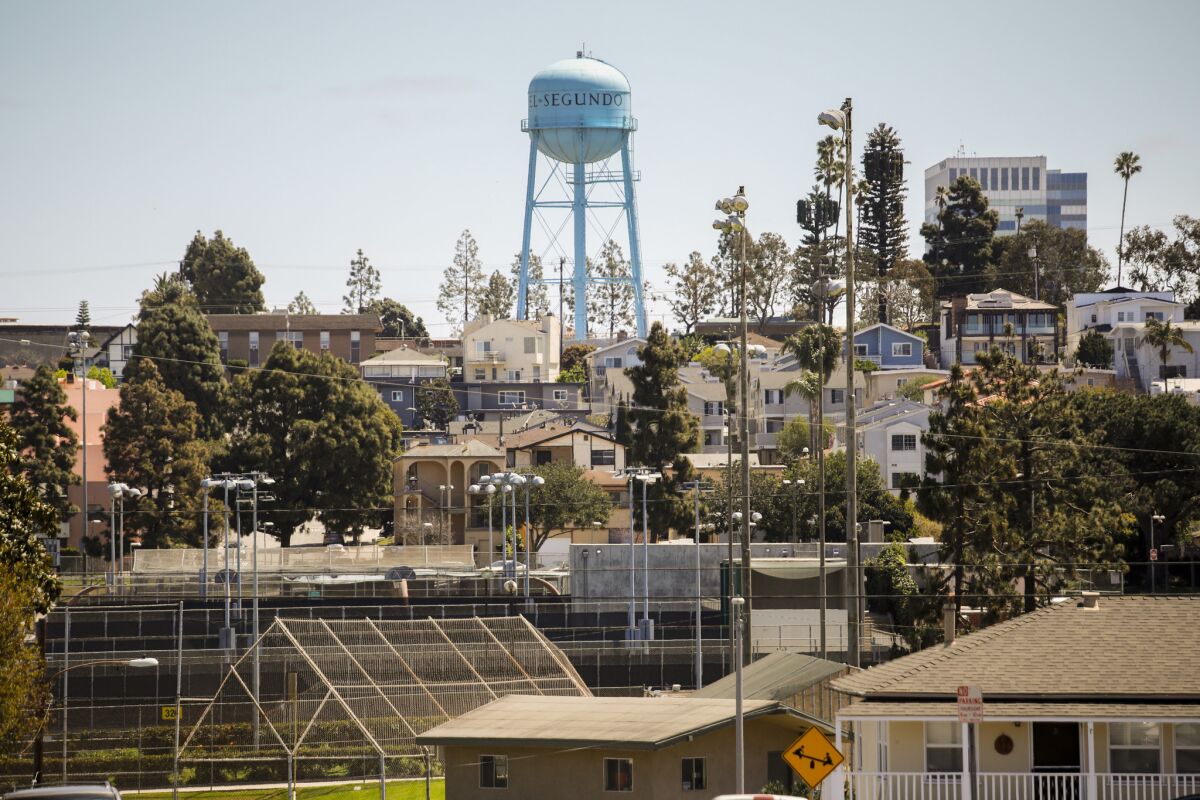 When the new owner of The Times, Dr. Patrick Soon-Shiong, announced Friday that the paper would move to El Segundo, I was not among those bemoaning the change.
I know commute times will increase for many of my colleagues, and I appreciate the stress that may cause. But the historic downtown mother ship was no longer ours, sold out from under us by our corporate overlords. We had to rent our own auditorium for Soon-Shiong's town hall meeting.
Everyone I spoke to on Sunday in El Segundo said they are looking forward to welcoming the Los Angeles Times, which is expected to occupy a building next to the 105 Freeway just south of LAX, near Raytheon, Northrop Grumman and Boeing, all symbols of the modern jet age.
Yet there is no company that defines El Segundo quite like the energy giant Chevron. The city owes its very existence to the fossil fuel industry.
El Segundo did not exist until Standard Oil arrived from the Bay Area in 1911. The Richmond refinery, El Primero, was soon joined by El Segundo, the company's second refinery. Stolnack's grandfather, David Peterson, worked there for 50 years.
Around here, old habits die hard. Though the company name was changed to Chevron in 1984, said Stolnack, "I still refer to myself as a 'Standard Oil' family."
About a quarter of the 5.5 square-mile city — more than 800 acres — is occupied by the sprawling oil refinery, which produces jet fuel (piped underground to LAX) and about a fifth of the gasoline used by Southern California motorists.
Stolnack and I drove to the end of West Sycamore Street and climbed around a fence. We stood on a wide strip of land partially paved, partially wild. To our west were some high sand dunes that blocked our view of the sewage plant below.
Locals call this place "the Dunes." Kids come here, she said, to smoke pot and climb the giant electricity towers that look like oversized erector sets.
When she was growing up, though, the place was too stinky to hang out. (The city's odoriferous reputation was regularly skewered on the sitcom "Sanford and Son." According to a 2015 story in the Argonaut newspaper, comedian Redd Foxx, the show's star, used to joke that "his cheap Ripple wine hailed from 'the vineyards of El Segundo'" and that his son's Days in Paris cologne "smells more like 'Nights in El Segundo.'" These jokes apparently inspired the song "I Left My Wallet in El Segundo" by A Tribe Called Quest.)
"Do you want to meet the general manager of the refinery?" Stolnack asked. As it happened, Henry Kusch, and his wife, Melinda, were walking their dog at the Dunes. We stopped to chat. I told Kusch I was surprised by how huge the refinery is, but how it's fairly invisible.
"Our goal is not to be seen, heard or smelled by our neighbors," he said. "If we are, we consider it a failure."
Here are some random things I discovered about El Segundo:
— El Segundo has been in the Guinness Book of World Records for having the most roads with a hill or a grade. "Every street here is sloped," Stolnack said.
— Roseanne Barr owns a studio on Main Street, Full Moon and High Tide Productions, that is run by her son, Jake Pentland.
— Off Grand Avenue, which curves down to the beach, there is a rusty storage tank owned by the Los Angeles Department of Water and Power. El Segundo High School graduate John Van Hamersveld, the artist who created the famous poster for the iconic surf film "Endless Summer," has been commissioned to create a mural on one of the rusty exteriors. Van Hamersveld told me the mural, actually a wrap, will be finished by April 28. "El Segundo," he said, "is where my career started, as a surfer and an artist."
— The endangered El Segundo blue butterfly, a tiny iridescent insect that eats only coast buckwheat, exists in three places: at LAX, in beach dunes at the west end of Imperial Highway and in a small habitat outside the gates of the Chevron refinery (which opens its doors to the public every November; I'm signing up).
We toured Smoky Hollow, a light industrial part of El Segundo whose old-timey Quonset huts are giving way to architecture and design businesses. There is a famous custom motorcycle shop, South Bay Customs, and a very cool distillery, R6, with a speakeasy on the premises.
We bumped into Mark Kahanamoku, whose father was a nephew of the famous Hawaiian surfer Duke Kahanamoku.
Kahanamoku, 60, was standing outside his workshop shaping a surfboard and a long, lean pontoon for an outrigger canoe.
"People wonder why I stick around El Segundo," said Kahanamoku, who has been building surfboards here since the 1970s. "If I'm going to be in L.A., I may as well be here. Near the surf, of course."
Over on Richmond Street, we wandered into the Old Town Music Hall, which opened its doors in 1968. As we walked into the darkened theater, its owner, Bill Field, was sitting at the "Mighty Wurlitzer" organ onstage, playing along to the 1924 silent film "Peter Pan."
Our tour ended at the Little League field, where the Red Sox were playing the Royals on George Brett Field. A pint-sized announcer was at the mike, calling out the lineup.
As I drove home to Venice, I recalled reading that some proud locals call the town "El Segundo a nada." Second to none.
If you don't mind the jet engine noise, or the occasional whiff of wastewater, it's easy to see their point.
Twitter: @AbcarianLAT
---