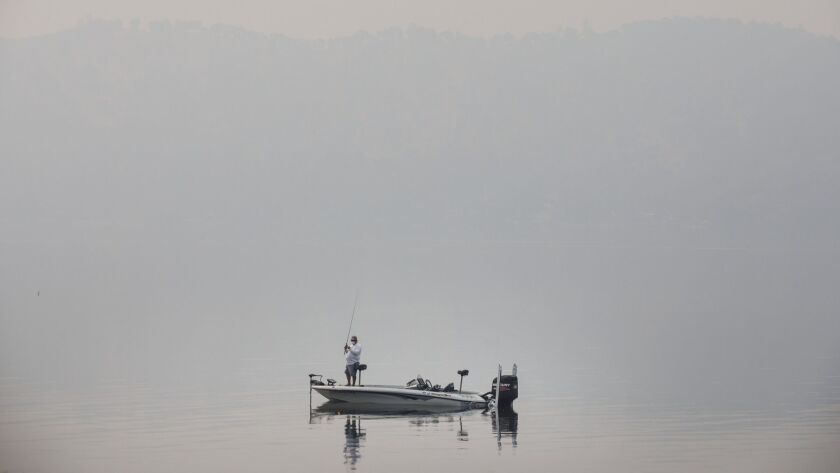 Reporting from Lucerne, CALIF —
In an otherwise deserted part of Clearlake Oaks, which was under a mandatory evacuation order, Nicole Young sat on the porch of a triple-wide lakefront mobile home with a couple of other holdouts.
A sweet smell wafted outside from the home. Young, 44, was baking a yellow cake.
Its welcome scent competed with the smell of smoke, which has enveloped this little lakeside community for the last week, as the largest wildfire in state history — actually separate side-by-side blazes that have been dubbed the Mendocino Complex — rages on.
Inside, Jim Young, 80, who owns this mobile home and RV park, sat in an easy chair, watching "The Andy Griffith Show" in black and white. His wife, Barbara, 87, was outside smoking a cigarette. (Nicole is not related to them; their son is her boyfriend.)
California fire coverage: 18 blazes scorch 600,000 acres across the state »
Neither Jim nor Barbara is in very good health, and they had no plans to leave, evacuation order or not.
Neither did two of their tenants, Tim Trammell and Thomas Vicochea, who were hanging out on what might otherwise have been a beautiful summer's day. They were running low on beer and bread, they said, but if they left in search of provisions, they wouldn't be allowed back in.
"We have plenty of canned food," said Vicochea, 48.
"This lockdown is getting old," said Trammell, 53, night manager of the nearby Oaks Red and White grocery store, which, like other businesses along the northeast shore of Clear Lake, had closed because of the fire. "You can't blame anyone, though. We chose to stay."
Still, the boredom was making everyone a little punchy. "Don't worry," joked Vicochea when I declined a beer. "I promise I won't roofie you."
On Wednesday, the mandatory evacuation order for Clearlake Oaks and other shoreline communities about 100 miles northwest of Sacramento was lifted for residents, who number about 12,000, but the area remains under an evacuation advisory.
If the wind shifts and the fire returns, they'll be ordered once more to leave. The holdouts will probably refuse. Again.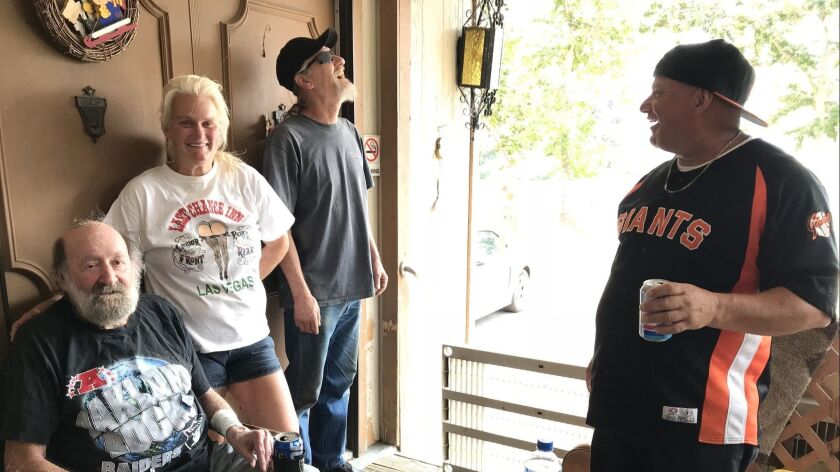 ::
A few miles north of Clearlake Oaks in Lucerne and Nice (pronounced the French way), helicopters were dipping into the lake to scoop water to fight the fire, which was burning out of sight a couple of ridges away.
Firefighters call this the "air show." They are not immune to its charms. Pilots try to dip as close to shore as possible in case of, say, engine failure, so they will be within gliding distance of safety.
Capt. Mark Treichel of the South Santa Clara County Fire District had wandered out to the end of a narrow wooden pier to get some pictures of the Skycrane helicopter, whose stinger-like pipe sucked up about 1,000 gallons each time it dipped into the lake.
Treichel and his strike team had been deployed since July 27. They are tired but expect to stay till the end. "When these people come home," he said, gesturing to the empty lakeside houses, "we can go home."
A pair of fishermen in a speedboat raced across the lake, toward Lucerne, which welcomes visitors to the "Switzerland of America."
I stopped at a spot on Highway 20 to watch. "Are those guys allowed to be on the lake right now?" I asked two CHP officers who had pulled over to check my press credentials, as the road had been closed to the public. (California law allows journalists to cross police lines during disasters.)
"Well," said one of the officers, looking over my shoulder. "Here come the police."
A sheriff's boat was just pulling up to the fishermen. Its wake slapped the shore, and I couldn't hear the conversation.
"Did he say you could stay?" I yelled after the sheriff left.
"As long as we stay away from the houses," one of the anglers called back.
Looters arriving by water: another worry during a lakeside fire evacuation.
::
County fairgrounds make excellent staging areas for wildfires, as long as no fair is planned at the same time.
Brandon Vaccaro of the California City Fire Department was handling media inquiries last week when a woman came to the fairgrounds to hand in her entry for the Lake County Fair, which is scheduled to start Aug. 30. The deadline was Aug. 4.
"She was upset," Vaccaro said, "because she was trying to drop off her jelly recipe."
Likewise, a small public airfield southwest of Clear Lake has been commandeered by firefighters. Lampson Field, with its single runway, will serve as the fire's "helibase" until aerial support is no longer needed, which could be another two to three weeks.
About 20 helicopters of various size and provenance fly in and out of Lampson between 8 a.m. and sundown. Some are water scoopers, some are spotters, some are outfitted with hoists for mountainside rescues. Most are owned by private contractors. Some, like the Chinook and Black Hawk sitting on the runway, come from the National Guard. Rather ominous looking, these craft are incongruously festooned with hot pink paint.
"They're not really meant to be seen under normal conditions," explained Jesse White, a California Department of Forestry and Fire Protection battalion chief from Red Bluff who is operations manager of the helibase. The pink paint helps with visibility, since the sky is full of smoke and pilots are operating under visual flight rules.
He oversees the 150 pilots, firefighters and support crew working out of Lampson, including the two young men who are sitting inside a small dark green trailer that everyone here calls "the box."
Inside the box, Tom Krausmann, 24, and Jack Rupiper, 28, sit side by side like copilots, looking out over the runway, taking requests for water from spotter aircraft, coordinating with strike teams on the ground. ("It would really hurt to get hit with that water," Treichel had told me earlier in Lucerne.) Like air traffic controllers, Krausmann and Rupiper make sure the helicopters come and go without colliding.
Ordinarily, Krausmann and Rupiper work as "helitack" firefighters. That means they are assigned to a helicopter, not a fire engine. Instead of driving to a fire, they are flown, and are dropped onto the ground to cut away brush and other fire fuel.
"That's what they love doing," White said. "They're probably going a little stir crazy in this box."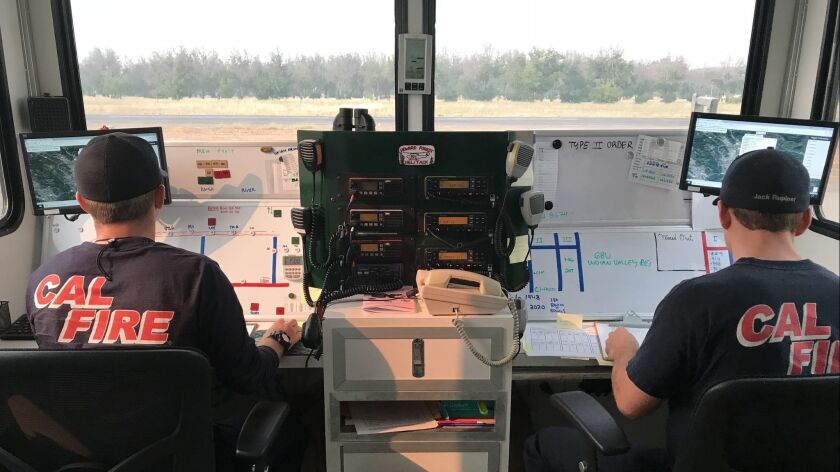 ::
As I wandered around the outbuildings at Lampson looking for the helibase, I bumped into David Henneman and his 10-year-old golden retriever, Tucker, in a small hangar. Henneman, 34, and a partner recently bought Lasar, a company that restores Mooney airplanes.
Henneman never anticipated that a wildfire would affect his business. But as long as the airport remains closed, he can't operate. His customers fly in and out of Lampson from all over. Several planes that are ready to be flown home are sitting idle in his hangar. Their unpaid bills run between $8,000 and $10,000.
On Tuesday, Henneman had discovered that the air base may be closed until Sept. 1, when the Mendocino Complex fire is expected to be contained.
On Wednesday, he laid off two of his 12 mechanics.
On Thursday, he expects to lay off a couple more.
"We are so grateful for everything the firefighters are doing and are totally behind them," said Henneman, who fought wildfires in college, "but a month of downtime will kill us."
It's not just lives and buildings at risk in a massive wildfire like this one. Here, under the blanket of smoke, a business can suffocate almost before you know it.
Twitter: @AbcarianLAT
---