Column: If Trump really wants to fix our border problems, he should visit the sewage pools, not his silly walls
Reporting from Otay Mesa, Calif. —
On Sunday, I stood at the end of a barren cul-de-sac overlooking a field on the U.S. side of the border, staring toward Mexico.
President Trump's border wall prototypes were off in the distance, about a mile away. This area — the ironically named "Free Speech Zone" — was as close as the public can get to the prototypes. (If you are on the Mexican side of the border, however, you can get a lot closer.) In anticipation of protests, temporary signs were posted on street poles, prohibiting the possession of firearms, daggers, slingshots, sticks, bats, pepper spray and other "implements of riots."
The 30-foot-tall segments stood out, like Cadillacs stuck in the desert floor. One day, perhaps they will be a reminder of a particularly hysterical American political moment: Trump's Folly.
The wall, which began as a bit of campaign trail hyperbole, is an act of hostility toward Mexico and a sop to Trump's base. You can argue all you like about the integrity of national borders, but the wall is the physical manifestation of the racism that Trump has so often expressed toward the Mexican people, who, through no fault of their own, are not Norwegian.
It is a waste of time, space and money. It also is an affront to the environment.
Full coverage of Trump's visit to California »
I understand, though, that the wall is thrilling to people who think the country has suffered from illegal immigration, or feel that people who violate the rules should be punished, even as they put food on your table, build your houses and clean your homes. While I was peering at the prototypes, a few people pulled up next to me to check them out. Most, like an aerospace industry salesman named Don Johnson, approved.
"I think the wall should have happened 30 years ago," said Johnson, 52, who lives in Chula Vista. "I'm a fan of what Donald Trump is trying to do. We need to know who is in our country."
Baron Partlow, 55, who had arrived with two friends, agreed. "I really welcome President Trump's 'Make America Great Again' platform," said Partlow, a loquacious industrial marine painter and environmental activist who lives in Nestor, a residential neighborhood 1.8 miles north of the border. "Any way into the United States needs to be secured, especially in this day and age."
I found these sorts of comments ironic. There is already a double fence separating this part of California from Mexico. It's 14 miles long, and runs from Otay Mesa into the Pacific Ocean. It's a scar on the land. Walls — or fences — like these create more problems than they solve.
Last week, my colleague Cindy Carcamo wrote a story about a wall that was erected on the U.S.-Mexico border near the town of Jacumba Hot Springs as part of the "Operation Gatekeeper" border fortification and immigration crackdown of the 1990s. The man in charge of that operation, Mark Reed, now retired, told her that the wall had unintended consequences.
In decades past, seasonal workers had been able to cross back and forth with relative ease. But after President Reagan granted 2.7 million immigrants amnesty in exchange for tighter border security in 1986, the border became less porous and migrant workers were effectively locked inside the U.S. They smuggled their families in, laying the groundwork for later backlashes against illegal immigration.
"Instead of a single man making his way up, now you brought the whole family up and you stayed," Reed said. "That didn't work out too well for us. Now we really created a mess."
That's right. Bigger wall, bigger mess.
::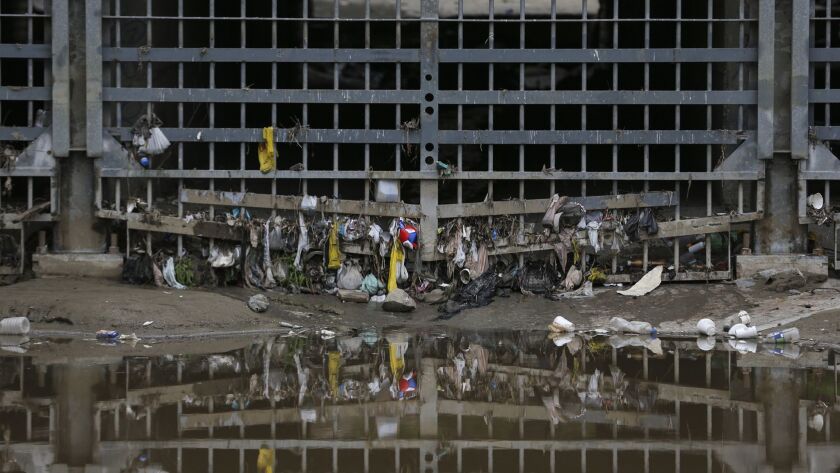 The problem with focusing on Trump's pipe dream of a wall is that real border problems that can actually be solved are being ignored.
The Tijuana River, for instance, which crosses the international border before reaching the ocean on the U.S. side, is said to be one of the most polluted waterways in the world. Untreated sewage flows from Mexico into the river valley, fouling the estuary, beaches and surf all the way up to Imperial Beach. For a huge chunk of the year, the water is too polluted to swim in.
As I chatted with Partlow, I learned that he is the founder of one of several environmental groups fighting to get the U.S. and Mexico to fix the mess. His group has the catchiest name: Stop the Poop. He took me into the Tijuana River Valley to show me how awful the problem is.
A few miles west of Otay Mesa, we visited Smuggler's Gulch and Goat Canyon, just north of the border fence. Both are the site of catch basins that are fetid pools of muck. An expensive wastewater treatment plant was built on the U.S. side to handle Tijuana wastewater in the late 1990s, but the sewage spills have continued unabated.
Partlow said he was not politically engaged until one particularly disgusting day in February 2017, when he went to the beach to bodysurf and was overcome by the smell of poop. "I couldn't breathe," he said. "Couldn't even get close to the water."
A massive spill had sent 143 million gallons of raw sewage into the Tijuana River, which forced the closure of beaches from the border all the way up to Coronado.
Last week, the Trump administration filed a lawsuit against California, challenging the constitutionality of laws designed to protect immigrants.
A week earlier, a group of California officials sued the federal government. In their complaint, representatives from Imperial Beach, Chula Vista and the Port of San Diego allege the feds have violated the Clean Water Act by failing to take effective action against the water pollution that has ruined our state's southernmost beaches.
The San Diego Union-Tribune reported that the local Border Patrol union has also considered suing after some of its officers experienced respiratory problems and infections it blames on the toxic runoff. One former Border Patrol officer, Joshua Willey, said last week that he'd nearly lost his arm in 2010 after contracting an infection caused by flesh-eating bacteria in the water off Coronado during a training exercise.
Don't count on any intervention from Trump. Dealing with stinky sewage and toxic sludge may be critical to human health. It just doesn't excite his base.
Twitter: @AbcarianLAT
---