Column: L.A.'s melting pot is defying Trump's specialty: to provoke and divide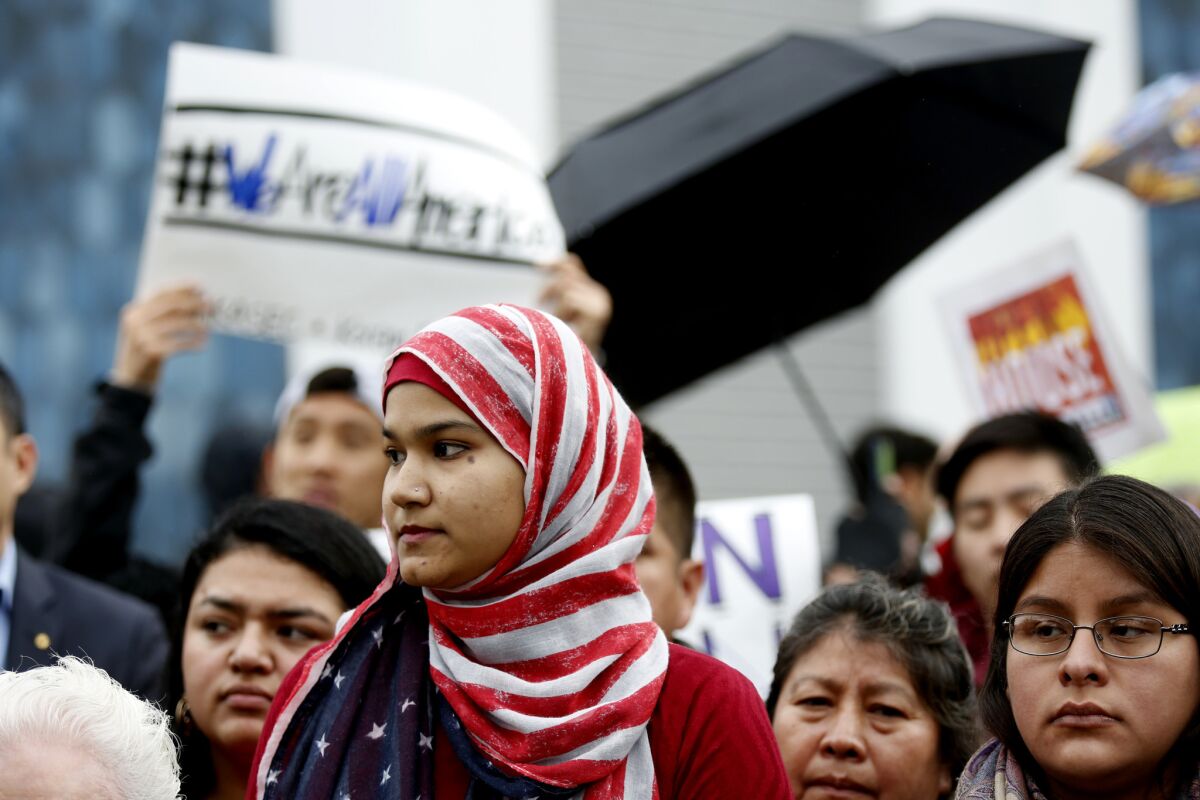 I'd never been to the Islamic Center of Southern California, on Vermont Avenue in Koreatown, so call me naive. But I didn't expect to hear a conversation in Spanish, or see so many Latinos, African Americans and Caucasians at the mosque and cultural center.
"When you come on our main day, Friday service, it's filled with people, and you don't see two people from the same country in any row," said Asim Buyuksoy, religious director and Turkish immigrant. "It is the color of the rainbow, with people from Africa, Europe, Asia, South Asia. All are coming here to worship one God in the same sense as Christians and Jews."
I shouldn't be surprised, given the neighborhood.
In Koreatown, two-thirds of the 125,000 residents are foreign born, as per the L.A. Times mapping project published several years ago. Just west of there, the Mid-Wilshire District was ranked as the most diverse region in Los Angeles County, with large populations of white, Asian, black and Latino residents.
That blending doesn't necessarily mean there's lots of mingling among people of different ethnic and faith backgrounds in these neighborhoods. In some cases, segregation is as real as it is in far less diverse neighborhoods.
But with all the news of travel bans and walls, of people with legal status being shipped home, of an America-first president taking pokes at Mexico, Japan and Australia, I wanted to disappear into the polyglot center of a city that stands apart, willfully accommodating, in defiance of division.
On Third Street, I walked into a Pakistani, Bangladeshi and Indian grocery store and cafe, and the man behind the counter told me the guys who'd just left the cafe spent their lunch hour talking about Trump. I ran out and caught a guy named Murad, a process server and U.S. citizen born in Bangladesh. He didn't want me to use his last name because as a Muslim he fears being targeted by someone, given the political climate.
"Everybody is in fear now," he said. "The way executive orders are doled out, there's no respect for law. Fear is palpable. You can feel it everywhere."
What did Murad and his friends talk about over lunch?
"Is this the way going forward? We don't know. The American system has checks and balances with the courts and Congress, but there are no checks now."
As for Trump's conflicting and unclear comments about whether he'd want a database registry for Muslims, I asked Murad if he'd comply.
If he had to, he said.
"But I'd seek constitutional protection first."
On Wilshire Boulevard, home to the consulates general of Egypt, Spain, Turkey and Iraq, I walked into the office of the latter. An armed guard called for a woman who told me the advice from Baghdad was clear and concise.
No comment.
But outside the office, I met a man who did want to comment, saying he left Iraq 20 years ago.
"I support Trump," he said. "Immigrants need to be vetted."
I agree. I worry about terrorism, an irrational fear given the tens of thousands who die each year in the U.S. from accidents and senseless violence that has nothing to do with terrorism. I know there's already a vetting system in place for immigrants, but if it can be tightened reasonably and legally, I'm OK with that.
But the majority of Muslims are peaceful, and should be seen as allies rather than suspects. There may be no greater threat to national security and civility than provocation and division, two Trump specialties.
Just down the street from the Iraq Consulate is the law office of T. Michael Fehmel, the Idaho-born son of a German immigrant. He and his staff of Japanese and Latina assistants are busy with calls from clients in the U.S. and Japan, Singapore and South America, all confused about what's going on in the U.S., and wondering if they can still come and go.
"There's nobody in Los Angeles who doesn't know someone who's an immigrant," said Fehmel, who has his own story.
At 19, he went to Japan to work as a Mormon missionary.
"It changed my whole outlook on life," he said. "I was immersed in a new culture I knew nothing about, and I had to learn a language and how to deal with people. It was fantastic."
He later married a Japanese immigrant he met on a blind date in Los Angeles. They went out for Italian in Beverly Hills. She's Buddhist; he's still Mormon. They have a son who can make up his own mind, Fehmel said.
Jarin Islam of the Wilshire Center-Koreatown Neighborhood Council joins other community advocates and leaders for a news conference and solidarity rally with the Muslim community of Los Angeles.
Up on Vermont, a man who appeared homeless was sitting on the steps of the Islamic Center, talking to an invisible acquaintance. A doorman let me in, and the homeless guy slipped in behind me. He lay down on the carpet, where prayer service is held each day. Staffers knew him by name and said hello. He made himself comfortable and went to sleep on the carpet, talking in his sleep a bit.
Zubaida El Fattah, who came for prayer, was raised in Lancaster by a Catholic mother and Mormon father. She married a Muslim from Pakistan and then one from Egypt, and her job is to wash the bodies of Muslim women to prepare them for burial.
She said she was driving up Vermont one day recently when two men pulled along side her and yelled out, "Where's your camel?"
"We're peaceful people," she said. "We don't do the things they're putting on the news."
From a distance, I thought I heard a front desk clerk talking to a custodian in Spanish. Yes, said Muhammad Popote, a Muslim who told me his grandparents are from India and Pakistan.
Popote then spoke in Spanish to the custodian, Jorge Duenas Acosta, who was born in El Salvador and raised in Mexico. Acosta has worked at the Islamic Center for 21 years.
I'm not fluent, but I could tell Popote's Spanish was pretty good. I asked where he learned it.
"My parents speak Portuguese," he said, which made it easy for him to pick up Spanish while growing up in Koreatown. "All our neighbors, our friends in Southern California, are immigrants. I learned from them and I grow from them, and they're part of Los Angeles. They're Angelenos."
Get more of Steve Lopez's work and follow him on Twitter @LATstevelopez
MORE FROM STEVE LOPEZ
LAPD Chief Beck explains why he doesn't want his officers to be immigration cops
Scum of the earth lowlife packs a bag for Trump's inauguration
When it comes to political donations in L.A., what's legal can be worse than what's not
The stories shaping California
Get up to speed with our Essential California newsletter, sent six days a week.
You may occasionally receive promotional content from the Los Angeles Times.