This L.A. artist is taking a stand against small-lot development, one bunch of balloons at a time
In Silver Lake, one artist is protesting small lot developments with balloons. Anne Hars took inspiration from the movie "Up" to bring attention to the destruction of older, single-family homes.
In January, a bouquet of brightly colored helium balloons appeared above a Silver Lake bungalow.
Soon, artist Anne Hars affixed more balloons to the rooftops and gates of homes in MacArthur Park and Angelino Heights. Her goal was to invoke "Up," the 2009 animated film about an elderly man whose home is enveloped by development until one day he gathers so many balloons that his home takes flight.
The homes targeted by Hars all have one thing in common: Developers want to tear them down and build small-lot complexes in their place.
And the balloons are Hars' protest against those projects.
Artist Anne Hars has been placing balloons at several locations around Los Angeles in a symbolic gesture against small-lot developers who are pressuring tenants to move to make way for more pricey townhomes. The use of balloons to try to illuminate the issue, Hars said, was inspired by the animated film "Up" - the story an elderly resident who refuses to leave his home and uses balloons to put it in flight.
(Rick Loomis / Los Angeles Times)
The tenants in all but three units of the multi-unit residence in the 500 block of South Carondelet Street in Los Angeles have moved out.
(Rick Loomis / Los Angeles Times)
One of the last remaining residents of this multi-unit property, Tiger Munson, 52, watches as artist Anne Hars, 45, right, blows up balloons with helium to place on the property in a symbolic gesture against small-lot developers.
(Rick Loomis / Los Angeles Times)
Tiger Munson, shown in his apartment, is one of the last remaning residents at a building in the 500 block of South Carondelet Street, a place he has called home for well over a decade and has no desire to leave.
(Rick Loomis / Los Angeles Times)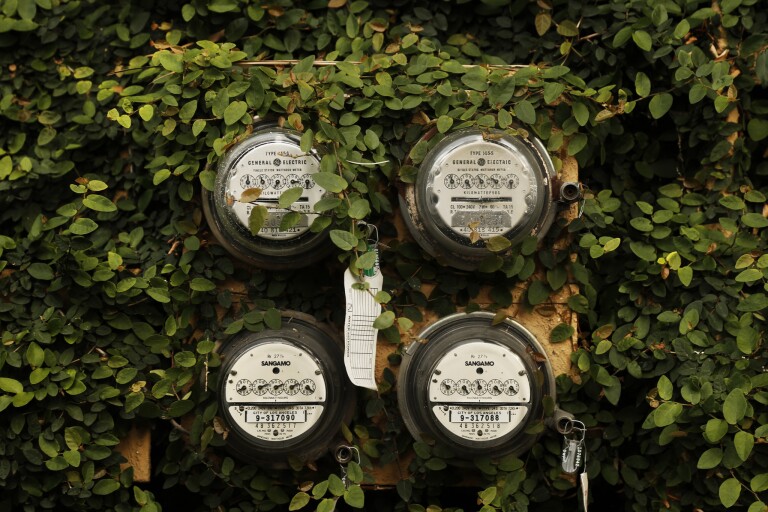 A wall of green grows over the electric meters at a multi-unit residence located in the 500 block of South Carondelet Street in Los Angeles.
(Rick Loomis / Los Angeles Times)
A multi-unit residence in the 500 block of South Carondelet Street in Los Angeles is one of the places that artist Anne Hars, 45, has been placing helium-filled balloons in a symbolic gesture against small-lot developers who are forcing tenants to move to make way for more pricey town homes.
(Rick Loomis / Los Angeles Times)
Los Angeles is debating the merits of adding denser housing developments across the city, with high-rise and medium-rise residential towers going up at a rapid pace in neighborhoods such as Hollywood, downtown Los Angeles and Koreatown.
Backers say the greater density is necessary as Los Angeles faces a housing shortage. Critics argue the projects are changing the character of their neighborhoods, worsening traffic and reducing the amount of affordable housing. L.A. voters might decide the issue next year with plans for a ballot measure that would place limits on larger developments.
But even the small-lot tear-down is generating some controversy.
Small-lot developments are a hybrid of condominiums and single-family homes. A 2005 city law allows multiple detached homes to be built on a single lot in communities zoned for multi-family and commercial uses. In many neighborhoods, developers are tearing down older, single-family homes to make way for the skinny properties.
See more of our top stories on Facebook >>
These homes are usually built very close together and with smaller yards than traditional homes. Unlike many condominium complexes, small-lot developments are not required to have homeowners' associations, which can save money in monthly fees.
Neighborhoods like Silver Lake have been popular with small-lot developers because they are highly desirable to home buyers; the projects place new housing on the market that is cheaper — albeit smaller — than traditional homes.
Between 2006 and 2014, Los Angeles issued 2,015 permits for small-lot units. That represents 3% of the housing permitted during those years, according to Jane Choi, a senior planner with the city. Venice was home to 15% of those projects, and another 14% of them were built in Silver Lake.
Los Angeles has a long history of adding density in residential communities, said Christian Redfearn, an associate professor with the USC Sol Price School of Public Policy.
At the turn of the 20th century, Victorian homes in the West Adams district were built on large lots. By the time World War II came around, smaller homes on smaller parcels were popping up in South Los Angeles to provide housing for workers needed for the war effort, Redfearn said.
During this time, larger single-family homes across the city were demolished and replaced by narrow "dingbat" apartments.
"As land gets more expensive, it's harder to build single-family homes and make them affordable," Redfearn said. "Apartments don't work in a lot of neighborhoods and people don't want to rent things. They want to own."
To critics, the small-lot homes represent the loss of affordable housing and neighborhood character.
The idea of tying balloons to the homes came to Hars after she spent a year and a half contacting city officials about her opposition to small-lot developments.
"Putting balloons on a house is really a simple thing to do and a simple gesture after [seeing] a sort of very sad side of Los Angeles politics and greed and just sort of a very nasty side of everything," she said.
Inspiration for the project came from "Up" and the story of Edith Macefield, a longtime Seattle resident who became a folk hero of the anti-development movement.
Macefield watched as her blue-collar neighborhood was overtaken by gyms, grocery stores and trendy restaurants. When developers offered her $1 million for her tiny home, Macefield turned them down and remained in the house as crews built a five-story commercial development on three sides of her property.
Macefield died in 2008 at the age of 86.
"My focus probably is more to do with people losing their homes and the homelessness issue that I think is very much a part of this problem," Hars said.
As many as six homes now have balloon bouquets tied to them. Each bouquet costs about $65, and the project may soon get a financial boost from the Silver Lake Neighborhood Council. The Arts and Culture Committee recommended a $200 donation to the project and the full neighborhood council is expected to vote on the issue next month.
"We're not NIMBY, anti-development types," said neighborhood council member Jerome Courshon. "There's no reason that some of these small-lot projects that come in, that they can't be scaled down a little bit to really fit in with the neighborhood."
City planners are already in the midst of revising the small-lot ordinance to make homes more compatible with the neighborhoods around them. Officials may amend the city law to require larger yards, open-air driveways and new design standards for street-facing units. Developments with 20 or more homes could be required to have open spaces, landscaping and guest parking.
Small-lot homes must meet a community's existing zoning requirements, such as limitations on density and height. Existing rules allow small-lot developments only in areas zoned for condos and apartments. But some residents don't realize their neighborhood allows such development because the original tract had mostly single-family homes and small bungalow courts.
"We saw that a lot of projects, they do go into these older neighborhoods with single-family homes in them even though they're zoned for multi-family," said Choi with the Planning Department.
The revisions came at the request of Councilman Mitch O'Farrell, who represents the Silver Lake and Echo Park areas.
"The council member recognizes the city's need to create more housing, but we cannot do so at the expense of the character of our neighborhoods," said Tony Arranaga, a spokesman for O'Farrell. The new rules will "establish codified standards to better reflect compatibility within our eclectic communities, and create more balance with the built environment."
In the meantime, Hars will keep tagging homes with her balloons.
"Once homes are gone they're gone," she said.
Twitter: @TheCityMaven
ALSO
Witnesses sought in 'horrific' slaying of husband, wife, 5-year-old daughter in Santa Barbara
Arrested flight attendant was beauty pageant contestant, studying to be nurse, attorney says
At UC Berkeley, promises of a crackdown on sexual misconduct are met with skepticism by students
---
Get breaking news, investigations, analysis and more signature journalism from the Los Angeles Times in your inbox.
You may occasionally receive promotional content from the Los Angeles Times.