Blunt report finds L.A. isn't keeping up with removing dumped trash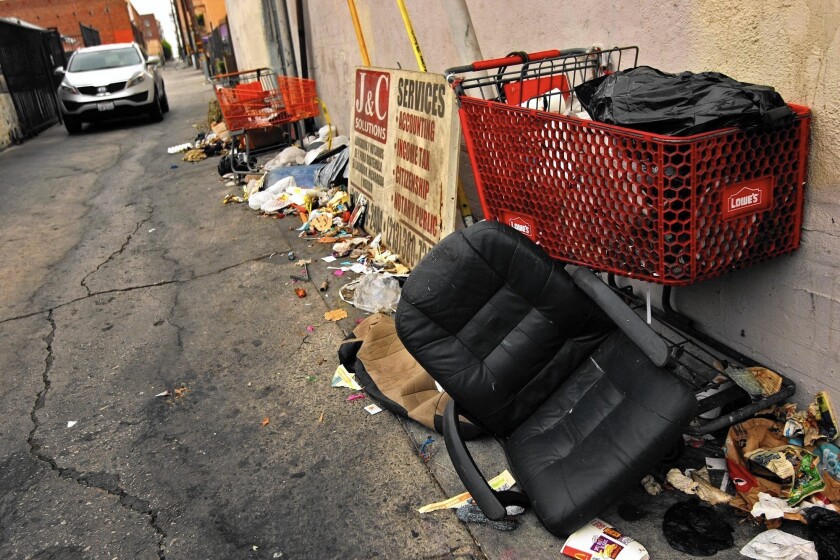 The streets, alleys and empty lots of Los Angeles are so dirty with trash that it threatens the city's image and makes some areas appear "unsafe and ungoverned," according to an internal report obtained by The Times.
The blunt assessment blames residents and businesses for dumping debris with impunity and the city for failing to enforce anti-dumping laws, leaving some L.A. neighborhoods in a "constant state of uncleanliness."
The city spends more than $12 million annually to remove abandoned furniture, electronics, boxes and other items from streets, but it can't keep up with the problem, the report found.
The report was written by city senior livability advisor Mark A. Thomas for City Administrative Officer Miguel Santana's office. It draws on dozens of interviews with City Hall insiders, residents, business leaders and advocates about nuisances such as dumping, abandoned furniture and litter that sullies Los Angeles' roads.
"When you live in a big city, there is a certain amount of grittiness you expect," Santana said in an interview. "But there is an expectation that the status quo isn't good enough anymore. We can accept that when I go drop my kid off at school I'm going to see half a dozen couches, or we could say that is not acceptable."
The findings come amid complaints from neighborhood groups who question why the city isn't doing more to clean up streets.
Olivia Vasquez, president of the Harbor Gateway South Neighborhood Council, said dumping is a serious quality-of-life issue in her working-class neighborhood. During a community clean-up effort last fall, volunteers filled two construction-size dumpsters with discarded furniture, mattresses and tires from just one problem spot near South Western Avenue and Plaza Del Amo.
"I know more people are getting irritated by it," Vasquez said. "It's a great community, we just need to get it cleaned up."
The city has no formal assessment of how much garbage is illegally dumped on city streets, but piecemeal efforts highlight the extent of the problem. For example, a private nonprofit devoted to cleaning and marketing the Fashion District downtown collects six tons of illegally dumped garbage every day, according to the report. Cleanups in South L.A. have pulled as much as 100 tons of garbage from a single alley.
Many merchants rely on privately funded Business Improvement Districts to fill the void by cleaning gutters and sidewalks. Arts District Chairman Dilip Bhavnani said that improvement districts like his are "forced to exist to do what the city should be providing."
"We are paying taxes, we should have services," Bhavnani said. "But the facts are the city doesn't have enough money for it."
The report found that many residential and commercial corridors have no formal street trash can service. Sanitation department staffers recently mapped city trash bins for the first time and found there are 700 in Los Angeles, far fewer than the several thousand thought to be in operation, Thomas said.
Only 35% of city streets are cleaned on a regular basis, with little priority given to streets with heavier traffic, the report found. Even on streets that are supposed to get regular sweeping, lapses occur "for a number of unclear reasons." And when street cleaners don't sweep posted routes, parking enforcement officers from the Department of Transportation write tickets anyway, which "dampens the relationship and perception of our priorities as a city," the report says.
The report calls for a task force to develop and implement a comprehensive management plan to ensure cleaner streets, alleys and sidewalks. Thomas submitted his report after conducting 70 interviews, visiting all 35 of the city's community plan areas and conferring with several city agencies.
L.A. should look to New York City's Project Scorecard, a data-driven approach to cleaning up neighborhoods, the report says. Street cleanliness measurements in New York, based on photographic sampling of streets and sidewalks, improved to more than a 90% acceptable rating last year compared with 53% in 1980.
The report's findings show the challenges facing Mayor Eric Garcetti as he attempts to carry out his "back-to-basics" agenda, which aims to improve the city's core services.
Garcetti has made neighborhood cleanliness a focus of his administration, the mayor's spokeswoman Vicki Curry said. The mayor's office has used technology to improve efficiency, such as giving sanitation drivers smartphone apps instead of paper maps so they can complete their routes faster. And since Garcetti took office last year, the percentage of bulky item calls picked up the next collection day has increased from 81% to 96%, Curry said.
In the last year, city officials have taken new steps to try to combat the problem: City Atty. Mike Feuer last month announced the creation of a strike force to combat illegal dumping in the city's most notorious sites for such activity. Since its launch, his office has filed criminal charges against three suspected violators, Feuer said.
Kevin James, president of the Board of Public Works, did not respond to requests for comment.
Councilman Gil Cedillo, who championed a pilot program in his district last year to combat blight in alleys and other empty spaces, is pushing for a system that tracks the amount of trash dumped in different areas so that the city can target cleaning to the worst-hit areas.
By better coordinating and targeting the resources it already has, Cedillo believes the city could improve cleanliness without a massive increase in costs.
Councilman Joe Buscaino, who heads the council's Public Works Committee, said "this report is no big secret.
"We've been living it every single day," he said. "We respond, we clean an alley, and it gets dumped on again in a matter of days. It's a never-ending battle."
Times staff writer David Zahniser contributed to this report.
---
Life is stressful. Our weekly mental wellness newsletter can help.
You may occasionally receive promotional content from the Los Angeles Times.