How The Times covered the San Bernardino terrorist attack
The Los Angeles Times won a Pulitzer Prize, American journalism's top honor, for its coverage of last year's mass shooting in San Bernardino, Columbia University announced Monday.
The staff won the 2016 breaking news prize for its work chronicling the chaotic, fast-breaking events of Dec. 2, when Syed Rizwan Farook and Tashfeen Malik, a married Redlands couple, opened fire at a holiday potluck at the Inland Regional Center in San Bernardino.
---
Timeline of coverage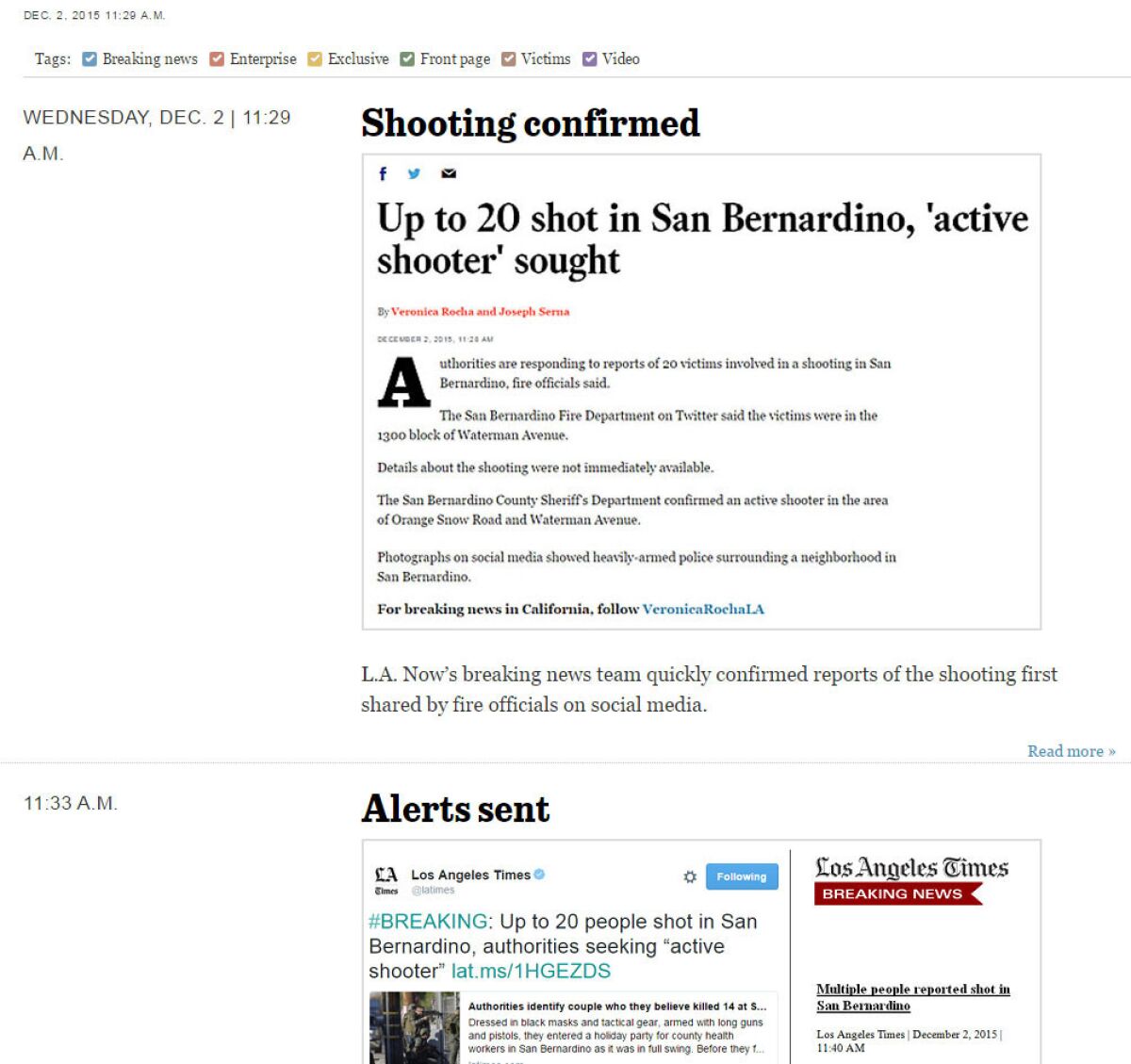 ---
Live coverage:
From shortly after the mass shooting took place until more than a week later, The Times live blog ran a steady stream of updates for readers.
On the first day, officials in San Bernardino even pointed people to The Times for the latest information. Read more >>
---
Shooters in San Bernardino massacre seemed to be living the 'American Dream'
Syed Rizwan Farook, 28, and Tashfeen Malik, 27, opened the doors at a holiday party and started shooting. Read more >>
---
San Bernardino shooting victims: Who they were
A father of six. A free-spirit who befriended strangers in the grocery store checkout line. A mother of three who fled religious persecution in Iran. A woman who was 8 when she and her mother left Vietnam for a better life. The youngest was 26. The oldest was 60.
These are the names and stories of the 14 people killed in the San Bernardino shooting on Dec. 2, 2015. They lived across Southern California, from Los Angeles and Orange counties, in the Inland Empire and the San Bernardino Mountains that tower over the valley where the shooting occurred. Read more >>
---
Rampage killers led secret life, hiding plans and weapons
Early Wednesday morning, Syed Rizwan Farook asked his mother for the sort of favor grandmothers love to grant: A few hours of baby-sitting. Farook told her that he and his wife, Tashfeen, had a doctor's appointment and didn't want to take their 6-month-old daughter.
In an account of the conversation provided by a relative through a local Islamic leader, the grandmother agreed. She was caring for the child at the couple's Redlands home when news of a mass shooting in nearby San Bernardino broke.
Fearing her son and daughter-in-law were victims, "she started calling. No answer," said Hussam Ayloush, executive director of the Council on American-Islamic Relations' Los Angeles office. It was only after reporters started phoning her that she realized the couple were the assailants. Read more >>
---
A Christmas party with a trivia game — and then the shooting started
Away from their downtown cubicles for the day, they gathered in a conference room on the south end of town for their annual training and Christmas potluck party. Chris Nwadike brought doughnuts. His colleagues sat around him at a folding table with a festive tablecloth and a decorative fir branch.
Ever the diligent worker, Syed Rizwan Farook had arrived first and took the seat at the head of the table. The tech-savvy restaurant inspector, 28, had taught his co-workers how to use some new computer programs and had won TGI Friday gift cards for his good performance. Read more >>
---
In five seconds, you look at their skin color, their breathing and you feel their pulse. By all those things, you are determining if they are critical or deceased.

— Ryan Starling, a paramedic with the San Bernardino Fire Department and the city's SWAT team
San Bernardino medic had 5 seconds to check if each massacre victim was alive or dead
---
'All hell broke loose' as police chased the San Bernardino shooters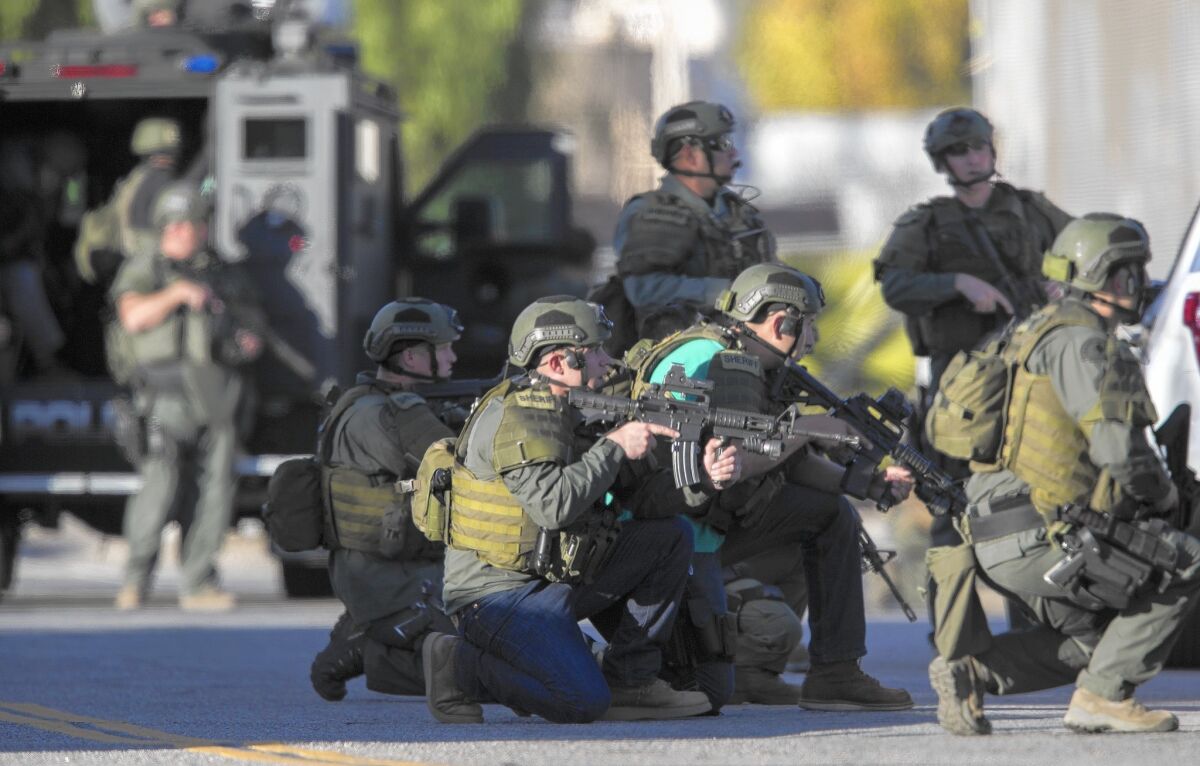 It was six minutes after 3 on Wednesday afternoon. Hours earlier, a masked man and woman, clad in black and armed with military-style rifles, had stormed into a holiday party a few miles away in neighboring San Bernardino. Fourteen people were dead. Others were fighting for their lives.
A black SUV had been seen fleeing the scene. Capps had told his officers to stay alert, but privately he wasn't worried. Never in a million years will we encounter these people, he thought.
Now he thought otherwise. Read more >>
---
San Bernardino shooter was a Pakistani who became known as a 'Saudi girl'
As a college student in Pakistan, she was known as a "Saudi girl," her face shrouded in a black veil in the conservative style typical of women in the Persian Gulf kingdom where she spent most of her childhood.
But growing up in Riyadh, Saudi Arabia's oil-rich and sometimes turbulent capital,Tashfeen Malik lived the life of a Pakistani girl, part of a large but often isolated guest worker community acutely aware of its outsider and second-class status. Read more >>
---
Dispatch calls from the San Bernardino shooting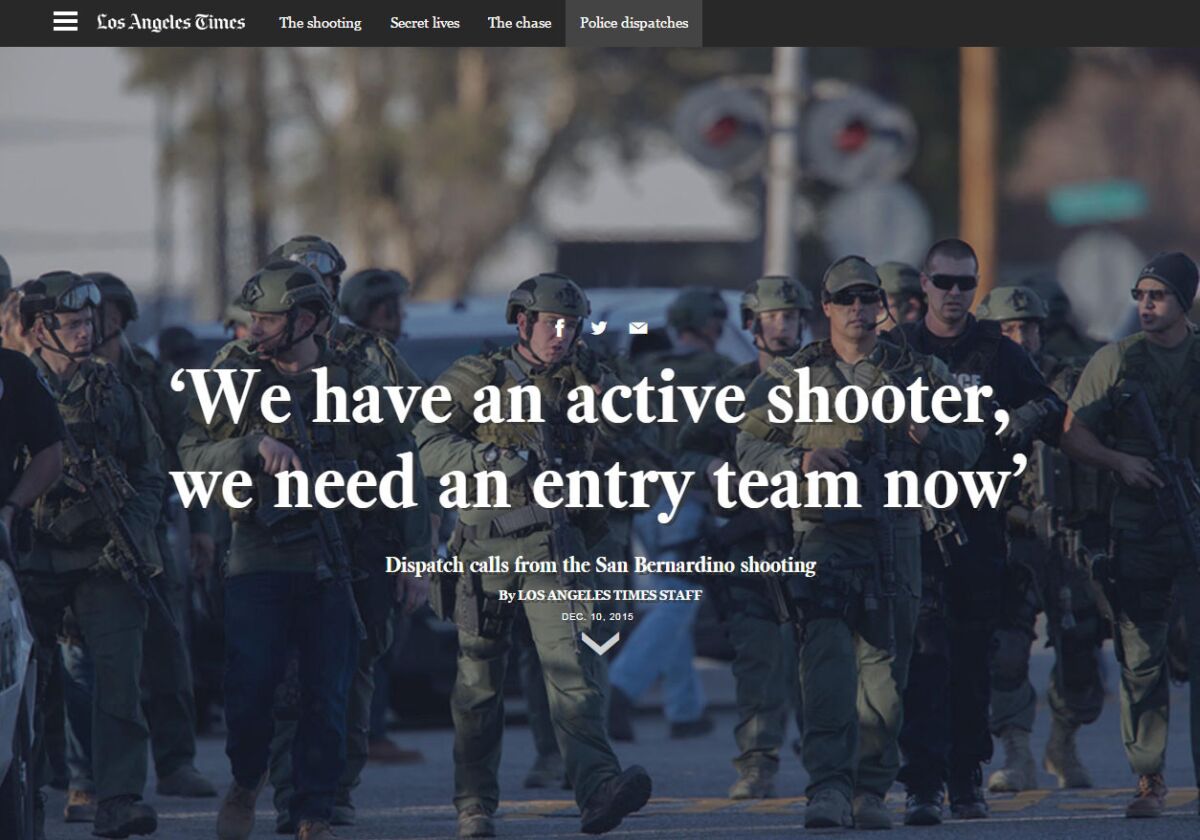 At 10:59 a.m., San Bernardino police dispatchers receive their first report of a "possible active shooter" at the Inland Regional Center.
"He's still firing rounds," the dispatcher tells police. Read more >>
---
Additional coverage material:
The maps and numbers to help you understand what happened in San Bernardino
Video timeline: What happened in San Bernardino
Readers share memories of the San Bernardino shooting victims
---
The stories shaping California
Get up to speed with our Essential California newsletter, sent six days a week.
You may occasionally receive promotional content from the Los Angeles Times.