When weary L.A. activists need relief from Trump, this is where they go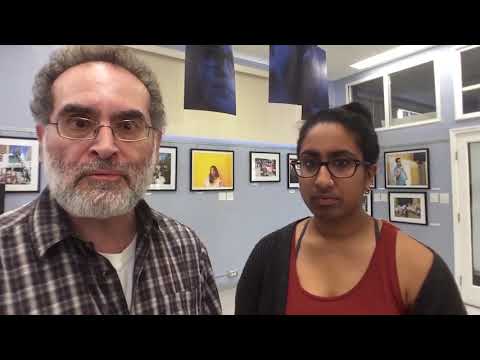 The Trump presidency is testing many weary L.A. activists. (May 30, 2017)
There are nights when Bryon Alvarez can't get the stories of the immigrants he works with out of his head.
Dozens of men, women and children who have been physically or sexually abused are relying on his aid to get legal status. Now they're panicked that instead they'll be sent home.
"You want to help everyone," said the legal assistant at the Central American Resource Center in Westlake. "But no matter how hard you work, it's impossible."
There are days when his colleague Susana Zamorano comes home so frustrated, she feels she's going to break down.
"It's like I'm in the middle of an endless ocean. I have to find strength," said Zamorano, a program coordinator at the center, also called Carecen.
Many activists in Los Angeles have been in the trenches for years, fighting for immigrant rights and social justice. They know strategy. They know crisis.
But five months into the Trump presidency, they've never had their endurance so tested.
So, in need of relief themselves, they go to a longtime community organizer for help.
In his workshops and webinars, Victor Narro tells them to unplug, garden, hike, dance, volunteer, build altars at their cubicles and look at photos that bring them joy. They're in it for the long haul, after all. President Trump still has nearly 200 more weeks in office.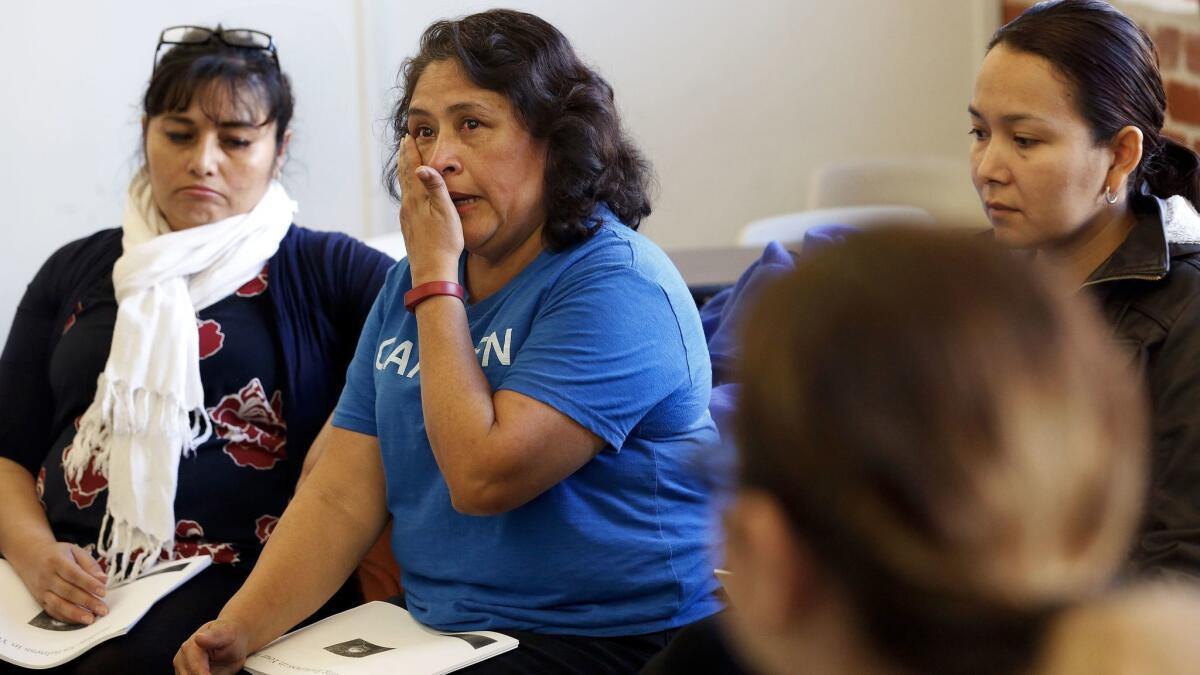 He teaches them how to slow down and breathe deeply. He gets them to stretch, to close their eyes and meditate.
He also tells them to be vigilant.
"He wants to make you angry. He wants you to lose focus," he says of Trump. "But we're not going to let that happen."
The project director at the UCLA Downtown Labor Center, who has organized immigrants on the front lines for decades, lately has dedicated himself to spreading the gospel of self-care to legions of overextended protesters, lawyers and outreach workers.
"If you're going to be at your best for the people you're trying to help," Narro tells them, "you have to take care of yourself."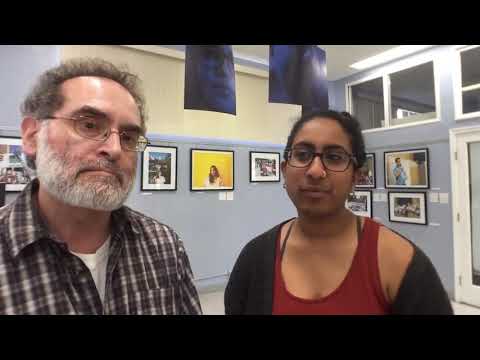 Four months into fighting the actions of President Trump, activits are learning how to relax. Video by Irfan Khan.
Other organizers — fighting for women's rights, LGBTQ rights, the environment and education policy — have been sharing a similar message.
Days after the election, some began to field calls from people doing similar work, who wondered how they would be able to sustain their efforts — much less keep motivating their troops — for four years.
"It was such a blow to so many people who had dedicated themselves to this lifetime struggle," said Roberto Vargas, with New World Associates, a firm that provides leadership support for advocacy groups. "It left them feeling like, 'Now what? How do I get up from here and how will I lift others with me?'"
Vargas began hosting activist gatherings at his home in Ventura. Some nights, people talk until midnight.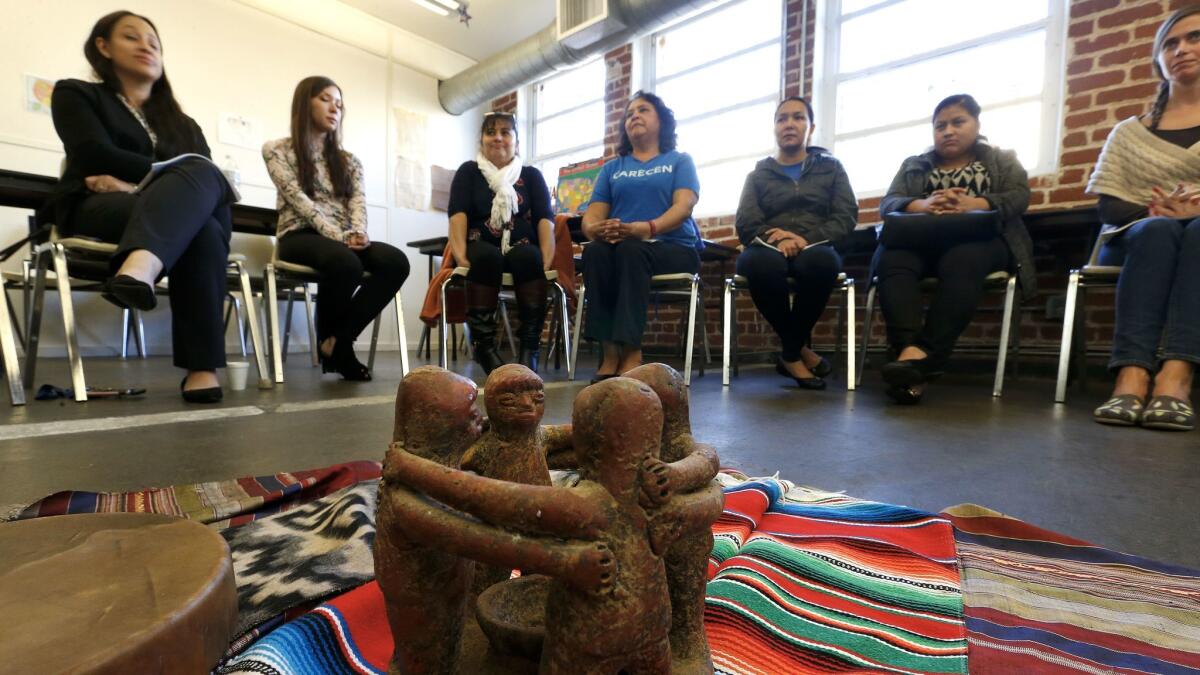 At his workshops, Narro tries to offer practical tips.
At a recent one at Carecen, nearly 20 immigration lawyers and legal assistants sought his advice.
Founded in the 1980s by Salvadoran refugees, Carecen runs a youth center and a parent center, teaches immigrants English and organizes marches and protests.
Its legal team handles a mix of cases — children who have crossed the border alone, persecuted immigrants in need of asylum, mixed-status families trying to stay together in America.
Fear of deportation runs deep now, even though there hasn't been an increase in mass raids since Trump took over. Every arrest sends waves of anxiety through immigrant communities. Stories spread about individuals being picked up even though they've committed no serious crimes.
On its website Carecen declares in capital letters: "We will not allow a Trump administration to attack our communities."
But living up to that promise is wearying.
As those at the workshop formed a circle, Narro arranged a small altar on the floor of Guatemalan serapes and a Peruvian clay statue of figures embracing. He beat a ceremonial drum and invited each participant to speak.
Alvarez, the legal assistant, said his caseload continues to grow. His phone starts to ring early in the morning. He hears panic in clients' voices. They ask him to please speed up the process to get them visas; they want him to promise he can help.
"I tell them I can't guarantee anything," he said.
He told Narro he used to find joy in his work. Now, when the stress mounts, he seeks comfort in television.
"Lately I'm feeling less motivated, more powerless," he said.
His co-workers complained of sore necks, clenched jaws, mood swings and bottled-up emotions. They said they struggled with feelings of defeat, anger and helplessness.
"I try to be strong because I have to," said Zamorano, the coordinator of the parent program. "But I get home most days and I feel like my head is going to explode."
The families she works with tell her that, because of deportation worries, their children may decide not to pursue college anymore.
"When they ask me, 'What do I do?' I struggle to encourage them," Zamorano said.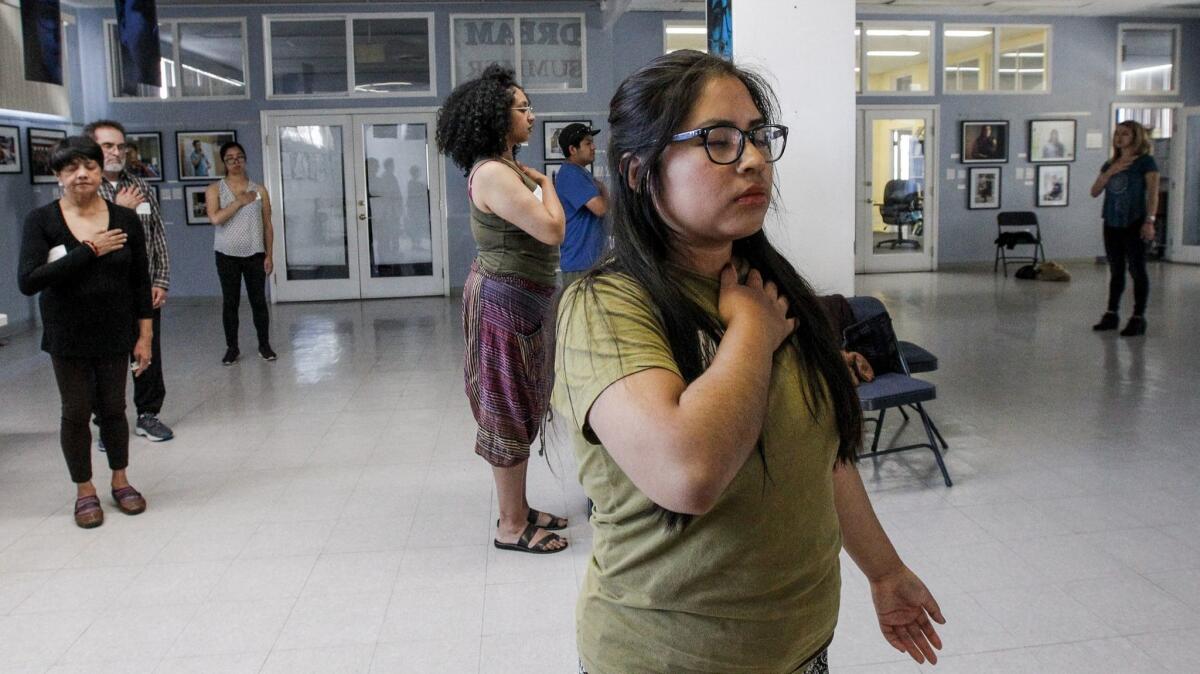 Narro listened to everything the group had to say. He told them their feelings were justified, but that they had more control than they thought. He told them about a dream he had a few weeks earlier.
In it, Trump attacked his older brother, Max, so Narro began to pummel the president.
"Then suddenly, I realized, I'm beating up a 70-year-old man," he said. "And what did it do for me? Nothing.
"Send him positive energy," Narro said as the group laughed. "You never know, it might make a difference."
In recent weeks, through his webinars and social media, Narro has reached a mix of people nationwide — a Bangladeshi organizer defending women's rights in New Jersey, an Oregon law student fighting for the environment and Native Americans, a writer promoting Muslim social justice in Washington, D.C.
In January, he partnered with Law at the Margins, an attorney-led media group, to launch #faithjustice, an effort to remind activists to make time for some self care.
Narro could have used that advice himself a few years back. Instead, he hurtled toward a breakdown.
Trained as a lawyer, he's spent more than 30 years mobilizing vulnerable communities — gardeners, garment workers, domestic workers — mostly behind the scenes. He organizes marches, proposes legislation, coordinates policy campaigns.
Back in the mid-1990s, when Proposition 187 tried to cut off services to immigrants in the country illegally, day laborers were being harassed on street corners and some restaurants refused to serve them. Narro helped launch an organization to protect them.
He held workshops to groom day laborers into leaders who could safeguard and mobilize their work corners. He had them form soccer teams to build solidarity and connected them to the greater immigrant rights movement.
In 1999, when Narro found out that many carwash workers were getting paid only tips or below minimum wage, he helped them unionize. He pushed them to picket and confront their employers. Those who got fired, he turned into full-time labor organizers.
In 2003, Narro's efforts helped pass a law regulating all carwashes.
He used to work 10 to 12 hours a day.
"I felt all this pressure to keep going all the time," he said.
In 2012, he started having terrible headaches and losing weight. He wound up in the hospital.
"I knew then I had to change," he said. "I had to find balance."
So he slowly began to teach himself what he is now teaching others.
On a recent Saturday, he joined about two dozen activists in a movement workshop at the labor center across the street from MacArthur Park.
Malia Gallegos with TeAda Productions, a performance group that promotes social justice, asked everyone to breathe into their bellies and begin an exercise used in Butoh, a Japanese form of improvised dance.
"We're going to go on a journey," she told them.
And so they leaned back, let the weight of their bodies fall forward and began to move rhythmically from side to side, meditating, concentrating on their breaths.
Among the participants were 10 labor union organizers, including one named Cesar Chavez who had driven nearly four hours from Pismo Beach.
The union Chavez works for, United Domestic Workers, represents about 90,000 home health caretakers whose livelihoods could be hurt by some of Trump's proposed healthcare changes. If clients lose access to Medicaid, caretakers could lose work hours.
So Chavez constantly reminds his members via email and social media to call elected officials and try to hold back Trump and his fellow Republicans. He and other organizers are also working to develop more union leaders and encourage them to engage politically.
"We've worked so hard to get here," Chavez said. "And now it feels like we've got this huge John Deere bulldozer coming our way."
When he comes home after a stressful day, Chavez said, he tries to unplug from the news. So does his girlfriend, who works for a congressman and spends hours fielding calls from constituents upset about Trump. She unwinds with yoga. The two joke a lot.
"We've learned that the best thing to do at the end of each day is to keep it light," Chavez said. "And to leave all those worries at the door."
esmeralda.bermudez@latimes.com
ALSO
Lt. Gov. Gavin Newsom calls on California Democrats to be the 'resistance' to Trump
California state legislator introduces resolution calling for Trump's resignation or impeachment
In the aftermath of the healthcare vote, some Republicans are nowhere to be found while the 'resistance' prepares for 2018
Sign up for Essential California for news, features and recommendations from the L.A. Times and beyond in your inbox six days a week.
You may occasionally receive promotional content from the Los Angeles Times.