Ex-L.A. Sheriff Lee Baca's retrial opens with focus on his close ties to disgraced aide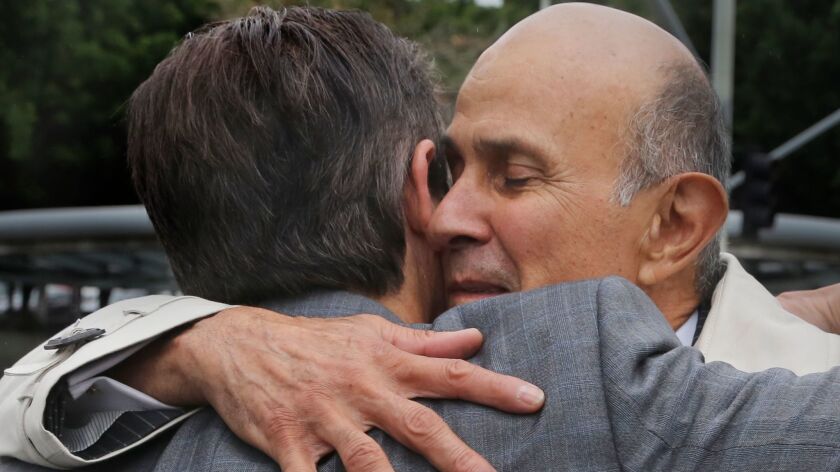 In their second attempt to convince a jury that former Los Angeles County Sheriff Lee Baca conspired to thwart the FBI from investigating abusive deputies in his jails, federal prosecutors on Friday focused on the lawman's relationship with his then-second in command.
Jurors in Baca's first trial late last year voted 11-1 for the ex-sheriff's acquittal, saying in interviews that they believed Baca did not know his subordinates were taking steps to impede the FBI.
In the retrial that began with opening statements Friday, prosecutors sought to emphasize Baca's relationship with his right-hand man, former Undersheriff Paul Tanaka.
"Mr. Baca ran the conspiracy like he ran the Sheriff's Department," Assistant U.S. Atty. Brandon Fox told jurors. "While he was at the top of it, he put one man in charge of running the day-to-day."
Fox played a clip of Baca describing his relationship with Tanaka as "kind of like father and son." Tanaka, Baca said in the videotaped testimony from a separate civil trial, "had a unique talent of doing exactly what I wanted done."
While prosecutors last year struggled with their case against Baca, they had few problems in convincing a jury to convict Tanaka, who they argued played a central role in the obstruction plot. Tanaka now sits in a minimum-security camp in Englewood, Colo., a month into his five-year prison sentence. Jurors in Baca's retrial were not told about Tanaka's conviction.
Baca's attorney, Nathan Hochman, moved to place the blame squarely on Tanaka, arguing he was at the center of the conspiracy and purposely kept Baca in the dark about the obstruction plot to further his own agenda. Echoing words prosecutors had used to describe Baca in the first trial, Hochman said it was in fact Tanaka who was the "heartbeat, leader and driving force" of the obstruction scheme.
"Undersheriff Tanaka didn't share the same loyalty to Sheriff Baca," he said. "Undersheriff Tanaka had his separate agenda."
Federal prosecutors contend that the obstruction occurred in August and September 2011, when sheriff's deputies at Men's Central Jail discovered a cell phone that had been smuggled into an inmate as part of an undercover FBI sting as federal agents investigated corruption and beatings by jail guards.
In the ensuing weeks, prosecutors allege, several sheriff's deputies worked to hide the inmate from the FBI and a federal grand jury, discouraged witnesses from cooperating with the federal investigation, and threatened the lead agent on the case with arrest in an attempt to intimidate her.
At issue at Baca's trial is whether the sheriff himself knew about and directed the plot, for which eight of his subordinates have been convicted. He also faces a charge that he lied to federal investigators in 2013 about what he did and did not know other sheriff's officials were doing.
U.S. District Judge Percy Anderson ruled on the eve of trial that defense attorneys could not have a psychiatrist testify that Baca may have been affected by the early stages of Alzheimer's disease when he made the alleged false statements in an interview with prosecutors and FBI agents.
Hochman nonetheless repeatedly emphasized to jurors on Friday that Baca was 71 at the time, and the questions he was asked during the interview centered around what the then-sheriff remembered. Baca, who was told at the time that he wasn't a target in the investigation, had no motivation to lie and explained what he knew to the best of his memory, Hochman said.
Testimony in the case is expected to continue Monday.
Follow me on Twitter @vicjkim
ALSO
Killer of San Diego cop should be freed, California parole board recommends
Immigration officials abruptly announce end to controversial contract at Santa Ana Jail
'This happened in my city. I am responsible': San Jose mayor vows to fix alert issues in flooding
---
For reporting and exclusive analysis from bureau chief John Myers, get our California Politics newsletter.
You may occasionally receive promotional content from the Los Angeles Times.