Ex-L.A. County Sheriff Lee Baca's obstruction trial ends in mistrial; jurors hopelessly deadlocked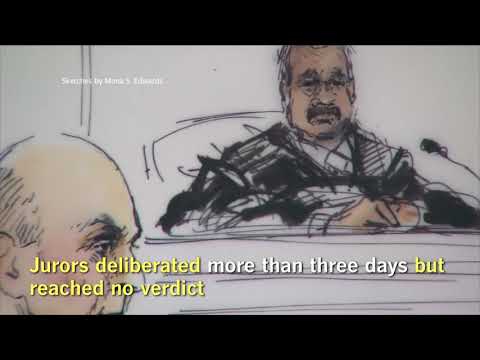 A mistrial was declared Dec. 22 in the corruption case against former Los Angeles County Sheriff Lee Baca.
A mistrial was declared Thursday in the corruption case against former Los Angeles County Sheriff Lee Baca after a jury failed to reach a verdict on charges that he tried to obstruct an FBI investigation into allegations that deputies abused jail inmates.
Jurors, who began deliberating late Monday, were split 11 to 1 in favor of an acquittal. The mistrial offers at least a temporary reprieve for Baca, who ran the nation's largest sheriff's department for more than 15 years.
The former sheriff faced conspiracy and obstruction of justice charges that could have sent the 74-year-old — who is in the early stages of Alzheimer's disease — to prison for several years. Federal prosecutors must now decide whether to retry Baca.
Baca is also accused of making false statements to federal investigators about his involvement in the alleged plan to interfere with the jail investigation. That allegation, however, will be argued at a separate trial.
Thursday's outcome offered a rare setback to the U.S. attorney's office in its jail misconduct cases. Prosecutors have so far secured convictions against nine former sheriff's officials, including Baca's second-in-command, in the obstruction case. Several other deputies have been convicted of civil rights violations in connection with the abuse allegations.
"I feel great," Baca said after jurors were excused. "I am the same person I was in 1965 when I joined the Sheriff's Department. I did it because I wanted to protect and serve people."
Later, he told reporters, "This is an extraordinary decision not everyone thought would happen, but I had faith."
U.S. attorney's officials declined to comment.
During his trial, prosecutors alleged that Baca resented the FBI's efforts to investigate his jails and believed sheriff's officials should, as he said in a TV news interview, "police ourselves."
In closing arguments earlier this week, Assistant U.S. Atty. Brandon Fox said Baca turned a blind eye to warnings about violence and corruption in his jails. But when he learned in the summer of 2011 that federal authorities had launched a secret inquiry by bribing a deputy in an undercover sting to smuggle a cellphone into Men's Central Jail, Baca was enraged, Fox contended.
Baca, the prosecutor alleged, was at the center of a conspiracy carried out by his subordinates to hide an inmate working with the FBI, manipulate potential witnesses and intimidate a federal agent by threatening her with arrest, the prosecutor argued.
"No man is above the law," Fox told jurors.
Baca's lead attorney, Nathan Hochman, argued that although his client was upset with federal officials for keeping him in the dark about their operation, his motivation was not to impede the federal investigation. Undersheriff Paul Tanaka was the one who directed the rank-and-file deputies to take steps to foil the FBI probe, Hochman told jurors. Baca did not know what was going on, he said.
After Thursday's mistrial, Hochman echoed Fox's closing argument but added that the federal government is also not above the law.
"The jury system is the ultimate check on the power of the federal government," he said. "It's not enough for the government to simply charge you. They have to prove it."
As jurors left, one said the single holdout was clearly biased from the start and refused to deliberate. She said he would not specify why he felt Baca was guilty.
The juror, who gave her name only as Sheri, said she believed Baca did not know what his subordinates were doing. Asked what evidence convinced her, she said, "Everything overall, just everything."
Another juror was in tears as she spoke to one of Baca's lawyers. She said "it was a very difficult decision we as a jury had to make. I didn't feel there was any evidence that Mr. Baca was guilty."
Until he resigned in 2014 as the jail abuse scandal enveloped his department, Baca served as the county's highest elected police official. He won reelection easily several times and built a reputation as a quirky but pioneering leader who spoke of the need to educate jail inmates and pursue community-based policing over traditional law-and-order strategies.
At his two-week trial, Baca, the four-term sheriff who during his time in office was frequently invited to speak across the nation and internationally, sat quietly listening to prosecutors and defense attorneys wrangle over a six-week period out of his five-decade Sheriff's Department career.
He greeted a handful of supporters who came and went throughout the trial, some with lapel pins in the shape of a sheriff's badge. On some days it was just his wife, Carol, by the aging lawman's side.
He chose not to testify in his defense, unlike Tanaka, who took the stand in his own obstruction trial earlier this year and sought to lay the blame squarely at Baca's feet. Jurors deliberated for less than two hours before convicting Tanaka, who has since been sentenced to five years in prison for his role in the obstruction plot.
Earlier this year, federal prosecutors struck a deal with Baca, in which the retired sheriff pleaded guilty to a single charge of making false statements to federal investigators. In exchange, he was to receive a sentence of no more than six months in prison. U.S. District Judge Percy Anderson rejected the deal, calling it too lenient, and Baca and his attorneys chose instead to withdraw his plea and put his fate in the hands of 12 fellow citizens.
Although prosecutors told the six-man, six-woman jury at the outset of the trial that Baca was the "heartbeat," the "leader" and the "driving force" of the conspiracy, few of the government's witnesses testified to direct interactions with Baca during the time of the alleged interference with federal authorities.
A former L.A. Times reporter testified that Baca said in an interview that he directed two sergeants to go to the home of FBI agent Leah Tanner, then known as Leah Marx. The sergeants confronted her and falsely informed her they were obtaining a warrant for her arrest.
Prosecutors alleged the move was an attempt to intimidate Tanner and get the FBI to back off. A former U.S. attorney, now a federal judge, recalled phone calls and meetings with Baca in which the then-sheriff seemed to be in the know about developments in the case.
Jurors also heard a recorded conversation between an FBI supervisor and Sgt. Maricela Long, who has also been convicted in the obstruction case, in which the supervisor asked whether Baca was aware his subordinates had threatened Tanner with arrest.
"The sheriff knows this, sir," Long said on the recording.
Two other deputies who have been convicted of playing a part in the conspiracy told jurors that while they had little to no contact with Baca, it was made clear to them the orders came all the way from the top. One said he watched a nervous supervisor walk into Baca's office to notify him that deputies had mistakenly allowed FBI agents to meet with the inmate who was working as a federal informant.
The prosecution presented jurors with phone records, emails and meetings scheduled on calendars to show that Baca was in contact with Tanaka as the machinations played out.
But Hochman countered that his client could have been discussing any number of issues he dealt with as the head of the department's sprawling operation.
In more than 100 emails presented by prosecutors as evidence of the obstruction plot, Baca was directly involved in only two, Hochman said. And while Tanaka was exchanging dozens of calls with the subordinates charged in the case, Baca was on only one.
"The sheriff never knew about this; the sheriff was out of the loop," Hochman said.
He asked jurors to instead look at the rest of Baca's lengthy career to decide whether he would be the type of leader to evade federal scrutiny. He pointed to steps Baca took to better conditions in the jails, and put on the stand Baca's high-powered friends — including two former district attorneys — who called him "law-abiding" with an "excellent" and "very solid" reputation.
Prosecutors, Hochman argued, were "throwing some spaghetti against the wall to see if anything sticks against Sheriff Baca."
For more news on the obstruction trial of former Los Angeles County Sheriff Lee Baca, follow us on Twitter: @vicjkim and @joelrubin
ALSO
Man bludgeoned former reality show contestant to death with hammer, prosecutors say
Air traffic controller assigned different duties after directing jetliner toward Mt. Wilson
Deadly shootings prompt state civil rights probe of Kern County, Bakersfield policing
---
UPDATES:
4:55 p.m.: This article was updated with comments from Baca and his attorney.
3:20 p.m.: This article was updated with the breakdown of how the jury was split during deliberations and comments from jurors.
2:35 p.m.: This article was updated with the news that a mistrial was declared.
This article was originally published at 2:25 p.m.
Sign up for Essential California for news, features and recommendations from the L.A. Times and beyond in your inbox six days a week.
You may occasionally receive promotional content from the Los Angeles Times.