Traveling busker invites fellow dreamers along on his YouTube journey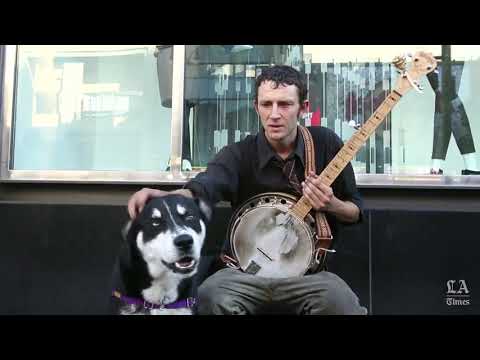 All sorts of dreamers find their way to Los Angeles. Nick Siemion arrived on a school bus, which also happens to be his home and his mobile recording studio. At night, he heads out in search of other buskers -- to record their music and stories.
Conventional life doesn't suit Nick Siemion so far.
He's taken college classes, but not enough to get a degree. He's had jobs, but wanderlust always has won out.
Home is a school bus that's painted black and furnished mostly with found things. A Wurlitzer acoustic piano. A bright yellow Tweety Bird kettle. A love seat he strapped to the roof — though its cushions flew off while he was driving.
What little money the 28-year-old earns comes from busking with his banjo. Tall and thin, in a black fedora, suspenders holding up dirt-darkened jeans, he turns heads when he strums while riding on a skateboard, towed down the street by Jimi Bowie Hendrix.
Jimi is a husky mix. He howls to music and has one brown eye, one blue. In a way, he's the reason the two of them wound up in Los Angeles.
Last spring, Siemion was busing tables at a Seattle restaurant and living in his truck. While playing guitar in a city park one day, he got into an argument with a guy who refused to put his pit bull on a leash — even after the dog had lunged at Jimi. Siemion got stabbed in the liver and spent more than a month in the hospital.
When his bosses saw his story on the local news, it was news to them that their busboy was homeless. They gave him a check for $11,000, which they told him they hoped he'd use to get an apartment. Instead he bought recording equipment — including a microphone and a video camera — and, a few months later, the school bus.
When the road called again, it led Siemion to L.A. His bus is parked, for now, in the Arts District downtown.
He calls his bus the All Night Diner. Behind its wheel, he traverses the city, seeking out fellow dreamers. He finds them on the sidewalks, playing tunes for change. He invites them onboard.
Through his website and videos on YouTube, he hopes to share their talents and dreams, and in so doing maybe live the dream himself.
"My idea is to successfully make it in film, where maybe I could have a few buses but maybe live in some houses," he says.
::
How did Siemion wind up parked on dark city streets, in a rolling home with no toilet or shower, Dumpster-diving for many of his meals?
His boyhood, he says, was normal and suburban. He was raised by his mother, a doctor, who still wants him to finish school. But from early on, Nicholas Alexander Siemion liked skateboarding more than studying. He liked to move more than he liked to sit still.
As for childhood dreams, "like most kids, I wanted to be a baseball player," he says, "but I guess not that much. I was just living in the moment. I guess that's what I'm still doing now."
Living in the moment means cooking breakfast on a battered Coleman stove he's rigged up to a propane tank — making spaghetti and bacon in a pan that, without ready water for scrubbing, has a crust.
It means infrequent laundry runs and "cowboy showers," using soap, a bucket of water and a towel.
It means minimizing the grim and blowing up the good — which is something that dreamers do naturally.
"I've actually come to believe that some of this lifestyle helps build your immunity," Siemion says as he sits down to eat. "I can't remember the last time I was sick."
He scrounges around the bus for cigarette butts until he has enough tobacco to roll one very skinny smoke. On the street for a stroll with Jimi, he's plucking out "People Are Strange," by the Doors on his banjo when he attracts the eye of a photographer, who stops to talk and praises him for being real "in a city where a lot of artists are fake."
Back at the bus, he uses ropes to pull the giant spare tire, which he's had repaired, back into place in the undercarriage. The bus always requires work, he says. It often means his videos have to wait.
Being unconventional doesn't mean being unindustrious, Siemion says. He rarely asks for money without playing music to earn it, although sometimes he also puts out a sign that says: "I accept leftovers." Lately, he's been experimenting with other initiatives too. On a rear window of the bus, he has painted: "Diesel mechanic for hire." So far there have been no takers for that — or for his $20 "Sustainability Lessons."
One gambit did work when he needed money to visit his older sister in Santa Barbara for the holidays. Playing on the street, he propped up a sign: "Desperately low on fuel. Bad-ass entertainer for hire."
"Within 10 minutes, someone came up and said, 'Is this your bus?' He seemed like a cool guy who had a job and stuff," Siemion says. "He wanted to come inside and look. I gave him a tour. He gave me 20 bucks."
That was a high point.
A low point was the night his bus, parked in Hollywood, suddenly was smack in the middle of a gunfight between drug dealers. He crouched on its floor in the dark, hoping bullets would not come his way.
It's a story he tells and then expels by sitting down at the piano — on a stool he's fashioned out of a piece of wood placed on top of a red metal gas can.
He starts playing "Bridge Over Troubled Water." Jimi starts howling. When he changes key, Jimi does too.
::
The silvery chandelier hanging from the ceiling has a bulb that switches colors: blue, pink, purple, green. It sways on a Friday night as the bus rumbles along Hollywood Boulevard before pulling up at a crowded sidewalk just west of Highland Avenue.
Two Smurfs and a Mr. T lean against the wall of a gift shop, while Cinderella crouches in her shiny gown, posing for a picture with tourists. People hawk DVDs and glowing toys that spin when tossed high in the air. In the middle of it at all, with a plastic crown of thorns on his head, is a long-haired, fresh-faced young man in a white robe and sandals, singing and playing the guitar.
In his open case, in rainbow letters, is a cardboard sign that reads: "Jesus Rocks!"
Siemion asks if he'd like to come on board to record. Jesus doesn't hesitate, even though so far he's earned more than a few $5 bills.
Soon the bus is pulling away from the curb as Siemion searches out a quieter spot. He's about to turn off the boulevard when he sees a young woman busking and stops to ask if she'd like to come too.
Jesus is Andrew Singer, 28, from Kenosha, Wis. He's been in L.A. about 10 months and lives in a studio apartment in Boyle Heights. He sent home for his costume — which he'd worn before for Halloween — because he thought on the boulevard he'd need something more to stand out.
Alana Nabors, 22, had just arrived the week before from Dallas. She lives somewhere in Koreatown. She's not really sure quite where.
Neither questions Siemion's credentials, or where he's taking them, as the bus turns left here and right there, down residential streets.
The two strangers start playing guitar and singing, swapping songs they've made up and stopping now and then to marvel.
"It's basically like a fairy tale," Singer says of L.A. "I mean, look at where we're sitting right now. Did you expect this when you left from Texas? This is so cool."
"Right? Super cool," Nabors says.
And so the bus full of dreamers moves through the dark, heading for fame, perhaps around the next corner.
Follow City Beat @latimescitybeat on Twitter and at Los Angeles Times City Beat on Facebook.
Sign up for Essential California for news, features and recommendations from the L.A. Times and beyond in your inbox six days a week.
You may occasionally receive promotional content from the Los Angeles Times.