9 arrested as protesters gather at UC Berkeley for talk by conservative speaker Ben Shapiro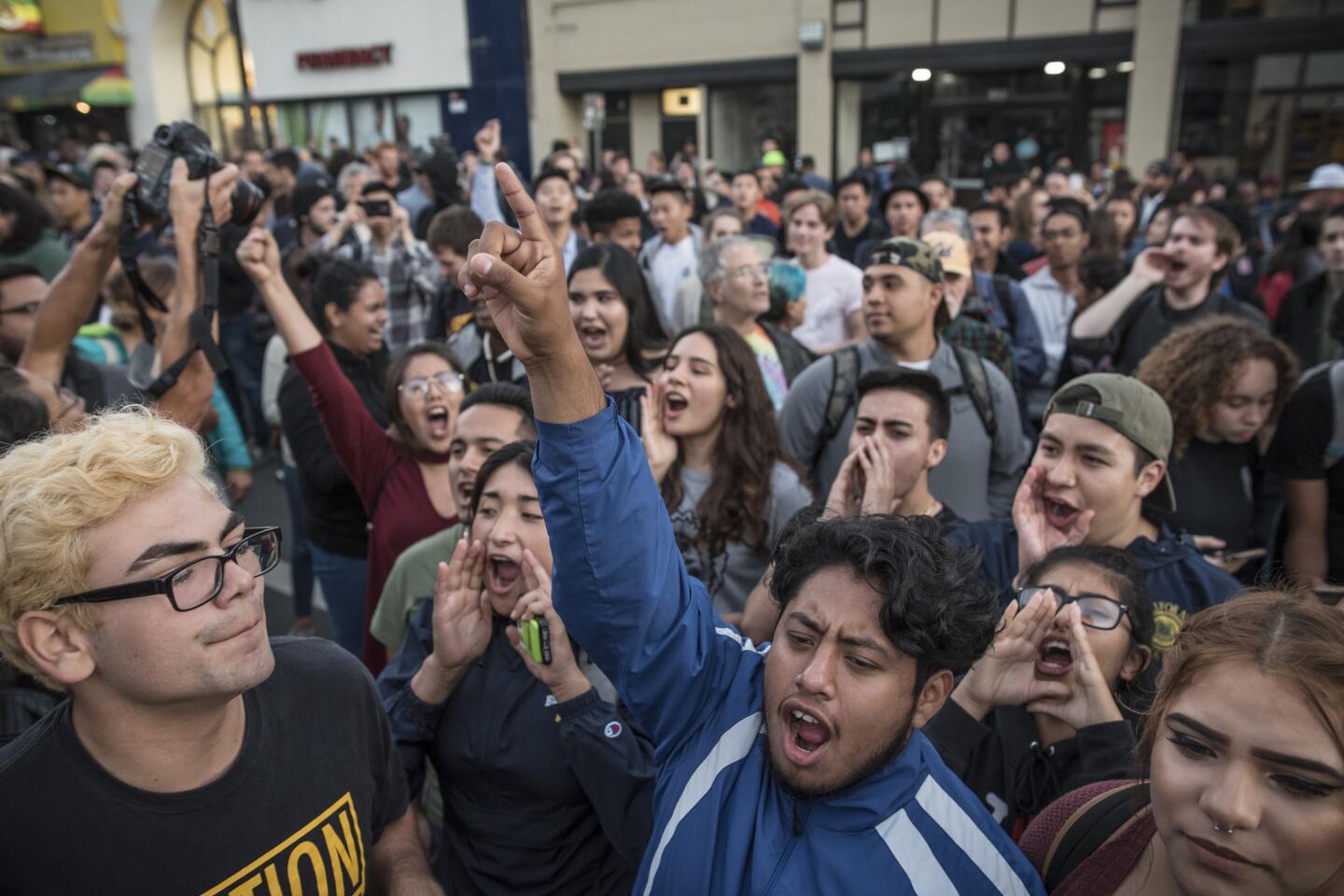 Protesters rally at Zellerbach Hall.
(David Butow / For The Times)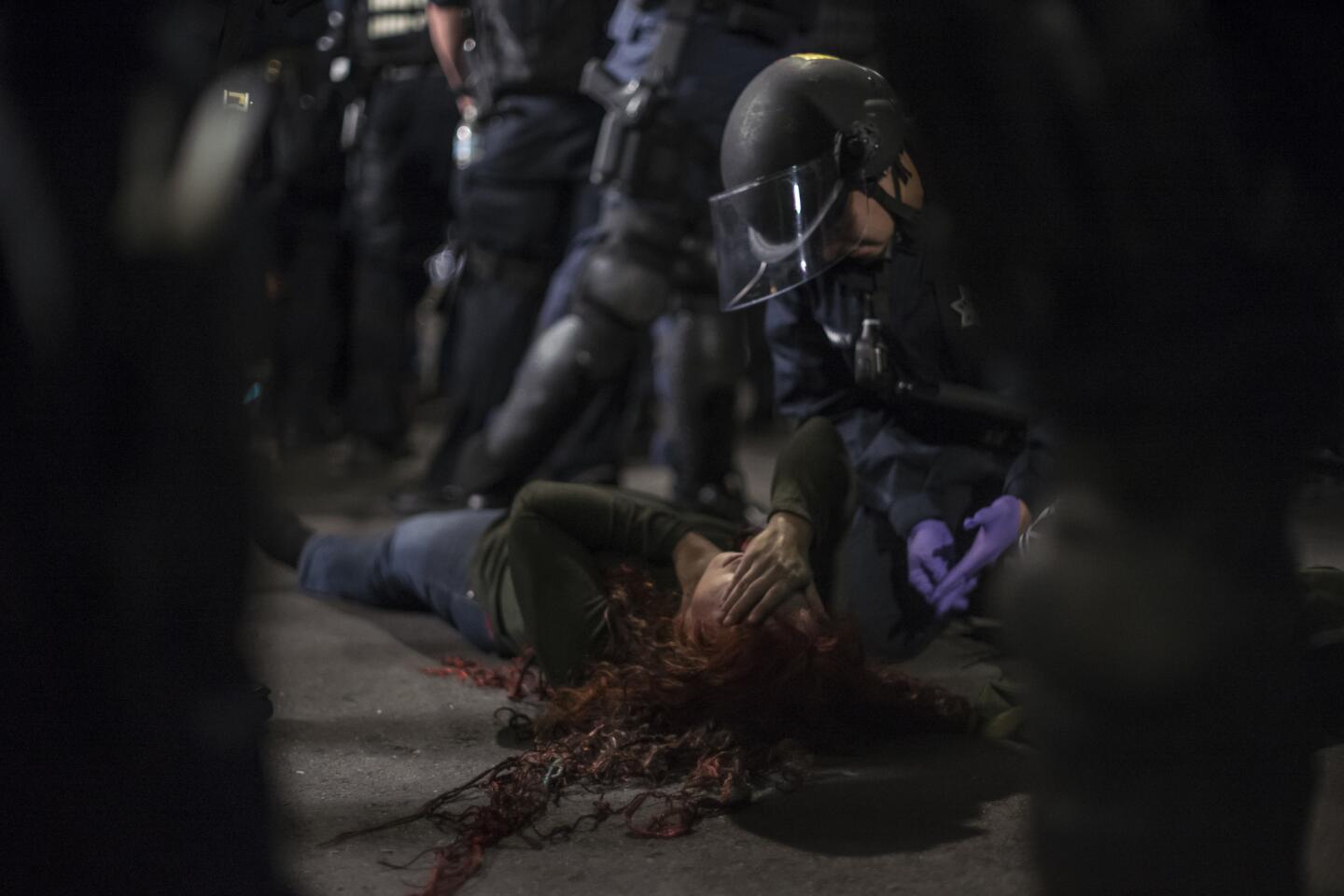 A police officer attends to a woman who was injured in a scuffle during the demonstration.
(David Butow / For The Times)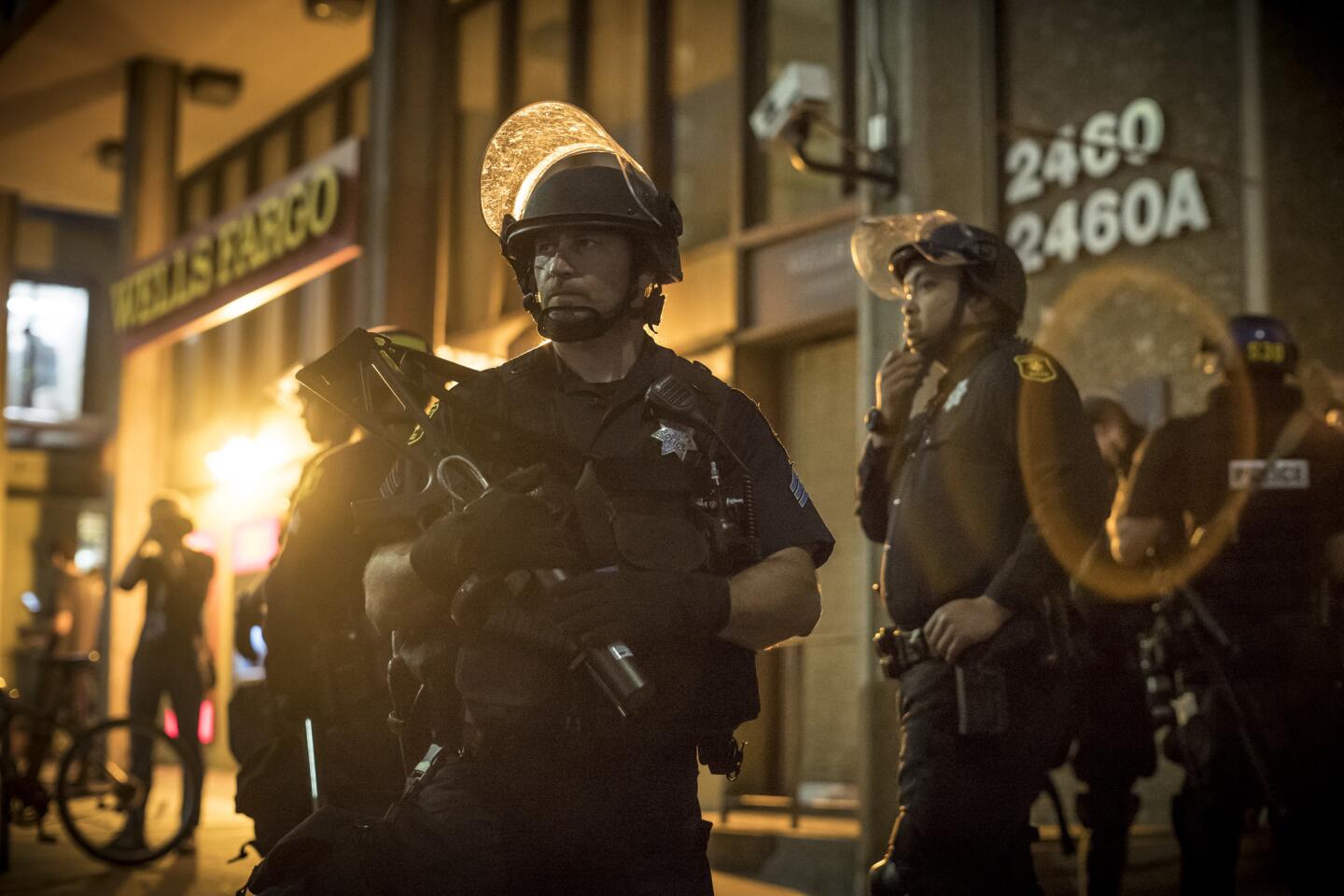 Police near the protest site.
(David Butow / For The Times)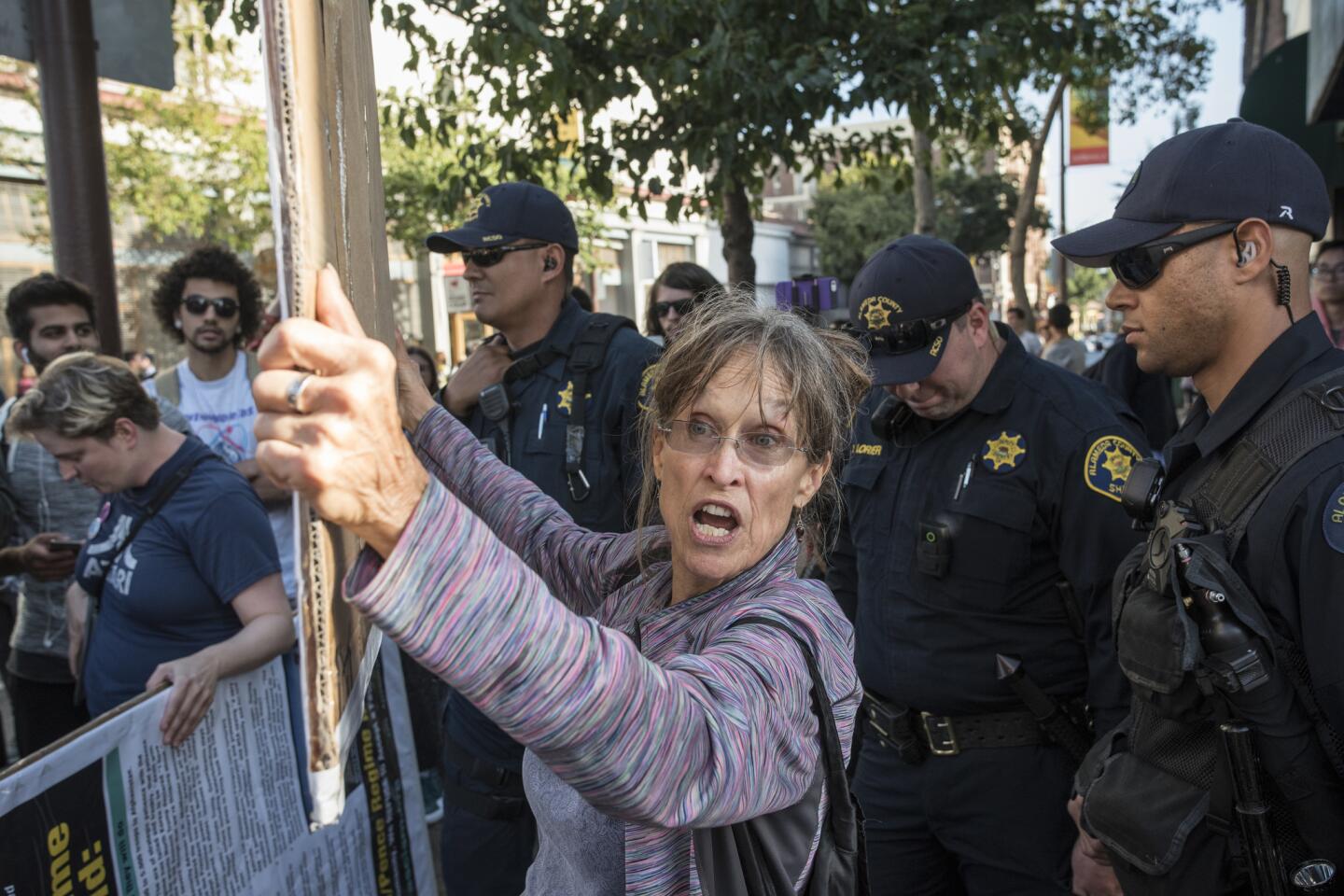 A protester demonstrates at UC Berkeley before a speech by conservative Ben Shapiro.
(David Butow / For The Times)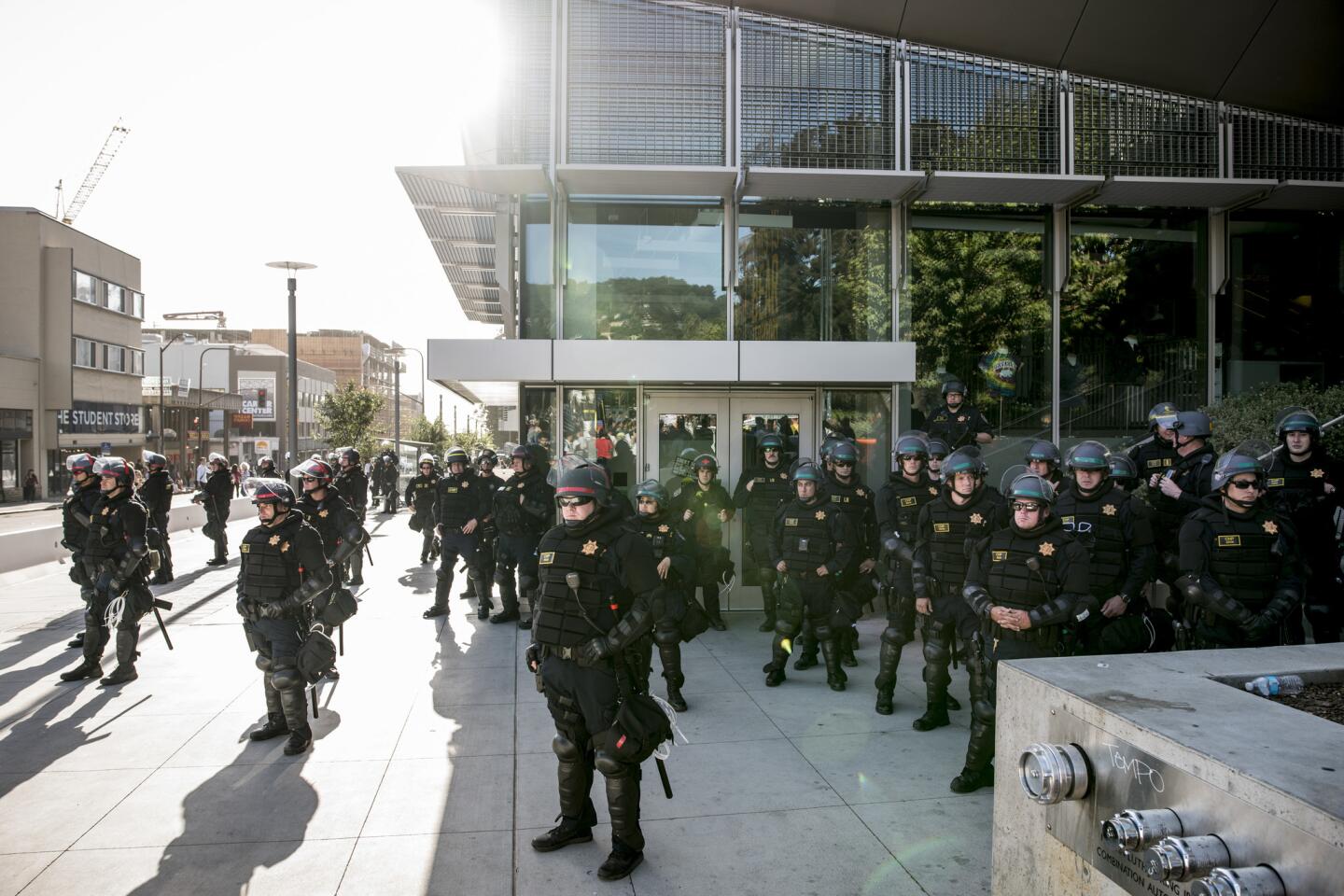 A heavy police presence forms on the edge of UC Berkeley in anticipation of heated demonstrations.
(David Butow / For The Times)
Xochitl Johnson, a UC Berkeley alumnus and political activist, speaks about her opposition to the university allowing Ben Shapiro to appear on campus.
(David Butow / For The Times)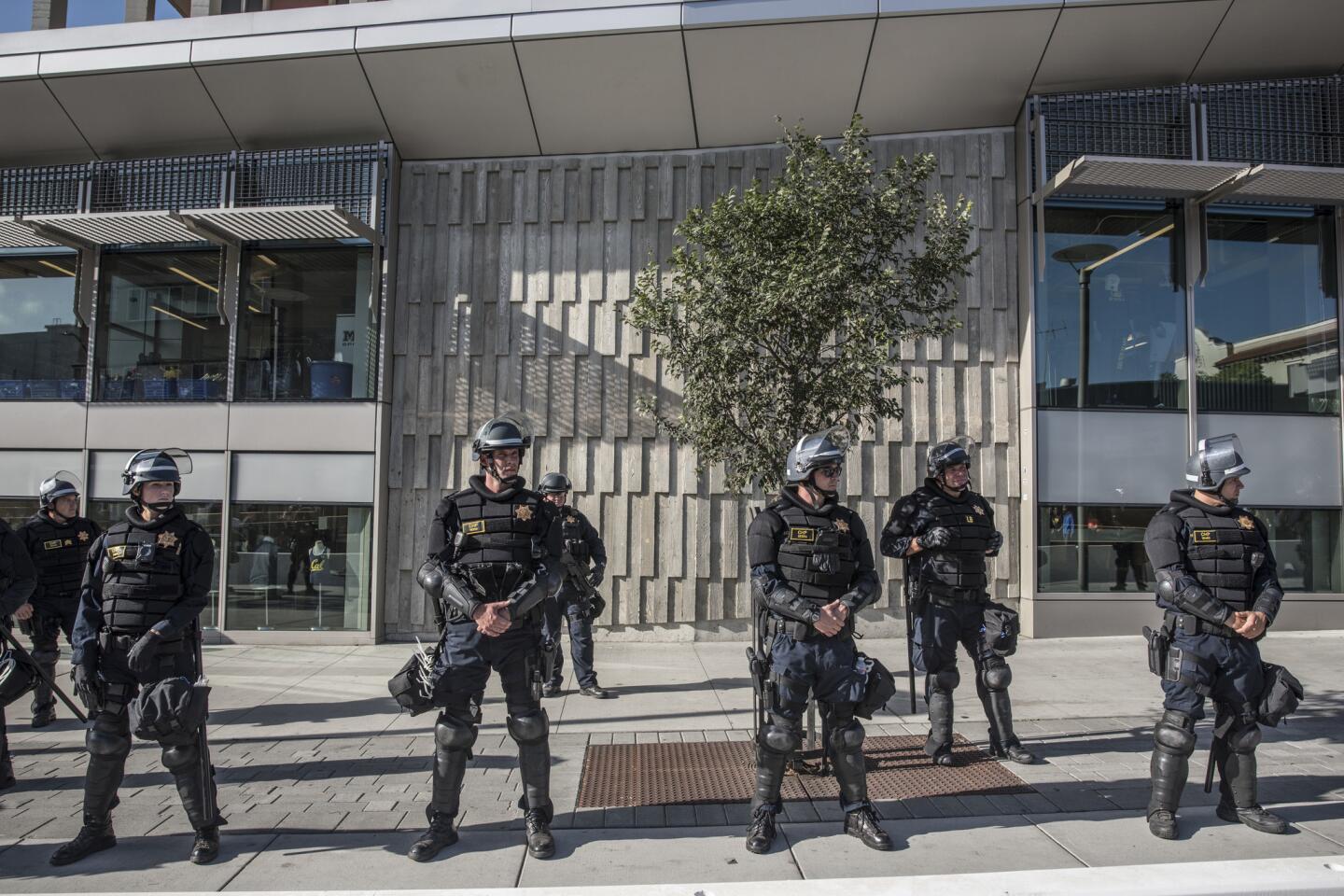 Police stand ready at UC Berkeley.
(David Butow / For The Times)
Protesters argue during a demonstration outside UC Berkeley's Zellerbach Hall.
(Justin Sullivan / Getty Images)
Hundreds of protesters swarmed UC Berkeley on Thursday evening as conservative writer Ben Shapiro spoke on campus, with law enforcement out in force to prevent a repeat of recent violent clashes between far-left and far-right agitators.
Nine people were arrested, four of them for carrying banned weapons. One was held on suspicion of battery on a police officer. Hundreds of law enforcement officers, many in riot gear, prepared for violence and seized potential weapons, but no major skirmishes were reported. Several shouting matches erupted but ended peacefully.
A campus spokesman said there is a "sense of relief" that the preparations worked and Shapiro's speech went smoothly. At one point during the evening, police said, crowds swelled to about 1,000 people.
The intense security for the evening came with a $600,000 price tag, and involved shutting down and clearing out large swaths of the campus.
Days earlier, Berkeley Police Chief Andrew Greenwood successfully lobbied the City Council to adjust a 1997 ban on the use of pepper spray as a crowd-control technique. Officers Thursday were free to use pepper spray on individual protesters deemed violent.
People were also temporarily prohibited from bringing sticks, pipes and poles within a certain zone specified by authorities.
Video posted on social media showed two officers confiscating a man's poster because it was attached to a wooden stick, which the officers said they considered a weapon.
"Hey, if you get another sign, you can't have a stick on it, OK?" one of the officers told the man.
The preparations came several weeks after far-left forces attacked several far-right demonstrators in Berkeley, prompting arrests and much debate about the line between protest and criminal behavior. Earlier this year, agitators set fires and forced the abrupt cancellation of a talk by conservative speaker Milo Yiannopoulos.
On Thursday, businesses citing concerns for employee and customer safety closed early, while a bank near campus boarded up its automated teller machines. Messages of resistance — "We don't want your racist hate" — were scrawled on sidewalks in chalk.
Meanwhile, inside the university's Zellerbach Hall, hundreds of students cheered as Shapiro gave his talk, which he titled "Say No to Campus Thuggery."
He scoffed at the demonstrators outside who suggested that he was a fascist or white supremacist, as well as the counseling services administrators offered to students stressed by his arrival.
"I have spent my entire career standing up to fascism," he told the crowd. "Antifa is fascist. I am not a fascist."
If someone required counseling because of his speech, Shapiro said, "it was a mistake for you to have foregone psychiatric treatment" long ago.
Before his speech, students said they were weary of the charged environment after six months of protests on and around campus.
Juanna Falcon, a 20-year-old junior studying environmental economics, said she was going to skip the talk. The whole situation, she said, had disturbed the learning environment on the campus.
"I guess there is a limit to free speech," she said. "Hearing out a speaker, that's OK. Sometimes I just wonder if all this security enforcement really does something or does it just draw more attention."
Sophomore Katelyn Tupen said the Berkeley College Republicans had the right to host a controversial speaker. But she wasn't a fan of the campus shutdown.
"I got to study for my calculus midterm tomorrow," she said.
---
Shapiro's appearance was a key test for Berkeley, which has endured violent clashes between far-left and far-right agitators that have sparked soul-searching in this liberal community about the line between protest and criminal behavior. Berkeley has become a favorite spot for far-right demonstrators to speak out, knowing they can get attention and push buttons in enemy territory.
Shapiro's talk marked the start of a parade of right-wing speakers who may be coming to campus over the next month. They include former White House chief strategist Stephen K. Bannon and right-wing provocateurs Ann Coulter and Yiannopoulos, who announced that they will appear as part of a "Free Speech Week" event on campus.
The event is organized by Yiannopoulos and a student group, but officials said they are still working out the details.
Cal spokesman Dan Mogulof said late Thursday that one person listed in the lineup called the campus today to say he or she would not attend. Mogulof would not identify the speaker.
Meanwhile, more than 200 instructors and faculty members are calling for a shutdown of classes and activities during the event.
Police officers set up physical barriers in a roughly half-mile-long perimeter around six campus buildings Thursday afternoon, cutting off access to Sproul Plaza, the site of Mario Savio's famous 1964 address during the free speech movement and a common meeting ground for activists of all stripes.
Shapiro resigned from the Bannon-led Breitbart News after a colleague of his accused then-Trump campaign manager Corey Lewandowski of assaulting her.
"Steve Bannon is a bully, and has sold out Andrew [Breitbart]'s mission in order to back another bully, Donald Trump; he has shaped the company into Trump's personal Pravda," Shapiro wrote in a statement at the time.
During the election, his lashing critiques of Trump made him one of the more prominent opponents in the conservative movement of the then-Republican nominee.
alene.tchekmedyian@latimes.com
Panzar reported from Berkeley, Tchekmedyian from Los Angeles.
ALSO
Stephen Bannon, Ann Coulter and Milo Yiannopoulos will headline far-right Berkeley festival
UC Berkeley faculty call for campus boycott of Milo Yiannopoulos during 'Free Speech Week'
UC Berkeley Chancellor Carol T. Christ: 'Free speech has itself become controversial'
Unprecedented measures at Berkeley for conservative writer's speech
---
UPDATES:
7:35 a.m.: This article was updated with a police crowd estimate.
Sept. 15, 12:35 a.m.: Updated to raise arrest total from four to nine.
11:25 p.m.: This article was updated with information from a campus official regarding "Free Speech Week."
10 p.m.: This article has been updated with an additional arrest and the end of Shapiro's speech.
8:30 p.m.: This article was updated with quotes from Shapiro's talk.
7:20 p.m.: This article was updated with information about arrests.
6:45 p.m.: This article was updated with comments from students.
5:55 p.m.: This article was updated with information about two people being detained by police.
5:20 p.m.: This article was updated with information about protesters gathering outside UC Berkeley.
This article was originally published at 4:45 p.m.
Sign up for Essential California for news, features and recommendations from the L.A. Times and beyond in your inbox six days a week.
You may occasionally receive promotional content from the Los Angeles Times.