Unprecedented measures at Berkeley for conservative writer's speech
A parade of right-wing speakers may be coming to Berkeley over the next month. (Sept. 14, 2017)
To see what free speech looks like in 2017 at the birthplace of the famed movement, consider the elaborate preparations underway for a talk Thursday by a conservative writer.
Ben Shapiro isn't nearly as controversial as some right-wing speakers who have roiled the campus over the last year.
Nonetheless, UC Berkeley has told students that counseling is available to those stressed by all the commotion. A large swath of the campus will be closed off, including the plaza where the free speech movement began in the 1960s. Hundreds of thousands of dollars have been spent on security, and police now can use pepper spray on protesters after a 20-year-old ban was lifted by the City Council this week.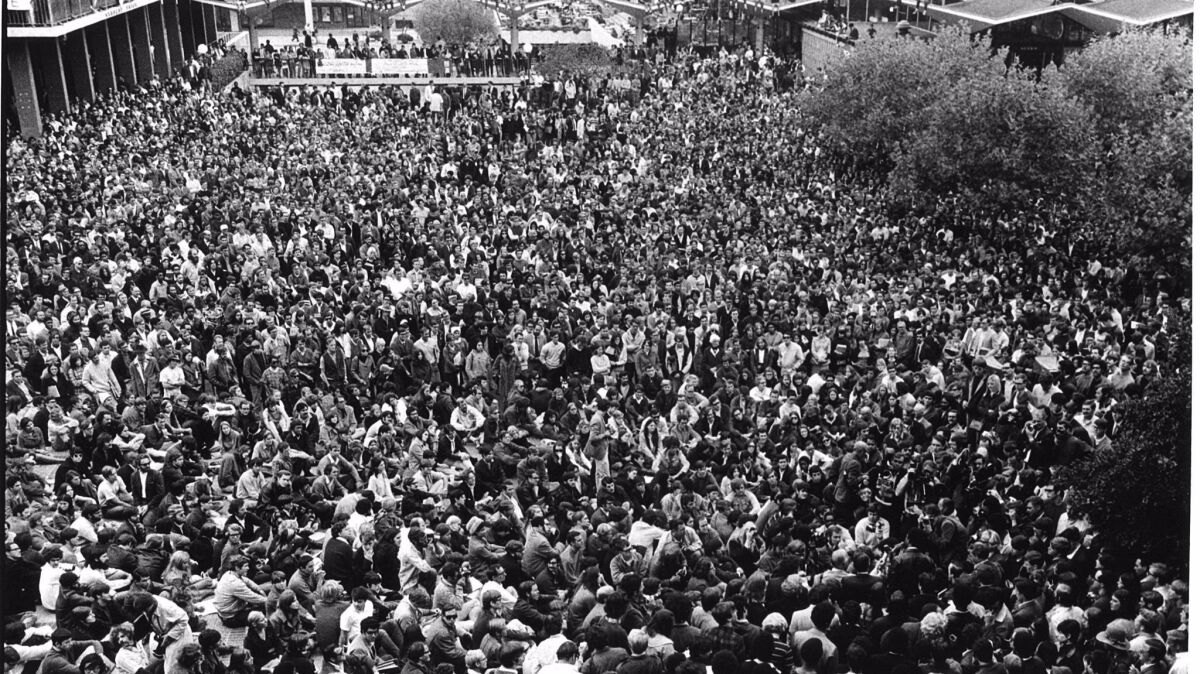 Shapiro's appearance is a key test for Berkeley, which has been hit by a series of violent clashes between far-left and far-right agitators that have sparked soul-searching in this liberal community about the line between protest and criminal behavior. Berkeley has become a favorite spot for far-right demonstrators to speak out, knowing they can get attention and push buttons in enemy territory.
The Thursday event marks the start of a parade of right-wing speakers who may be coming to campus over the next month. They include former White House chief strategist Stephen K. Bannon and right-wing provocateur Milo Yiannopoulos, who announced that they will appear as part of a "Free Speech Week" event on campus.
The event is organized by Yiannopoulos and a student group. On Tuesday, Berkeley spokesman Dan Mogulof stressed that this event is far from a done deal — the student group hadn't yet satisfied the requirements for bringing a speaker or followed proper procedure.
---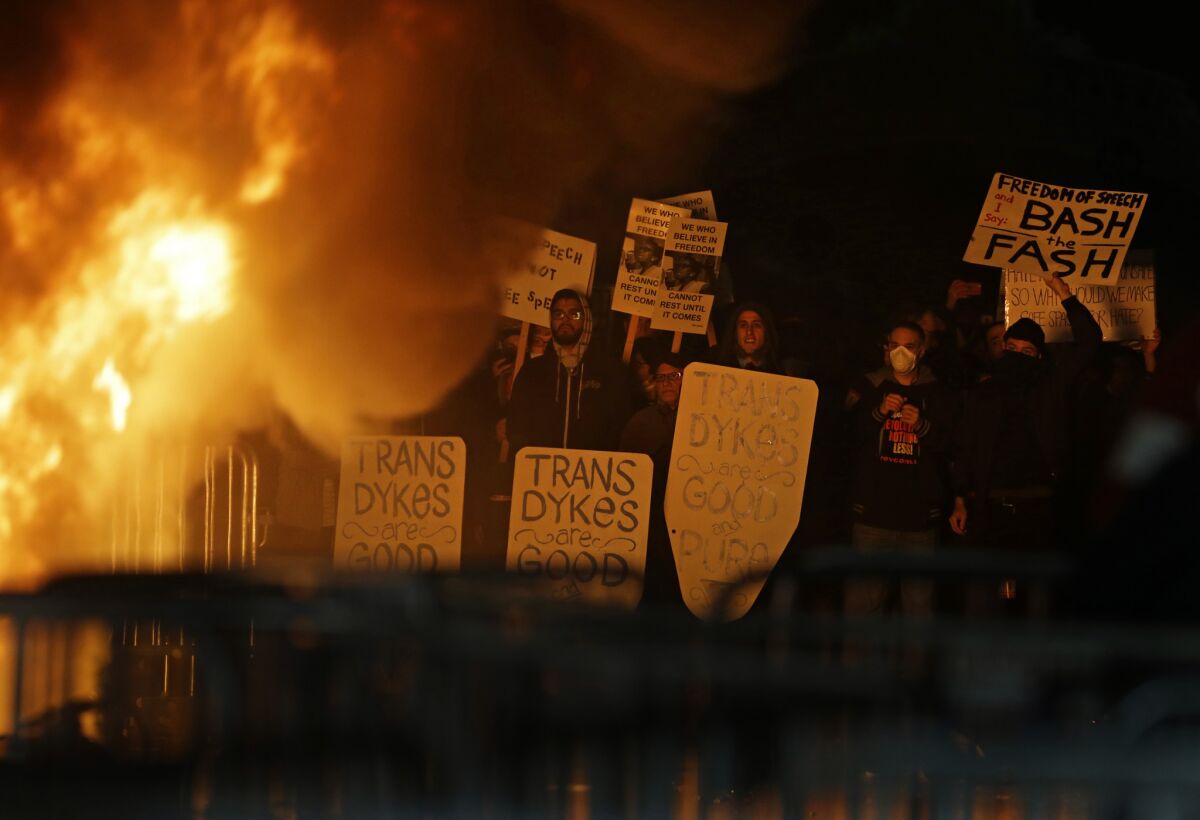 UC BERKELEY BRACES
'We've never seen a situation like this'
But UC Berkeley's new chancellor, Carol T. Christ, has said allowing these talks is essential, trumpeting the belief that the best response to hate speech is "more speech" rather than trying to shut down others.
That leaves officials with the task of keeping the peace — and trying to keep the various warring sides under control. They hope to do it with what officials say are unprecedented security measures.
"We've never seen a situation like this. It's very unique. It's a very different political dynamic where free speech … at Berkeley has become the occasion for the right and left to confront each other," Christ said Wednesday. "I believe very strongly in Ben Shapiro's right to speak on campus. I don't agree with Ben Shapiro; in fact I profoundly disagree with him. But I believe he was legitimately invited by a student group and that he has the right to speak. It's a really troubling situation."
City and campus officials are taking heightened steps to prevent the sort of chaos that descended on campus when Yiannopoulos tried to speak in February.
Police officers and physical barriers will be set up in a roughly half-mile-long perimeter around six campus buildings Thursday afternoon, cutting off access to Sproul Plaza, the site of Mario Savio's famous 1964 address during the free speech movement and a common meeting ground for activists of all stripes.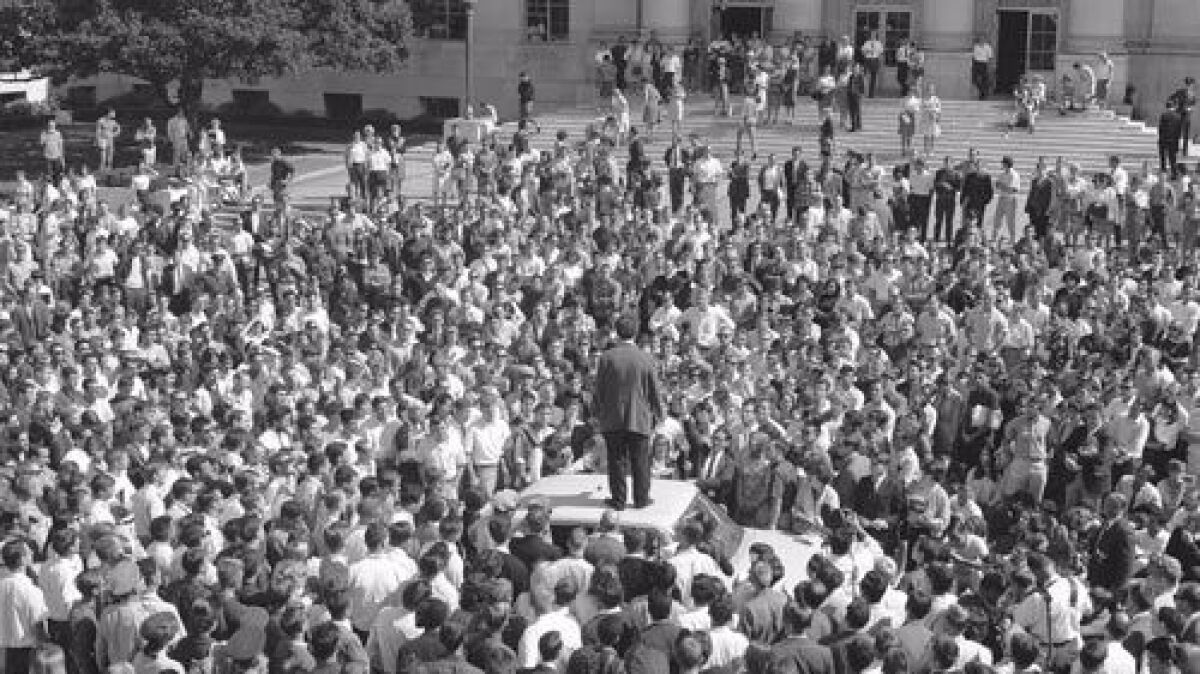 In order to pass through the security perimeter, people will have to show tickets for the speech. Those who show up to protest will encounter an "increased and highly visible police presence," Provost Paul Alivisatos said in a letter to the campus last week.
If protesters spill into the city business district south of campus, along Telegraph Avenue, they will encounter the city's police force — which is now free to use pepper spray on individual protesters officers deem are committing acts of violence.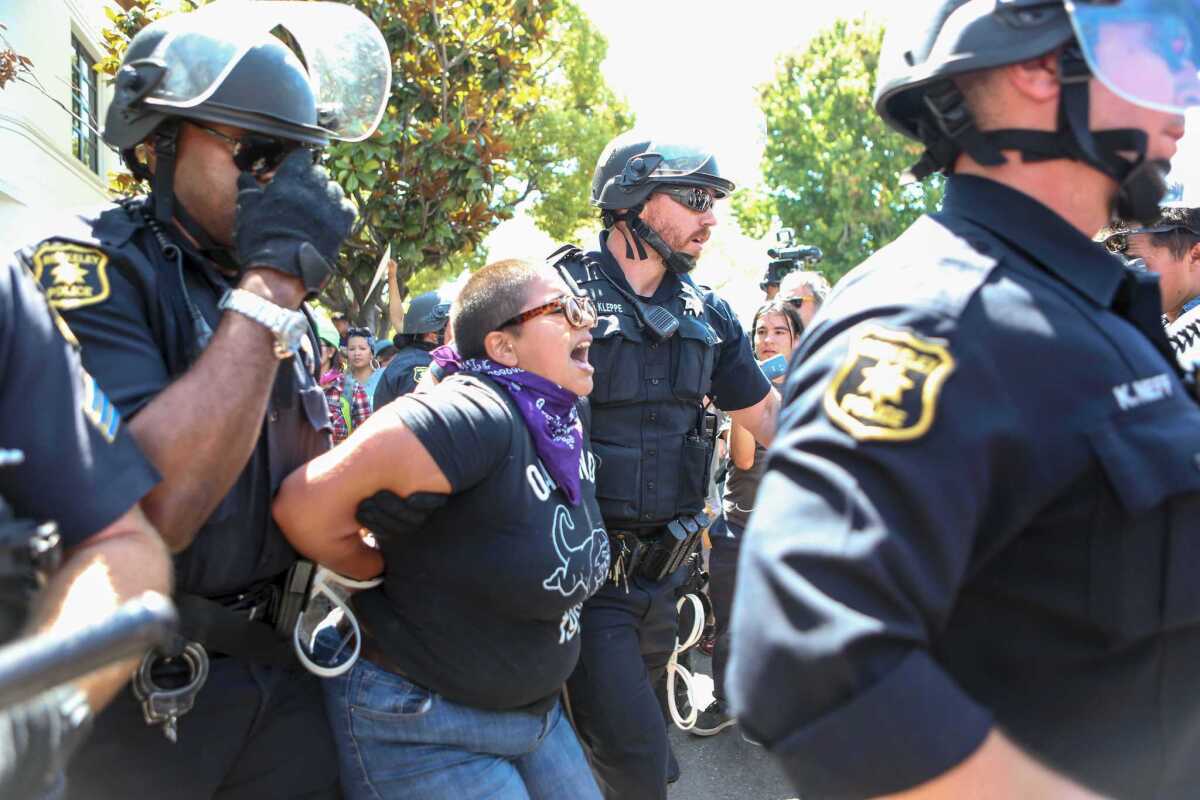 PEPPER SPRAY AND CLOSED STREETS
Berkeley police try to keep order
Berkeley police have come under criticism for not doing enough to break up the violence that has marred past protests.
Berkeley Police Chief Andrew Greenwood successfully pitched the City Council on Tuesday to adjust a 1997 ban on the use of pepper spray as a crowd-control technique.
Greenwood argued that police needed another tool — besides batons and tear gas — to deal with the violence that has come with the new wave of protests.
Councilwoman Linda Maio, who voted for the measure, agreed, citing the prospects of large protests if Yiannopoulos and Bannon come to campus in the coming weeks.
"This is a new phenomenon that is evolving, and we really don't know what to expect," she said of the protests over the last few months.
On Wednesday, the city also announced it was banning a wide range of weapons, including bricks, Mace and dynamite in a square-mile area centered around UC Berkeley's campus.
Since the election, Berkeley residents have seen months of clashes between activists on the left who employ black-bloc militant tactics and once-obscure far-right organizations such as the Proud Boys and the Fraternal Order of Alt-Knights.
The skirmishes have resulted in thousands of dollars of property damage in Berkeley and a handful of criminal charges.
The situation at Berkeley on Thursday will be a far cry from Shapiro's visit to the campus in April 2016.
SHAPIRO'S STORY
A conservative voice that fights Trump, Bannon
Shapiro was met with little, if any, controversy then. The website he edits, the Daily Wire, wrote at the time that "the audience at Berkeley was civil and polite, perhaps more so than any other university Shapiro has visited in the last few weeks."
The month before that speech, Shapiro resigned from the Bannon-led Breitbart News after a colleague of his accused then-Trump campaign manager Corey Lewandowski of assaulting her.
"Steve Bannon is a bully, and has sold out Andrew [Breitbart]'s mission in order to back another bully, Donald Trump; he has shaped the company into Trump's personal Pravda," Shapiro wrote in a statement at the time.
During the election, his lashing critiques of Trump made him one of the more prominent opponents of the then-Republican nominee in the conservative movement.
This opposition to candidate Trump also made him the target of anti-Semitic harassment. The Anti-Defamation League released a report last fall detailing anti-Semitic harassment of journalists on Twitter during the first half of the 2016 election cycle. It found Shapiro to be the No. 1 target.
Shapiro was frustrated by a Berkeley decision earlier this month to shrink the number of seats in the audience for his address. Fitting in with a broader critique he's offered in his writing, Shapiro also ridiculed the idea that anyone would need to seek counseling because he was speaking.
"As far as them ensuring that I have a venue trying to make sure that it's secure, I'm not sure all of what they're doing makes sense, but I'm appreciative that they're at least trying," Shapiro said.
"It's very easy to get kids riled up by doing the shtick Yiannopoulos does, but that's not my game, and it's always why the comparisons are weird for me."
It is unclear what level of protests will greet Shapiro.
Organizers with the group RefuseFacism.org were busy on campus Wednesday handing out fliers promoting a demonstration against Shapiro set for Thursday evening.
At Tuesday's packed City Council meeting, Raphael Kadaris, an organizer with the group, drew loud applause from the audience when he said the council members were acting as "collaborators" with what he claims is a growing fascist movement in the nation for allowing the police use of pepper spray.
"These people don't care about free speech," he said, referring to the conservative speakers coming to campus. "They are using free speech as a pretext to get a foothold, to normalize fascism on these college campuses and to recruit a new generation of fascist youth into their movement."
Some faculty members have called for a boycott during the "free speech" week.
Christ said Wednesday the challenge is to protect free speech in this charged environment.
"I think we're in an area which presents both challenges to the law and challenges to university policy when a speaker occasions the university to first of all spend extraordinary amounts of money and take extraordinary measures that are quite disruptive to the university's main business in order to protect the right of free speech."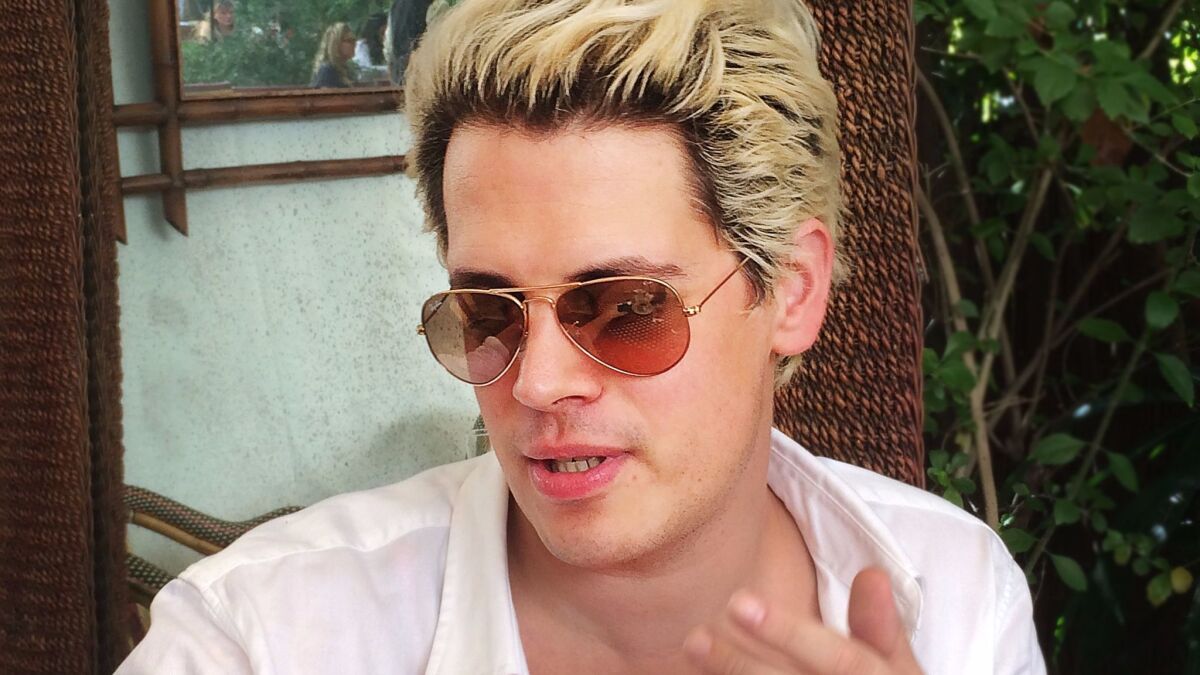 ALSO
9 arrested as protesters gather at UC Berkeley for talk by conservative speaker Ben Shapiro
UC Berkeley is sending mixed messages about freedom of speech
Steve Bannon to speak at 'Free Speech Week' event at UC Berkeley
UC Berkeley Chancellor Carol T. Christ: 'Free speech has itself become controversial'
---
UPDATES:
8:45 a.m.: This article was updated with a faculty call for a boycott.
This article was originally published at 5 a.m.
The stories shaping California
Get up to speed with our Essential California newsletter, sent six days a week.
You may occasionally receive promotional content from the Los Angeles Times.