After a gunman opened fire in their favorite bar, these survivors have banded together like family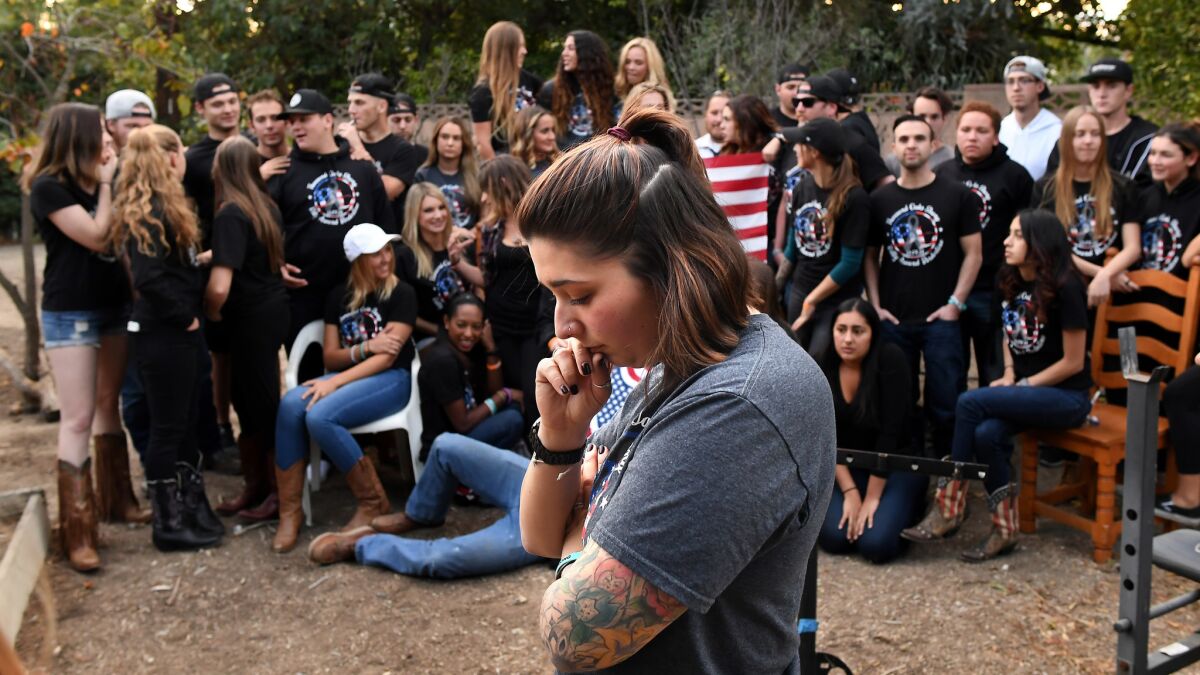 The first few nights after Katie Wilkie bolted out of Borderline Bar and Grill to the sounds of gunfire and shattering glass, she couldn't bring herself to go home.
She slept on her friend's bunk bed and borrowed an old T-shirt and shorts to wear. She found herself clinging to her Borderline friends who were now fellow survivors.
"I didn't want to be alone," said Wilkie, of Santa Clarita. "I was afraid of where my thoughts would take me."
The Western bar, known for its line dancing, had been her home away from home. It was set so far back from the main road that you were unlikely just to stumble upon it. You had to hear about it from someone.
Friends brought Wilkie to the bar in Thousand Oaks six years ago, when she was 19.
"This was our bubble," said one of her Borderline friends, Blakeley King, 28. "The one spot you could go for some nightlife."
At Borderline, guys romanced their girlfriends — and also ran into ex-girlfriends. Moms partied with other moms. Once, a granddaughter showed up with her grandmother — to celebrate her 100th birthday.
Regulars knew better than to bring a date to the bar unless they were feeling pretty sure. That's because Kristina Morisette, the witty cashier at the front desk, was bound to ask for details right there: How long have you known him? Is it serious? Can he line dance?
These are the victims of the Borderline shooting »
On one of Wilkie's first nights at the bar, she was sitting alone by the dance floor when someone asked her to join in.
I don't know the steps, she said.
You'll learn.
The brunette with soft green eyes soon became a Borderline regular. She'd drop in sometimes three times a week, driving an hour to get there.
"Why go all the way out there?" people would ask. Because it's like family.
The night of the shooting, Wilkie was shimmying with her friends to Chris Brown's "Turn up the Music" when the gunman stormed in. She heard the pop! pop! pop! The crowd scattered. People screamed.
Wilkie looked to the front door and saw the shooter going straight to the front desk for Morisette. Then she saw him turn to the dance floor.
She took cover behind a big speaker, then raced to an emergency exit but got pinned against a stack of barstools because others were trying to escape. When she finally made it out, she clawed up a hillside in her jean shorts and cowboy boots.
There, in the cold darkness behind the bar, she stumbled into one of the many friends she'd made over the years. Alexis Tait was sobbing and shaking. Her boyfriend, Harrison King — Blakeley's brother — had gone back into the bar to help.
"Breathe," Wilkie told her.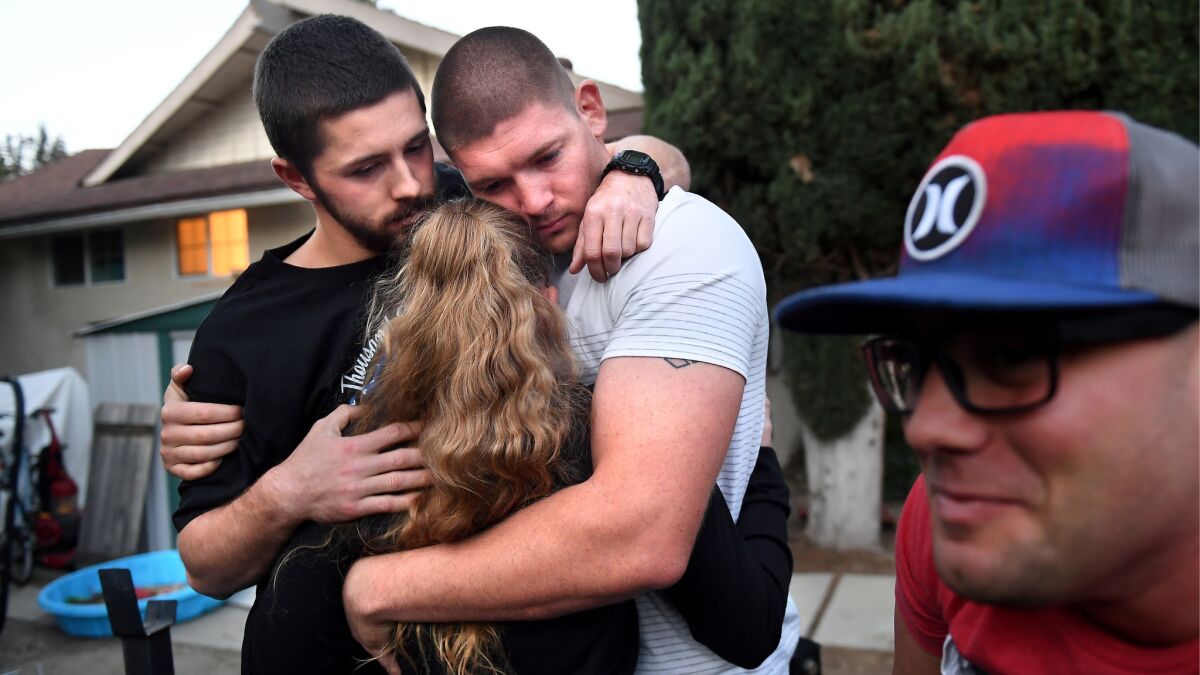 Hours later, after it was all over, a few friends gathered, shaken and heartbroken, in Harrison King's bedroom. They cried and held each other as they watched the news until sunrise. They learned then that the gunman, a troubled ex-Marine named Ian David Long, had in a handful of minutes killed 12 people before taking his own life.
The days since the shooting have been a blur. Sleep is impossible most nights. They compare notes. Does NyQuil work? How about whiskey?
I'm sorry.
I can't imagine.
How can I help?
That's what people say, but the world is now split between those who lived through the terror and those who didn't.
"We've seen things we can't unsee," Wilkie said. "And we're going to see these things for the rest of our lives."
Comfort comes from being with the relatively small circle who understand.
One minute they're laughing, the next they're crying. Sometimes they sit together in silence, staring into space.
On Sunday morning, dozens gathered outside the bar for a prayer circle. Police tape blocked the parking lot. On the sidewalk, mourners left flowers and messages on a makeshift memorial marked by white crosses.
Wilkie stood a few feet away, eyes puffy and red. She leaned on fellow survivor Jasmine Alexander, 25, who held hands with Tait as Tait hugged her boyfriend King's arm.
"We're like a huge, beautiful tree with many branches," King told them. "It's going to take a lot more than one blow to knock us down."
For a few in the crowd, this was not their first shooting.
A year ago nearly 30 Borderline regulars went to Las Vegas for the Route 91 Harvest Festival. They carpooled and crashed in sleeping bags in one another's hotel rooms.
Mass shooting victims remembered at Thousand Oaks church service and memorial »
Tait remembers being in Newbury Park with King when they heard about that shooting. They jumped out of bed and began making calls, worried sick about his brother Blakeley, who had gone to the concert with his girlfriend.
"We never imagined a year later the same thing would happen here," said Tait, 23, a restaurant hostess from Simi Valley.
After last week's shooting, she scheduled an appointment with a therapist and started a Borderline Survivors group on Facebook.
"A place for people to go so no one feels alone," Tait said.
The page connects a loose band of more than 100 Borderline regulars who have known each other for years — from the bar but also movie nights, barbecues and kickball tournaments.
They teamed up to make tribute T-shirts and stickers. Some got matching Borderline tattoos: BL Strong 11-7-18. One girl wrote a song for everyone. She called it "Our Home."
Why can't the devil stay in hell where he belongs?...
These aren't just walls and a door to walk through and take our own.
No, this is our home.
Each day since last Wednesday, survivors have banded together in small groups, moving from vigils to memorials to each other's homes. Even as the Woolsey fire forced several to pack their bags and evacuate, they stuck together.
"They all care so deeply about each other," said Robbin Tait, Alexis' mom. "They had a bond before, and now that bond has grown much stronger."
On a recent night, the group gathered at a friend's house for a quiet vigil. They placed 12 tea lights, one for each victim, on faux lily pads, then lighted them and put them in the pool. They watched the flowers, one by one, come together.
For the families of their dead friends, they made posters with photographs, which they all signed. They visited a few of the families to share stories.
There was Justin Meek, the 23-year-old Borderline bouncer with a big smile, who would ask: "Hey, did you sign up for ping-pong night?"
Telemachus Orfanus, 27, an easygoing security guard who gave everyone a high five.
Morisette, 20, whose social life revolved around her Borderline friends.
Sunday afternoon, Wilkie squeezed into a booth at Eggs N' Things with Tait and half a dozen others. They ordered breakfast burritos and omelettes.
Wilkie wore new leggings and a new shirt, gifts from a girlfriend who had bought her four days' worth of clothes.
She had to go back to her job managing apartments the next day and was thinking, maybe it was time to go home.
But the long drive, the questions she would get, the sorrow she'd see in her mother's eyes — it all overwhelmed her.
"I'm scared," she told everyone at the table.
"Hey," Harrison King told her. "We got you, whatever you need."
esmeralda.bermudez@latimes.com
---
Life is stressful. Our weekly mental wellness newsletter can help.
You may occasionally receive promotional content from the Los Angeles Times.