Will USC employees drive more without a subsidy for transit passes?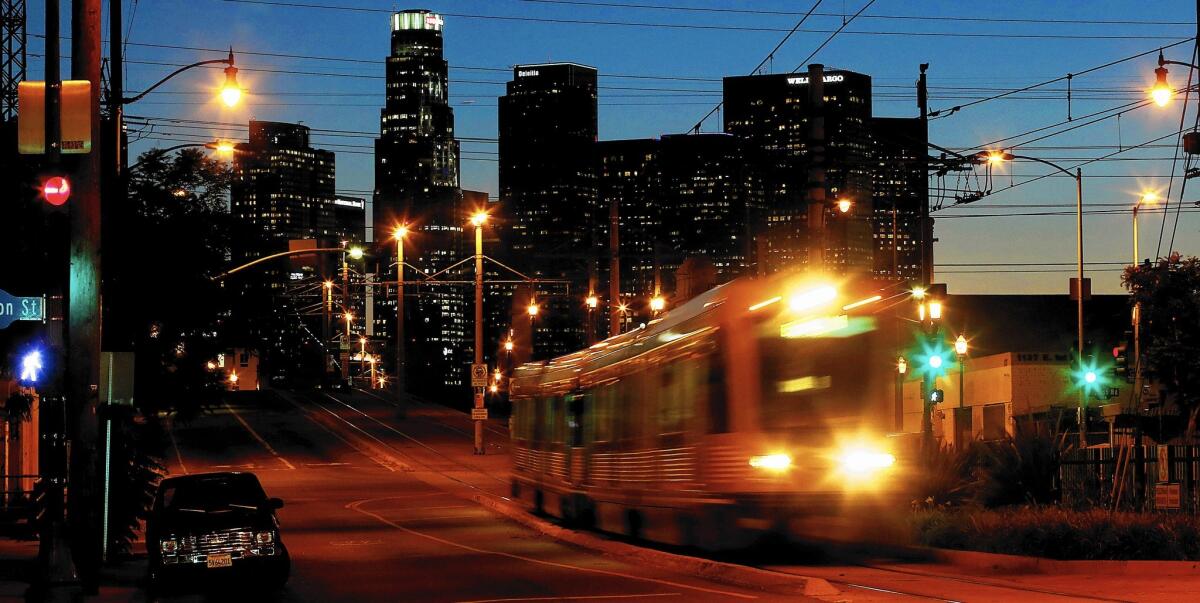 The University of Southern California, one of Los Angeles County's largest employers, has drawn the ire of transportation and environmental advocates by eliminating a program that subsidized transit passes for thousands of faculty and staff.
Until the program was discontinued in July, nearly 3,100 employees — nearly 1 in 5 of USC's 17,000 workers — received a $30 discount on monthly Los Angeles Metro system passes that cost $100. Now, employees who opt to purchase their Metro passes through the university's pretax payment program receive three free parking passes per month.
The problem with the program, critics say, isn't that employees will now pay $30 more per month for a transit pass — even though that can make a big difference for some. Instead, they worry that removing a financial incentive to take transit could nudge people toward driving to work again.
USC's decision to cut the subsidy program comes as many of Southern California's elected leaders, including Los Angeles Mayor Eric Garcetti, say they hope to coax commuters out of their cars and onto public transit as part of an ambitious expansion of the rail system.
Transit subsidies "somewhat mitigated USC's image as the Death Star, just a corporate, soulless place," said Lisa Schweitzer, who studies transportation and environmental issues as an associate professor at the college's Sol Price School of Public Policy.
Part of USC's mission to be a "good neighbor," she said, should include actively encouraging employees to leave their cars at home — particularly because the $900-million Expo Line, which links Culver City and downtown Los Angeles, has three stations near campus. An extension of the line to Santa Monica is expected to open in the spring.
The decision also puts USC at odds with the institutions it views as its academic rivals: UCLA, Stanford and Berkeley. All offer at least a 50% discount on transit passes for employees.
After UCLA began its transit subsidy program in 2000, the number of employees taking the city of Santa Monica's Big Blue Bus more than doubled, and the number of employees parking on campus fell by 9%, researchers found.
In a Q&A posted on the USC website, officials said the subsidy program was cut after being compared with "other available alternatives." The Web page added that departments are asked to annually "reassess" programs against "the strategic needs of the university, which often results in the reallocation of resources to ensure high-priority goals can be funded."
"Whenever you get that sort of 'blah, blah, blah, vague, we think there are other alternative' comments, that means the commuter is going to eat the cost and the university won't," Schweitzer said. "There's no question that USC has money somewhere to support this program."
Interested in the stories shaping California? Sign up for the free Essential California newsletter >>
USC operates its own transportation department, which mostly aims to get students and staff from Point A to Point B once they get to campus. The university spent $4.2 million last year on free shuttles that circle USC's downtown campus and make trips to Union Station and campus outposts in East Los Angeles and Marina del Rey. The school has 43,000 undergraduate, graduate and professional students.
Transportation officials said administrators asked them to cut $1 million from their budget, and they chose the $1.1-million transit subsidy program.
The money saved will go toward "our academic mission," transportation director Tony Mazza said. "We could have made different cuts, but that would have meant cutting service, which we weren't willing to do."
The school also spent $2 million on a free student taxi program known as Campus Cruiser, which provides about 4,000 rides a week in University Park from 6 p.m to 2:45 a.m. USC doubled the number of drivers this year, from 75 to 150, at an added cost of $600,000.
When wait times for a Campus Cruiser exceed 15 minutes, USC also foots the bill for rides provided by Uber that start and end within the campus taxi program's boundaries. The school pays for about 16,000 rides per week from 7 p.m. to 2 a.m., at a cost of $2 million annually.
Mazza said the school is "looking at other ways to improve our system that can serve the greater good," but declined to say what those options are.
The transit subsidy program also played a role in the approval of University Village, a 15-acre, $650-million mixed-use development of dorms, shops and restaurants across the street from campus.
In environmental documents in 2011, officials wrote that one way to manage increased congestion from the development would be the subsidy program, which encourages transit as the "primary mode of transport" for employees coming to campus.
It's not clear what bearing, if any, the cancellation of the subsidy program will have on the environmental process.
Construction on University Village is underway. It's expected to open in 2017.
The Q&A posted on the USC website assured commuters that they can still take Metro or DASH buses to campus, concluding: "The option to commute using bus or rail will always be there."
Follow @laura_nelson on Twitter for more transportation news.
Have an idea, gripe or question? Times staff writers Laura J. Nelson and Dan Weikel write California Commute and are looking for leads. Please send them along.
ALSO
Gov. Jerry Brown targets his next priorities as he decides on final slate of bills
50 years on, Cal State Dominguez Hills renews efforts to transform an underserved community
The 7-foot Chinese tourist boxing in Oscar de la Hoya's world
Sign up for Essential California for news, features and recommendations from the L.A. Times and beyond in your inbox six days a week.
You may occasionally receive promotional content from the Los Angeles Times.